April 3rd: The Biggest Music Headlines
Scroll down the page to see all the music headlines, stories and events for April 3 throughout music history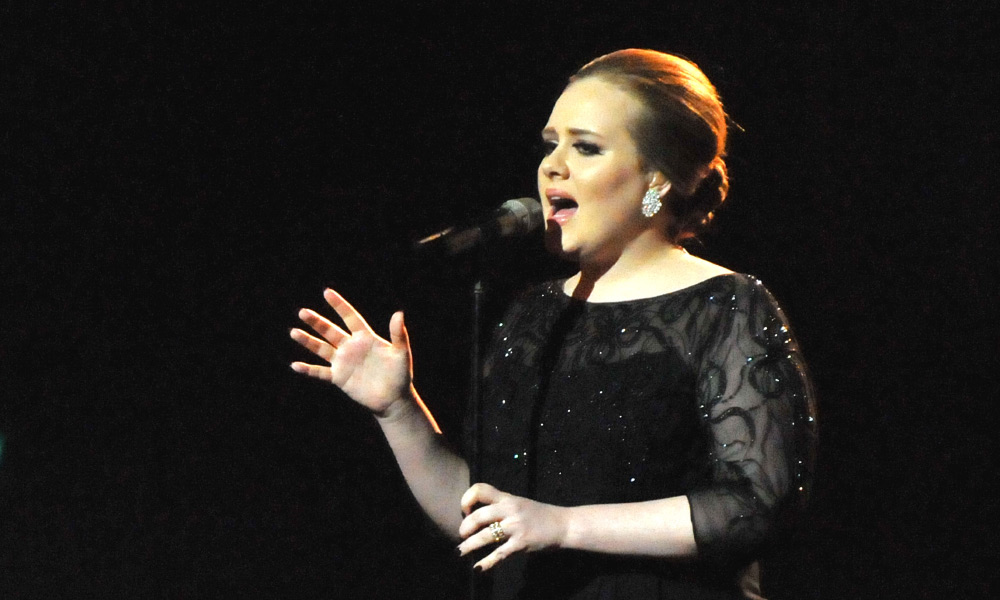 Adele Breaks Madonna's UK Chart Record
On this day in music, April 3, 2011, British singer-songwriter Adele broke a UK chart record when her second album, 21, spent ten consecutive weeks at No.1. Featuring the hits "Rolling in the Deep" and "Set Fire to the Rain," the album overtook the record for the longest chart-topping run by a female artist, as previously set by Madonna with her first greatest hits retrospective, 1990's The Immaculate Collection. 21 went on to scoop multiple international awards including two Grammys – for Album of the Year and Best Pop Vocal Album.
In 2008, Mariah Carey surpassed Elvis Presley's tally of 17 US No.1s when "Touch My Body" became her 18 chart-topping single. She was still two No.1s short of the record held by The Beatles, however, who topped the Billboard Hot 100 20 times.
In 1990, 66-year-old jazz singer Sarah Vaughan died from lung cancer. Nicknamed "Sassy" or "The Divine One," Vaughan sang in Earl Hines' big band in the early 1940s before going solo. She scored a Top 10 US hit in 1954 with "Make Yourself Comfortable," but her best-known track is her indelible reworking of Erroll Garner's jazz standard "Misty," recorded four years later.
In 1979, singer-songwriter Kate Bush, then 20, kicked off her 28-date Tour Of Life at Liverpool's Empire Theatre. Ticket holders were particularly lucky, given that it would be another 25 years before Bush committed herself to another extended run of concerts. In 2014, she returned to the stage for Before The Dawn, a series of performances that ran for 22 nights at London's Hammersmith Apollo.
In 1965, Bob Dylan made his UK singles chart debut with "The Times They Are A-Changin'," which rose to No.9. Interestingly, the much-covered title track of Dylan's third album was never issued as a single in the US.
Looking for more things that happened on this day in music?
Keep scrolling for all of the headlines for April 3.
BORN ON APRIL 3:
1924: Doris Day
1928: Don Gibson
1938: Jeff Barry (Songwriter)
1941: Jan Berry (Jan and Dean)
1944: Tony Orlando (Dawn)
1949: Richard Thompson
1962: Mike Ness (Social Distortion)
1962: Simon Raymonde (Cocteau Twins)
1968: Sebastian Bach (Skid Row)
1985: Leona Lewis
Looking for more artists born on this day?
Keep scrolling for all of our April 3 birthdays.
---
What to find another day?
---
April 3rd
3 Apr 2022
Winners at the 64th Annual Grammy Awards held at the MGM Grand Garden Arena in Las Vegas included, 'Leave the Door Open' by Silk Sonic, Album of the Year went to Jon Batiste for We Are, Olivia Rodrigo won Best New Artist and Best Pop Solo Performance for 'Drivers License'. Best Rock Performance went to Foo Fighters for 'Making a Fire', their 'Waiting on a War' won Best Rock Song and they also won Best Rock Album for Medicine at Midnight.
3 Apr 2015
Bob Burns, the American drummer who was in the original line-up of the Southern rock band Lynyrd Skynyrd died in a car crash in Georgia when his car struck a mailbox and a tree with the front of the vehicle. Burns was the only occupant of the car and was not wearing a seat belt at the time of the crash. He appeared on the band's 'Sweet Home Alabama,' 'Gimme Three Steps' and 'Free Bird.'
3 Apr 2011
Adele
broke the record for the longest time at No.1 in the UK album chart by a female solo artist after her second album, 21 spent 10 consecutive weeks at the top of the chart. The previous record was held by
Madonna
with her first greatest hits record, The Immaculate Collection, in 1990.
3 Apr 2008
Morrissey accepted a public apology in court from Word Magazine after it suggested he was a racist and a hypocrite. The singer took Word to court after an article concerning his political views appeared in its March edition. His solicitor said the magazine now accepted that it was "absurd to accuse Mr Morrissey of being a racist" and that he was "not a hypocrite". The former
Smiths
frontman did not appear at London's High Court.
3 Apr 2008
Mariah Carey
smashed
Elvis Presley
's US chart record by scoring the 18th number one of her career with 'Touch My Body', from her new album E=MC2. Carey had now surpassed
Elvis Presley
's 17 number ones,
The Beatles
still held the record with 20 US No.1 hit singles.
3 Apr 2007
Rolling Stones
guitarist
Keith Richards
denied that he snorted the ashes of his late father. Jane Rose, Richards' manager, told
MTV
News the remarks were made 'in jest', and she could not believe they had been taken seriously. Richards had said in an interview with the NME: 'He was cremated and I couldn't resist grinding him up with a little bit of blow.' But NME interviewer Mark Beaumont was convinced that Richards was not joking when speaking to him about the alleged incident. 'He did seem to be quite honest about it. There were too many details for him to be making it up,' he later told BBC news.
3 Apr 2006
Founder member and original drummer for The Wonder Stuff, Martin Gilks died aged 41, after losing control of his motorbike in London. Gilks was voted the best drummer on the planet in an NME poll in 1989.
3 Apr 2003
Stax records songwriter Homer Banks died aged 61. Wrote 'I Can't Stand Up for Falling Down', recorded by Sam & Dave and a UK hit for Elvis Costello.
Rod Stewart
, The Emotions, Isaac Hayes, Millie Jackson and Johnny Taylor all covered his songs.
3 Apr 2002
Influential British avant-garde electronic musician Frank Tovey of Fad Gadget died of heart failure aged 45. Was infamous for spreading his naked body in shaving cream onstage and would play various instruments with his head.
3 Apr 2001
Robbie Williams won the award for the most radio plays in the UK for the third year running. The singer picked up the award at the Radio Academy awards in London.
3 Apr 1999
English composer Lionel Bart died from cancer aged 69. Wrote 'Living Doll' for Cliff Richard, 'Little White Bull' for Tommy Steele, composed the musical, 'Oliver' And wrote the theme song for the 1963 James Bond film From Russia With Love.
3 Apr 1993
10 years after its first release, The Bluebells had a UK No.1 single with 'Young At Heart' after the track was featured on a Volkswagen TV commercial. The song was co-written by Bananarama member Siobhan Fahey. (and recorded by Bananarama). In 2002 session musician Bobby Valentino, who performed the violin solo on The Bluebells version of the song won the right to be recognised as co-author after taking legal action.
3 Apr 1990
American jazz singer Sarah Vaughan died of lung cancer. She had the 1954 US No.6 single 'Make Yourself Comfortable' and released over 50 albums. March 27, is "Sarah Lois Vaughan Day" in both San Francisco and Berkeley, California in honour of the singer.
3 Apr 1983
After completing a 29-date UK tour,
U2
appeared on BBC TV
Top Of The Pops
performing their latest single 'Two Hearts Beat As One'.
3 Apr 1979
Kate Bush
kicked off the 28-date 'Tour Of Life' trek making her concert debut at Liverpool's Empire Theatre, England. Bush never set out on another tour again. She played a run of 22 shows at London's Hammersmith Apollo in 2014.
3 Apr 1976
A then-unknown
Sex Pistols
opened for The 101'ers at The Nashville Rooms in London. The 101ers were a pub rock band, notable as being the band that
Joe Strummer
left to join
The Clash
.
3 Apr 1975
Steve Miller was charged with setting fire to the clothes of a friend, Benita Diorio. When police arrived at Miller's house, Diorio was putting out the flames, Miller then got into a fight with some of the policemen and was charged with resisting arrest.
3 Apr 1971
The
Temptations
scored their second US No.1 with 'Just My Imagination (Running Away With Me)'. The track is considered one of the Temptations' signature songs, and is notable for recalling the sound of the group's 1960s recordings. It is also the final Temptations single to feature founding members Eddie Kendricks and Paul Williams.
3 Apr 1969
The Doors
'
Jim Morrison
turned himself in to the FBI in Los Angeles. He was charged on six charges of lewd behavior and public exposure at a concert in Miami on March 2nd, 1969. He was later released on $2000 bail.
3 Apr 1967
Working on
The Beatles
Sgt. Pepper
album at Abbey Road studios in London,
George Harrison
recorded his lead vocal on his song 'Within You Without You' as well as a sitar part, and some acoustic guitar parts.
3 Apr 1964
Bob Dylan
made his first appearance on the UK charts with 'The Times They Are A-Changin''. Dylan wrote the song as a deliberate attempt to create an anthem of change for the time. In January 1984, a young Steve Jobs recited the second verse of 'The Times They Are a-Changin'' in his opening of the 1984 Apple shareholders meeting, where he famously unveiled the Macintosh computer for the first time.
3 Apr 1961
The Marcels started a three week run at No.1 on the US singles chart with the Rodgers and Heart song 'Blue Moon', also a No.1 in the UK.
3 Apr 1960
During recording sessions at RCA studios in Nashville, Tennessee,
Elvis Presley
recorded 'It's Now Or Never', 'Fever' and 'Are You Lonesome Tonight'.
3 Apr 1956
Elvis Presley
appeared on ABC-TV's 'The Milton Berle Show' live from the flight deck of the USS Hancock in San Diego, California. He performed '
Heartbreak Hotel
' 'Shake Rattle And Roll' and 'Blue Suede Shoes.' It was estimated that one out of every four Americans saw the show.
Born on this day in music
3 Apr 1985
British singer, songwriter Leona Lewis, singer, winner of the third UK series of the The
X Factor
who had the 2006 UK No.1 single 'A Moment Like This'. The download single set a world record, by being downloaded over 50,000 times within 30 minutes of being available online.
3 Apr 1970
Matthew Priest, from English power pop rock trio Dodgy who had the 1996 UK No.4 single 'Good Enough'.
3 Apr 1968
Sebastian Bach, from American heavy metal band Skid Row. The group achieved commercial success in the late 1980s and early 1990s, with its first two albums Skid Row (1989) and Slave to the Grind (1991) the latter of which reached No.1 on the Billboard chart.
3 Apr 1968
Jamie Hewlett, English comic book artist and designer. He is best known for being the co-creator of the comic Tank Girl and co-creator of the virtual band Gorillaz with Blur's Damon Albarn.
3 Apr 1962
English musician Simon Raymonde, from Cocteau Twins. The group released the album Heaven or Las Vegas in late 1990 which became the most commercially successful of their many recordings.
3 Apr 1962
Mike Ness, American guitarist, vocalist, and chief songwriter for the punk rock band Social Distortion.
3 Apr 1961
Eddie Murphy, Golden Globe Award-winning American actor and comedian. Regular cast member on Saturday Night Live from 1980 to 1984. Appeared in the 2006 motion picture musical Dreamgirls. Scored the 1986 US No.3 single, 'Party All The Time.'
3 Apr 1949
English singer, songwriter, and guitarist Richard Thompson who was a member of Fairport Convention and is now a solo artist. Thompson was awarded the Orville H. Gibson Award for best acoustic guitar player in 1991 and his songwriting has earned him an Ivor Novello Award. Thompson was appointed Officer of the Order of the British Empire (OBE) in the 2011 New Year Honours for services to music.
3 Apr 1946
English bass guitarist Dee Murray best known as a member of
Elton John
's band. He first appeared with John on the 1970 album Tumbleweed Connection and the milestone albums Goodbye Yellow Brick Road and Captain Fantastic and the Brown Dirt Cowboy. Murray and drummer Nigel Olsson were also members of the Spencer Davis Group in 1969 and during the Eighties Murray continued working as a session musician. Murray died on 15 January 1992 after suffering a stroke aged 45.
3 Apr 1944
Barry Pritchard, guitar, vocals, from English harmony beat group The Fortunes, who had the 1965 UK No.2 & US No.7 single 'You've Got Your Troubles' and the hits 'Here It Comes Again and 'Storm in a Teacup'. Pritchard died on 11th January 1999.
3 Apr 1944
Tony Orlando, singer from American pop music group Dawn who were popular in the 1970s. Their signature hits include 'Candida', 'Knock Three Times', and 'Tie a Yellow Ribbon Round the Ole Oak Tree'.
3 Apr 1943
Richard Manuel, Canadian composer, singer, and multi-instrumentalist, best known as a pianist, lead singer, and occasional drummer of the Band. He joined Ronnie Hawkins's backing group, the Hawks when he was 18. The Band had the 1969 US No.25 single 'Up On Cripple Creek', and the 1970 UK No.16 single 'Rag Mama Rag'. Manuel committed suicide on March 1986 after a gig at the Cheek to Cheek Lounge in Winter Park, Florida.
3 Apr 1941
Jan Berry, who with Jan and Dean, had the 1963 US No.1 & UK No.26 single 'Surf City', co-written by The Beach Boys,
Brian Wilson
. Berry died on 26th March 2004 after being in poor health from the lingering effects of brain damage after a 1966 car crash.
3 Apr 1938
Jeff Barry, songwriter. Wrote 'Tell Laura I Love Her', 'Da Doo Ron Ron', 'Be My Baby', 'Baby I Love You', 'Do Wah Diddy Diddy.'
3 Apr 1938
Phillippe Wynne, from American rhythm and blues vocal group the Detroit Spinners who had the 1980 UK No.1 & US No.2 single 'Working My Way Back To You'. Wynne died on 14th July 1984 after he suffered a heart attack performing at Ivey's nightclub in Oakland, California the previous night.
3 Apr 1928
American songwriter and country musician Don Gibson who wrote such country standards as 'Sweet Dreams' and 'I Can't Stop Loving You'.
Neil Young
covered his 'Oh Lonesome Me' on his After The Gold Rush album. Gibson died on 17th November 2003 aged 75.
3 Apr 1924
American actress, singer, and animal welfare activist Doris Day. She starred in Alfred Hitchcock's suspense film, The Man Who Knew Too Much (1956) with James Stewart and sang two songs in the film, 'Que Sera, Sera (Whatever Will Be, Will Be), which won an Academy Award for Best Original Song and 'We'll Love Again'. She died on 13 May 2019 age 97.