April 4th: The Biggest Music Headlines
Scroll down the page to see all the music headlines, stories and events for April 4 throughout music history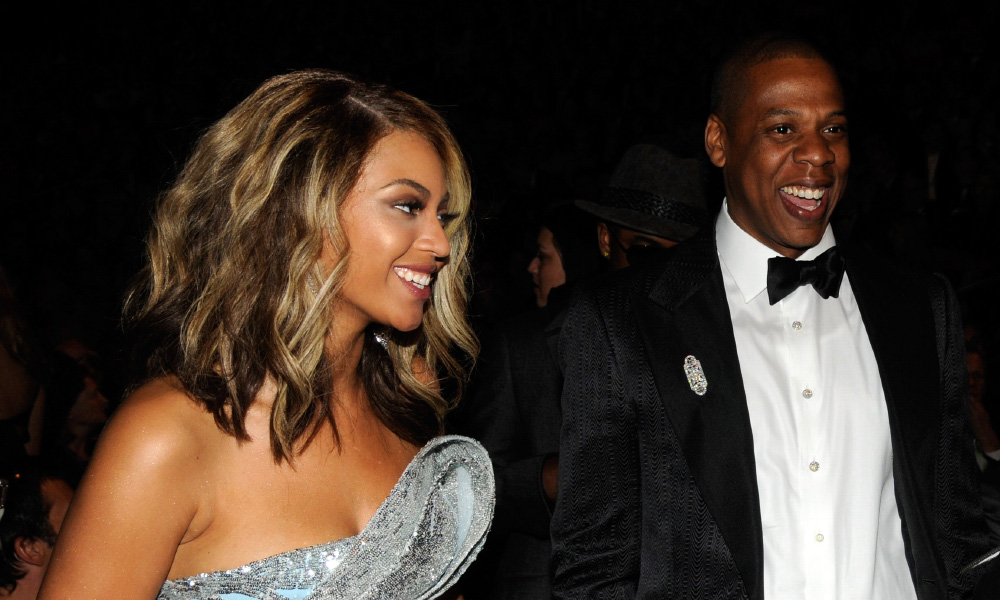 Power Couple Beyoncé and Jay-Z Tie the Knot
On this day in music, April 4, 2008, former Destiny's Child singer and R&B icon Beyoncé Knowles married rapper, producer, and entrepreneur, Jay-Z (born Shawn Carter). The two superstars tied the knot in a small private ceremony held in Carter's New York City apartment. Among the attendees were Knowles' former Destiny's Child bandmates Kelly Rowland and Michelle Williams, as well as Coldplay's Chris Martin and his then-wife Gwyneth Paltrow. Beyoncé and Jay-Z's relationship began when the singer guested on the rapper's "03 Bonnie & Clyde" track on his 2002 album, The Blueprint 2: The Gift & The Curse.
In 1964, The Beatles set a US chart record by occupying the first five places on the Billboard Hot 100. "Can't Buy Me Love" was at the top, followed by their debut single, "Love Me Do," at No.2, and their cover of Chuck Berry's "Roll Over Beethoven" at No. 3. "I Want To Hold Your Hand" held the No. 4 position while "Please Please Me" was at No. 5. The Liverpudlian band also had nine further singles placed in the Hot 100.
In 1970, Crosby, Stills, Nash & Young topped the US albums chart with their debut offering, Déjà Vu. The album yielded three Top 40 US hits: "Teach Your Children," "Our House" and a version of Joni Mitchell's "Woodstock."
In 1987, U2's fifth album, The Joshua Tree, debuted at No.7 on the Billboard 200, making it the highest first-week entry in seven years. It took another three weeks to reach No.1 and eventually achieved diamond status in America, selling over ten million copies. Across the Atlantic, The Joshua Tree became the fastest-selling album in UK history.
In 1999, Irish folk-pop band The Corrs saw their second album, Talk On Corners – the top-selling UK album of 1998 – reach No.1 on the UK albums chart for the tenth time since its release two years earlier.
In 1953, The Stargazers reached No.1 on the UK singles chart with "Broken Wings," which had the distinction of being the first recording by a British act to top the UK charts. The London-based vocal group repeated their success a year later with "I See The Moon."
In 1960, RCA Victor Records announced that they would release all singles in mono and stereo mixes simultaneously. The label, which set a new industry standard, launched the rollout with Elvis Presley's "Stuck on You."
Looking for more things that happened on this day in music?
Keep scrolling for all of the headlines for April 4.
BORN ON APRIL 4:
1913: Muddy Waters
1939: Hugh Masekela
1948: Berry Oakley (The Allman Brothers Band)
1952: Gary Moore (Skid Row, Thin Lizzy)
1958: David Roback (Mazzy Star)
1962: Craig Adams (The Mission)
1972: Jill Scott
1975: Phil A. Jimenez (Wheatus)
Looking for more artists born on this day?
Keep scrolling for all of our April 4 birthdays.
---
What to find another day?
---
April 4th
4 Apr 2020
4 April 2020, Patrick Francfort, died from Covid-19 age 64. As a member of The Gibson Brothers he had success during the disco boom of the late 1970s. Their best known hit singles included 'Cuba' and 'Que Sera Mi Vida'.
4 Apr 2019
Liam Gallagher's
Pretty Green fashion brand was rescued from administration by the JD Sports Group. It was reported they would keep the flagship store in Manchester open, but 11 other stores and 33 concessions in House of Fraser would close, putting 97 jobs at risk. Pretty Green was founded in 2009 by Gallagher and was named after a song by
The Jam
.
4 Apr 2016
It was reported that
David Bowie
had dominated the UK album charts for the first quarter of 2016. Bowie had the most entries to the chart with six albums in the top 40, after fans sought out his music in the wake of his death in January with his final album Blackstar becoming the second best selling album of the year so far, (behind
Adele
's 25).
4 Apr 2013
Former
Rolling Stones
bassist Bill Wyman turned himself in to British police after reports emerged suggesting he began a sexual relationship with his second wife, Mandy Smith, when she was 14 years old. After a brief meeting, the authorities decided not to pursue charges.
4 Apr 2008
Procol Harum singer Gary Brooker won back full royalty rights to the band's worldwide hit,
'A Whiter Shade Of Pale'
at London's Court of Appeal. The decision overturned a 2006 ruling that organist Matthew Fisher was entitled to a 40% portion of royalties on the 1967 hit after he argued he had written the song's organ melody. The court ruled there was an 'excessive delay' in the claim being made - nearly 40 years after the song was recorded.
4 Apr 2008
Beyonce Knowles married Jay-Z at his New York apartment.
Coldplay
frontman Chris Martin and wife Gwyneth Paltrow and Beyonces former bandmates in Destiny's Child, Kelly Rowland and Michelle Williams all attended the private ceremony.
4 Apr 2007
A Swedish couple ran into trouble with authorities after trying to name their baby
Metallica
. Michael and Karolina Tomaro went to court with the country's National Tax Authority about naming their daughter after the rock band. The six-month-old had been baptised
Metallica
, but tax officials said the name was "inappropriate". Under Swedish law, both first names and surnames need to win the approval of authorities before they can be used.
4 Apr 2003
50 Cent became the best selling artist in the US so far this year when his latest album Get Rich or Die Tryin' sold more than four million copies in two months.
4 Apr 1999
The Corrs album Talk On Corners went to No.1 on the UK album chart for the 10th time. They also had the No.2 position with Forgiven, Not Forgotten.'Both albums had spent over a year on the chart. Talk on Corners was the UK's biggest selling album of 1998 and the 9th best selling album of 1999.
4 Apr 1996
Take That
made their final performance on The Ivo Niehe Show on Dutch TV, playing two songs in front of a 250 strong studio audience.
4 Apr 1987
Starship started a two week run at No.1 on the US singles chart with 'Nothin's Gonna Stop Us', taken from the film 'Mannequin', also a No.1 in the UK.
4 Apr 1987
U2
entered the US album chart at No.7 with The
Joshua Tree
making it the highest chart new entry in America for seven years.
4 Apr 1982
'Layla' was on the UK singles chart. The re-released track originally featured on the Derek and the Dominos, album Layla and Other Assorted Love Songs (November 1970). Inspired by Clapton's then unrequited love for Pattie Boyd, the wife of his friend
George Harrison
, 'Layla' is considered one of rock music's definitive love songs, and features an unmistakable guitar figure played by
Eric Clapton
and Duane Allman.
4 Apr 1981
Bucks Fizz won the Eurovision Song Contest held in Dublin, Ireland with the UK entry 'Making Your Mind Up'.
4 Apr 1976
The
Sex Pistols
played the first night of a residency at the El Paradiso club in Soho, London, England.
4 Apr 1970
Brinsley Schwarz's promotion company sent 133 UK journalists, by plane to New York to see the band supporting Van Morrison at the Fillmore East, at a cost of £120,000 ($204,000). The event turned into a disaster. The group planned to leave a few days before the show to rehearse, but were denied visas on a technicality. They were finally given visas on the morning of the show, and arrived hours before the concert. The plane carrying the journalists developed a mechanical fault, delaying the flight and when the journalists arrived In New York 18 hours later, they were all hung over. Brinsley Schwarz gave a underwhelming live performance, resulting in a flood of scathing reviews.
4 Apr 1970
Crosby Stills Nash & Young
went to No.1 on the US album chart with Deja Vu. The first album which saw
Neil Young
joining Crosby, Stills and Nash featured three US Top 40 singles: 'Teach Your Children', 'Our House' and '
Woodstock
'.
4 Apr 1967
The
Jimi Hendrix Experience
,The Walker Brothers, Engelbert Humperdink and Cat Stevens played two shows at Bournemouth Winter Gardens, England. The
Jimi Hendrix Experience
were also the special guests on the first edition of the UK BBC-TV's 'Dee Time', along with Kiki Dee and Cat Stevens.
4 Apr 1964
The Beatles
held the top five places on the US singles chart, at No. 5 'Please Please Me', No.4 'I Want To Hold Your Hand', No.3, 'Roll Over Beethoven', No.2 '
Love Me Do
' and at No.1 'Can't Buy Me Love.' They also had another nine singles on the chart, bringing their total to fourteen singles on the Hot 100.
4 Apr 1960
RCA Victor Records announced that it would be release all Pop singles in mono and stereo simultaneously, the first record company to do so.
Elvis Presley
's single, 'Stuck on You' was RCA's first mono / stereo release.
4 Apr 1956
Elvis Presley
played the first of two nights in San Diego Arena in San Diego, California. The local Police chief issued a statement saying if Elvis ever returned to the city and performed like he did, he would be arrested for disorderly conduct.
4 Apr 1953
The Stargazers were at No.1 on the UK singles chart with 'Broken Wings.' The first record by any British group to reach No.1. Stargazers' member Fred Dachtler is the father of Clark Datchler of 80s group Johnny Hates Jazz.
Born on this day in music
4 Apr 1980
Johnny Borrell guitar, vocals with English indie rock band Razorlight who had the 2006, UK No.1 single 'America' and their 2006 UK No.1 self titled album.
4 Apr 1978
Lemar Obika, UK singer, appeared on BBC TV talent show Fame Academy, 2003 UK No.2 single 'Dance (With You)'.
4 Apr 1975
Phil A. Jimenez, percussion, vocals, from American rock band Wheatus who had the 2001 UK No 2 single 'Teenage Dirtbag' which appeared in the movie Loser.
4 Apr 1973
Kelly Price, seven-time Grammy-nominated American R&B singer and songwriter, formerly on the Def Soul label.
4 Apr 1972
American singer-songwriter Jill Scott. Her 2000 debut, Who Is Jill Scott? Words and Sounds Vol. 1, went platinum, and her fifth album, Woman peaked at No.1 on the US album chart.
4 Apr 1972
Magnus Sveningsson, bassist with Swedish rock band The Cardigans who had the 1997 UK No.2 single 'Lovefool' which was included in the soundtrack to the 1996 film Romeo + Juliet.
4 Apr 1968
Mark Yates, guitarist with, Terrorvision who had the 1999 UK No.2 single 'Tequila'. Terrorvision were originally known as The Spoilt Bratz.
4 Apr 1963
David Gavurin with English alternative rock band The Sundays. Their first album, Reading, Writing and Arithmetic, was released in 1990 and was a UK Top 5 hit along with the single 'Here's Where the Story Ends'.
4 Apr 1962
Craig Adams, bassist from the English gothic rock band The Mission who scored the 1988 UK No.12 single 'Tower Of Strength'. Adams has also worked with The Cult, Spear of Destiny, The Alarm and Theatre of Hate.
4 Apr 1958
American guitarist, songwriter and producer, David Roback best known as the founding member of the duo Mazzy Star best known for the song 'Fade into You' which brought the band some success in the mid-1990s and was the group's biggest mainstream hit. Roback died from metastatic cancer on 24 February 2020 age 61.
4 Apr 1957
Graeme Kelling, Scottish musician and the original guitarist with Deacon Blue who had the 1988 UK No.8 single 'Real Gone Kid', plus over 15 other UK Top 40 singles. Kelling died on 10 June 2004 in Glasgow at the age of 47, after a four-year battle with pancreatic cancer.
4 Apr 1952
Dave Hill, guitarist with English rock band Slade who scored 17 consecutive top 20 hits and six No.1's on the UK Singles Chart becoming the most successful British group of the 1970s based on sales of singles.
4 Apr 1952
Irish guitarist and singer Gary Moore, who was a member of Skid Row and
Thin Lizzy
. As a solo artist he had the 1979 UK No.8 single 'Parisian Walkways'. His 1990 album Still Got the Blues featured contributions from Albert King, Albert Collins, and
George Harrison
. Moore died on 6 February 2011 while on holiday in Spain.
4 Apr 1948
Berry Oakley, bassist with ,
The Allman Brothers Band
who released the classic album Eat a Peach in 1972 and had the 1973 US No.12 single 'Ramblin Man'. He was killed in a motorcycle accident 11th November 1972.
4 Apr 1948
Pick Withers, drummer, with English rock group
Dire Straits
who played on their first four albums, which included hit singles 'Sultans of Swing,' 'Romeo and Juliet' and 'Private Investigations'. Withers also played drums on
Bob Dylan
's 1979 album Slow Train Coming.
4 Apr 1941
Soul singer Major Lance, who had the 1964 US No. 5 & UK No.40 single 'Um, Um, Um, Um, Um, Um'). He died of heart failure on 9 March 1994.
4 Apr 1940
Sharon Sheeley, American songwriter. Hits include 'Poor Little Fool' a US No.1 for Ricky Nelson in 1958 and the 1959 hit for Eddie Cochran 'Somethin' Else'. Sheeley became Cochrn's girlfriend and survived the car crash that killed Cochran in 1960. She died on May 17th 2002 aged 62.
4 Apr 1939
South African trumpeter and singer Hugh Masekela who had the 1968 US No.1 single 'Grazing In The Grass'. Masekela has been described as "the father of South African jazz." Masekela died in Johannesburg on 23 January 2018 from prostate cancer, aged 78.
4 Apr 1939
Danny Thompson, English multi-instrumentalist best known as a double bassist. During his musical career he has played with a variety of other musicians, particularly Richard Thompson and John Martyn as well as Alexis Korner's Blues Incorporated, Paul Weller,
Kate Bush
,
Rod Stewart
and
T. Rex
.
4 Apr 1938
Irish-born American rock musician, singer and songwriter Declan Mulligan. He was best known as a guitarist of rock band The Beau Brummels that formed in San Francisco in 1964 and broke into the mainstream with their debut single, 'Laugh, Laugh'. He died age 83 on 2 November 2021.
4 Apr 1913
American blues musician Muddy Waters, In the early 1950s, Muddy Waters and his band recorded several blues classics, 'Hoochie Coochie Man', 'I'm Ready' and 'I Just Want to Make Love to You'. The
Rolling Stones
named themselves after his 1950 song 'Rollin' Stone', his music influenced
Eric Clapton
's career,
Led Zeppelin
's 'Whole Lotta Love', is lyrically based on the Muddy Waters hit 'You Need Love'. Waters died in his sleep from heart failure on 30 April 1983 aged 70.