August 12th: The Biggest Music Headlines
Scroll down the page to see all the music headlines, stories and events for August 12 throughout music history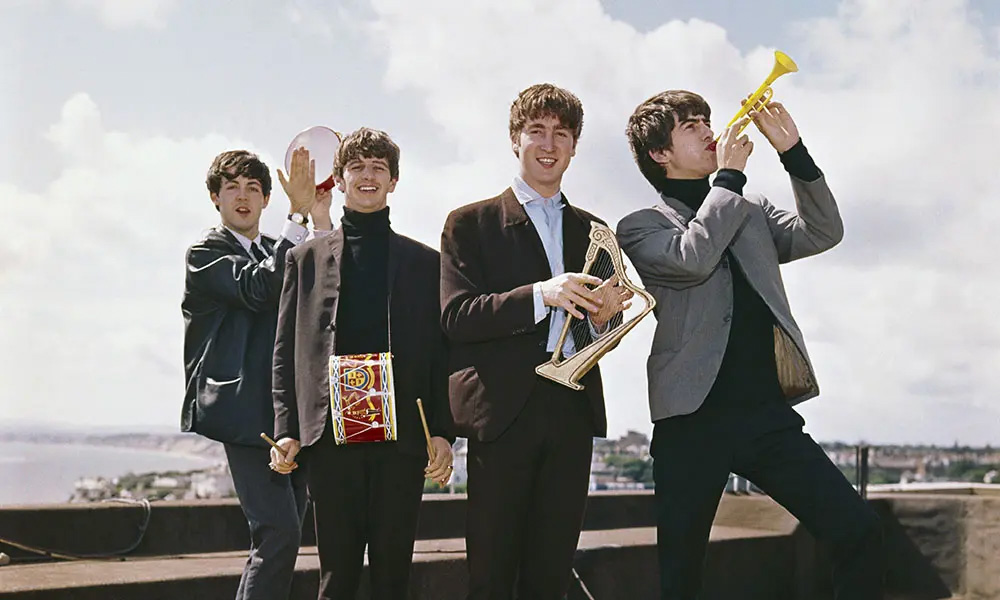 The Beatles Make Their Hollywood Debut
On August 12, 1964, The Beatles' first film A Hard Day's Night opened in movie theaters across the US. Captured at the height of Beatlemania, the film blurred fiction with reality, with the bandmembers playing themselves. A massive critical and commercial success, A Hard Day's Night earned two Academy Award nominations and inspired countless films, TV shows, and, decades later, music videos.
Two years later, in 1966, The Beatles performed at the International Amphitheatre in Chicago. It would be the first stop on their final US tour. The Ronettes, Bobby Hebb, Cyrkle, and the Remains were the support acts for the two-show appearance.
In 1989, the Moscow Music Peace Festival began at Russia's Lenin Stadium. The two-day event was particularly momentous, as it marked the first time that a Soviet-era audience could stand up and dance (previously, they were required to remain seated). Among the performers were Mötley Crue, Ozzy Osbourne, Bon Jovi, Skid Row, and The Scorpions.
In 1986, Prince played his first UK concert at London's Wembley Arena. The three-night residency marked the first stop on the artist's European Parade Tour.
In 1968, Jimmy Page, Robert Plant, John Paul Jones, and John Bonham played together for the first time during a rehearsal at a studio in London's West End. Within a month, they would start using the band name Led Zeppelin.
In 2009, guitarist Les Paul (born Lester William Polsfuss) died at the age of 94. In addition to scoring several hits with his wife, Mary Ford, Paul was vital to the development of rock music. The musician not only helped to create one of the first solid-body electric guitars (the Gibson Les Paul, which went on sale in 1952), but he was also an innovator behind the console, credited with the development of multi-track recording and overdubbing.
In 1984, Lionel Richie closed out the Summer Olympics in Los Angeles with a showstopping nine-minute performance of his hit "All Night Long." The memorable appearance transformed the Commodores alum into a solo sensation across the globe.
In 2012, meanwhile, a cross-generational lineup of British stars performed at the London Olympics' closing ceremony. The three-hour concert included sets by Brian May and Roger Taylor of Queen, the Spice Girls, George Michael, Take That, One Direction, The Who, The Pet Shop Boys, Liam Gallagher, and Ray Davies, among others.
Looking for more things that happened on this day in music?
Keep scrolling for all of the headlines for August 12.
BORN ON AUGUST 12:
1927: Porter Wagoner (singer and TV host)
1929: Buck Owens
1949: Mark Knopfler (Dire Straits)
1953: Jerry Speiser (Men At Work)
1954: Pat Metheny
1961: Roy Hay (Culture Club)
1963: Sir Mix-A-Lot
Looking for more artists born on this day?
Keep scrolling for all of our August 12 birthdays.
---
What to find another day?
---
August 12th
12 Aug 2021
British rapper Nines admitted to a charge relating to a plot to import 28 kilograms of cannabis from Spain and Poland, and admitted a further charge of money laundering related to a £98,000 debt and the street value of the cannabis. He was remanded in custody. He was later sentenced to 28 months in HM Prison Wormwood Scrubs. He had served 18 months previously for possession of the same drug with intent to supply.
12 Aug 2015
A second postage stamp was issued in the US bearing the image of
Elvis Presley
(the first was introduced in 1993). This one featured a black and white photograph by William Speer of Elvis in 1955 and was part of the Music Icon series that began in 2013.
12 Aug 2012
The London 2012 Olympics ended with a spectacular musical closing ceremony. The three-hour show featured some of the biggest names of British music from decades past, including the
Spice Girls
,
George Michael
,
The Who
,
Take That
, Muse, Jessie J, Emeli Sande, Elbow, Madness, The Pet Shop Boys, One Direction, Ray Davies,
Liam Gallagher
, and Brian May and Roger Taylor from
Queen
.
12 Aug 2010
Richie Hayward, drummer and co-founder of Little Feat, passed away at the age of 64 after contracting pneumonia as he battled liver cancer.
12 Aug 2009
Guitarist Les Paul died in hospital in White Plains, New York at the age of 94 suffering from severe pneumonia. Paul is credited with developing one of the first solid-body electric guitars, which went on sale in 1952 and contributed to the birth of rock. He also developed other influential recording innovations such as multi-track recording and overdubbing. In the early 50s, Paul and his wife Mary Ford had a string of hits including 'Mockin' Bird Hill', 'How High the Moon', and 'Vaya Con Dios'.
12 Aug 2007
UK singer, songwriter Kate Nash went to No.1 on the UK album chart with her debut album 'Made Of Bricks.'
12 Aug 2006
Founding member of Destiny's Child, LeToya was No.1 on the US album chart with her debut solo album 'LeToya.' It was released six years after being dismissed from the group and staying away from the spotlight.
12 Aug 2003
Lee Ryan from Blue was arrested whilst driving a Porsche around central London and was charged with drunk driving. Ryan had spent the night knocking back drinks at Browns nightclub in Covent Garden with his cousin and a record company executive. After annoying others in the club with rowdiness, and his cousin's throwing up in the VIP area, bouncers threw Lee out. Police pulled the star over just after 4am on Tower Bridge Road and breath tests showed him to be twice over the legal drinking limit.
12 Aug 1997
American Blues guitarist Luther Allison died of cancer age 57 in Madison, Wisconsin. He played with Howlin' Wolf's band and backed James Cotton.
12 Aug 1989
The two day Moscow Music Peace Festival was held at The Lenin Stadium in Moscow, Russia. Western Acts who appeared included Motley Crue,
Ozzy Osbourne
,
Bon Jovi
, Skid Row and The Scorpions. This was the first time that an audience had been allowed to stand up and dance at a stadium rock concert in the Soviet Union. Previous to this, all concerts had to be seated.
12 Aug 1986
Prince
started a run of three nights at Wembley Arena, London, his first UK shows for five years.
12 Aug 1985
Kyu Sakamoto was killed in a plane crash when JAL Flight 123, a 747, crashed and burned on a thickly wooded mountain about 60 miles northwest of Tokyo. He was 43. He had the 1963 US No.1 & UK No.6 single 'Sukiyaki', the first Japanese artist to hit the top of the US singles chart.
12 Aug 1984
As The Olympic Games came to a close, Lionel Richie performed, 'All Night Long' live from Los Angeles to an estimated television audience of 2.6 billion people around the world.
12 Aug 1978
The Commodores started a two week run at No.1 on the US singles chart with 'Three Times A Lady', also No.1 in the UK and becoming
Motown
's biggest British selling single. Lionel Richie wrote the song about his love for his wife, mother and grandmother hence 'Once, Twice, Three Times a Lady.'
12 Aug 1977
Henri Padovani guitarist with
The Police
quit the group after nine months leaving them a trio.
12 Aug 1973
12 Aug 1972
Alice Cooper was at No.1 on the UK singles chart with 'School's Out'. The bands only UK No.1, which was also a No.7 hit on the US chart. Cooper has said he was inspired to write the song when answering the question, "What's the greatest three minutes of your life?". Cooper said: "There's two times during the year. One is Christmas morning, the next one is the last three minutes of the last day of school."
12 Aug 1971
John Lennon
& Yoko Ono donated £1,000 to the Clyde Shipbuilders Scottish Union fighting fund who were refusing to stop work at the Glasgow site after being made redundant.
12 Aug 1968
Jimmy Page
, Robert Plant, John Paul Jones and
John Bonham
played together for the first time when they rehearsed at a studio in Gerrard Street in London's West End. The first song they played was a version of 'The Train Kept A-Rollin.' They also played 'Smokestack Lightning' and a version of 'I'm Confused' (soon to become 'Dazed And Confused'). The first live dates they played were as The Yardbirds, and it was not until the following month when they started to use the name
Led Zeppelin
.
12 Aug 1967
Scott McKenzie was at No.1 on the UK singles chart with 'San Francisco (Be Sure to Wear Flowers in Your Hair)'. Written by John Phillips, the song was produced and released to promote the
Monterey Pop Festival
held in June of this year.
12 Aug 1966
The Beatles
performed two shows at the International Amphitheatre in Chicago, Illinois. This was the first stop on what would turn out to be
The Beatles
' final US tour. Support acts were the Remains, Bobby Hebb, Cyrkle, and the Ronettes.
12 Aug 1964
The Beatles
first film A Hard Day's Night opened in 500 American cinemas to rave reviews. The film was a financial and critical success. Time magazine rated it as one of the all-time great 100 films.
12 Aug 1963
Merseybeat band the Searchers were at No.1 on the UK singles chart with the Doc Pomus and Mort Shuman penned 'Sweets for My Sweet' which was originally recorded by The Drifters.
12 Aug 1960
Pete Best auditioned to become The Silver Beatles' drummer and was asked to travel to Hamburg in Germany for the bands next set of dates. Before leaving for Hamburg, The Silver Beatles changed their name to simply, "
The Beatles
".
Born on this day in music
12 Aug 1969
British pop/folk singer-songwriter Tanita Tikaram. Her debut album, Ancient Heart, produced by Rod Argent and Peter Van Hooke, was released in 1988 when she was 19 years old. The album's first two singles, 'Good Tradition' and 'Twist In My Sobriety', became top 10 hits around Europe and the album sold around 4 million copies worldwide.
12 Aug 1968
Paul Tucker, Keyboards, Lighthouse Family, (1996 UK No.4 single 'Lifted' plus 9 other UK Top 40 singles).
12 Aug 1963
Sir Mix-A-Lot, US rapper, (1992 US No.1 single 'Baby Got Back', a No.56 hit in the UK).
12 Aug 1962
Bragi Olaffson, bass, The Sugarcubes, (1992 UK No.17 single 'Hit').
12 Aug 1961
Roy Hay guitar, vocals, Culture Club, (1983 UK No.1 & 1984 US No.1 single 'Karma Chameleon' plus seven other UK top 10 singles').
12 Aug 1958
Jurgen Dehmel, from German group Nena who had the 1984 UK No.1 & US No.2 single '99 Red Balloons'. The track made them UK One Hit Wonder.
12 Aug 1954
American jazz guitarist and composer Pat Metheny. The second Pat Metheny Group album, American Garage reached No. 1 on the Billboard jazz chart and crossed over onto the pop charts. He worked with
David Bowie
on the single 'This Is Not America' which reached No. 14 in the British Top 40 in 1985. Metheny has also worked with Chick Corea, Herbie Hancock, Jaco Pastorius and Joni Mitchell. He has three gold albums and 20 Grammy Awards and is the only person to have won Grammys in 10 categories.
12 Aug 1953
Jerry Speiser, Men At Work, (1983 UK & US No.1 single 'Down Under').
12 Aug 1951
August Darnell, singer, Kid Creole And The Coconuts, (1982 UK No.2 single 'Annie I'm Not Your Daddy').
12 Aug 1950
Ronald David Mael, Sparks, (1974 UK No.2 single 'This Town Ain't Big Enough For The Both Of Us').
12 Aug 1949
Mark Knopfler British songwriter, guitarist, singer with
Dire Straits
who had the 1985 US No.1 single 'Money For Nothing', the 1986 UK No.2 single 'Walk Of Life', and the 1985 world-wide No.1 album Brothers In Arms. Knopfler has recorded and performed with many prominent musicians, including Chet Atkins,
Eric Clapton
,
Bob Dylan
, Bryan Ferry, Emmylou Harris, Van Morrison, Steely Dan, Sting, and James Taylor.
12 Aug 1941
English pop singer Craig Douglas, who had the 1959 UK No.1 single whith his version of the
Sam Cooke
hit 'Only Sixteen 'plus nine other UK Top 40 hits.
12 Aug 1937
American guitarist, Roy Gaines. He was a backing musician in sessions with the Everly Brothers, the
Supremes
, Bobby Darin,
Stevie Wonder
, and Gladys Knight. Gaines co-wrote the song 'No Use Crying', which was recorded by both George Jones and Ray Charles. He died a day before his 84th birthday on 11 August 2021.
12 Aug 1929
Buck Owens, American singer and guitarist, who scored twenty number-one hits on the Billboard country music charts, and pioneered what has come to be called the Bakersfield sound'a reference to Bakersfield, California. Died March 25th 2006.
12 Aug 1927
Porter Wagoner, Country singer known for his flashy Nudie and Manuel suits and blond pompadour. In 1967, he introduced a then little known
Dolly Parton
on his long-running television show. Also known as Mr. Grand Ole Opry, Wagoner has scored over 80 US Country singles from 1954–1983. He died from lung cancer on October 28, 2007.
12 Aug 1920
American rhythm and blues singer Percy Mayfield, known for the songs 'Please Send Me Someone to Love' and 'Hit the Road Jack', the latter being a song popularized by Ray Charles, (Charles recorded at least 15 of his songs). He died on 11 August 1984 age 63.