August 18th: The Biggest Music Headlines
Scroll down the page to see all the music headlines, stories and events for August 18 throughout music history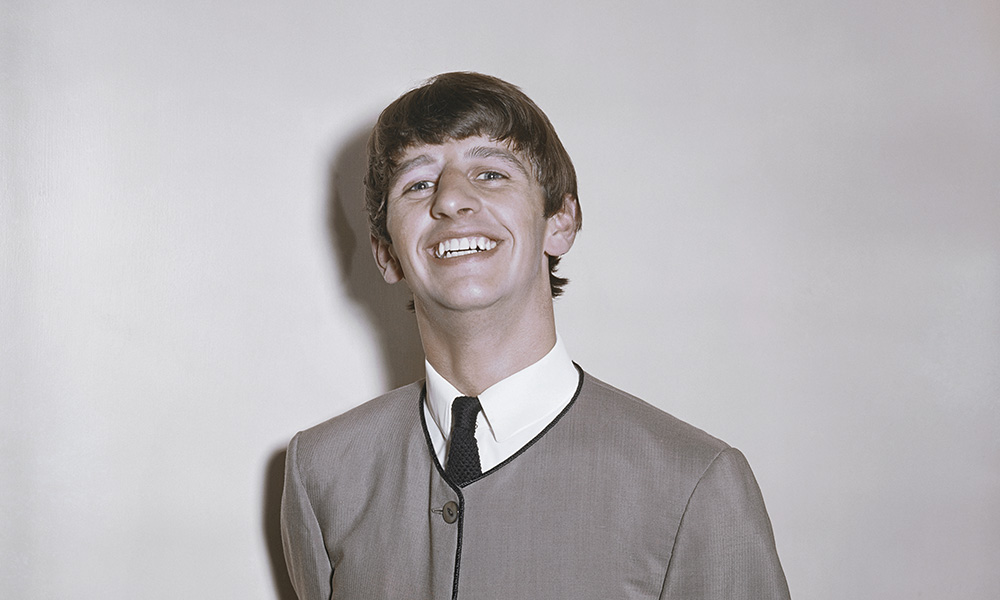 Ringo Joins The Beatles
On August 18, 1962, after just two hours of rehearsal together, Ringo Starr played his first show with the Beatles at the Horticultural Society dance in Birkenhead, England.
…Exactly two years later, the Fab Four would arrive in San Francisco for their first American tour, where they were greeted by over 9,000 ecstatic fans.
In 1977, The Police played their first official show at Rebecca's Nightclub in Birmingham, UK. Within two years, the London trio would achieve mainstream success with singles like "Can't Stand Losing You," "Roxanne," and "Message in a Bottle," all of which featured a unique blend of jazz, punk, and reggae.
In 1984, George Michael went to No.1 in the UK (among many other territories) with "Careless Whisper," his first single as a solo artist. The member of Wham! also became the first person to reach No.1 on the UK pop chart as both a solo artist and as a member of a band in the same year, following Wham!'s "Wake Me Up Before You Go-Go." The group would continue to top the pop chart throughout the year, with "Freedom" and the enduring "Last Christmas."
In 1986, Bon Jovi released their breakthrough third studio album, Slippery When Wet. Featuring some of their biggest hits, including "Livin' on a Prayer," and "You Give Love a Bad Name," the album topped charts around the globe—including in the US, Australia, Canada, and Norway—and has since been certified 12x Platinum in the US.
In 1992, grunge royalty Kurt Cobain and Courtney Love celebrated the birth of their daughter, Frances Bean Cobain.
Looking for more things that happened on this day in music?
Keep scrolling for all of the headlines for August 18.
BORN ON AUGUST 18:
1950: Dennis Elliot (Foreigner)
1951: John Rees (Met At Work)
1953: Marvin Isley (The Isley Brothers)
1967: Dan Peters (Mudhoney)
1969: Erik Schrody (House of Pain)
1971: Richard James (Aphex Twin)
1977: Régine Chassagne (Arcade Fire)
1983: Mika
Looking for more artists born on this day?
Keep scrolling for all of our August 18 birthdays.
---
What to find another day?
---
August 18th
18 Aug 2020
Jack Sherman died age 64 of a heart attack at his home in Savannah, Georgia. He is best known as the second guitarist to have joined the Red Hot Chili Peppers, in between Hillel Slovak's departure and return. He played on their debut album, and co-wrote much of their second album, Freaky Styley. He went on to collaborate with musicians such as
Bob Dylan
, George Clinton and Feargal Sharkey.
18 Aug 2014
Ed Sheeran
's album X notched up eight weeks at No.1 on the UK chart, becoming the joint longest chart-topper by a male solo artist. The last man to achieve the feat was James Blunt for his 2005 collection Back to Bedlam.
18 Aug 2012
American singer and songwriter Scott McKenzie died aged 73. He was best known for his 1967 hit single and generational anthem, 'San Francisco (Be Sure to Wear Flowers in Your Hair)'. He also joined a new version of The Mamas & the Papas and co-wrote "Kokomo" (1988), a No.1 single for
The Beach Boys
.
18 Aug 2010
French beauty brand Etat Libre D'Orange announced that they have teamed up with the
Sex Pistols
to bottle the scent of the Punk era by launching the band's first fragrance. Company executives said "to wear this scent, you must resist tradition, fight conformity, and disregard aromatic conventions."
18 Aug 2008
Soul singer Pervis Jackson died of cancer. Was a member of The Spinners (Also known as The
Motown
Spinners and The Detroit Spinners). Had the 1980 UK No.1 & US No.2 single 'Working My Way Back To You'.
18 Aug 2006
Justin Hawkins the lead singer of The Darkness checked himself into the Priory rehabilitation clinic suffering from exhaustion after three years of non-stop work.
18 Aug 2006
US film-maker Adam Muskiewicz set up elviswanted.com as part of a documentary exploring the myth that the singer was still alive and offered a $3m (£1.59m) reward for anybody who found
Elvis Presley
alive. The film was due for release in August 2007, to coincide with the 30th anniversary of Presley's death.
18 Aug 2006
Babyshambles front man Pete Doherty appeared at Thames Magistrates court in London to face seven charges of drug possession.
18 Aug 2003
Tony Jackson bass player with The Searchers died of cirrhosis of the liver. The Searchers had the 1964 UK No.1 & US No.13 single 'Needles And Pins'.
18 Aug 1992
Kurt Cobain
became a father when his wife Courtney Love gave birth to a daughter, Frances Bean Cobain.
18 Aug 1991
Rick Griffin, died after being forced off the road by a van he was attempting to pass on his Harley Heritage Softail motorbike. One of his best known album covers was for the
Grateful Dead
's 'Aoxomoa' LP, and the legendary "Flying Eyeball" poster he designed for a series of concerts in San Francisco featuring the
Jimi Hendrix Experience
, Albert King and John Mayall.
18 Aug 1991
Sweet Jesus appeared at the Boardwalk, Manchester. Support act was The Rain (later to become
Oasis
) minus Noel Gallagher who had yet to join his brothers band.
18 Aug 1986
Bon Jovi
released their third studio album, Slippery When Wet, which peaked at No.1 on the US charts, going on to sell over 28 million copies worldwide. The set featured two US chart toppers, 'You Give Love A Bad Name' and 'Livin' On A Prayer'.
18 Aug 1984
George Michael
was at No.1 on the UK singles chart with his first solo single 'Careless Whisper.' It made George the first person to reach No.1 as a solo artist and a member of a band in the same year. It gave Epic records UK their first UK million seller and the song was No.1 in nearly 25 countries, selling over six million copies worldwide.
18 Aug 1983
The Police
plus Joan Jett & the Blackhearts and
R.E.M.
(their biggest gig to date) all appeared at Shea Stadium, New York City.
18 Aug 1982
18 Aug 1979
Chic went to No.1 on the US singles chart with 'Good Times', the group's second US No.1, a No.5 hit in the UK.
18 Aug 1979
British singer, songwriter, producer Nick Lowe married
Johnny Cash
's stepdaughter Carlene Carter in Los Angeles. The couple are now divorced.
18 Aug 1977
Two Missouri girls were killed and a third was critically injured when a car being driven by an 18-year-old Memphis teen swerved into a crowd of over 2,000 mourners standing in front of Graceland's music gate at about 4am. The driver was charged with drunk driving, leaving the scene of an accident and two counts of second degree murder.
18 Aug 1977
The Police
made their live debut as a three-piece band when they played at Rebecca's Birmingham, England. The Police became globally popular in the late 1970s and are generally regarded as one of the first New Wave groups to achieve mainstream success, playing a style of rock that was influenced by punk, reggae, and jazz.
18 Aug 1976
'Variety' reported that
Marvin Gaye
faced two consecutive five day prison terms in Los Angeles county jail for contempt of court after failing to pay alimony and child support.
18 Aug 1973
Diana Ross scored her second US No.1 single with 'Touch Me In The Morning'. The song marked a turning point in her career, coming immediately after her Academy Award nomination for Best Actress in her acting debut, Lady Sings the Blues.
18 Aug 1969
Mick Jagger
was accidentally shot in the hand during filming of Ned Kelly in Australia. The film was dogged by problems: Jagger's girlfriend of the time, Marianne Faithfull, had gone to Australia to play the lead female role (Ned's sister, Maggie), but the Jagger-Faithfull relationship was breaking up, and she took an overdose of sleeping tablets soon after arrival in Sydney resulting in being hospitalised in a coma, and pulling out of the film.
18 Aug 1966
The Doors
officially signed with Elektra Records in a deal for the band to produce seven albums. The band also reluctantly agreed to release 'Break On Through' as their first single. The lyric "She gets high/she gets high/she gets high" was changed to 'She gets/she gets/she gets" in order to secure radio play.
18 Aug 1966
Paul Jones left Manfred Mann just as 'Pretty Flamingo' was climbing the US charts. He was replaced by singer Mike D'Abo, who would take over lead vocals on the bands next hit, 'The Mighty Quinn,' a song written by
Bob Dylan
.
18 Aug 1964
Over 9,000 frenzied fans met
The Beatles
as they arrived in San Francisco, to begin an American tour.
The Beatles
were driven into a protective fence enclosure so that photographers could take pictures. As the 9,000 fans pressed against the fencing, it gave way, with
The Beatles
managing to get out split-seconds before it came crashing down.
18 Aug 1962
Ringo Starr
made his debut with
The Beatles
at the horticultural society Dance, Birkenhead, England, having had a two-hour rehearsal in preparation. This was the first appearance of
The Beatles
as the world would come to know them: John, Paul, George, and Ringo.
Born on this day in music
18 Aug 1983
Mika, (Mica Penniman), UK singer, (2007 UK No.1 single 'Grace Kelly' and 2007 UK No.1 album 'Life in Cartoon Motion').
18 Aug 1977
Canadian multi-instrumentalist and singer, Régine Chassagne, founding member of Arcade Fire. (She is married to co-founder Win Butler). Had the 2005 album Funeral, and 2017 US No.1 album Everything Now.
18 Aug 1971
Richard James, Aphex Twin (1993 UK No.32 single 'On').
18 Aug 1969
Erik Schrody, Irish-American rapper and singer-songwriter, House Of Pain, (1993 UK No.3 single 'Jump Around'). Member of Everlast, (1999 UK No. 34 single 'What It's Like').
18 Aug 1967
Dan Peters, drummer with American alternative rock band Mudhoney. Their early releases on the Sub Pop label were massively influential on the Seattle music scene.
18 Aug 1967
Tracy Tracy, The Primitives, (1988 UK No.5 single 'Crash').
18 Aug 1960
English songwriter, multi-instrumentalist, and record producer Stuart Matthewman. He gained worldwide fame as the guitarist/saxophonist of the English band Sade. Stuart is also a member of Sweetback, and was one half of Twin Danger. He appeared on all of Sade's tours and albums: Diamond Life, Promise, Stronger Than Pride, Love Deluxe, Lovers Rock, and Soldier of Love all of which went triple platinum in the US.
18 Aug 1957
Ron Strykert, Men At Work, (1983 UK and US No.1 single 'Down Under').
18 Aug 1956
Tony Garnier American bassist, best known as an accompanist to
Bob Dylan
, with whom he has played since 1989. He is Dylan's longest-running sideman and was also a long-time sideman for David Johansen in his Buster Poindexter persona, and was also briefly a member of the Saturday Night Live house band.
18 Aug 1953
Marvin Isley from American group The Isley Brothers who first came to prominence in 1959 with their fourth single, 'Shout', and then the 1962 hit 'Twist and Shout. The Isley Brothers also scored the hits 'This Old Heart Of Mine', 'Summer Breeze' and 'Harvest for the World'. Sixteen of their albums charted in the Top 40. Marvin Isley died from complications of diabetes on June 6, 2010.
18 Aug 1952
Patrick Swayze, actor, singer, (1988 US No.3 & UK No.17 single with Wendy Fraser, 'She's Like The Wind'). Swayze died from pancreatic cancer on September 14, 2009.
18 Aug 1951
John Rees, Men At Work, (1983 UK & US No.1 single 'Down Under').
18 Aug 1950
Dennis Elliott, drummer with English-American rock band Foreigner, who scored the 1985 UK & US No.1 single 'I Want To Know What Love Is'. They are one of the world's best-selling bands of all time with worldwide sales of more than 80 million records.
18 Aug 1949
Nigel Griggs bassist from New Zealand group Split Enz who had the 1980 UK No.12 single 'I Got You'. Split Enz had ten albums (including seven studio albums) reach the top ten of the Official New Zealand Music Chart.
18 Aug 1949
American musician, songwriter and producer Greg Leisz. His playing has appeared throughout the years on many recordings including Alison Krauss, Beck, Black Crowes, Bruce Springsteen, Eagles, Emmylou Harris, Eric Clapton, Haim, Jackson Browne and Joni Mitchell.
18 Aug 1945
American singer and actress Sarah Dash, who with Labelle had the 1975 US No.1 & UK No.17, single 'Lady Marmalade'. She worked as a singer, session musician, and sideman for The
Rolling Stones
, and
Keith Richards
. Dash died unexpectedly on 20 September 2021 at the age of 76.
18 Aug 1945
Barbara Harris, singer, The Toys, 1965 US No. 2 & UK No.5 single 'A Lover's Concerto').
18 Aug 1944
Carl Wayne, singer, with British rock band The Move who had the 1969 UK No.1 single 'Blackberry Way' and hits with 'I Can Hear The Grass Grow', 'Flowers in the Rain' and 'Fire Brigade'. Wayne died of cancer on 31st Aug 2004.
18 Aug 1939
American soul and R&B singer Maxine Brown. She recorded a string of sizable hits for Wand Records in the mid 60s. Among these were the
Carole King
/Gerry Goffin songs 'Oh No Not My Baby'.
18 Aug 1930
American pop singer Johnny Preston, best known for his 1960 US & UK No.1 single 'Running Bear'. Preston died of heart failure on 4 March 4 2011.