August 22nd: The Biggest Music Headlines
Scroll down the page to see all the music headlines, stories and events for August 22 throughout music history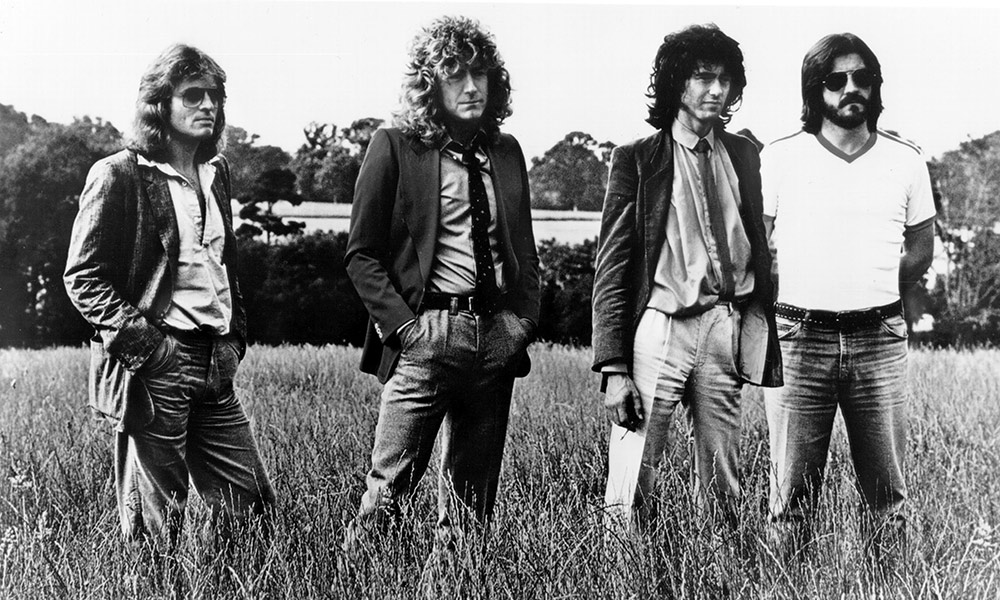 Led Zeppelin Release Their Final Album
On August 22, 1979, Led Zeppelin's eighth studio album, In Through the Out Door, was released in the United States. Little did anyone know, it would be their final full-length recording together. A little over a year later, drummer John Bonham would tragically pass away, resulting in the group's disbandment. Recorded over three weeks in November and December 1978 at ABBA's Polar Studios in Stockholm, the album became a massive hit, thanks in part to such enduring favorites as "All My Love" and "Fool in the Rain." In addition to topping the charts on both sides of the Atlantic, the album has since been certified 6x Platinum by the RIAA.
In 1969, The Beatles met at John Lennon's Tittenhurst Park residence in England for their final photo session together. Shot by photographer Ethan Russell, photos from the session would be used for the front and back covers of the 1970 compilation album, Hey Jude. Also among the photos were images of Yoko Ono and a pregnant Linda McCartney, who would would give birth to daughter Mary just six days later.
In 1962, meanwhile, The Beatles made their very first TV appearance on the Manchester-based Granada TV. The broadcast featured the young band performing "Some Other Guy" during a lunchtime session at The Cavern Club in Liverpool. At the end, a fan could be heard shouting "We want Pete!" (referring to drummer Pete Best, who was ousted from the group a week earlier).
In 1978, former Sex Pistols bassist Sid Vicious made his final live appearance in London at the Electric Ballroom. The show also marked his debut as a frontman, performing alongside Rich Kids' Steve New, The Damned's Rat Scabies, and Nancy Spungen. The punk supergroup played under the name Vicious White Kids to a star-studded audience, including Elvis Costello, Blondie, Joan Jett, The Slits, and Captain Sensible.
In 1968, Ringo Starr quit The Beatles during The White Album sessions after becoming overwhelmed with the constant bickering and tension between band members. News of the departure was kept secret, and he later returned to the studio on September 3. During Ringo's absence, the band recorded "Back In the USSR" with Paul on drums and John on bass.
In 1956, Elvis Presley began working on his first movie, Love Me Tender. The original title was The Reno Brothers, but it was later changed to take advantage of Presley's song of the same name, which was recorded for the film.
In 2011, the music world lost two of its greatest songwriters: Jerry Leiber, who died at 78, and Nicholas Ashford, who died at 70. Leiber formed a highly-successful creative partnership with Mike Stoller. Together, they penned such hits as "Hound Dog" (made famous first by Big Mama Thornton, followed by Elvis Presley) "Jailhouse Rock" (Presley), "Poison Ivy" (The Coasters) and "Stand By Me," written alongside singer Ben E. King. Ashford, meanwhile, was best known for his work alongside his former wife, Valerie Simpson. Together, they wrote such notable singles as "Ain't No Mountain High Enough," "Ain't Nothing Like the Real Thing" (both made famous by Marvin Gaye and Tammi Terrell), and "I'm Every Woman," which Chaka Khan made her signature hit in 1978. The couple also enjoyed a successful recording career, scoring hits with "Found A Cure" (1979) and "Solid" (1984).
Looking for more things that happened on this day in music?
Keep scrolling for all of the headlines for August 22.
BORN ON AUGUST 22:
1917: John Lee Hooker
1936: Dale Hawkins
1958: Ian Mitchell (Bay City Rollers)
1961: Debbie Peterson (The Bangles)
1961: Roland Orzabal (Tears for Fears)
1963: Tori Amos
1967: Layne Staley (Alice in Chains)
1973: Howie D (Backstreet Boys)
1995: Dua Lipa
Looking for more artists born on this day?
Keep scrolling for all of our August 22 birthdays.
---
What to find another day?
---
August 22nd
22 Aug 2022
Jerry Allison, drummer from American rock and roll band
The Crickets
, died from cancer age 82. He was the co-writer of their hits 'That'll Be the Day' and 'Peggy Sue', recorded with Buddy Holly. His only solo chart entry on the Billboard Hot 100 was 'Real Wild Child', issued in 1958 under the name Ivan.
22 Aug 2021
Brian Travers, British saxophonist with UB40, died from cancer age 62. With UB40 he had the 1983 UK No.1 & 1988 US No.1 single 'Red Red Wine' and over 30 other UK top 40 hits.
22 Aug 2018
American musician Ed King died in his Nashville, Tennessee, home at 68 years of age. He was a guitarist for the psychedelic rock band Strawberry Alarm Clock and guitarist and bassist for the Southern rock band Lynyrd Skynyrd from 1972 to 1975 and again from 1987 to 1996.
22 Aug 2016
It was reported that pills seized from the home of
Prince
contained the dangerously powerful synthetic opioid fentanyl but were mislabelled. Officials investigating the artist's death said the pills were labelled as hydrocodone, a weaker type of opioid. Autopsy results released in June revealed
Prince
died of an accidental fentanyl overdose.
22 Aug 2014
John Lennon
's killer, 59-year-old Mark David Chapman, was denied parole by New York State officials for the eighth time. In handing down their decision, the parole board said, "Your release would be incompatible with the welfare of society and would so deprecate the serious nature of the crime as to undermine respect for the law."
22 Aug 2011
Songwriter and producer Jerry Leiber died at his home in Los Angeles at the age of 78 from cardio-pulmonary failure. With Mike Stoller he wrote many hits including: 'Hound Dog', 'Jailhouse Rock', 'King Creole', 'There Goes My Baby', 'Searchin', 'Yakety Yak', 'Stand By Me', 'Poison Ivy,' and 'Kansas City'.
22 Aug 2011
Nicholas Ashford, one half of Ashford and Simpson died of complications from throat cancer, in New York. With his wife Valerie Simpson they had the 1979 US No.36 single 'Found A Cure', and 1985 UK No. 3 single 'Solid'. The pair wrote hits such as: 'Ain't No Mountain High Enough', 'You're All I Need To Get By', 'Ain't Nothing Like the Real Thing', and 'Reach Out and Touch (Somebody's Hand)'.
22 Aug 2009
Soul singer Johnny Carter, who was a member of doo-wop groups The Dells and The Flamingos, died aged 75. Carter who was famed for his falsetto vocals, was one of the few artists to be inducted into the US Rock and Roll Hall of Fame with two acts.
22 Aug 2007
Former Savage Garden singer Darren Hayes was arrested on suspicion of racially abusing a member of staff at a Thai restaurant in Soho, London. Hayes was released on bail pending further inquiries.
22 Aug 2005
50 Cent was suing a US car dealer for allegedly using his name in an advert without permission. Describing himself in the legal action as a "hugely successful" artist "known for his good looks, 'gangsta' image and hard knocks success story". The rapper was seeking more than $1m (£555,150) from Gary Barbera Enterprises for a Dodge Magnum advert with the line "Just Like 50 Says" alongside a photo of him.
22 Aug 2004
Al Dvorin the announcer who popularised the phrase "Elvis has left the building" died in a car crash, on his way home from an
Elvis Presley
convention in California. Dvorin aged 81, was in a car driven by Elvis photographer Ed Bonja. Dvorin was never paid for recordings of his words, and was bitter towards the multimillion pound
Elvis Presley
Enterprises. In the early 1970s, Colonel Parker asked Dvorin to inform fans at a gig that Presley would not be appearing for an encore. He took the stage and announced: "Ladies and gentlemen, Elvis has left the building. Thank you and goodnight."
22 Aug 2003
Kjell Henning Bjoernestad a Norwegian
Elvis Presley
impersonator set a world record by singing the rock 'n' roll legend's hits non-stop for over 26 hours. The previous record was set by British Elvis fan Gary Jay who sang for 25 hours 33 minutes and 30 seconds.
22 Aug 1999
Former
Spice Girl
Geri Halliwell scored her first UK No.1 solo single with 'Mi Chico Latino' the second single from her debut solo album Schizophonic.
22 Aug 1992
Sting and Trudie Styler held their wedding reception, (the couple married on 20th August 1992), after The
Troggs
had played a set, all three members of
The Police
got on stage and played a couple of numbers.
22 Aug 1987
Madonna
went to No.1 on the US singles chart with 'Who's That Girl', her sixth US No.1 and also a No.1 in the UK. The track was from the soundtrack album of the motion picture of same name.
22 Aug 1979
In Through the Out Door was released in the US,
Led Zeppelin
's last album while all four members were alive. 'Fool in the Rain' was released as a single in the US. In Through The Out Door has now been certified 6 times Platinum by the Recording Industry Association of America (RIAA) for US sales in excess of 6 million copies.
22 Aug 1970
Bread went to No.1 on the US singles chart with 'Make It With You', the group's only No.1 hit, which was a No.5 in the UK. Many artists have covered the song including: The
Supremes
,
Aretha Franklin
, Earth, Wind & Fire, Dusty Springfield, Andy Williams, and Marc Cohn.
22 Aug 1970
Creedence Clearwater Revival
started a nine-week run at No.1 on the US album chart with their fifth studio album Cosmo's Factory. The name of the album comes from the warehouse in Berkeley where the band rehearsed. Bandleader John Fogerty was so insistent on practicing (nearly every day) that drummer Doug "Cosmo" Clifford began referring to the place as "the factory".
22 Aug 1969
The Beatles
met at
John Lennon
's Tittenhurst Park home in England for their final ever photo session. Three shots from this session (by Ethan Russell) formed the front and back covers of the Capitol compilation album Hey Jude. Yoko Ono and a pregnant Linda McCartney (she was to give birth to daughter Mary six days later) appeared in some photographs with
The Beatles
.
22 Aug 1968
Ringo Starr
quit
The Beatles
during The
White Album
sessions when the constant bickering and tension became too much for him. The news of Ringo's departure was kept secret, and he rejoined the sessions on September 3rd. After Ringo walked out, the remaining Beatles recorded 'Back In the USSR', with Paul on drums and John playing bass.
22 Aug 1967
The
Jimi Hendrix Experience
appeared on the UK BBC TV Simon Dee show. Kiki Dee and Cat Stevens were also guests on the show.
22 Aug 1966
New York City teenagers Carol Hopkins and Susan Richmond climbed out onto the ledge on the second floor of a city hotel and threatened to jump unless they could get to meet
The Beatles
. Police talked then down.
22 Aug 1964
The
Supremes
started a two week run at No.1 on the US singles chart with 'Where Did Our Love Go' the girl group's first No.1. Holland–Dozier–Holland had originally composed the song for The
Marvelettes
to record it who rejected the song.
22 Aug 1963
Billy J Kramer And The Dakotas were at No.1 on the UK singles chart with 'Bad To Me.' A song
John Lennon
wrote for them while on holiday in Spain with Brian Epstein. The track later became the first Lennon–McCartney composition to reach the US Top 40 for an artist other than
The Beatles
.
22 Aug 1962
The first TV appearance of
The Beatles
was recorded by Manchester based Granada TV, who filmed a lunchtime session at The
Cavern Club
in Liverpool, (the performance was shown on 17th October 1962).
22 Aug 1956
Elvis Presley
began working on his first movie, Love Me Tender. In the drama that was set during and just after the Civil War, Elvis played Clint Reno, the youngest of four brothers. The original title for the movie was The Reno Brothers, but was changed to take advantage of the 'Love Me Tender' song recorded for the film.
Born on this day in music
22 Aug 1995
English singer, songwriter Dua Lipa. Her self-titled debut studio album released in 2017 produced seven singles, including the top-ten single Be the One and the No.1 single 'New Rules'.
22 Aug 1973
Howie D, Backstreet Boys, (1997 US No.2 single 'Quit playing Games With My Heart', 1999 UK No.1 single 'I Want It That Way').
22 Aug 1972
Paul Doucette, Matchbox Twenty who rose to international fame with their debut album, Yourself or Someone Like You (1996), which was certified 12× Platinum in the United States and multi-platinum in Australia, Canada and New Zealand.
22 Aug 1969
Steve Cradock, guitarist with English rock band Ocean Colour Scene who formed in Moseley, Birmingham in 1989. They scored the 1996 UK No.4 single 'The Day We Caught The Train', plus over 12 other Top 40 singles and the 1997 UK No.1 album Marchin' Already. Also a member of Paul Weller's Band.
22 Aug 1967
American musician Layne Staley lead vocalist of Alice in Chains. Staley was also a member of the supergroups Mad Season and Class of '99. He was found dead from a mixture of heroin and cocaine in his home on 5 April 2002.
22 Aug 1963
James Debarge, Debarge, (1985 UK No.4 single 'Rhythm Of The Night').
22 Aug 1963
American singer-songwriter and pianist Tori Amos who had the 1994 UK No.4 single 'Cornflake Girl'. Amos won a full scholarship to the Peabody Institute at Johns Hopkins University at the age of five, the youngest person ever to have been admitted. She was expelled at the age of 11 for "musical insubordination". Her 1996 hit 'Professional Widow' is widely rumoured to be about Courtney Love.
22 Aug 1961
Debbie Peterson, drums, The Bangles, who had the 1986 UK No.2 single with the
Prince
song, 'Manic Monday' and the 1986 US No.1 single 'Walk Like An Egyptian'.
22 Aug 1961
English musician, singer-songwriter, Roland Orzabal, from Tears For Fears, who scored the 1985 US No.1 & UK No.2 single 'Everybody Wants To Rule The World', plus over 12 other UK top 40 singles. Their second album, Songs from the Big Chair, released in 1985, reached No.1 on the US Billboard 200.
22 Aug 1958
Ian Mitchell of the 1970s pop group, Bay City Rollers who had the 1975 UK No.1 single 'Bye Bye Baby' plus 11 other UK Top 20 singles' and the 1976 US No.1 single 'Saturday Night'.
22 Aug 1958
Vernon Reid, Living Colour, (1991 UK No.12 single 'Love Rears It's Ugly Head').
22 Aug 1956
Chris Biondo, guitarist, producer with Eva Cassidy. (Only artist to score three posthumous UK No.1 albums, 2001 'Songbird', 2002 '
Imagine
', 2003 'American Tune'. 2001 UK No. 42 single 'Over The Rainbow').
22 Aug 1947
American singer Donna Godchaux, best known for having been a member of
Grateful Dead
from 1972 until 1979. She had worked as a session singer in Muscle Shoals, Alabama, eventually singing with a group called Southern Comfort. She appeared as a backup singer on at least two No.1 hit songs: 'When a Man Loves a Woman' by Percy Sledge in 1966 and 'Suspicious Minds' by
Elvis Presley
in 1969. Her vocals were featured on other classic recordings by Boz Scaggs, Duane Allman, Cher, Joe Tex,
Neil Diamond
and many others.
22 Aug 1946
Mutha Withem, Gary Puckett and the Union Gap who had the 1968 UK No.1 & UK No.2 single 'Young Girl' as well as the hits 'Woman, Woman', 'Over You' and 'Lady Willpower.'
22 Aug 1945
Ron Dante, singer, songwriter, The Archies, (1969 US & UK No.1 single '
Sugar Sugar
') and The Cufflinks, (1969 UK No.4 single 'Tracy').
22 Aug 1939
Fred Milano, Dion and the Belmonts, (1961 US No.1 & UK No.11 single 'Runaround Sue').
22 Aug 1936
American rock singer, songwriter, and rhythm guitarist Dale Hawkins best known for his recording of his swamp-rock classic, 'Susie Q.' Hawkins later became a record producer and executive. He died aged 73 on 13 February 2010.
22 Aug 1917
John Lee Hooker, American Blues singer, guitarist who had the 1951 US million selling album I'm In The Mood, and the 1964 UK hit single 'Dimples'. Several of his later albums, including The Healer (1989), Mr. Lucky (1991), Chill Out (1995), and Don't Look Back (1997), were album chart successes. Hooker died on 21st June 2001.