August 24th: The Biggest Music Headlines
Scroll down the page to see all the music headlines, stories and events for August 24 throughout music history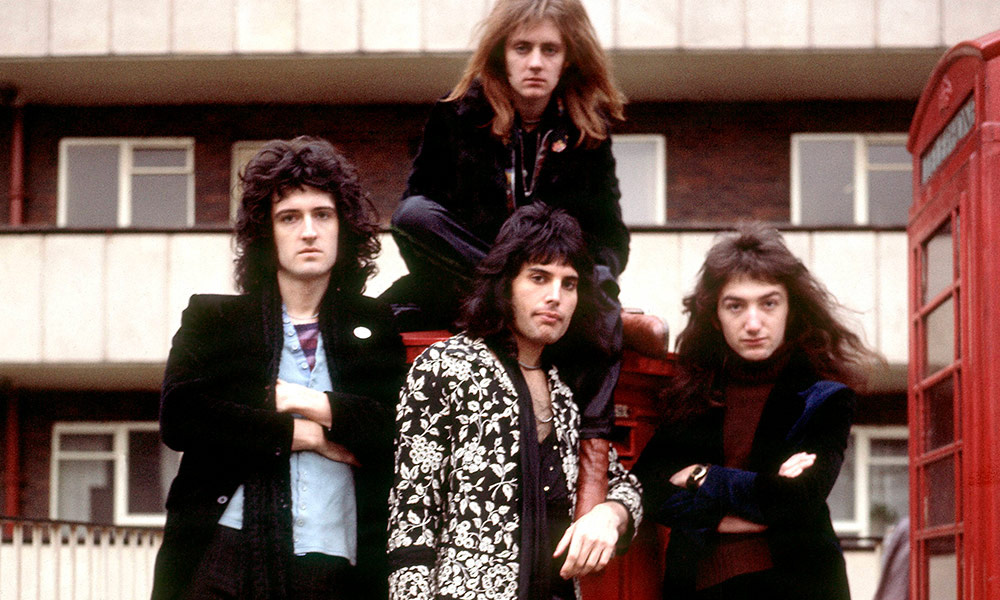 Queen Begins Recording 'Bohemian Rhapsody'
On August 24, 1975, Queen began recording their operatic masterpiece, "Bohemian Rhapsody" at Rockfield Studios in Monmouth, Wales. Frontman Freddie Mercury, who wrote the ambitious song, directed the band during the sessions. Mercury, May, and Taylor sang their parts for 10-12 hours a day over a three-week period, resulting in 180 separate overdubs. The six-minute suite has since been inducted into the Grammy Hall of Fame and was named the most-streamed song of the 20th century.
In 1963, Stevie Wonder became the first artist to top Billboard's album and pop charts in the same week. The young R&B star accomplished the achievement with his live album, Recorded Live: The 12 Year Old Genius, and single "Fingertips. (Part 2)," which also marked the first-ever live recording to top the Hot 100.
In 2021, Rolling Stones drummer Charlie Watts died at the age of 80 in London. As a founding member of the legendary rock band, Watts began his nearly six-decade-long tenure with the Stones in 1963. Together, they would rise to become one of the biggest and longest-running acts in the world. Considered to be among the greatest drummers of all time, Watts was inducted into the Rock and Roll Hall of Fame, the UK Music Hall of Fame, and received a Grammy Lifetime Achievement award alongside his bandmates.
In 2019, Billie Eilish's single "bad guy" topped the Billboard Hot 100, ending the record-breaking, 19-week run of Lil Nas X and Billy Ray Cyrus' "Old Town Road." Released in March, Eilish's song marked the fifth single off her debut, When We All Fall Asleep, Where Do We Go? and was co-written with her brother, FINNEAS. In 2020, "bad guy" won Song of the Year and Record of the Year at the Grammy Awards.
In 1981, Mark Chapman received a prison sentence of 20 years for the murder of John Lennon. On December 8, 1980, Chapman shot Lennon five times at close range in New York City, just hours after the former Beatle had autographed a copy of Double Fantasy for him. Lennon was pronounced dead that evening. His widow, Yoko Ono, later scattered his ashes in Central Park.
In 1966, The Doors began recording their self-titled debut at Sunset Sound Recording Studios in Los Angeles. It was released in January 1967 and featured the extended version of their single "Light My Fire." Both the LP and single have been inducted into the Grammy Hall of Fame, while the album was selected by the Library of Congress to be included in the National Recording Registry in 2015.
Looking for more things that happened on this day in music?
Keep scrolling for all of the headlines for August 24.
BORN ON AUGUST 24:
1938: David Frieberg (Quicksilver Messenger Service, Jefferson Airplane, Jefferson Starship)
1942: Marshall Thompson (The Chi-Lites)
1948: Jean-Michel Jarre (electronic composer)
1951: Michael Derosier (Heart)
1954: Steve Holley (Wings)
1961: Mark Bedford (Madness)
1968: Andreas Kisser (Sepultura)
Looking for more artists born on this day?
Keep scrolling for all of our August 24 birthdays.
---
What to find another day?
---
August 24th
24 Aug 2021
British musician Fritz McIntyre died age 62. He was the keyboard player in the original line-up of Simply Red, a founder member of the band, and played from their debut album Picture Book in 1985 until their 1995 album Life. He was the last of the founder members to quit the band. Simply Red had five number one albums in the UK, with their 1991 album, Stars, being one of the best-selling albums in UK chart history.
24 Aug 2021
English musician Charlie Watts died at a London hospital at the age of 80. Originally trained as a graphic artist, Watts developed an interest in jazz at a young age and joined the band Blues Incorporated. He also started playing drums in London's rhythm and blues clubs, where he met future band mates
Mick Jagger
,
Keith Richards
and
Brian Jones
. In January 1963, he left Blues Incorporated and joined the
Rolling Stones
as drummer and remained with the group for 58 years.
24 Aug 2019
Billie Eilish ended the record-breaking 19-week run of 'Old Town Road' by Lil Nas X featuring Billy Ray Cyrus when 'Bad Guy' claimed the top spot on the US Hot 100 chart. The song which peaked at No.2 on the UK chart was also a No.1 hit in Australia, Canada, New Zealand, Norway and Russia.
24 Aug 2014
Death Row Records founder Marion 'Suge' Knight was injured in a shooting at a party that Chris Brown was hosting in Los Angeles. Another man and a woman, were also shot at the 1 Oak nightclub, West Hollywood. All three victims were treated at local hospitals.
24 Aug 2010
George Michael
pleaded guilty at Highbury Corner Magistrates' Court in London to driving under the influence of drugs. The singer had been arrested in July when he was returning home from the London Gay Pride parade and crashed his car into the front of a Snappy Snaps store in Hampstead, North London.
24 Aug 2009
The Los Angeles County Coroner ruled
Michael Jackson
's death a homicide caused by a mix of drugs meant to treat insomnia. On February 8, 2010, Dr. Conrad Murray was charged with involuntary manslaughter by prosecutors in Los Angeles. Dr. Murray pleaded not guilty and was released after posting $75,000 bail, but would be found guilty in November, 2011 and was sentenced to four years in a Los Angeles County jail.
24 Aug 2005
Justin Timberlake accepted libel damages for a fabricated story that he had an affair behind girlfriend Cameron Diaz's back. A News of the World article in July 2004 alleged Mr Timberlake had sexual relations with model Lucy Clarkson. The singer's solicitor Simon Smith told London's High Court Ms Clarkson had admitted lying to the newspaper. Under the headline "Exclusive: Bad News for Cameron as model reveals lover's secret fling", Ms Clarkson went into detail about several dates they had before spending the night together in a hotel. Timberlake donated the "substantial" damages paid by the newspaper and Ms Clarkson to charity.
24 Aug 1998
Producer Gene Page died after a long illness. Worked with Barbra Streisand, Barry White, The
Righteous Brothers
, Dobie Gray, Bob and Earl. Produced
Whitney Houston
's 'Greatest Love of All' and Roberta Flack's 'Tonight I Celebrate My Love.'
24 Aug 1996
'Missing' by UK duo Everything But The Girl broke the all-time US chart stay record previously held by The Four Seasons' 'December, 1963 (Oh What A Night)', when it appeared on the Billboard chart for the 55th week.
24 Aug 1996
Oasis
singer
Liam Gallagher
failed to turn up for the recording of the bands
MTV
unplugged session at London's Royal Festival Hall in front of 400 fans. He later sat in the audience and watched the show with his brother Noel taking over on vocals.
24 Aug 1991
Lenny Kravitz was at No.2 in the US singles chart with 'It Ain't Over Till It's Over', held off the No.1 position by
Bryan Adams
'(Everything I Do), I Do It for You'.
24 Aug 1990
Judas Priest successfully defended themselves against a lawsuit, after two fans attempted suicide while listening to the Stained Class album. Both fans eventually died, one immediately from a shotgun blast, and the other on a second attempt three years later by a methadone overdose. The prosecution claimed that there were subliminal messages in the group's music that caused the two seventeen year olds to carry out the suicide pact in 1985.
24 Aug 1989
The Who
performed Tommy at the Universal Amphitheatre, Los Angeles with special guests Steve Winwood,
Elton John
,
Phil Collins
, Patti LaBelle and Billy Idol.
24 Aug 1985
Huey Lewis and the News started a two week run at No.1 on the US singles chart with 'The Power Of Love', as featured in the movie Back To The Future.
24 Aug 1983
The fifth wife of Jerry Lee Lewis, Shawn Michelle Stevens was found dead at their Mississippi home of a methadone overdose. They had been married less than three months. Jerry Lee would marry again in 1984 to 22 year-old Kerrie McCarver, but divorce in 2004.
24 Aug 1981
Mark Chapman was given a 20 year jail sentence for the murder of
John Lennon
. The 25 year old had shot Lennon five times at close range on December 8th, 1980 in front of The Dakota apartment building in New York City. Over the next few months, Chapman would claim many times to have been beaten by fellow inmates, some of whom allegedly tried to kill him.
24 Aug 1977
Singer, songwriter Waylon Jennings was arrested and charged with possession of cocaine. Jennings had recently been named an honorary police chief.
24 Aug 1975
Queen
started recording '
Bohemian Rhapsody
' at Rockfield studio's in Monmouth, Wales, (the song was recorded over three weeks).
Freddie Mercury
had mentally prepared the song beforehand and directed the band throughout the sessions. May, Mercury, and Taylor sang their vocal parts continually for ten to twelve hours a day, resulting in 180 separate overdubs.
24 Aug 1974
Paul Anka with Odia Coates started a three week run at No.1 on the US singles chart with '(You're Having My Baby', Anka's 24th US top 40 hit. It made No.6 in the UK.
24 Aug 1968
The Incredible String Band, Traffic, Bonzo Dog Band, Family, Fairport Convention, Blossom Toes, Pretty things, Deviants, Blonde On Blonde and
Free
all appeared over two nights at The Roundhouse in London.
24 Aug 1967
24 Aug 1966
The Doors
started recording their first album at Sunset Sound Recording Studios, West Sunset Boulevard, Los Angeles, California.
24 Aug 1963
Stevie Wonder
became the first artist ever to score a US No.1 album and single in the same week. Wonder was at No.1 on the album chart with 'Little
Stevie Wonder
/ The 12 Year Old Genius' and had the No.1 single 'Fingertips part 2'. This was also the first ever live recording to make No.1.
24 Aug 1959
In the US, a headline in Billboard magazine read, "Rock and Roll Ain't Ready For The Ol' Rockin' Chair Yet." The story stated that Rock 'n' Roll was losing popularity a year ago, but the record buyers now like
Elvis Presley
, Lloyd Price and Fats Domino along with newcomers, The Everly Brothers, The Drifters and Ricky Nelson.
Born on this day in music
24 Aug 1968
Andreas Kisser from Brazilian heavy metal Sepultura. Formed in 1984 by brothers Max and Igor Cavalera, the band was a major force in the thrash metal and groove metal genres during the late 1980s and early 1990s.
24 Aug 1963
John Bush, singer, from American heavy metal band Anthrax from 1992–2005 and again in 2009.
24 Aug 1961
Colin Angus from British electronic dance music act The Shamen, that had the 1992 UK No.1 single 'Ebeneezer Goode'.
24 Aug 1961
Mark Bedford bass, Madness, (1982 UK No.1 single 'House Of Fun & over 20 other UK Top 40 hits).
24 Aug 1955
Jeffrey Daniels, Shalamar, (1980 US No. 8 single 'The Second Time Around', 1982 UK No.5 single 'A Night To Remember').
24 Aug 1954
English rock music drummer Steve Holley. He was a member of Wings from August 1978 to April 1981. Holley has also worked with
Elton John
, Kiki Dee, Joe Cocker, Ian Hunter, Julian Lennon, Ben E. King and
Chuck Berry
.
24 Aug 1953
American soul music and progressive bluegrass vocalist and bass guitarist John Cowan. He was the lead vocalist and bass player for the New Grass Revival and has also worked with the likes of, Steve Earle, The Doobie Brothers, Jesse Winchester, Nitty Gritty Dirt Band and Wynonna Judd.
24 Aug 1951
Michael Derosier, from American rock band Heart who scored the 1987 US No.1 & UK No.3 single 'Alone'. Heart has sold over 35 million records worldwide.
24 Aug 1948
Jean-Michel Jarre, French instrumentalist, (1977 UK No.4 single 'Oxygene part IV').
24 Aug 1947
Jim Fox, drummer and organist of the James Gang (with Joe Walsh). He was the band's founder and its namesake, the band released the 1970 album The James Gang Rides Again. He is an avid collector of automobile license plates.
24 Aug 1945
English singer-songwriter, multi-instrumentalist and producer Ken Hensley, from rock band Uriah Heep who had the 1975 UK No.7 album Return To Fantasy. They have sold over 40 million albums worldwide. Hensley died on 4 November 2020, at the age of 75 following a short illness.
24 Aug 1945
Molly Duncan, from Scottish funk and R&B group the Average White Band who scored the 1975 US No.1 and UK No.6 single 'Pick Up The Pieces'. He died on 8 October 2019 aged 74.
24 Aug 1943
John Cipollina, guitar, US acid rock band, Quicksilver Messenger Service, (1970 US album 'Fresh Air'). He died on 29th May 1989.
24 Aug 1942
Marshall Thompson, American singer and musician best known as an original member of The Chi-Lites. Their songs include the early 70's hits 'Oh Girl', and 'Have You Seen Her'. Twenty-one of their recordings appeared on the Billboard Hot 100 Pop Chart.
24 Aug 1942
Jimmy Soul, American vocalist. He is best remembered for his 1963 US No.1 hit, 'If You Wanna Be Happy.' Later in life, Soul fell into a drug habit, and in 1986, was sentenced to four and a half to nine years in prison as a second felony offender. He died on 25 June 1988.
24 Aug 1941
Ernest Wright from Little Anthony and the Imperials who had the 1958 US No.4 single 'Tears On My Pillow', which was The Imperials' first million-seller. The song has been extensively covered, including a No.1 in the UK Singles Chart version by
Kylie Minogue
in January 1990.
24 Aug 1938
David Frieberg, American musician best known for contributing vocals, keyboards, electric bass, rhythm guitar, viola and percussion as a member of Quicksilver Messenger Service, Jefferson Airplane and Jefferson Starship.
24 Aug 1905
Arthur 'Big Boy' Crudup blues artist. Wrote Elvis' hit 'That's All Right (Mama).' Died of a stroke on 28th March 1974 aged 69.