August 31st: The Biggest Music Headlines
Scroll down the page to see all the music headlines, stories and events for August 31 throughout music history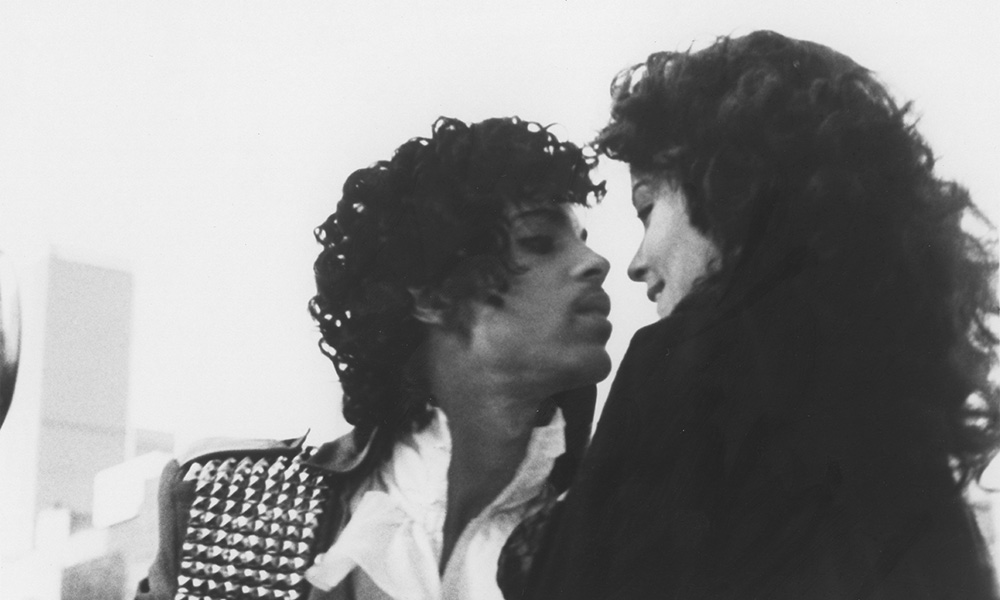 'Purple Rain' Makes A Splash In UK Theaters
On August 31, 1984, Prince fans across the UK rushed to cinemas to catch Purple Rain, which was causing plenty of buzz since its release a month earlier in America. Buoyed by a hit soundtrack—which featured the enduring singles "When Doves Cry," "Let's Go Crazy," as well as the title track—the blockbuster film grossed over $72 million worldwide. Across the pond, Purple Rain won an Academy Award for Best Original Song Score, while in 2019, the Library of Congress selected it to be preserved in the United States National Film Registry.
In 1991, Metallica's self-titled fifth studio album (commonly referred to as The Black Album) began a four-week run at the top of the Billboard 200. A stylistic turning point in their career, the LP featured some of their best-known songs, including the ballad "Nothing Else Matters" and the platinum-certified hit, "Enter Sandman." In 1992, Metallica won a Grammy for Best Metal Performance, while the album has since been certified 16x Platinum by the RIAA.
In 1968, one of the Rolling Stones' most political songs, "Street Fighting Man," was released via Decca Records. Inspired by an anti-Vietnam war rally that Mick Jagger attended, the song was banned by many US radio stations, due to its seemingly subversive lyrics.
In 2007, Hilly Kristal, the founder of New York punk club CBGB, died at 75, following a battle with lung cancer. Founded on December 10, 1973 as "CBGB & OMFUG" (Country, Bluegrass, Blues, and Other Music for Uplifting Gormandizers), the club soon became an underground hub, launching the careers of seminal punk and new wave acts, including the Talking Heads, Television, and Blondie. Kristal was also credited with discovering the likes of Patti Smith and The Ramones.
In 2003, Elton John's 1979 single, "Are You Ready For Love," hit No. 1 on the UK singles chart after he performed it in an ad for Sky Sports' new football season. The uplifting song was originally recorded in 1977 and later remixed, following the popular ad spot.
Looking for more things that happened on this day in music?
Keep scrolling for all of the headlines for August 31.
BORN ON AUGUST 31:
1945: Van Morrison
1948: Rudolf Schenker (Scorpions)
1957: Gina Schock (The Go-Go's)
1957: Glenn Tilbrook (Squeeze)
1967: Gerard Love (Teenage Fanclub)
1970: Debbie Gibson
1977: Del Marquis (Scissor Sisters)
Looking for more artists born on this day?
Keep scrolling for all of our August 31 birthdays.
---
What to find another day?
---
August 31st
31 Aug 2019
Ellie Goulding married art dealer Caspar Jopling at York Minster Cathedral, England, in a wedding attended by Katy Perry and her boyfriend Orlando Bloom, Tracey Emin, Sienna Miller, James Blunt, Princess Eugenie, and Sarah, Duchess of York.
31 Aug 2014
Jimi Jamison, the lead singer for US rock band Survivor, who sang and co-wrote 'I'm Always Here' the theme tune for hit TV series Baywatch, died aged 63. The band are best known for their 1982 hit 'The Eye of the Tiger' which pre-dated Jamison joining the group.
31 Aug 2007
Hilly Kristal, founder of the New York punk club CBGB died from complications arising from lung cancer at the age of 75. Kristal was credited with discovering Patti Smith and the
Ramones
and his club became a breeding ground for punk rock. The New York City venue, whose full title CBGB OMFUG stood for 'country, bluegrass, blues and other music for uplifting gourmandisers', was originally launched to showcase country music.
31 Aug 2006
The Times ran a story on the demands of rock stars when on tour.
Ozzy Osbourne
insists on an eye, ear, nose and throat doctor at each venue.
The Beach Boys
require a licensed masseur,
Meat Loaf
a mask and one small tank of oxygen.
David Bowie
requests that the dressing room temperature is between 14c and 18c and
Paul McCartney
must have a large arrangement of white Casablanca lilies in his dressing room.
Mick Jagger
must have an onstage autocue with the lyrics to all the songs, it would also tell him the name of the city in which they were performing.
31 Aug 2004
Carl Wayne the singer with The Move died from cancer. They had the 1969 UK No.1 single 'Blackberry Way.' Wayne also worked with The Hollies.
31 Aug 2004
UK medical magazine Thorax issued a warning to music fans saying that listening to loud music in the car can give you a collapsed lung. One 19 year-old had been treated in Bristol after his left lung collapsed as his 1,000-watt bass box boomed out in his Fiat Panda.
31 Aug 2003
Elton John
went to No.1 on the UK singles chart with 'Are You Ready For Love.' The song was recorded in 1977 and released in 1979, when it reached No.42. It was used by Sky TV for their Premiership football ads.
31 Aug 2002
NASA announced that Lance Bass, singer with *NSYNC, was to become the first celebrity astronaut. His $23.8 million (£14 million), place on a Russian Soyuz module would make him the youngest person at 23 years of age to go into orbit. Bass ended up not taking part in the flight after failing to pay for his $20 million ticket on the craft.
31 Aug 1997
Oasis
went to No.1 on the UK album chart with their third album 'Be Here Now.' The album had sold over a million copies on the first day of release. At that point,
Oasis
were at the height of their fame, and 'Be Here Now' became the United Kingdom's fastest selling album to date.
31 Aug 1991
Metallica
started a four-week run at No.1 on the US album chart with,
Metallica
. The album featured 'Enter Sandman' 'Sad But True', 'The Unforgiven' and 'Nothing Else Matters' went on to sell over 10 million copies in the US alone.
31 Aug 1990
Jackson Browne, Bonnie Raitt and
Stevie Wonder
sang 'Amazing Grace' at a memorial service held for guitarist
Stevie Ray Vaughan
who had been killed in a helicopter crash 4 days earlier.
31 Aug 1987
Fleetwood Mac
released 'Little Lies' from their fourteenth studio album Tango in the Night. Written by band member Christine McVie and her then-husband, Eddy Quintela, the single reached No.4 on the Billboard Hot 100 chart and No.5 in the UK. It became the band's last top-ten hit in the US.
31 Aug 1987
The largest pre-order of albums in the history of CBS Records occurred as 2.25 million copies of
Michael Jackson
's 'Bad' album were shipped to record stores in the US. The LP followed the Jackson album,
Thriller
the biggest Jackson-seller of all time (over 35 million copies sold). 'Bad' went on to sell over 13 million copies.
31 Aug 1986
After living together for 10 years
Bob Geldof
married TV presenter Paula Yates in Las Vegas with
Duran Duran
singer Simon Le Bon as the best man. Yates died of a drug overdose on 17th September 2000.
31 Aug 1985
Brothers In Arms by
Dire Straits
started a nine-week run at No.1 on the US album charts. The album also topped the charts in 25 other countries and went on to sell over 20 million worldwide.
31 Aug 1985
UB40 with guest vocals from Chrissie Hynde had the UK No.1 single with their version of the Sonny Bono song 'I Got You Babe' a hit for Sonny & Cher in 1965.
31 Aug 1984
'Purple Rain' the movie-starring
Prince
opened at cinemas across the UK with special late night previews. The film grossed more than US $80 million at the box office and became a cult classic.
31 Aug 1976
George Harrison
was found guilty of 'subconscious plagiarism' of the Ronnie Mack song 'He's So Fine' when writing '
My Sweet Lord
'. Earnings from the song were awarded to Mack's estate; The Chiffons then recorded their own version of '
My Sweet Lord
'.
31 Aug 1974
Traffic made their last live performance at the annual UK Reading Festival. Other acts appearing included; Alex Harvey, 10cc, Focus, Steve Harley and
Procol Harum
. £5.50 for a weekend ticket.
31 Aug 1971
The
Rolling Stones
plus the father of
Brian Jones
filed a high court writ against ex managers Oldham and Easton. Claiming they made a secret deal with Decca Records in 1963 to deprive the group of royalties.
31 Aug 1968
Decca Records released what has been called The
Rolling Stones
most political song,
'Street Fighting Man'
, written after
Mick Jagger
attended a March 1968 anti-war rally at London's US embassy, during which mounted police attempted to control a crowd of 25,000. The single was kept out of the US Top 40 (reaching No.48) because many radio stations refused to play it based on what were perceived as subversive lyrics.
31 Aug 1968
The Move, The Pretty Things, The Crazy World Of Aurthur Brown, Orange Bicycle, Jefferson Airplane, Fairport Convention and Tyrannosaurus Rex all appeared at the first Isle Of Wight Festival held over two days. Tickets, 25 shillings, ($3.00).
31 Aug 1963
The girl trio Angels started a three week run at No.1 on the US singles chart with 'My Boyfriend's Back'. The writers of the song Bob Feldman, Jerry Goldstein and Richard Gottehrer were a trio of Brooklyn songwriter/producers who went on to write the hits 'Sorrow' and had the 1965 US No.11 single as The Strangeloves with 'I Want Candy'.
31 Aug 1963
The Ronettes first entered the US singles chart with 'Be My Baby' the girl group's only top 10 hit. Lead singer, Veronica Bennett who became Ronnie Spector, took producer and ex-husband Phil Spector to court in the late 1990s for unpaid royalties.
31 Aug 1957
Elvis Presley
appeared at the Empire Stadium in Vancouver, Canada. This was only the third time ever Presley had performed outside of the U.S. and for Elvis it would be the last. 26,000 fans attended the show with tickets costing $1.50, $2.50 and $3.50.
Born on this day in music
31 Aug 1977
Craig Nicholls, singer, songwriter, guitarist, The Vines, (2002 UK No. 3 album 'Highly Evolved').
31 Aug 1977
Del Marquis, (Derek Gruen), guitar, Scissor Sisters, (2004 UK No.1 self-titled album, 2004 UK No. 12 single 'Laura').
31 Aug 1970
American singer-songwriter, record producer and actress Debbie Gibson who had the 1988 US No.1 & UK No.9 single 'Foolish Beat'. The track made Gibson the youngest female artist to write, produce, and perform a Billboard Hot 100 No.1 single.
31 Aug 1967
Gerard Love, bass, Teenage Fanclub, (1992 UK No.31 single 'What You Do To Me').
31 Aug 1959
Tony DeFranco, from family pop group The DeFranco Family, who scored the 1973 US No.3 single 'Heartbeat-It's A Lovebeat', the biggest selling US single of 1973. Based on The
Osmonds
.
31 Aug 1957
Gina Schock, drummer from all-female American rock band The Go-Go's, who had the 1982 US No.2 single, 'We Got The Beat', and the 1982 UK hit single 'Our Lips Are Sealed'. Their 1981 debut album, Beauty and the Beat, is considered one of the "cornerstone albums of US new wave music".
31 Aug 1957
British singer and guitarist Glenn Tilbrook, who was a founding member of Squeeze. Some of their best-known songs are 'Tempted', 'Pulling Mussels (From the Shell)', 'Cool for Cats' and 'Up the Junction'.
31 Aug 1955
Anthony Thistlethwaite, The Waterboys, (1991 UK No.3 single 'Whole Of The Moon', first released in 1985).
31 Aug 1948
Cyril Jordan guitarist and founding member of San Francisco cult band The Flamin Groovies who had the 1976 album 'Shake Some Action.
31 Aug 1948
German guitarist Rudolf Schenker from Scorpions, who he formed in 1965 when he was 17 years old. Their 1990 power ballad 'Wind Of Change' topped the European charts and was a No.4 hit in the US. The Scorpions hold the record for the best-selling single by a German artist and band.
31 Aug 1945
Northern Irish singer, songwriter and musician Van Morrison. Who had with Them, the 1965 UK No.2 single 'Here Comes The Night', and the solo, 1970 album Moondance, plus over 15 other UK Top 40 albums. He has received six Grammy Awards, the 1994 Brit Award for Outstanding Contribution to Music, and has been inducted into both the Rock and Roll Hall of Fame and the Songwriters Hall of Fame.
31 Aug 1945
Bob Welch, American musician. A former member of
Fleetwood Mac
, Welch had a briefly successful solo career in the late 1970s. His singles included Hot Love, Cold World, Ebony Eyes, Precious Love, and his signature Sentimental Lady. Welch committed suicide in his Nashville home on 7th June 2012. He was found by his wife with a self-inflicted gunshot wound to the chest.
31 Aug 1944
Roger Dean, English artist. Designed album covers for Yes, Atomic Rooster, Uriah Heep, Gentle Giant, Greenslade, Steve Howe and Asia.
31 Aug 1940
Wilton Felder, American saxophone and bass player with The Crusaders, (1979 UK No.5 & US No.36 single 'Street Life'). Felder played bass on the
The Jackson 5
hits 'I Want You Back' and 'ABC' and on the
Marvin Gaye
hit 'Let's Get It On'. He died on 27 September 2015 age 75.
31 Aug 1939
Jerry Allison, drummer from American rock and roll band
The Crickets
, who had the 1957 US No.1 single 'That'll Be The Day', the 1959 UK No.1 single 'It Doesn't Matter Anymore' plus over 15 other UK Top 40 singles. He died on 22 August 2022.