August 5th: The Biggest Music Headlines
Scroll down the page to see all the music headlines, stories and events for August 5 throughout music history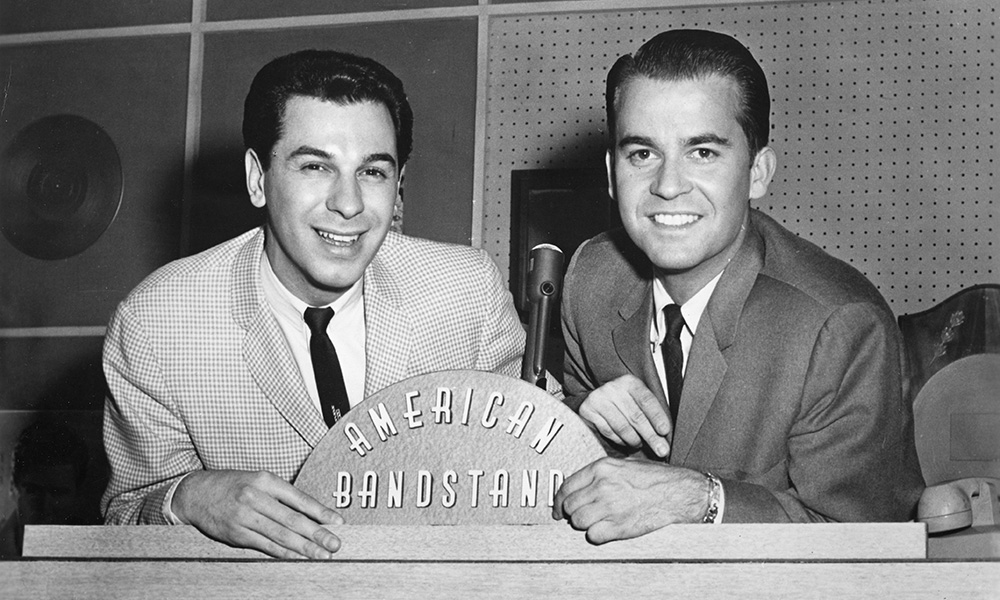 Taking Over The Television
On this day in music – August 5, 1957 – American Bandstand first aired on US television. Initially hosted by Bob Horn, the show got its start in Philadelphia, but Horn was later replaced by Dick Clark as they moved to Los Angeles. The show went on to feature numerous well-known acts, including ABBA, The Doors, Madonna, R.E.M., and Pink Floyd.
In 1975, guitarist Joan Jett and drummer Sandy West formed the first all-female rock band, The Runaways. During their career, the group released four studio albums and toured the US with Van Halen, Talking Heads, and Cheap Trick, among others. Some of their more notable releases include "Cherry Bomb," "Queen's of Noise," and a cover of the Velvet Underground's "Rock n Roll."
On this day in 1966, The Beatles released their seventh studio album, Revolver in the UK. Long considered to be one of the greatest albums in pop music, Revolver featured such stylistically diverse songs as "Eleanor Rigby" and "Tomorrow Never Knows." Days later, the album dropped in the US, where it eventually received a 5x Platinum certification by the RIAA.
In 1984, Bruce Springsteen played the first of ten nights at the Meadowlands in New Jersey to mark the homecoming of his Born in the USA tour. The tour grossed $80-90 million overall, making it his longest and most successful run to date.
And in 2016, Viola Beach scored a No.1 album in the UK, six months after all four members of the indie band and their manager perished in a car accident. Following the tragedy, family and friends compiled the self-titled record, using live sessions and studio recordings.
Looking for more things that happened on this day in music?
Keep scrolling for all of the headlines for August 5.
BORN ON AUGUST 5:
1942: Rick Huxley (Dave Clark Five)
1947: Willie Weeks (Bassist for David Bowie, Aretha Franklin, Stevie Wonder, and many others)
1959: Pat Smear (Germs, Nirvana, Foo Fighters)
1959: Pete Burns (Dead Or Alive)
1964: Adam Yauch (Beastie Boys)
1966: Jennifer Finch (L7)
Looking for more artists born on this day?
Keep scrolling for all of our August 5 birthdays.
---
What to find another day?
---
August 5th
5 Aug 2021
Tony Bennett and Lady Gaga played the second of two sold-out shows at Radio City Music Hall in New York City. It's Bennett's last ever performance, a week later the 95-year-old singer, who was diagnosed with Alzheimer's disease in 2016, announced he was retiring from performing.
5 Aug 2016
Indie band Viola Beach scored a UK No.1 album, six months after they were killed in a car crash. The self-titled debut was compiled by the band's families, using live sessions and studio recordings, many of which were originally bound for an EP. All four members of the Warrington band and their manager Craig Tarry died when their car plunged into a canal in Sweden in February 2016.
5 Aug 2016
English indie pop band Blossoms from Stockport, Greater Manchester released their self-titled debut studio which peaked at No.1 on the UK chart. The band take their name from The Blossoms public house at the corner of Bramhall Lane and Buxton Road in Stockport.
5 Aug 2013
American musician, composer, singer and producer George Duke died from chronic lymphocytic leukemia aged 67. He released over thirty solo albums, of which A Brazilian Love Affair from 1980 was his most popular. Duke worked with other musicians, particularly
Frank Zappa
and also appeared on
Michael Jackson
's Off
The Wall
album.
5 Aug 2009
A 53-year-old who claimed he was secretly engaged to Miley Cyrus was charged with trying to stalk the US singer. Mark McLeod was arrested after trying to contact the Hannah Montana actress on a film set near Savannah, Georgia. McLeod claimed he had met Cyrus 18 months earlier and that she had accepted his marriage proposal. He told police that Cyrus' father, country singer Billy Ray Cyrus, approved of their relationship and that Cyrus had sent him "secret messages" through her TV show.
5 Aug 2009
Steven Tyler was airlifted to hospital after falling off stage during a gig at the Sturgis Motorcycle Rally in South Dakota. The 61-year-old
Aerosmith
singer fell from a catwalk onto a couple of fans, he suffered neck and shoulder injuries. About 30 minutes after the accident, guitarist Joe Perry came out to tell the crowd that the remainder of the show had been cancelled.
5 Aug 2008
American singer, songwriter Robert Hazard died after surgery for pancreatic cancer. He wrote Cyndi Lauper's, 'Girls Just Wanna Have Fun', and fronted Robert Hazard and the Heroes in the 80's.
5 Aug 2007
Beatles fans feared the misuse of the Fab Four's music had hit rock bottom following the decision to license 'All You Need Is Love' for use in a nappy advert. Procter & Gamble had purchased the rights to use the song from Sony/ATV Music Publishing, which now owned Northern Songs, the Beatles' catalogue. The ad featured a baby jumping on a teddy bear in a disposable nappy which offered 'ultimate leak protection.'
5 Aug 2007
DNA testing on about a dozen people who claimed late soul star
James Brown
was their father revealed that at least two of them were telling the truth. A former adviser for the singer, Buddy Dallas, said he could not confirm exact figures, as further test results were forthcoming. His will, which was being disputed in court, named six children.
5 Aug 2005
Bob Dylan
's song 'Like a Rolling Stone' topped a poll of rock and film stars to find the music, movies, TV shows and books that changed the world. The 1965 single beat
Elvis Presley
's '
Heartbreak Hotel
' into second place in a survey for Uncut magazine.
Paul McCartney
, Noel Gallagher, Robert Downey Jr, Rolling Stone
Keith Richards
and Lou Reed were among those who gave their opinions.
5 Aug 1996
It was reported that long running UK TV music show
Top Of The Pops
had hit rock bottom with it's lowest audience ever - only two and a half million viewers. In its heyday the show attracted over 17 million viewers each week.
5 Aug 1995
Take That
played the first of ten sold out nights at The Nynex Arena, Manchester, (the shows were without Robbie Williams who had quit the group on 17th July 1995). The group were also at No.1 on the UK singles chart with 'Never Forget', their 7th UK No.1 and last with Robbie Williams.
5 Aug 1993
Randy Hobbs, bass player with The McCoys, Edgar Winter Group and Motrose was found dead in his hotel room in Dayton Ohio from a drug overdose aged 45.
5 Aug 1992
Jeff Porcaro drummer from Toto died age 38 from a heart attack. His death has been the subject of controversy: some say the attack was caused by an allergic reaction to garden pesticide, while others say Porcaro's heart was weakened by smoking and cocaine use. Porcaro also worked with many other acts including Sonny and Cher, Roger Waters,
Eric Clapton
,
Paul McCartney
, Steely Dan,
Paul Simon
and Boz Scaggs.
5 Aug 1989
Jive Bunny And The Mastermixers had their first of three UK No.1's with 'Swing The Mood'. Produced by the father and son DJ team of Andy and John Pickles, Swing the Mood fused a number of early rock and roll records with liberal use of Glenn Miller's 'In The Mood.'
5 Aug 1986
Culture Club keyboard player Michael Rudetsky was found dead at Boy George's London home in Hampstead.
5 Aug 1984
Bruce Springsteen
played the first of ten nights at the Meadowlands in New Jersey to mark the homecoming of the Born in the USA Tour.
5 Aug 1983
Crosby Stills Nash & Young
member David Crosby was sentenced to five years in jail in Texas for cocaine and firearms offences. Crosby had slept through most of his trial.
5 Aug 1979
Def Leppard
signed to Phonogram records with an advance of £120,000 pounds ($180,000) giving them a 10% royalty on 100% of sales for the first two years.
5 Aug 1978
The
Rolling Stones
went to No.1 on the US singles chart with 'Miss You' the group's eighth US No.1. The song was written by
Mick Jagger
after jamming with keyboardist Billy Preston during rehearsals for forthcoming club dates the Stones were playing.
5 Aug 1975
Drummer Sandy West and guitarist Joan Jett formed the first ever all female heavy rock band after being introduced by producer Kim Fowley. The
Runaways
released four studio albums, among its best known songs: 'Cherry Bomb', 'Queen's of Noise' and a cover of the Velvet Underground's 'Rock n Roll'.
5 Aug 1972
Aerosmith
signed to CBS Records for $125,000 after record company boss Clive Davis saw them play at Max's Kansas City Club New York.
5 Aug 1969
George Harrison
had his new Moog synthesizer brought into the studio for
The Beatles
to use in finishing their forthcoming album
Abbey Road
. Moog overdubs were recorded onto the new song 'Because'.
5 Aug 1968
American country guitarist Luther Perkins died at the age of 40 as a result of severe burns and smoke inhalation. Perkins fell asleep at home in his den with a cigarette in his hand. He was dragged from the fire unconscious with severe second and third degree burns. Perkins never regained consciousness. He worked with
Johnny Cash
and The Carter Family and featured on the live album
Johnny Cash
at Folsom Prison.
5 Aug 1966
The Beatles
Revolver
was released in the UK. The bands seventh album featured: 'Taxman', 'Eleanor Rigby', 'I'm Only Sleeping', 'Here, There and Everywhere', 'She Said She Said', 'And Your Bird Can Sing' and 'Tomorrow Never Knows'.
5 Aug 1965
The Beatles
were at No.1 on the UK singles chart with
'Help!'
the group's eighth consecutive UK No.1 single.
John Lennon
later stated he wrote the lyrics of the song to express his stress after the Beatles' quick rise to success. "I was fat and depressed and I was crying out for 'Help'."
5 Aug 1965
Jan Berry of Jan and Dean was accidentally knocked off a camera car and broke his leg on the first day of filming a new film Easy Come, Easy Go. Several other people were also hurt, causing Paramount to cancel the movie entirely.
5 Aug 1957
American Bandstand first aired on US TV. Dick Clark had replaced Bob Horn the previous year when the show was still called Bandstand, Clark went on to host the show until 1989. Countless acts appeared on the show over the years, including
ABBA
,
The Doors
, Talking Heads,
Madonna
,
Otis Redding
,
R.E.M.
and
Pink Floyd
.
5 Aug 1956
Doris Day was at No.1 on the UK singles chart with 'Whatever Will Be Will Be', the singer actress' second UK No.1 single. The Oscar-winning song was featured in Alfred Hitchcock's 1956 film, The Man Who Knew Too Much, with Doris Day and James Stewart in the lead roles.
Born on this day in music
5 Aug 1983
Dawn Richard, singer, with American girl group Danity Kane, (formed on the
MTV
reality show Making the Band 3). They became the first female group in Billboard history to debut their first two albums at the top of the charts.
5 Aug 1975
Dan Hipgrave, singer from British alternative rock band, Toploader who had the 2000 UK No.7 single with of 'Dancing In The Moonlight' a cover of the French-American rock group King Harvest.
5 Aug 1966
Jennifer Finch, bassist, with American rock band L7 who were associated with the grunge movement of the late 1980s and early 1990s. L7 influenced many of the riot grrrl bands of the 1990s.
5 Aug 1965
Jeff Coffin, saxophonist. He is a three-time Grammy Award winner as a member of Bela Fleck & the Flecktones. Coffin began touring with Dave Matthews Band, and officially joined the group in 2009 following the death of founding member LeRoi Moore.
5 Aug 1964
MCA (Adam Yauch) The Beastie Boys, (1987 US No.7 & UK No.11 single 'You Gotta Fight For Your Right To Party', 1987 US No.1 and UK No.7 album 'Licence To Ill', plus 3 other US No.1 albums). He died on 4th May 2012.
5 Aug 1963
Mike Nocito, guitarist, from British band Johnny Hates Jazz who had the 1987 UK No.5 single and international success with 'Shattered Dreams'.
5 Aug 1960
Stuart Croxford, Kajagoogoo, (1983 UK No.1 single 'Too Shy').
5 Aug 1959
Grammy winning an American guitarist Pat Smear who was a founding member of the influential punk band the Germs, and was the guitarist for
Nirvana
from 1993 to 1994. He joined
Foo Fighters
in 1997.
5 Aug 1959
Pete Burns, English singer-songwriter and television personality. Was a member of the Mystery Girls and then Dead Or Alive who scored the 1985 UK No.1 single 'You Spin Me Round, Like A Record'. Burns died on 23 October 2016 following a sudden cardiac arrest.
5 Aug 1957
Louis Walsh, Irish manager of Boyzone, Westlife Samantha Mumba and Girls Aloud. Judge on reality television series Popstars : The Rivals and in 2005 as a judge (along with
Simon Cowell
and Sharon Osbourne ) on the ITV talent show, The
X Factor
.
5 Aug 1955
Eddie "Fingers" Ojeda, guitar, Twisted Sister, (1983 UK No.18 single 'I Am, I'm Me', 1984 album 'Stay Hungry').
5 Aug 1947
Rick Derringer, producer, guitar, vocals, The McCoys, (1965 US No.1 & UK No.5 single 'Hang On Sloopy'), Edgar Winter Group, (1973 US No.1 & UK No.18 single 'Frankenstein').
5 Aug 1947
American bass guitarist Willie Weeks who is one of the most in-demand session musicians. Weeks has worked in the studio or toured with mnay artists including:
Gregg Allman
,
David Bowie
, Roy Buchanan, Jimmy Buffett,
Eric Clapton
, Buddy Guy, Robert Cray,
Bo Diddley
, The Doobie Brothers,
Aretha Franklin
, Isaac Hayes,
George Harrison
, Donny Hathaway, Etta James,
Billy Joel
, Rickie Lee Jones, Wynonna Judd, Chaka Khan, B.B. King, Lyle Lovett, David Lee Roth, Michael McDonald, Don McLean, John Mayer, John Mellencamp, Bette Midler, Randy Newman, Pino Palladino, Carly Simon, Rod Stewart, The
Rolling Stones
, James Taylor, Richard and Linda Thompson, Joe Walsh, Bobby Womack, Leon Russell, Steve Winwood,
Stevie Wonder
.
5 Aug 1947
Gregory Leskiw, guitarist from Canadian rock band Guess Who who had the 1970 US No.1 & UK No.19 single 'American Woman'. Leskiw operated Vox Pop Studios in Fort Garry, a popular recording studio for local Winnipeg Groups such as Crash Test Dummies.
5 Aug 1942
Rick Huxley guitarist from English pop rock band, Dave Clark Five, who scored the 1964 UK No.1 single 'Glad All Over', and the 1965 US No.1 single 'Over And Over' , plus over 15 other UK top 40 singles. He died on 11 February 2013 aged 72.
5 Aug 1941
Airto Moreira drummer, with American jazz fusion band of the 1970s and early 1980s Weather Report who had the 1976 single 'Birdland' and the 1977 album Heavy Weather.