December 11th: The Biggest Music Headlines
Scroll down the page to see all the music headlines, stories and events for December 11 throughout music history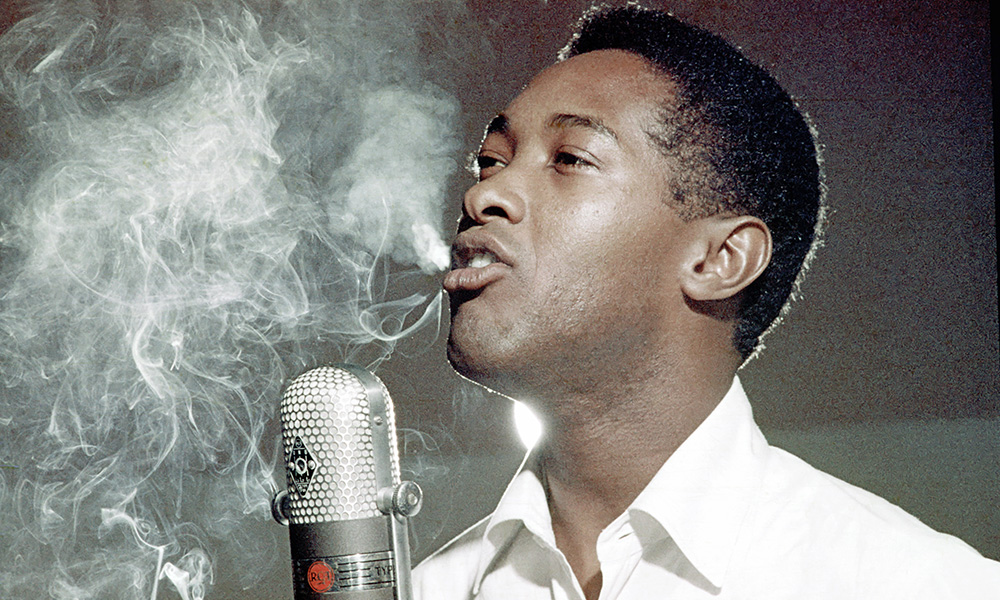 The Mysterious Death of a Soul Icon
On this day in music, December 11, 1964, 32-year-old soul icon Sam Cooke was shot and killed in a Los Angeles hotel room. While the details surrounding his death remain shrouded in mystery, Cooke's impact as an artist is undeniable. During his eight-year career, the former gospel star released 29 Top 40 singles in the US, plus 20 Top Ten R&B hits, including "You Send Me," "Wonderful World," and "Chain Gang," plus posthumously-released singles like "Shake" and the poignant "A Change Is Gonna Come." In 1986, Cooke was inducted as a charter member of the Rock and Roll Hall of Fame. A year later, he was inducted into the Songwriters Hall of Fame.
In 2019, Ed Sheeran was named the UK's Artist of the Decade by the Official Charts Company. His monumental hit, "Shape of You"– which spent 14 weeks at No.1 in 2017 – was also named the top song of the past 10 years. In all, Sheeran's releases spent 79 cumulative weeks at No.1 during that decade-long period. Previous recipients of the award include Paul McCartney and Justin Bieber.
In 1961, The Marvelettes topped the Billboard Hot 100 with "Please Mr. Postman." Among other accolades, the song is notable as the first Motown single to reach the chart's No.1 position.
In 2016, Patti Smith accepted the Nobel Prize in Literature on behalf of recipient Bob Dylan. Dylan, initially reluctant to accept the award, eventually acquiesced but didn't participate in the ceremony.
In 2012, Indian sitarist and composer, Ravi Shankar, died at the age of 92. The influential musician was vital in introducing North Indian classical music to the Western world – thanks in large part to his collaborations with violinist Yehudi Menuhin and Beatles guitarist George Harrison.
In 1968, filming began for The Rolling Stones' star-studded concert documentary, Rock & Roll Circus. Captured on a makeshift circus stage, the film featured performances from the Stones, plus the likes of Jethro Tull, The Who, Taj Mahal, Marianne Faithfull, and The Dirty Mac – a supergroup featuring John Lennon, Yoko Ono, Eric Clapton, Mitch Mitchell, and Keith Richards.
In 1961, Elvis Presley began a 20-week run at No.1 with Blue Hawaii, his seventh chart-topping album in the US.
In 1982, The Jam concluded their final tour with one last show in Brighton, England. The short UK run included five consecutive nights at the Wembley Arena, all of which sold out within twenty minutes.
In 1982, singer, actress, and dancer, Toni Basil, scored her sole No.1 hit on the Billboard Hot 100, "Mickey."
Looking for more things that happened on this day in music?
Keep scrolling for all of the headlines for December 11.
BORN ON DECEMBER 11:
1926: Big Mama Thornton
1940: David Gates (Bread)
1944: Brenda Lee
1954: Jermaine Jackson (The Jackson 5)
1958: Nikki Sixx (Mötley Crüe)
1962: Curtis Williams (Kool & The Gang)
1967: DJ Yella (NWA)
1981: Zacky Vengeance (Avenged Sevenfold)
Looking for more artists born on this day?
Keep scrolling for all of our December 11 birthdays.
---
What to find another day?
---
December 11th
11 Dec 2019
Ed Sheeran
was named the UK's artist of the decade by the Official Charts Company. Sheeran achieved the milestone after a combined run of 12 No.1 singles and albums between 2010 and 2019 - more than any other artist. He's also had the most weeks (79) at No.1 in both the album and singles charts in this period.
11 Dec 2016
Bob Dylan
said it was "truly beyond words" to receive the Nobel Prize for Literature. In a speech read on his behalf at the ceremony in Sweden, he said he thought his odds of winning were as likely as him "standing on the moon". Patti Smith performed 'A Hard Rain's A-Gonna Fall' at the ceremony. But the singer had to apologise during her rendition after nerves got the better of her and she forgot the lyrics.
11 Dec 2012
Indian musician Ravi Shankar died after undergoing heart valve replacement surgery. He was one of the best-known exponents of the sitar and influenced many other musicians throughout the world.
George Harrison
who was first introduced to Shankar's music by Roger McGuinn and David Crosby, became influenced by Shankar's music and went on to help popularize Shankar.
11 Dec 2008
Simon Cowell
said he was "very embarrassed" after contracts signed by this year's
X Factor
contestants were leaked to the Daily Mirror newspaper. The 80-page document, which is enforceable "anywhere in the world or the solar system" was signed by all 12 finalists before the live shows began. It included a clause that prevents them from saying anything "unduly negative, critical or derogatory" about Cowell. Also the show claimed the prize as a "£1m recording contract", but the contestants' contract said the prize money was £150,000.
11 Dec 2003
Bobby Brown was charged with battery after allegedly hitting wife
Whitney Houston
in the face. Brown, turned himself in to the police three days after a reported domestic dispute at the couple's home in Atlanta, Georgia. Houston, who accompanied her husband to court, said they were trying to work out their problems "privately."
11 Dec 2001
David Soul won a lawsuit against Matthew Wright, a London theatre critic who criticised Soul's stage performance without even seeing it. Wright's column had made reference to the Monday performance, when in fact, the play did not run on Mondays.
11 Dec 2001
Brian Harvey underwent surgery after suffering a serious head injury in an attack. The former East 17 singer was attacked by a group of youths as he left the Works nightclub in Nottingham, having appeared at a promotional event.
11 Dec 2000
Former Verve front man Richard Ashcroft was forced to cancel the remaining dates on his current UK tour after he fell on stage and broke two ribs. The accident happened during a show in Birmingham.
11 Dec 1996
Johnny Marr and Morrissey were left with a £300,000 legal bill after loosing a case over unpaid royalties with former
Smiths
members Andy Rourke and Mike Joyce.
11 Dec 1993
The character Mr Blobby as featured on UK TV's 'The Noel Edmunds House Party', started a one-week run as the UK No.1 single with the novelty song 'Mr Blobby'. The single later received the dubious honour of being voted the most irritating Christmas No.1 single in a HMV poll.
11 Dec 1989
The Recording Industry Association of America certified four
Led Zeppelin
albums as multi-platinum: Presence (2 million), Led Zeppelin (4 million),
Physical Graffiti
(4 million) and In Through The Out Door (5 million).
11 Dec 1983
The Flying Pickets were at No.1 on the UK singles chart with their version of the Yazoo song 'Only You'. Also this years Christmas No.1 and the first a cappella chart-topper in the UK.
11 Dec 1982
Singer, TV actress and dancer Toni Basil went to No.1 on the US singles chart with 'Mickey', making her a US One Hit Wonder. Also a No.2 hit in the UK, the song was written by Mike Chapman and Nicky Chinn as 'Kitty', and was first recorded by UK group Racey during 1979.
11 Dec 1982
The Jam
played their last ever gig as a band when they appeared in Brighton, England. Singer and guitarist Paul Weller went on to form The Style Council with keyboardist Mick Talbot. The permanent line-up grew to include drummer Steve White and Weller's then-wife, vocalist Dee C. Lee.
11 Dec 1973
Kiss
guitarist Ace Frehley was nearly electrocuted during a concert in Florida when he touched a short-circuited light. The guitarist was carried from the stage but returned 10 minutes later to finish the show.
11 Dec 1972
James Brown
was arrested after show in Tennessee for trying to incite a riot. Brown threatened to sue the city for $1m, the charges were later dropped.
11 Dec 1971
UK comedian Benny Hill was at No.1 on the UK singles chart with the innuendo-laden novelty song, 'Ernie (The Fastest Milkman In The West)', giving Hill his only No.1 and the Christmas No.1 hit of 1971. The song was originally written in 1955 as the introduction to an unfilmed screenplay about Hill's milkman experiences.
11 Dec 1968
Liverpool folk group The Scaffold were at No.1 on the UK singles chart with 'Lily The Pink', this year's Christmas No.1. 'Lily the Pink' was a new version of an older folk song entitled 'The Ballad of Lydia Pinkham', and a similar version was the unofficial regimental song of the Royal Tank Corps, at the end of World War II.
11 Dec 1968
Filming began for The
Rolling Stones
'Rock & Roll Circus.' As well as clowns and acrobats,
John Lennon
and his fiancee Yoko Ono performed as part of a supergroup called The Dirty Mac, along with
Eric Clapton
, Mitch Mitchell, and
Keith Richards
. It was originally meant to be aired on the BBC, but the
Rolling Stones
withheld it because they were unhappy with their performance. The film was eventually released in 1996.
11 Dec 1964
Soul singer
Sam Cooke
was shot dead at the Hacienda Motel in Los Angeles, California. Bertha Franklin, manager of the motel, told police that she shot and killed Cooke in self-defence because he had attacked her. Police found Cooke's body in Franklin's apartment-office, clad only in a sports jacket and shoes, but no shirt, pants or underwear. The shooting was ultimately ruled a justifiable homicide.
11 Dec 1961
Elvis Presley
started a 20-week run at No.1 on the US album chart with 'Blue Hawaii', his seventh US No.1 album.
11 Dec 1961
The
Marvelettes
went to No.1 on the US singles chart with 'Please Mr Postman'. The session musicians on the track included 22 year old
Marvin Gaye
on drums. The song gave The
Carpenters
a US No.1 and UK No.2 single in 1975.
Born on this day in music
11 Dec 1981
Zacky Vengeance (Zachary James Baker), American guitarist, songwriter of Avenged Sevenfold, who had the 2010 US No.1 album Nightmare and the 2013 US No.1 album Hail to the King.
11 Dec 1972
Easther Bennett, from British R&B girl group Eternal who had the 1997 UK No.1 single 'I Wanna Be The Only One', and the 1993 UK No.2 album Always & Forever. They achieved 15 UK Top 20 hits between 1993 and 1999.
11 Dec 1967
DJ Yella, NWA, (1990 UK No.26 single 'Express Yourself').
11 Dec 1964
Justin Currie, singer, songwriter and bass player from Scottish alternative rock band Del Amitri who had the 1990 UK No.11 single 'Nothing Ever Happens'. The band have had five Top 10 albums in the UK.
11 Dec 1962
Curtis Williams, Kool & The Gang, (1981 US No.1 & UK No.7 single 'Celebration', 1984 UK No.2 single Joana' and 15 other UK Top 40 hits).
11 Dec 1961
Darryl Jones also known as "The Munch.' American bassist who has played with The
Rolling Stones
since Bill Wyman's departure in 1993. Also worked with Miles Davis, Herbie Hancock, Sting, Peter Gabriel,
Madonna
,
Eric Clapton
and Joan Armatrading.
11 Dec 1958
Nikki Sixx, songwriter, radio host, and photographer, best known as the co-founder, bassist, and primary songwriter of the band Motley Crue. In 2002 he formed the hard rock supergroup Brides of Destruction with L.A. Guns guitarist Tracii Guns. His book The Heroin Diaries: A Year in the Life of a Shattered Rock Star was published in 2007.
11 Dec 1954
Jermaine Jackson, from American family music group The
Jackson 5
. They were the first group to debut with four consecutive No.1 hits on the Hot 100 with the songs 'I Want You Back', 'ABC', 'The Love You Save', and 'I'll Be There'. And with The Jacksons, had the 1979 hit 'Shake Your Body (Down to the Ground)'.
11 Dec 1951
Philip 'Spike' Edney, keyboard player, was known as the fifth member of
Queen
. Also worked with
Duran Duran
, Boomtown Rats, Dexy's Midnight Runners, Haircut 100, The Cross, Brian May and The
Rolling Stones
.
11 Dec 1948
American drummer and session musician Chester Thompson who performed with
Frank Zappa
from 1973–74 and
Genesis
from 1977-2007. Thompson has also worked with Weather Report,
Phil Collins
,
Santana
and others.
11 Dec 1944
Brenda Lee, singer, (1960 US No.1 single 'I'm Sorry', UK No.4 single 'Sweet Nothin's', plus 27 US & 18 other UK Top 40 singles).
11 Dec 1941
J. Frank Wilson, American singer, and lead vocalist of J. Frank Wilson and the Cavaliers who scored the No.2 US hit 'Last Kiss'. The song was subsequently covered successfully by Wednesday and
Pearl Jam
.
11 Dec 1940
American singer-songwriter, musician and producer, David Gates, best known as the co-lead singer of the group Bread, who scored the 1970 US No.1 & UK No.5 single 'Make It With You'. His song 'Popsicles and Icicles' hit No.3 on the US chart for The Murmaids in January 1964 and The
Monkees
recorded another of his songs, 'Saturday's Child'. By the end of the 1960s, he had worked with many leading artists, including
Elvis Presley
, Bobby Darin, Merle Haggard, Duane Eddy and
Brian Wilson
.
11 Dec 1926
Big Mama Thornton, singer, songwriter,
Janis Joplin
covered her song 'Ball And Chain'. Thornton also scored the 1953 hit with her version of 'Hound Dog' before
Elvis Presley
. She died in 1984.
11 Dec 1916
Cuban bandleader, pianist, composer and arranger Perez Prado who had the 1955 US & UK No.1 single 'Cherry Pink & Apple Blossom White'. Perez had first covered this title for the movie Underwater! (1955) where Jane Russell can be seen dancing to the song. Billboard ranked this version as the No. 1 song of 1955. He died on 14th September 1989.