December 12th: The Biggest Music Headlines
Scroll down the page to see all the music headlines, stories and events for December 12 throughout music history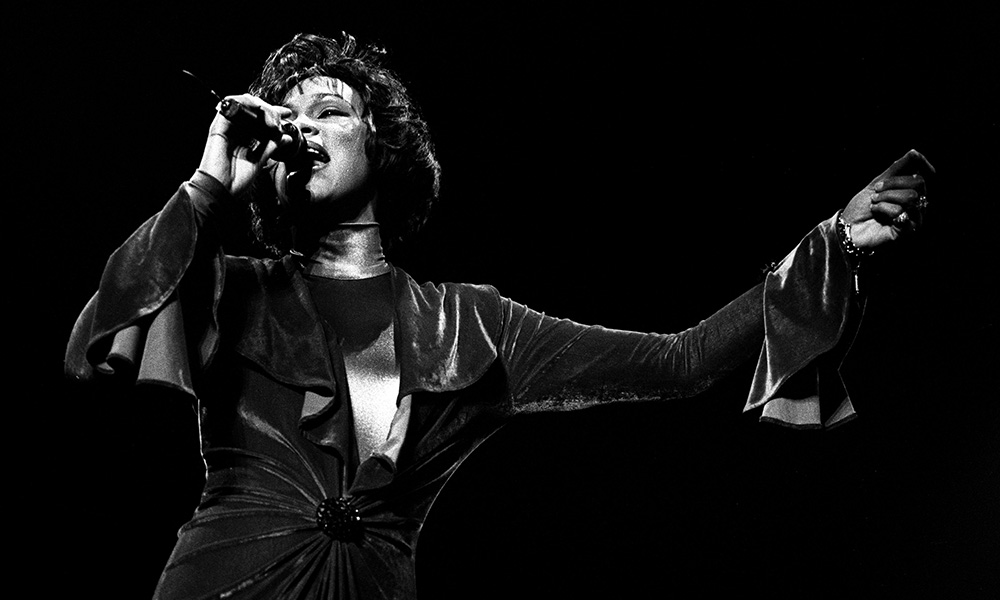 Whitney Houston Tops the Charts with 'The Bodyguard' Soundtrack
On this day in music, December 12, 1992, Whitney Houston began an incredible 20-week run at the top of the Billboard 200 with The Bodyguard soundtrack. Houston, who starred in the film and performed many of the songs on the album (including her iconic cover of "I Will Always Love You"), co-executive produced the LP with Clive Davis. The Bodyguard remained on the US album chart for a total of 141 weeks and on the R&B chart (which it also topped) for 122 weeks. Additionally, the soundtrack set a record for the most albums sold in a single week.
In 1963, The Beatles topped the UK pop chart for the third time with "I Want To Hold Your Hand." The single was notable for being the first Beatles song to be made using four-track equipment. The song also become the group's first American No.1 hit – an event that widely pinpointed the beginning of "The British Invasion."
In 2012, The Rolling Stones, The Who, Michael Stipe, Chris Martin, Bruce Springsteen, Roger Waters, and more performed at Madison Square Garden to raise funds for victims of Hurricane Sandy.
In 1970, The Doors played what would be their final live show with Jim Morrison at The Warehouse in New Orleans.
In 1970, Smokey Robinson and the Miracles began a two-week run at No.1 on the Billboard Hot 100 with "Tears Of A Clown." The song was inducted into the Grammy Hall of Fame in 2002.
In 1987, George Michael began a four-week run at the top of the US pop chart with "Faith." Taken from the album of the same name, the song became the country's top-selling single of 1988.
In 2020, legendary country star Charley Pride died at the age of 86. The singer and guitarist was inducted into the Country Hall of Fame in 2000, while he remains one of only three Black members of the Grand Ole Opry.
In 1981, The Human League topped the UK charts with "Don't You Want Me." The synth-pop hit was later named the year's biggest-selling single.
In 2003, Mick Jagger was honored with a knighthood at Buckingham Palace.
Looking for more things that happened on this day in music?
Keep scrolling for all of the headlines for December 12.
BORN ON DECEMBER 12:
1915: Frank Sinatra
1938: Connie Francis
1940: Dionne Warwick
1943: Mike Smith (Dave Clark Five)
1943: Dicky Betts (Allman Brothers Band)
1944: Rob Tyner (MC5)
1959: Sheila E
1963: Eric Schenkman (Spin Doctors)
1968: Danny Boy (House of Pain)
Looking for more artists born on this day?
Keep scrolling for all of our December 12 birthdays.
---
What to find another day?
---
December 12th
12 Dec 2020
American singer, guitarist, and professional baseball player Charley Pride died age 86. In the early to mid-70s, he was the best-selling performer for RCA Records since
Elvis Presley
. During the peak years of his recording career (1966–1987), he had 52 top-10 hits on the Billboard Hot Country Songs chart, 30 of which made it to number one. He won the Entertainer of the Year award at the Country Music Association Awards in 1971.
12 Dec 2012
The
Rolling Stones
,
The Who
,
Michael Stipe
,
Chris Martin
,
Bruce Springsteen
and Roger Waters played at Madison Square Garden and raised over $30m (£18.6m) at a benefit gig in New York for those affected by superstorm Sandy which had caused the deaths of 120 people when it hit the Caribbean and US in October of this year. The surviving members of
Nirvana
, Dave Grohl and Krist Novoselic, also joined Sir
Paul McCartney
on stage to perform.
12 Dec 2008
The town where
Mick Jagger
and
Keith Richards
grew up announced it was to name streets in a new estate after
Rolling Stones
hits. The 13 streets in Dartford, Kent, were to be given names such as Angie Mews, Babylon Close, Sympathy Street, Little Red Walk and Satisfaction Street. Leader of the council, Jeremy Kite, said he thought Ruby Tuesday Drive sounded a "fantastic" place to live, but police were concerned the street signs might be stolen by fans.
12 Dec 2007
Ike Turner, the former husband of Tina Turner died at the age of 76 at his home near San Diego, California. Turner who was a prolific session guitarist and piano player is credited by many music historians with making the first rock 'n' roll record in 1951. After marrying Tina Turner in 1959, the pair released a string of hits including the Phil Spector produced 'River Deep Mountain High.'
12 Dec 2007
A copy of
John Lennon
's book, A Spaniard in the Works, which contained a lock of Lennon's hair, sold at Gorringes Auction House for £24,000, ($48,000). Lennon gave the book and the hair to Betty Glasgow, the Fab Four's hairdresser during their heyday. He wrote in the book, "To Betty, Lots of Love and Hair,
John Lennon
xx." The strands of hair and book had been expected to sell for between £2,000 and £4,000.
12 Dec 2003
Mick Jagger
became a Sir after being knighted by Prince Charles at Buckingham Palace. Jagger's 92-year-old father was at the Palace to see his son receive the award.
12 Dec 2001
Arthur Lee guitarist and singer from
Love
, was released from prison after serving almost six years of an eleven-year sentence. Lee had been convicted of possession of a firearm and for allegedly shooting a gun in the air during a dispute with a neighbour.
12 Dec 1998
A seven inch single by the Quarry Men featuring
John Lennon
,
Paul McCartney
and
George Harrison
was named as the rarest record of all time, only 50 copies were made with each copy being valued at £10,000, ($20,500).
12 Dec 1992
Whitney Houston
started a twenty-week run at No.1 on the US album chart with 'The Bodyguard'. It has sold over 44 million copies worldwide, becoming the best-selling soundtrack album of all time, as well as one of the best selling albums of all time.
12 Dec 1987
George Michael
started a four week run at No.1 on the US singles chart with 'Faith'. Taken from the album of the same name, it became the top-selling single of the year in the US in 1988.
12 Dec 1985
Scottish keyboard player Ian Stewart died of a heart attack in his doctor's Harley Street waiting room. Co-founder of The
Rolling Stones
(Stewart was the first to respond to
Brian Jones
's advertisement in Jazz News seeking musicians to form a rhythm & blues group). Stewart was dismissed from the line-up by the band's manager, Andrew Loog Oldham, in May 1963 but remained as road manager and piano player. He played on all The
Rolling Stones
albums between 1964 and 1983. Also played piano on
Led Zeppelin
's 'Rock and Roll' and 'Boogie With Stu' from
Physical Graffiti
.
12 Dec 1981
The Human League had their only UK No.1 single with 'Don't You Want Me.' The Christmas hit of 81, the biggest seller of 1981 and Virgin Records first No.1 UK single. The group's singer Phil Oakey disliked the song so much that it was relegated to the last track on their latest album Dare.
12 Dec 1970
Smokey Robinson
and the Miracles started a two week run at No.1 on the US singles chart with 'Tears Of A Clown'. It was the group's 26th Top 40 hit and first No.1, and also a No.1 hit in the UK. The song was written by
Stevie Wonder
in 1966, and his producer Hank Cosby,
Smokey Robinson
wrote the lyrics.
12 Dec 1970
The Doors
played what would be their last ever live show with Jim Morrison when they played at the Warehouse in New Orleans.
12 Dec 1967
Rolling Stone
Brian Jones
was given 3 years probation and a £1,000 fine for drug offences. Three psychiatrists agreed that Jones was an extremely frightened young man with suicidal tendencies.
12 Dec 1965
The Beatles
sixth album
Rubber Soul
started a 42-week run on the UK albums chart. It was the second Beatles LP to contain only original material. For the first time in their career, the band were able to record the album over a continuous period, uninterrupted by touring commitments.
12 Dec 1963
The Beatles
were at No.1 on the UK singles chart with 'I Want To Hold Your Hand', the group's third No.1 (and first Amercan No.1) and this year's UK Christmas No.1.
12 Dec 1957
Still married to his first wife Jane Mitcham, Jerry Lee Lewis secretly married his 13-year old second cousin Myra Gale Brown. Lewis's personal life was hidden from the public until a May 1958 British tour where Ray Berry, a news agency reporter at London's Heathrow Airport learned about Lewis's third wife. The publicity caused an uproar and the tour was canceled after only three concerts.
Born on this day in music
12 Dec 1980
Carl Dalemo, bassist with English indie rock band Razorlight who had the 2006, UK No.1 single 'America' and their 2006 UK No.1 self titled album.
12 Dec 1976
Dan Hawkins, guitarist with The Darkness who had the 2003 UK No.2 single 'I Believe In A Thing Called Love', and the 2003 UK No.1 album 'Permission To Land'. The album was certified quadruple platinum in the United Kingdom, with sales of over 1,300,000 and in 2004 the band won three Brit Awards.
12 Dec 1968
Danny Boy, US rap group, House Of Pain, (1993 UK No.8 single, 'Jump Around').
12 Dec 1963
Claudia Brucken, Propaganda, (1985 UK No.21 single 'Duel').
12 Dec 1963
Eric Schenkman, guitarist with American rock band The Spin Doctors who had the 1993 UK No.3 & US No.7 single 'Two Princess' and the hit 'Little Miss Can't Be Wrong'.
12 Dec 1961
Daniel O'Donnell, Irish singer, top UK Country 'n' Irish artist, (1998 UK No.7 single 'Give A Little Love', scored over 15 Top 40 albums). Received an MBE in 2002.
12 Dec 1959
Belouis Some, (Neville Keighley) 1986 UK No.17 single 'Imagination').
12 Dec 1959
12 Dec 1958
Leslie Carter, (Fruitbat), from English duo Carter The Unstoppable Sex Machine who had the 1992 UK No.7 single 'The Only Living Boy In New Cross'.
12 Dec 1953
Bruce Kulick, American guitarist, who has worked with
Meat Loaf
, Michael Bolton, Grand Funk Railroad and
Kiss
.
12 Dec 1948
Ray Jackson from English group Lindisfarne who had the 1970s hit singles 'Meet Me on the Corner', 'Lady Eleanor and 'Run For Home'. Their album Fog on the Tyne became the biggest selling UK album in 1972.
12 Dec 1947
Ralph Scala, from American rock group The Blue Magoos, who scored the 1967 US No.5 single, 'We Ain't Got Nothin' Yet'. They were at the forefront of the psychedelic music trend, beginning in 1966.
12 Dec 1946
Denny Dias, American guitarist, best known for being a founding member of Steely Dan. Dias placed an ad in The Village Voice in the summer of 1970 that read: "Looking for keyboardist and bassist. Must have jazz chops! Assholes need not apply". Donald Fagen and Walter Becker responded to the advertisement.
12 Dec 1945
Alan Ward, The Honeycombs, (1964 UK No.1 single 'Have I The Right').
12 Dec 1944
Rob Tyner, singer from American rock band MC5 who formed in 1964. Best known for their energetic live performances, one of which was recorded as their 1969 debut album Kick Out the Jams. Tyner died on 18 September 1991 when he suffered a heart attack in the seat of his parked car close to his home town of Berkley, Michigan.
12 Dec 1943
Dave Munden, who with Brian Poole and the Tremeloes had the the UK 1963 No.1 hit 'Do You Love Me' and with The Tremeloes the 1967 UK No.1 & US No.11 single 'Silence Is Golden'.
12 Dec 1943
Dicky Betts, American guitarist, singer, songwriter,
The Allman Brothers Band
, who had the 1973 US No.12 single 'Ramblin Man'. Betts is recognized as one of the greatest rock guitar players of all time, with one of rock's finest guitar partnerships with Duane Allman, introducing melodic twin guitar harmony which "rewrote the rules for how two rock guitarists can work together".
12 Dec 1943
Grover Washington Jr, singer and saxophonist in the Jazz genre who scored the 1981 UK No.34 single 'Just The Two Of Us'. He died on 17th December 1999.
12 Dec 1943
Mike Smith, from English pop rock band, Dave Clark Five, who scored the 1964 UK No.1 single 'Glad All Over', and the 1965 US No.1 single 'Over And Over' , plus over 15 other UK top 40 singles. Smith died on 29th Feb 2008 from pneumonia at Stoke Mandeville Hospital in Buckinghamshire, England at the age of 64.
12 Dec 1942
Declan Clusky, The Bachelors, (1964 UK No.1 single 'Diane', plus 16 other UK Top 40 singles).
12 Dec 1942
Tim Hauser, singer, Manhattan Transfer, (1977 UK No.1 'Chanson D'amour', 1981 US No.7 single 'Boy From New York City').
12 Dec 1941
Terry Kirkman, vocals, The Association, who scored the 1966 hit 'Cherish' (also covered by David Cassidy), and the 1967 US No.1 single 'Windy'.
12 Dec 1940
Dionne Warwick, US singer, (1964 UK No.9 single 'Walk On By', 1974 US No.1 & UK No.29 single 'Then Came You', plus over 25 US Top 40 hits).
12 Dec 1938
American singer, former actress Connie Francis, who had the 1958 UK No.1 single 'Who's Sorry Now', 1960 US No.1 & UK No.5 single 'Everybody's Fool', plus over & 20 UK Top 40 hits. Francis saw success with her 1959 album Sings Italian Favorites, which spent 81 weeks on the UK chart.
12 Dec 1920
British music publisher and singer Dick James. He was a member of The Stargazers that had two UK No.1 singles, 'Broken Wings' in 1953 (which was the first recording by a native British act to top the UK Singles Chart) and the 1954 'I See the Moon'. He was the singer of the theme songs of The Adventures of Robin Hood and The Buccaneers, from British TV in the 1950s. He later became a music publisher working with many UK 60s acts including
The Beatles
. James signed
Elton John
and his lyricist Bernie Taupin as unknown artists in 1967 and was the founder of the DJM record label. James died of a heart attack on 1 February 1986 aged 65.
12 Dec 1915
Frank Sinatra
American singer, actor and producer, who was one of the most popular and influential musical artists of the 20th century. He was the first singer to encounter 'pop hysteria', and his single 'My Way' holds the UK longevity record of 136 weeks on the charts. Sinatra died on 14th May 1998 after a heart attack.