December 14th: The Biggest Music Headlines
Scroll down the page to see all the music headlines, stories and events for December 14 throughout music history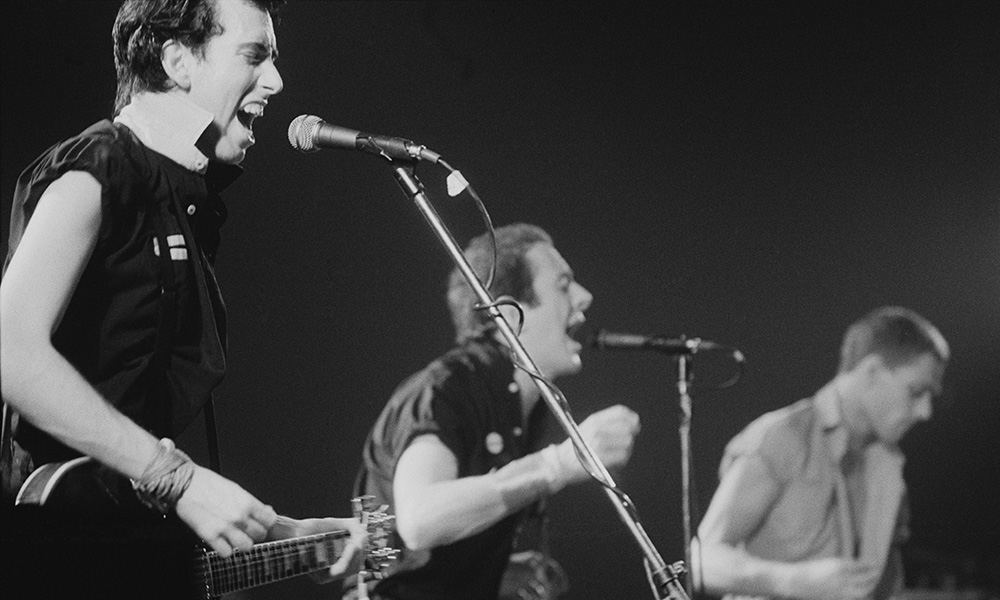 The Clash Release Their Magnum Opus, 'London Calling'
On this day in music, December 14, 1979, The Clash released their third studio album, London Calling, in the UK. Considered by many to be their best work, London Calling found the pioneering punk group expanding their sound and exploring a range of genres, including reggae, lounge jazz, and R&B. Featuring such enduring songs as "Train in Vain," "Death or Glory," and the title track, London Calling also served as the group's commercial breakthrough in the US, when it dropped in January 1980. Today, the album is considered to be among one of the greatest albums of all time by an array of outlets, while in 2007, it was inducted into the Grammy Hall of Fame.
In 1969, The Jackson 5 made their first network television appearance in the US when they appeared on The Ed Sullivan Show. During their performance, the family group sang Sly and the Family Stone's "Stand," Smokey Robinson's "Who's Loving You," and their first hit single, "I Want You Back."
In 1968, Marvin Gaye scored his first No.1 hit on the Billboard Hot 100 with "I Heard It Through The Grapevine." Gaye's rendition of the oft-covered tune remained at the top spot for five weeks.
In 1963, "Queen of The Blues" Dinah Washington died at the age of 39. During her nearly 20-year career, the popular singer and pianist scored countless hits on Billboard's Pop and R&B charts, including "Baby Get Lost," "Baby (You've Got What It Takes)," and "This Bitter Earth." Washington was inducted posthumously into the Rock and Roll Hall of Fame in 1993.
In 2019, Sir Rod Stewart became the oldest male solo artist to have a No.1 album when he released You're in My Heart: Rod Stewart with the Royal Philharmonic Orchestra.
In 2015, Adele topped both the UK and US charts with her record-breaking third album, 25. After only three days of availability, 25 became the fastest-selling album of the 21st century and the best-selling album of 2015.
In 2006, Ahmet Ertegun, the hugely influential co-founder of Atlantic Records, died at the age of 83. In addition to pioneering the sound of soul, R&B, and rock, Ertegun also served as the chairman of the Rock and Roll Hall of Fame and Museum.
In 1985, Whitney Houston scored her first UK No.1 hit with "Saving All My Love For You."
In 1999, Sir Paul McCartney returned to The Cavern Club in Liverpool, where The Beatles played their earliest shows. While McCartney played to just 300 people, the intimate set was also streamed as a live webcast to more than three million people (a record at the time for an online audience).
In 2003, Ozzy and Kelly Osbourne topped the UK singles chart with "Changes," the first No.1 hit from a father-daughter duo since Frank and Nancy Sinatra in 1967.
Looking for more things that happened on this day in music?
Keep scrolling for all of the headlines for December 14.
BORN ON DECEMBER 14:
1946: Jane Birkin
1949: Cliff Williams (AC/DC)
1958: Peter 'Spider' Stacy (The Pogues)
1970: Beth Orton
1987: Alex Gaskarth (All Time Low)
Looking for more artists born on this day?
Keep scrolling for all of our December 14 birthdays.
---
What to find another day?
---
December 14th
14 Dec 2019
Sir
Rod Stewart
became the oldest male solo artist to have a No.1 album in the UK when the singer's 10th chart topper You're In My Heart went to the top of the charts. Sir Rod, who was 74 years and 11 months old, took the accolade which was previously held by American singer
Paul Simon
.
14 Dec 2018
American bass guitar player Joe Osborn died aged 81. He was known for his work as a session musician in Los Angeles and Nashville during the 1960s through the 1980s. As a member of The Wrecking Crew his playing can be heard on records by; The Mamas & the Papas, The
Carpenters
, The Association and The 5th Dimension. Osborn can be heard on Simon & Garfunkel's
'Bridge Over Trouble Water'
and the 5th Dimension's version of 'Aquarius/Let the Sunshine In'.
14 Dec 2015
Adele
was at No.1 on both the UK and US chart with her third album 25. The album was a massive commercial success, debuting at No.1 in more than 25 markets and broke first-week sales records in many countries, including the UK and US. 25 eventually became the world's best-selling album of 2015 with 17.4 million copies sold within the year, and has sold 20 million copies as of June 2016, making it one of the best selling albums worldwide.
14 Dec 2011
The
Troggs
singer Reg Presley was hospitalized in Winchester, England, with what was suspected to be a stroke. Presley had become ill during a gig in Germany a few days earlier.
14 Dec 2011
American country music singer Billie Jo Spears died of cancer age 74. She reached the top 10 of the US country music chart five times between 1969 and 1977, her biggest being 'Blanket on the Ground', a 1975 No.1 hit. One of Spears's first singles was 'Harper Valley PTA', but her single release was beaten off the presses by Jeannie C. Riley's version which became a monster crossover hit, while Spears's failed to chart.
14 Dec 2006
The co-founder of Atlantic Records Ahmet Ertegun died, aged 83. Ertegun who founded Atlantic Records with Herb Abramson in 1947 helped make Ray Charles and
Aretha Franklin
stars and signed The
Rolling Stones
and
Led Zeppelin
in the early 70s. He suffered a head injury when he fell at a
Rolling Stones
concert at New York's Beacon Theatre in October, and died after slipping into a coma.
14 Dec 2004
The funeral took place in Arlington, Texas for Damageplan and Pantera guitarist Dimebag Darrell,
Eddie Van Halen
, placed Darrell's original black and yellow stripes guitar into the KISS Kasket he was buried in. Several thousand fans and friends gathered at the Arlington Convention Center in Arlington, to mourn the guitarist's death. Darrell was shot five times in the back of the head during a gig at the Alrosa Villa Club in Columbus on 8th Dec 04 by a mentally ill former US Marine. Damageplan's drum technician, John Brooks, and tour manager, Chris Paluska, were both injured in the incident.
14 Dec 2003
Ozzy & Kelly Osbourne went to No.1 on the UK singles chart with 'Changes' a remake of a track first sung by Ozzy on the
Black Sabbath
album Volume IV in 1972. It was the first father and daughter chart topper since Frank & Nancy Sinatra in 1967.
14 Dec 1999
Sir
Paul McCartney
appeared at The
Cavern Club
Liverpool, England in front of 300 people with David Gilmour,
Deep Purple
drummer Ian Paice, Pete Wingfield on keyboards and the legendary Mick Green (of Johnny Kidd & The Pirates) on guitar. It marked McCartney's last gig of the year and the 20th Century. His last gig at the venue was in 1963. The show went out as a live webcast and was estimated to have been watched by some three million people worldwide (a record at the time for an online audience), BBC Radio 2 broadcast the show live and BBC1 TV also aired the historic performance.
14 Dec 1998
Billy Preston pleaded guilty to insurance fraud in a Los Angeles court and agreed to testify against six other defendants who allegedly participated in starting fires, staging thefts and rigging car crashes for which a total of 18 fraudulent insurance claims were filed. Preston received five years of probation and one year in jail to run concurrently with a sentence he was already serving for violating probation on a prior conviction for cocaine possession.
14 Dec 1997
Canadian guitarist and songwriter Kurt Winter died of kidney failure at the age of 51. He was a member of Brother and The Guess Who (replacing guitarist Randy Bachman), who scored the 1970 US No.1 & UK No.19 single 'American Woman'. Winter penned the hit singles 'Bus Rider' and 'Hand Me Down World', both of which were hits for The Guess Who.
14 Dec 1991
Michael Jackson
started a four-week run at No.1 on the US album chart with his eighth studio album 'Dangerous'. The album has sold over 32 million copies worldwide making it one of the best selling albums of all time. Nine singles were released from the album spanning two years (1991–1993).
14 Dec 1985
Whitney Houston
scored her first UK No.1 single with 'Saving All My Love For You'. The song which was written by Michael Masser and Gerry Goffin, had been a minor hit for Marilyn McCoo and Billy Davis Jr. in 1978 and was also a US No.1 for Houston.
14 Dec 1980
Yoko Ono called on fans to observe ten minutes of silence in memory of
John Lennon
. 30,000 gathered outside St George's Hall in Liverpool, while nearly 100,000 attend a memorial in New York's Central Park.
14 Dec 1979
The Clash
released their third studio album London Calling. The double album received widespread acclaim and was ranked at number eight on Rolling Stone's list of The 500 Greatest Albums of All Time in 2003 and was ranked as the sixth-greatest album of the 1970s by NME.
14 Dec 1973
Bruce Springsteen
appeared at the Pinecrest Country Club, Shelton, Connecticut. Only 200 tickets were sold for the show.
14 Dec 1972
Born To Boogie the
Ringo Starr
directed movie premiered in London. The film was based around a concert at Wembley Empire Pool, London, England starring
Ringo Starr
,
Marc Bolan
and T. Rex and was released on
The Beatles
Apple Films label.
14 Dec 1971
Led Zeppelin IV
was riding high in the Top 10 of the US album charts. In 2006, the album was rated No.1 on Classic Rock magazine's '100 Greatest British Albums' poll, and No.1 in a poll conducted by Guitar World. The album has now sold over 23 million copies in the US. The typeface for the lyrics to Stairway to Heaven, printed on the inside sleeve of the album, was
Jimmy Page
's contribution. He found it in an old arts and crafts magazine from the late 19th century. He thought the lettering was interesting and arranged for a designer to create a whole alphabet.
14 Dec 1969
The Jackson Five made their first network television appearance in the US when they appeared on The Ed Sullivan Show.
14 Dec 1968
Marvin Gaye
scored his first US No.1 single when 'I Heard It Through The Grapevine' started a five-week run at the top of the charts. It was Marvin's 15th solo hit and also his first UK No.1 single in March 69. Written by Norman Whitfield and
Barrett Strong
in 1966, the single was first recorded by
Smokey Robinson
& the Miracles as well as
Gladys Knight
& the Pips.
14 Dec 1967
Rolling Stones
guitarist
Brian Jones
was rushed to St Georges hospital in London after collapsing. A doctor reported Jones was tired and suffering from over strain and was also recovering from having some teeth out.
14 Dec 1963
The Beatles
played a show for their Southern Area Fan Club at Wimbledon Palais, London. To prevent damage to the stage from fans the management of the Palais constructed a platform for
The Beatles
to perform on, surrounded by a steel cage.
14 Dec 1963
American singer and pianist Dinah Washington died at the age of 39. An autopsy later showed a lethal combination of secobarbital and amobarbital had contributed to her death. Washington gave herself the title of "Queen of the Blues". She had her first top ten pop hit in 1959 with a version of 'What a Diff'rence a Day Made', and then two successful duets in 1960 with Brook Benton, 'Baby (You've Got What It Takes)' and 'A Rockin' Good Way (To Mess Around and Fall in Love).
14 Dec 1962
Bill Wyman made his live debut with The
Rolling Stones
at the Ricky Tick Club, Star and Garter Hotel in Windsor, England. The group were known as The Rollin' Stones during this period.
Born on this day in music
14 Dec 1988
Vanessa Hudgens, American actress and singer from High School Musical, as part of the cast had the 2006 US No.1 'High School Musical' album and 2007, US No.1 'High School Musical 2' album. Over 17 million viewers in the United States watched the TV premier of High School Musical; making it the highest rated basic cable broadcast in U.S. history.
14 Dec 1987
English-American singer, songwriter, guitarist, Alex Gaskarth from All Time Low. Their 2015 album Future Hearts peaked at No.1 on the UK chart and No.2 on the US chart.
14 Dec 1979
Sophie Monk, Australian singer from Bardot, winners of the Australian Popstars reality show, who had the 2000 Australian No.1 single 'Poison', and 2000 Australian No.1 self-titled album.
14 Dec 1970
Beth Orton, English singer-songwriter, known for her 'folktronica' sound, which mixes elements of folk and electronica.
14 Dec 1966
Tim Skold, bassist, with American rock band Marilyn Manson who had the 1998 US No.1 album, Mechanical Animals.
14 Dec 1958
Mike Scott, singer, songwriter, The Waterboys, (1991 UK No.3 single 'Whole Of The Moon', first released 1985).
14 Dec 1958
Peter 'Spider' Stacy, tin whistle, from Irish-British Celtic punk band The Pogues who scored the 1987 UK No.8 single 'The Irish Rover' and the 1987 UK No.2 single with Kirsty MaCcoll, 'Fairytale Of New York'.
14 Dec 1949
Cliff Williams, bass player for Australian rock band
AC/DC
, (he replaced Mark Evans in 1977). The bands 1980 UK No.1 & US No.14 album Back In Black sold over 49 million copies.
14 Dec 1946
Jackie McAuley, keyboards with the Northern Irish band Them who had the 1965 UK hits 'Baby, Please Don't Go' and 'Here Comes The Night' with Van Morrison on lead vocals. Morrison quit the band in 1966 and went on to a successful career as a solo artist.
14 Dec 1946
Jane Birkin, English actress, singer, and songwriter who had the 1969 UK No.1 single with Serge Gainsbourg 'Je t'aime...Moi non plus', the only French language UK chart- topper. She is also known as being the namesake of the popular Hermès Birkin bag.
14 Dec 1946
Joyce Vincent Wilson, singer from American pop music group Dawn who were popular in the 1970s. Their signature hits include 'Candida', 'Knock Three Times', and 'Tie a Yellow Ribbon Round the Ole Oak Tree'.
14 Dec 1943
Frank Allen, The Searchers, (1964 UK No.1 single 'Needles And Pins').
14 Dec 1942
Dick Wagner, American rock music guitarist, songwriter who worked with Alice Cooper and Lou Reed. He died from a lung infection aged 71. Wagner had also written songs with
Kiss
and
Aerosmith
.
14 Dec 1938
Gary Usher, producer, songwriter. Worked with The Byrds, he co-wrote
The Beach Boys
, 'In My Room'. Usher died on 25th May 1990.
14 Dec 1932
Charlie Rich singer and musician. In the latter part of his life, Rich who acquired the nickname The Silver Fox is best remembered for his 1973 hits, 'Behind Closed Doors' and 'The Most Beautiful Girl'. Rich died in his sleep on July 25, 1995 aged 62.