December 18th: The Biggest Music Headlines
Scroll down the page to see all the music headlines, stories and events for December 18 throughout music history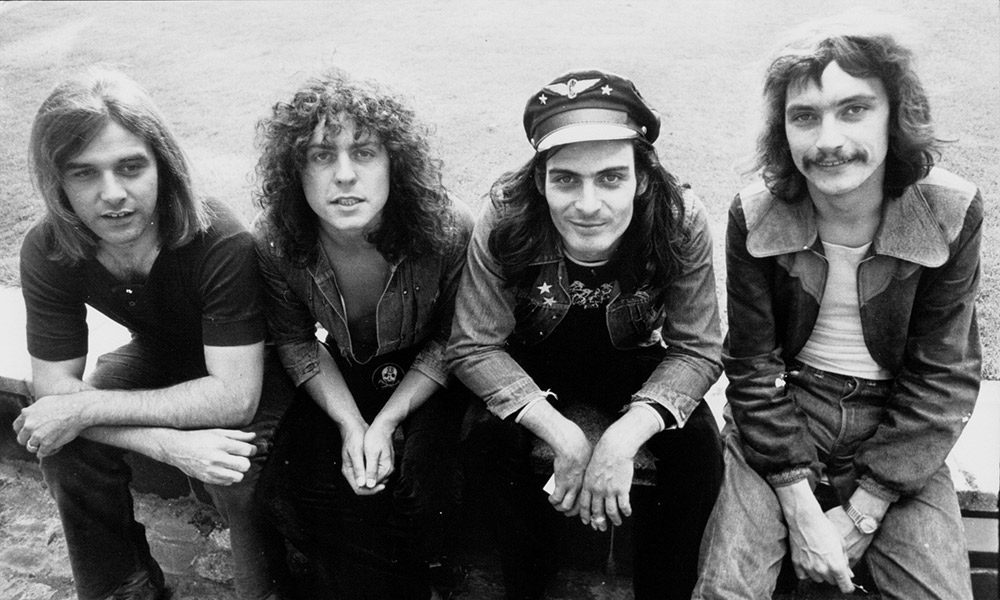 T. Rex Top The UK Album Chart With 'Electric Warrior'
On this day in music, December 18, 1971, T. Rex scored their first No.1 album in the UK with Electric Warrior. Marking the group's sixth LP overall, and their second since frontman Marc Bolan changed the band's name from Tyrannosaurus Rex to T. Rex, Electric Warrior is widely cited as a turning point in the evolution of glam-rock. Driven up the charts by its massively popular hit single, "Bang a Gong (Get It On)," the album was later named the UK's best-selling record of 1971. Across the pond, "Bang a Gong" was the band's sole Top Ten US hit.
In 1982, Hall and Oates began a four-week run at the top of the Billboard Hot 100 with "Maneater." The song, which marked the duo's fifth US No.1, was also the group's biggest hit in the UK, reaching No.6 on the pop chart.
In 2005, The Pogues' "Fairytale of New York" was voted the top Christmas song ever in a VH1 poll. The 1987 track was written by the Celtic-punk band's members Jem Finer and Shane MacGowan and featured guest vocals by Kirsty MacColl.
In 2000, tragedy struck when 41-year-old singer-songwriter Kristy MacColl was killed while saving her sons from an oncoming powerboat in Mexico. The British artist penned a number of pop hits in the 80s and 90s, including "There's a Guy Works Down the Chip Shop Swears He's Elvis," and the Ivor Novello-winning songs "Walking Down Madison" and "Dear John."
In 1962, The Beatles kicked off their fifth visit to West Germany with a two-week engagement at Hamburg's new Star-Club. During the 13-night run, the band performed for three hours each night, while several evenings were captured on tape by Ted "Kingsize" Taylor of the Liverpool band Kingsize Taylor and the Dominoes. Despite repeated push-back from The Beatles, Taylor released those recordings in 1977.
In 1983, American guitarist Jimmy Nolen died. A longtime player in James Brown's band, Nolen was celebrated for his unique, and highly influential, "chicken scratch" style of playing his instrument.
Looking for more things that happened on this day in music?
Keep scrolling for all of the headlines for December 18.
BORN ON DECEMBER 18:
1943: Keith Richards
1946: Alex Ligertwood (Santana)
1953: Elliot Easton (The Cars)
1970: DMX
1975: Sia
1980: Christina Aguilera
2001: Billie Eilish
Looking for more artists born on this day?
Keep scrolling for all of our December 18 birthdays.
---
What to find another day?
---
December 18th
18 Dec 2022
English musician Terry Hall died aged 63. He was the lead singer of The Specials, and formerly of Fun Boy Three. The Specials, had the 1981 UK No.1 single 'Ghost Town' and with Fun Boy Three he had the 1982 UK No.4 single 'It Ain't What You Do It's The Way That You Do It' (with Bananarama). Hall was also a member of Colour Field who had the 1985 UK No.12 single 'Thinking Of You'.
18 Dec 2022
English keyboardist Martin Duffy died aged 55 from a brain injury after a fall at home in Brighton, England. Duffy originally played in Felt and later joined Primal Scream. Duffy also played with The Charlatans following the death of founder-member Rob Collins.
18 Dec 2015
A US medical examiner said Stone Temple Pilots frontman Scott Weiland died from a toxic mix of drugs including cocaine, alcohol and ecstasy. Weiland, who was 48, rose to fame with the Stone Temple Pilots was found dead on his tour bus outside a hotel in Bloomington, Minneapolis, on 3 December of this year.
18 Dec 2013
Lostprophets singer Ian Watkins was sentenced to 35 years in jail for a string of child sex offences. Watkins, 36, from Pontypridd, Wales, had pleaded guilty at Cardiff Crown Court last month to 13 child sex offences.
18 Dec 2013
Fazer, best known for being part of the group N-Dubz, was declared bankrupt. The 26-year-old rose to fame alongside N-Dubz bandmates Costadinos Contostavlos (Dappy) and Tulisa Contostavlos. N-Dubz had eight songs in the Official Singles Chart. Their most successful track was the appropriately titled Number 1, which hit the top spot in 2009.
18 Dec 2005
'Fairytale of New York' was voted the favourite Christmas song ever in a VH1 poll. The song by The Pogues and Kirsty MacColl took the top spot,
Mariah Carey
's 'All I Want for Christmas is You', was voted into 2nd place and Wham's 'Last Christmas' came third. Other songs voted into the Top 10 were, 'Mistletoe and Wine', Sir Cliff Richard at No.4, 'Merry Xmas Everybody' by Slade at No.5, 'I Wish it could be Christmas Everyday', Wizzard, No.6, 'Christmas Time', The Darkness, No.7, 'Saviour's Day', Sir Cliff Richard No.8, Do They Know It's Christmas? (1984), Band Aid at No.9 and 'Lonely This Christmas' by Mud at No.10.
18 Dec 2005
Babyshambles singer Pete Doherty was arrested on suspicion of driving under the influence of drink or drugs after being stopped by police in east London. Police said the 26-year-old had been driving erratically. Officers sent suspicious substances found in the vehicle for analysis, Doherty was released on bail.
18 Dec 2004
A guitar played by
George Harrison
and
John Lennon
sold for £294,000 ($570,000) at auction in New York. The Gibson SG guitar was used by Harrison from 1966 to 1969, including the recording of
Revolver
, and by Lennon during The
White Album
sessions. Other items sold in the Christie's auction included a letter by
Kurt Cobain
which fetched £10,000 ($19,400), and a school book report by
Britney Spears
(£1,000).
18 Dec 2003
Out on bail,
Michael Jackson
was formally charged with seven counts of child molestation and two counts of administering intoxicating liquor to a minor with the intent of committing a crime. The abuse was claimed to have taken place between 7 February and 10 March 2003 and the alleged victim was identified only as 'John Doe'. Jackson's lawyer said the entertainer was 'unequivocally and absolutely innocent' and would fight the charges 'with every fibre of his soul.'
18 Dec 2003
James Brown
and country music star Loretta Lynn were honoured for their contributions to US culture. The pair were invited to a gala attended by President George Bush at the Kennedy Arts Centre in Washington.
18 Dec 2001
English singer songwriter Clifford T. Ward died aged 57 after suffering from multiple sclerosis since 1984. His first album, Singer Songwriter, was released in 1972 on Dandelion Records (a label formed by the late disc jockey
John Peel
). He had the 1973 UK No.8 single 'Gaye'. Working as an English teacher in the late 60's, one of his pupils was the future wife of Sting, Trudie Styler.
18 Dec 2000
*NSYNC fan Danielle McGuire filed suit against group member Justin Timberlake, alleging that he harassed and verbally assaulted her. McGuire, 15, filed suit in St. Louis, Missouri, charging Timberlake with false imprisonment of a minor.
18 Dec 2000
UK singer, songwriter Kirsty MacColl was killed in a boating accident off the coast of Mexico when a speedboat hit her. MacColl was aged 41. McColl and her sons were diving at the Chankanaab reef, of Cozumel, Mexico in a designated diving area that watercraft were restricted from entering. MacColl saw the boat coming before her sons did; Louis (then 13) was not in the boat's path, but Jamie (then 15) was. She was able to push him out of the way (he sustained minor head and rib injuries) but in doing so, she was hit by the boat and killed instantly.
18 Dec 1999
The
Spice Girls
unveiled their waxwork look-alikes at Madame Tussaud's, London. Each model had cost £35,000 to make.
18 Dec 1988
Mike Peters of The Alarm was rushed to hospital after having his eyes burnt by spotlights during a gig in Chester, causing the remaining dates on their UK tour to be cancelled.
18 Dec 1983
18 Dec 1983
American guitarist Jimmy Nolen, died of a heart attack in Atlanta, Georgia, aged 47. Known for his distinctive 'chicken scratch' lead guitar playing, he worked with
James Brown
from 1965 until his death.
18 Dec 1982
Hall and Oates
started a four week run at No.1 on the US singles chart with 'Maneater', the duo's fifth US No.1 and biggest hit in the UK reaching No.6 on the charts.
18 Dec 1982
UK-based Italian tenor and English girl Renee And Renato were at No.1 on the UK singles chart with 'Save Your Love', the duo's only UK Top 40 hit and this years Christmas No.1.
18 Dec 1972
Bob Dylan
starting filming his role in the American western drama Pat Garrett and Billy The Kid along with James Coburn and Kris Kristofferson. Dylan composed the score and songs for the film, most prominently 'Knockin' on Heaven's Door'.
18 Dec 1971
T. Rex
scored their first No.1 album with their sixth release 'Electric Warrior'. The album which became the biggest seller of the year in the UK contained two of T. Rex's most popular songs, 'Get It On' and 'Jeepster.'
18 Dec 1966
18 Dec 1962
On their fifth visit to West Germany
The Beatles
played the first night of a two-week engagement at the Star-Club, Hamburg. A 13 night run, playing 3 hours each night. The final night's performance was recorded and became known as 'The Star-Club Tapes', released in 1977 against the wishes of the ex-Beatles themselves.
18 Dec 1961
The Tokens started a three week run at No.1 on the US singles chart with 'The Lion Sleeps Tonight'; it reached No.11 in the UK. REM included a live version of the song on the 1993 'Sidewinder Sleeps Tonight' single.
Born on this day in music
18 Dec 2001
American singer-songwriter Billie Eilish. With her 2019 debut studio album When We All Fall Asleep, Where Do We Go? she became the youngest ever solo female act to top the UK album chart at 17 years of age.
18 Dec 1980
Christina Aguilera, US singer, (1999 US & UK No.1 single 'Genie In A Bottle', 1999 US No.1 album 'Christina Aguilera', 2001 US & UK No.1 single with Mya, Lil' Kim and Pink, 'Lady Marmalade').
18 Dec 1980
Lyndsay Armaou, singer, B*Witched, (1998 UK No.1 single 'C'est La Vie').
18 Dec 1976
American musician Jack Lawrence, bass guitarist in The Raconteurs, The Greenhornes, The Dead Weather and City and Colour.
18 Dec 1975
Australian singer, songwriter, Sia Furler. She worked with British duo Zero 7 and as a solo artist scored the 2014 US No.1 album 1000 Forms of Fear and the 2016 worldwide No.1 hit 'Cheap Thrills'.
18 Dec 1970
American rapper, songwriter DMX, (Earl Simmons). He began rapping in the early 1990s and released his debut album It's Dark and Hell Is Hot in 1998, to both critical acclaim and commercial success. He was the first artist to debut an album at No. 1 five times in a row on the Billboard 200 charts. Overall, DMX has sold over 74 million records worldwide. He died on 9 April 2021 age 50, the official cause of death was a cocaine-induced heart attack.
18 Dec 1968
Andy Miller, from English power pop rock trio Dodgy who had the 1996 UK No.4 single 'Good Enough'.
18 Dec 1966
Steve Dullaghan, Primitives, (1988 UK No.5 single 'Crash').
18 Dec 1964
Robson Green, actor/singer, (1995 UK No.1 single as Robson and Jerome 'Unchained Melody', 'The White Cliffs Of Dover').
18 Dec 1959
Grant Marshall, Daddy-G, Massive Attack, (1991 UK No.13 single 'Unfinished Sympathy').
18 Dec 1958
Geordie Walker from the British post-punk group Killing Joke who had the 1985 UK No.16 single 'Love Like Blood'.
18 Dec 1955
Cuban American expert in drum set and auxiliary percussion Walfredo Reyes Jr. He is well known for having been a long-term member of
Santana
, and a member of Chicago as the percussionist from 2012—2018 and has also worked with Jackson Browne, Robbie Robertson, Lindsey Buckingham and Boz Scaggs.
18 Dec 1953
Elliot Easton, lead guitarist and backing vocals for The Cars, who had the 1978 UK No.3 single 'My Best Friend's Girl.' Their 1984 US No.3 & 1985 UK No.4 'Drive' was used as part of the soundtrack for the
Live Aid
concert.
18 Dec 1950
Martha Johnson, Martha And The Muffins, (1980 UK No.10 single, 'Echo Beach').
18 Dec 1948
Bill Nelson, English singer, guitarist, songwriter, producer. With Be Bop Deluxe, he scored the 1976 UK No.23 single, 'Ships In The Night' and has since released many solo albums. In 2015, he was recognised with the Visionary award at the Progressive Music Awards.
18 Dec 1946
Alex Ligertwood, Scottish–English singer, guitarist and drummer. He is best known as the lead vocalist of
Santana
, with five different stints from 1979 to 1994, and has been a member of Average White Band.
18 Dec 1943
18 Dec 1943
Keith Richards
, 'The Human Riff', guitarist, singer, songwriter and founding member of The
Rolling Stones
who have had over 35 Top 40 singles and albums. Rolling Stone magazine said Richards had created 'rock's greatest single body of riffs'. Classic albums include:
Sticky Fingers
and Exile On Main Street.
18 Dec 1941
Sam Andrew,
Janis Joplin
Band, (1971 US No.1 single 'Me And Bobby McGee', 1971 US No.1 single 'Pearl'). Andrew was also Music Director of the musical Love, Janis, based on the life of
Janis Joplin
. He died on February 12, 2015, following complications from open-heart surgery due to a heart attack suffered ten weeks prior.
18 Dec 1938
Chas Chandler, bassist with The Alan Price Trio in 1962 and with The Animals who had the 1964 UK & US No.1 single 'House Of The Rising Sun'. Chandler later became the manager of
Jimi Hendrix
and Slade, he died on 17th July 1996.