December 19th: The Biggest Music Headlines
Scroll down the page to see all the music headlines, stories and events for December 19 throughout music history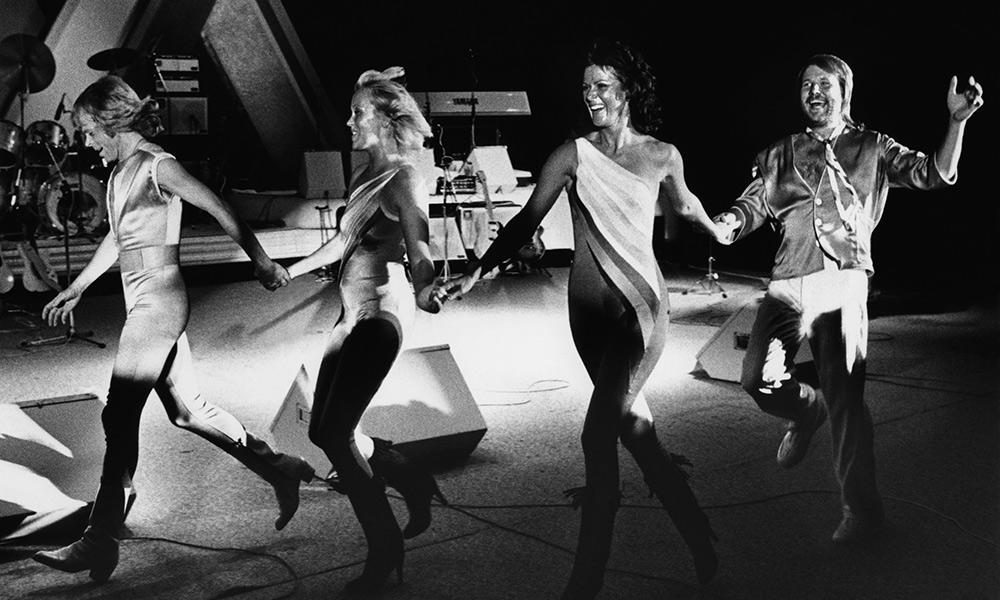 ABBA Explores Digital Horizons With 'The Visitors'
On this day in music, December 19, 1981, ABBA scored their seventh chart-topping album in the UK with The Visitors, while also showcasing a brand-new technology. The Visitors marked one of the first records to be digitally recorded and mixed, as well as one of the earliest titles to be released on CD the following year. For almost 40 years, The Visitors also remained ABBA's final album, before the group reunited in 2021 with the release of Voyage.
In 2015, more than 30 years after its original release, Michael Jackson's Thriller became the first album to sell more than 30 million copies in the US. Produced by Quincy Jones,Thriller became Jackson's first No.1 album on the Billboard 200, where it spent a record 37 non-consecutive weeks atop the chart.
In 1970, Elton John scored his first US hit when "Your Song" entered the Billboard Hot 100. The song was first released by Three Dog Night in March 1970, when Elton, who served as an opening act for the band, allowed them to record a version of it.
In 1955, Carl Perkins recorded the now seminal rock'n'roll standard, "Blue Suede Shoes." The song was made famous one year later by Elvis Presley, while Buddy Holly, Eddie Cochran, and many others also recorded their own versions.
In 1964, The Beatles' fourth album, Beatles For Sale, began a seven-week run at the top of the UK charts. The LP was eventually dethroned by The Rolling Stones No. 2.
In 1957, the US Army served Elvis Presley his draft notice. At the time, the King of Rock'n'Roll was celebrating Christmas at his newly-purchased Memphis mansion, Graceland.
In 2016, the UK's Official Chart Company announced that it was changing the way it calculated its Top 40 hits, to reflect the rise in streaming services as the dominant form of music consumption.
In 1964, The Supremes scored their third No.1 hit of the year when "Come See About Me" topped the Billboard Hot 100. The track was remarkable at the time as it opened with a fade-in, marking one of the first times that the technique was utilized on a recording.
In 1994, The Manic Street Preachers played the first of three nights at The Astoria in London, marking the last shows that rhythm guitarist and co-lyricist, Richey Edwards, made with the band before disappearing.
Looking for more things that happened on this day in music?
Keep scrolling for all of the headlines for December 19.
BORN ON DECEMBER 19:
1941: Harry Chapin
1949: Tom Waits
1958: Tim Butler (The Psychedelic Furs)
1973: Damien Rice
1974: Nicole Appleton (All Saints)
1979: Sara Bareilles
Looking for more artists born on this day?
Keep scrolling for all of our December 19 birthdays.
---
What to find another day?
---
December 19th
19 Dec 2016
The Official Chart Company announced it was changing the way it calculated the Top 40 to reflect the rise in streaming. Currently, 100 streams counted as one "sale" of a song. From January 2017, the ratio will become 150:1. It was hoped that the change would break the bottleneck at the top of the charts, as hits on streaming services linger for weeks on end.
19 Dec 2015
Thirty-three years after it was released,
Michael Jackson
's classic album
Thriller
became the first to sell more than 30 million copies in the US. The Recording Industry Association of America reported latest sales figures showing the
Eagles
Greatest Hits 1971-75 had now sold 29m and
Billy Joel
Greatest Hits Volume I & Volume II, 23m copies.
19 Dec 2012
Madonna
's MDNA World Tour made more money than any other during 2012. The tour grossed $228m (£141m), after more than 1.6 million fans paid to see her perform in 65 cities worldwide since last June. She beat
Bruce Springsteen
into first place on the highest-grossing tour list, who earned $198 million (£123 million). Also in the top 25 were
Coldplay
, who took fifth place, and Lady Gaga at number six, who attracted audiences reaching 1.1 million people in comparison.
19 Dec 2012
Nick Mason stepped in to help save Foote's, the historic London music shop where he bought his first ever drum kit. The
Pink Floyd
drummer, along with the store's sales director, Rob Wilson, were buying the business (which will now re-open in a new location at 41 Store Street, Bloomsbury, London) from the family who has owned it since the '30s.
19 Dec 2006
Two giant eyeballs donated by
Pink Floyd
raised £16,500 for the homeless charity Crisis. The 6ft-high props, made to promote the Pulse DVD, were on the auction site eBay for a week and attracted 46 bids.
Pink Floyd
's David Gilmour, a vice-president of Crisis, said extra help was needed in the winter months.
19 Dec 2005
Sir
Elton John
turned down £5.7m for the exclusive rights to his civil union to his partner David Furnish. The couple had considered the offer from a US television channel, putting the money in the
Elton John
Aids Foundation, but they told Attitude magazine they had decided to keep the day private.
19 Dec 2000
10,000 Maniacs guitarist Robert Buck died of liver failure aged 42. Best know for 'Hey Jack Kerouac', 'What's The Matter Here' and 'Candy Everybody Wants'.
19 Dec 2000
Songwriter, guitarist and singer and founder member of The Staple Singers, Roebuck 'pop' Staples died. Best known for their 1970s hits 'I'll Take You There', 'Respect Yourself', and 'Let's Do It Again'.
19 Dec 1999
Irish boyband Westlife started a four week run at No.1 on the UK singles chart with their versions of the
ABBA
song 'I Have A Dream' and the Terry Jacks hit (written in French by Belgian, Jacques Brel and English lyrics by poet Rod McKuen), 'Seasons In The Sun'. It gave the group the Christmas No.1 and the last No.1 of the century.
19 Dec 1994
The Manic Street Preachers played the first of three nights at The Astoria, London, the last shows
Richey Edwards
made with the band before disappearing. Edwards vanished on February 1st 1995 leaving no clues to his whereabouts and has never been seen since.
19 Dec 1993
Michael Clarke drummer with The Byrds died of liver failure aged 47. Also worked with the Flying Burrito Brothers and Jerry Jeff Walker. Before his death Clarke had expressed a wish of alerting children to the dangers of alcoholism. Following his wishes, Clarke's girlfriend Susan Paul started a foundation in Clarke's name, called the Campaign for Alcohol-free Kids.
19 Dec 1991
Joe Cole, an American roadie for Black Flag and Rollins Band, was shot and killed in an armed robbery. Cole and Henry Rollins had attended a Hole concert at the Whisky a Go Go and were returning home after having stopped at an all-night grocery store when two armed men – described as black in their 20s – approached them demanding money. Angry that Rollins and Cole had only $50 between them, the gunmen ordered the two men to go inside their house for more cash. Rollins entered at gunpoint. However, Cole was killed outside after being shot in the face at close range while Rollins escaped out the back door and alerted the police. The murder remains unsolved. Cole is remembered in the Sonic Youth songs 'JC' and '100%' on their album Dirty.
19 Dec 1987
The Pet Shop Boys had their third UK No.1 single with their version of 'Always On My Mind. The duo had performed a version of 'Always on My Mind' on Love Me Tender, an TV special commemorating the tenth anniversary of
Elvis Presley
's death, their performance was so well-received that the group decided to record the song and release it as a single.
19 Dec 1981
ABBA
scored their seventh UK No.1 album with The Visitors, the Swedish pop group's eighth and final studio album. It was one of the first records to be recorded and mixed digitally, and was the first in history to be manufactured on the new CD format in 1982 on Atlantic.
19 Dec 1979
Elvis Presley
's personal physician, George Nichopoulos, was charged with 'illegally and indiscriminately' prescribing over 12,000 tablets of uppers, downers, and painkillers for the star during the 20 months preceding his untimely death. Although he was acquitted this time, he was charged again in 1980 and again in 1992 and was stripped of his medical license in July 1995.
19 Dec 1970
Elton John
's first US hit, 'Your Song' entered the Billboard Hot 100, where it went on to reach number eight. The Hollies had been offered the song and Three Dog Night had already recorded a version which was included on their 'It Ain't Easy' album.
19 Dec 1969
The Beatles
latest Christmas record, '
The Beatles
' Seventh Christmas Record' was released to members of their fan club in the UK and the US.
19 Dec 1969
Mick Jagger
was fined £200 plus 50 guineas costs at Marlborough Magistrates Court for illegal possession of cannabis.
19 Dec 1968
During a UK tour
Led Zeppelin
appeared at The Civic Hall, Exeter, England, supported by The Empty Vessels, featuring Martin Turner and Steve Upton who later formed Wishbone Ash. Zeppelin were paid £125 for the gig.
19 Dec 1967
Buffalo Springfield appeared at the Community Concourse, San Diego, California. The group became a springboard for the careers of
Neil Young
Stephen Stills, Richie Furay and Jim Messina.
19 Dec 1964
The Beatles
fourth album 'Beatles For Sale' started a seven-week run at No.1 on the UK album charts. Recorded when Beatlemania was just past its peak 'Beatles for Sale' was
The Beatles
' fourth album in just 21 months.
19 Dec 1964
The
Supremes
scored their third US No.1 single of the year when 'Come See About Me', went to the top of the charts. It made No.27 on the UK chart.
19 Dec 1958
Conway Twitty was at No.1 on the UK singles chart with 'It's Only Make Believe'. The song became the first to reach the UK Top 10 in four different years by different artists: Billy Fury (1964),
Glen Campbell
(1970) and Child (1978).
19 Dec 1957
Elvis Presley
had his draft notice served on him for the US Army. He went on to join the 32nd Tank Battalion third Armor Corps based in Germany.
Born on this day in music
19 Dec 1994
Scottish singer Nathan Evans. He first gained fame in 2020, when he posted videos of himself singing sea shanties on TikTok. In 2021, he released a cover and dance remix of the 19th-century shanty 'Wellerman' which peaked at the top of the UK Singles Chart.
19 Dec 1958
Chris Hamill, (Limahl), vocals, Kajagoogoo, (1983 UK No.1 single 'Too Shy').
19 Dec 1952
Walter Murphy, American composer, arranger, pianist, musician, songwriter who is best known for the instrumental 'A Fifth of Beethoven', a disco adaptation of Beethoven's Fifth Symphony which topped the charts in 1976 and was featured on the Saturday Night Fever soundtrack. Murphy has written music for numerous films and TV shows, including The Tonight Show, Looney Tunes, Family Guy, American Dad!, Ted, and Ted 2.
19 Dec 1949
John McEuen, from American country rock band, Nitty Gritty Dirt Band who scored the 1971 US No.9 single 'Mr Bojangles'.
19 Dec 1947
Scottish musician Jimmy Bain best known for playing bass guitar in the bands Rainbow and Dio. He also worked with
Thin Lizzy
frontman Phil Lynott, co-writing on his solo albums. On January 23, 2016 died while in his cabin on
Def Leppard
's "Hysteria on the High Seas" cruise. The cause of death was determined to be lung cancer.
19 Dec 1944
Alvin Lee, guitar vocals, Ten Years After, (1970 UK No.10 single 'Love Like A Man'). Lee died on 6 March 2013. According to his website, he died from "unforeseen complications following a routine surgical procedure", he was 68.
19 Dec 1944
Zal Yanovsky, The Lovin Spoonful, (1966 US No.1 & UK No.8 single 'Summer In The City'). Died of a heart attack on 13th December 2002.
19 Dec 1941
Maurice White, American singer-songwriter, musician, record producer, arranger and bandleader with Earth, Wind & Fire, who had the 1975 US No.1 single 'Shining Star', and the 1981 UK No.3 single 'Let's Groove'. The band has received 20 Grammy nominations and were the first African-American act to sell out Madison Square Garden. White died on February 4, 2016.
19 Dec 1940
Phil Ochs, US folk singer songwriter. Wrote 'There But A Fortune', hit for Joan Baez. Died on 9 April, 1976.
19 Dec 1918
Professor Longhair, New Orleans blues singer and pianist who influenced Fat's Domino, Allen Toussaint and Dr John. Longhair died of a heart attack on 30th Jan 1980.
19 Dec 1915
Édith Piaf, French cabaret singer, songwriter and actress and one of France's greatest international stars. Her well known songs include, 'La Vie en rose' (1946), 'Non, je ne regrette rien' (1960), and 'Hymne à l'amour' (1949). After years of alcohol abuse Piaf died on 10 October 1963.