December 24th: The Biggest Music Headlines
Scroll down the page to see all the music headlines, stories and events for December 24 throughout music history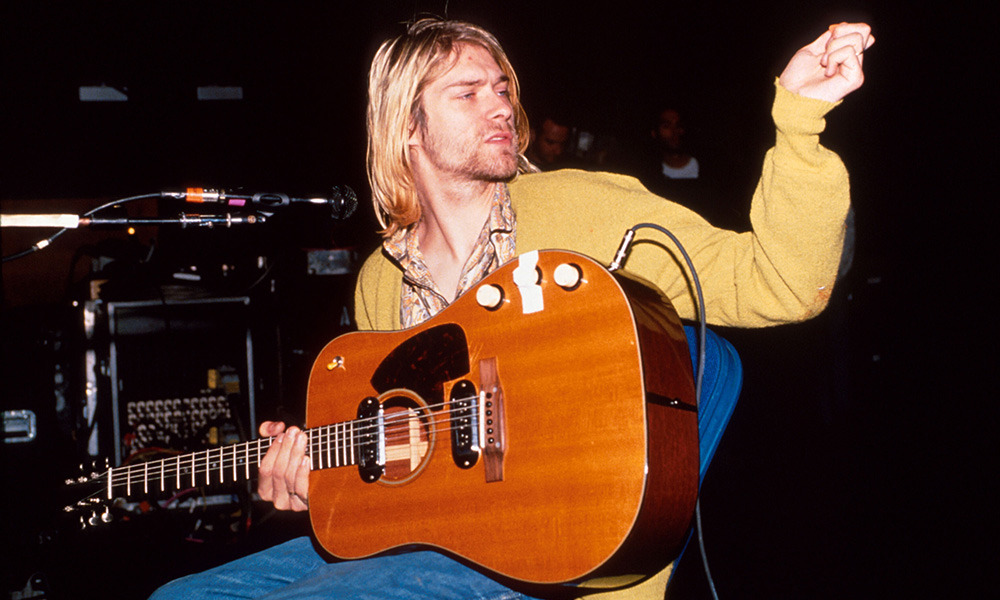 Nirvana Begin Recording Their Debut Album
On this day in music, December 24, 1988, Nirvana began recording their critically-acclaimed debut album, Bleach. After signing to Sub Pop and releasing their first single (a cover of Shocking Blue's "Love Buzz") in November, the band entered Seattle's Reciprocal Recording with producer Jack Endino. In addition to "Love Buzz," the album featured the single "Blew," as well as "About a Girl" (a live version of which later became a hit, following frontman Kurt Cobain's death). Bleach also marks Nirvana's only album to feature drummers Chad Channing and Dale Crover (of the Melvins). While the album, which cost $600 to record, did not have initial commercial success, it has since been certified Platinum in the US.
In 1994, Pearl Jam topped the US album chart with Vitalogy. Initially released only on vinyl, the LP sold 34,000 copies in its first week (it was issued two weeks later in other formats).
In 1977, The Bee Gees began a three-week run at the top of the Billboard Hot 100 with "How Deep Is Your Love." The ballad, which marked the group's fourth US No.1, remained in the Top Ten for 17 weeks, giving it the longest chart run in history at the time. In the UK, the song was a No.3 hit.
In 1965, with Rubber Soul, The Beatles had the No.1 album for the third Christmas in a row.
In 1988, glam metal superstars Poison began a three-week run at the top of the Billboard Hot 100 with "Every Rose Has Its Thorn." It was the band's only chart-topper in the US.
In 1976, The Eagles' sixth album, Hotel California, spent the first of eight non-consecutive weeks at the top of the Billboard 200.
Looking for more things that happened on this day in music?
Keep scrolling for all of the headlines for December 24.
BORN ON DECEMBER 24:
1924: Lee Dorsey
1945: Lemmy Kilmister (Motörhead)
1963: Neil Turbin (Anthrax)
1968: Doyle Bramhall II
1971: Ricky Martin
1991: Louis Tomlinson (One Direction)
Looking for more artists born on this day?
Keep scrolling for all of our December 24 birthdays.
---
What to find another day?
---
December 24th
24 Dec 2021
LadBaby made chart history when his song 'Sausage Rolls for Everyone', a sausage roll-themed parody of
Ed Sheeran
and
Elton John
's No.1 single 'Merry Christmas' and also featuring Sheeran and John, debuted at No.1 in the UK Singles Chart. It gave the Nottingham-born YouTuber and musician his fourth consecutive Christmas No.1 single. LadBaby became only the second act in history, after
The Beatles
, to secure four Christmas No.1 singles, but was the very first to achieve four consecutive Christmas chart-toppers, surpassing the records of both The Beatles and The
Spice Girls
.
24 Dec 2019
American songwriter Allee Willis died age 72. Willis co-wrote hit songs including 'September' and 'Boogie Wonderland' by Earth, Wind & Fire and 'I'll Be There for You' by the Rembrandts, the theme from the TV sitcom Friends. Her compositions sold over 60 million records and she was inducted into the Songwriters Hall of Fame in 2018.
24 Dec 2016
Status Quo guitarist Rick Parfitt died in hospital in Marbella, Spain aged 68. He died from a severe infection after going to hospital, following complications to a shoulder injury. His partnership with Francis Rossi became the core of Status Quo, one of Britain's most enduring bands. Status Quo had over 60 chart hits in the UK, more than any other rock band, including "Pictures of Matchstick Men" in 1967, "Whatever You Want" in 1979 and "In the Army Now" in 2010. Twenty-two of these reached the Top 10 in the UK Singles Chart. In July 1985 the band opened
Live Aid
at Wembley Stadium with "Rockin' All Over the World".
24 Dec 2015
William Guest of
Gladys Knight
And The Pips died of heart failure at the age of 74. His background vocals can be heard on all of the group's hits, including 'Midnight Train To Georgia', 'I Heard It Through The Grapevine' and the Grammy winning 'Neither One Of Us (Wants To Be The First To Say Goodbye)'.
24 Dec 2012
American musician Ray Collins died aged 76. Collins was the lead vocalist on early Mothers of Invention albums, including Freak Out!, Absolutely Free, and Cruising with Ruben & the Jets and continued to contribute to other
Frank Zappa
projects through the mid-1970s.
24 Dec 2005
Rapper Foxy Brown was handcuffed and threatened with jail after she stuck her tongue out at a New York judge who asked her to stop chewing gum. Judge Melissa Jackson told the singer, she had showed disrespect to the court. Brown was in court on charges of assaulting two nail salon workers during a row over payment.
24 Dec 2003
Jack White of The White Stripes turned himself in to Detroit police to face aggravated assault charges stemming from a bar room altercation in which he allegedly attacked Jason Stollsteimer of The Von Bondies. White was also fingerprinted and formally booked on the charges before he was released on bail.
24 Dec 2000
Four Seasons bassist Nick Massi died of cancer. They scored the 1976 UK & US No.1 single 'December 1963, Oh What A Night', as well as hits with 'Sherry,' and 'Rag Doll.'
24 Dec 1999
Zeke Carey of The Flamingos died. He had the 1959 US No.11 single 'I Only Have Eyes For You', (which was also a 1975 UK No.1 hit for
Art Garfunkel
. ).
24 Dec 1994
Pearl Jam
went to No.1 on the US album chart with 'Vitalogy'. Their third studio album was first released on vinyl record, followed by a release in other formats two weeks later.
24 Dec 1988
American glam metal band Poison started a three-week run at No.1 on the US singles chart with 'Every Rose Has Its Thorn.' Bret Michaels from the band said the inspiration for the song came from a night when he was in a laundromat in Dallas waiting for his clothes to dry, and called his girlfriend on a pay phone. Michaels said he heard a male voice in the background and was devastated; he said he went into the laundromat and wrote 'Every Rose Has Its Thorn' as a result.
24 Dec 1988
Nirvana
started recording their first album 'Bleach' using a $600 loan from an old school friend. The album's working title was Too Many Humans. It was renamed Bleach after Cobain found an AIDS prevention poster while Nirvana was driving through San Francisco. The poster advised heroin addicts to bleach their needles before use.
24 Dec 1977
The
Bee Gees
started a three week run at No.1 on the US singles chart with 'How Deep Is Your Love', the group's 4th US No.1. It stayed in the top 10 for 17 weeks giving it the longest chart run in history, a No.3 in the UK.
24 Dec 1976
The
Eagles
sixth album, Hotel California spent the first of eight non-consecutive weeks at the top of the Billboard chart. The band's first LP with Joe Walsh and last with bassist Randy Meisner which has now sold over 34 million copies worldwide. Some of the album was recorded at Criteria Studios, Miami. While the band were recording Black Sabbath were recording Technical Ecstasy in an adjacent studio and The Eagles were forced to stop recording on numerous occasions because Black Sabbath were too loud and the sound was coming through the wall.
24 Dec 1973
Tom Johnson of the Doobie Brothers was arrested in Visalia, California and charged with possession of marijuana. His court date is set for January 10th, the same day the band's new LP is to be released. The album is ironically titled "What Were Once Vices Are Now Habits".
24 Dec 1972
On the second UK leg of his 182 date
Ziggy Stardust
Tour,
David Bowie
played the second of two nights at the Rainbow Theatre, London. This tour had the classic Spiders From Mars line up of
Mick Ronson
on guitar, vocals, Trevor Bolder, bass and Mick "Woody" Woodmansey on drums.
24 Dec 1967
The
Bee Gees
performed their Christmas special 'live' from Liverpool Cathedral, England which was broadcast on UK TV.
24 Dec 1965
Born on this day in music
24 Dec 1991
Louis Tomlinson from English-Irish pop boy band One Direction who formed after finishing third in the seventh series of The
X Factor
in 2010. Scored the 2011 UK No.1 single 'What Makes You Beautiful' and the 2013 No.1 'One Way or Another (Teenage Kicks)'.
24 Dec 1975
Joe Washbourn, vocals, from British alternative rock band, Toploader who had the 2000 UK No.7 single with of 'Dancing In The Moonlight' a cover of the French-American rock group King Harvest.
24 Dec 1971
Ricky Martin, singer, (1999, US & UK No.1 single 'Livin' La Vida Loca'. Recorded the world's biggest selling football song 'The Cup Of Life').
24 Dec 1968
Doyle Bramhall II, guitarist, songwriter, Smokestack,
Eric Clapton
Band, Roger Waters.
24 Dec 1965
Millard Powers, American musician, songwriter, record producer, and Grammy-nominated recording engineer. Since 2005 he has played bass guitar in the Counting Crows.
24 Dec 1963
Neil Turbin, American thrash metal vocalist known for being the first full-time vocalist for American band Anthrax and the heavy metal band DeathRiders.
24 Dec 1962
Darren Wharton, British keyboardist, singer and songwriter. Worked with
Thin Lizzy
and fronted his own band, Dare.
24 Dec 1951
Tom "T-Bone" Wolk, who played bass for nearly 30 years with
Hall and Oates
. He had also recorded with Carly Simon, Jellyfish, Squeeze, Elvis Costello, Shawn Colvin and
Billy Joel
over the course of his career. He died on 28 February 2010 of a heart attack at the age of 58.
24 Dec 1946
Jan Akkerman, guitarist with Dutch rock band Focus who had the 1973 UK No.4 single 'Sylvia', and the 1973 US No. 9 single 'Hocus Pocus'.
24 Dec 1945
Lemmy, English musician, singer, and songwriter who founded and fronted the rock band
Motorhead
. Lemmy played in several rock groups in the 1960s, including the Rockin' Vickers and worked as a roadie for
Jimi Hendrix
and the Nice, before joining the space rock band Hawkwind in 1971, singing lead on their hit 'Silver Machine'. He died on 28 December 2015 following a short battle with an extremely aggressive cancer.
24 Dec 1944
English bass guitarist Tab Martin. He was a member of the Tornados, (their 1962 instrumental 'Telstar', was the first British rock song to be a No.1 single in the United States), The Peddlers and also founded the Joe Meek instrumental band the Saints. Martin was known for his technique of playing his bass in an upright fashion.
24 Dec 1924
Lee Dorsey, US singer, (1966 US & UK No.8 single 'Working In The Coalmine').