December 25th: The Biggest Music Headlines
Scroll down the page to see all the music headlines, stories and events for December 25 throughout music history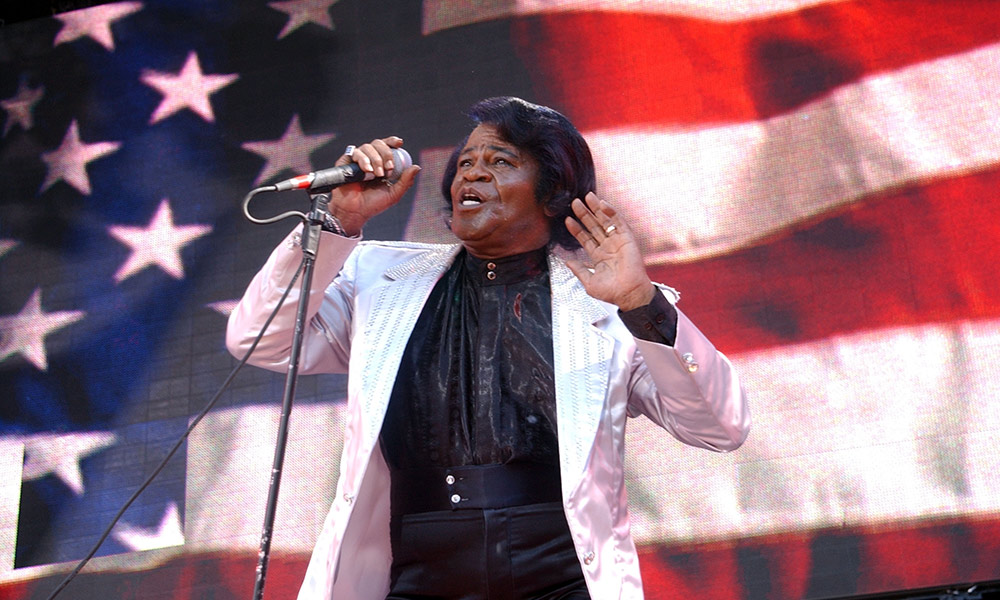 Godfather of Soul, James Brown, Dies at 73
On this day in music, December 25, 2006, pioneering funk and soul artist, James Brown, died in Atlanta. Thanks to his electric performances and string of enduring hits – including "Papa's Got a Brand New Bag," "I Got You (I Feel Good)," and "Get on Up" – the singer, songwriter, and dancer earned a number of nicknames during his illustrious career, including the "Hardest Working Man in Show Business," the "Godfather of Soul," "Mr. Dynamite," and "Soul Brother No.1." Brown, who scored 17 No.1 hits on the R&B chart during his 60-year career, was also among the first ten inductees into the Rock and Roll Hall of Fame, during its inaugural ceremony in 1986.
In 1977, The Sex Pistols played their final UK concert (until 1996) at Ivanhoe's in Huddersfield, England. The following month, after a short, legendarily bad tour in the US, the band broke up. In true punk fashion, they did so after their largest show ever, at San Francisco's famed Winterland Ballroom.
In 1982, the unlikely duo of David Bowie and Bing Crosby had a No.3 hit in the UK with "Peace On Earth – Little Drummer Boy." The song's festive music video features the two icons singing at a piano.
In 1995, legendary entertainer and "Rat Pack" member, Dean Martin, died at the age of 78. After rising to fame in the mid-40s as one-half of the comedy duo Martin and Lewis (alongside Jerry Lewis), Martin soon became a wildly popular artist in his own right, finding great success as a singer, actor, and TV host.
In 2016, the pop world was stunned to learn of George Michael's death at the age of 53. The British icon remains one of the best-selling musicians of all time, with sales of over 120 million records worldwide. Michael first rose to fame as a member of Wham!
In 2014, Ed Sheeran topped the UK album chart with x. The singer-songwriter's second studio album was an international hit, peaking at No.1 in 15 countries, including the United States.
In 2008, actress and singer Eartha Kitt died at the age of 81. Known for her sultry and distinctive vocals, the "Santa Baby" singer scored multiple hits throughout her lengthy career, including six US Top 30 songs in the early 1950s.
In 1978, John Lydon's new group, Public Image Ltd, played their first live gig at London's Rainbow Theatre. Lyndon, better known by his stage name, Johnny Rotten, is best known as the snarling former leader of the Sex Pistols.
In 1968, Led Zeppelin arrived in the United States ahead of their first North American tour.
Looking for more things that happened on this day in music?
Keep scrolling for all of the headlines for December 25.
BORN ON DECEMBER 25:
1937: O'Kelly Isley (The Isley Brothers)
1945: Noel Redding (The Jimi Hendrix Experience)
1946: Jimmy Buffett
1948: Barbara Mandrell
1954: Robin Campbell (UB40)
1954: Annie Lennox
1957: Shane MacGowan (The Pogues)
1971: Dido
1972: Josh Freese (The Vandals, A Perfect Circle)
Looking for more artists born on this day?
Keep scrolling for all of our December 25 birthdays.
---
What to find another day?
---
December 25th
25 Dec 2019
George Michael's sister Melanie Panayiotou died suddenly age 59 on the third anniversary of the singer's death. George had left the bulk of his estate to her and her sister Yioda when he died aged 53 from heart and fatty liver disease.
25 Dec 2016
George Michael
died at his home aged 53. Thames Valley Police said South Central Ambulance Service attended a property in Goring in Oxfordshire at 13:42 GMT. The singer who launched his career with Wham in the 1980s and later continued his success as a solo performer, was said to have "passed away peacefully at home". Up to the time of his death, Michael sold more than 115 million records worldwide, making him one of the best-selling music artists of all time.
25 Dec 2014
Ed Sheeran
was at No.1 on the UK album chart with x, (pronounced "multiply"). In 2015, x won the Brit Award for British Album of the Year, and at the 57th Grammy Awards it was nominated for Best Pop Vocal Album and Album of the Year. Spotify named x the most-streamed album in the world for 2014, racking up more than 430 million streams for the year.
25 Dec 2009
Tony Bellamy guitarist, pianist and vocalist for the Native American rock band Redbone died of liver failure. Redbone had the 1971 UK No.2 & US No.21 single 'The Witch Queen Of New Orleans' and the 1974 US No. 4 hit single, 'Come and Get Your Love.' Redbone are accredited in the NY Smithsonian as the first Native American rock/Cajun group to have a No.1 single in the United States and internationally. Bellamy had performed with Dobie Gray, and was a member of Peter and the Wolves (a band from San Francisco that evolved into the psychedelic band Moby Grape).
25 Dec 2009
American singer-songwriter Vic Chesnutt died from an overdose of muscle relaxants that had left him in a coma in an Athens hospital. He released 17 albums during his career, including two produced by
Michael Stipe
.
25 Dec 2008
American actress, singer, and cabaret star Eartha Kitt died from colon cancer at her Weston, Connecticut home at the age of 81. Best known for her 1953 Christmas song 'Santa Baby.'
25 Dec 2006
James Brown
the 'Godfather of Soul', died at the age of 73 after being diagnosed with severe pneumonia. Brown went to his dentist in Atlanta the previous day who told him something was wrong, and sent him to a doctor immediately. His hits included 'Papa's Got a Brand New Bag', 'I Got You (I Feel Good)', and 'Get Up (I Feel Like Being A) Sex Machine, Pt. 1'. Brown was married four times, at the age of 16, was arrested for theft and served 3 years in prison. In 1988, Brown was arrested following a high-speed car chase along the Georgia-South Carolina state border.
25 Dec 2003
Michael Jackson
recorded his first interview since news of the allegations of sexual abuse with a 12-year old boy. He told the CBS TV network he would 'slit his wrists' before he would hurt a child. He also claimed he suffered a dislocated shoulder after police 'manhandled' him and treated him 'very roughly' during his arrest.
25 Dec 1998
Bryan MacLean, guitarist with Love, died of a heart attack aged 62 while having Christmas dinner with a young fan who was researching a book about the band. Love had the 1966 US No.33 single '7 And 7 Is', and the 1968 album Forever Changes.
25 Dec 1995
American singer, actor and TV host Dean Martin died. Had the 1956 UK & US No.1 single 'Memories Are Made Of This' plus over 15 other UK Top 40 singles including 'That's Amore', 'Everybody Loves Somebody', 'Mambo Italiano'. In 1965, Martin launched his weekly NBC comedy-variety series, The Dean Martin Show.
25 Dec 1982
David Bowie
had a No.3 UK hit with a duet with Bing Crosby, 'Peace On Earth - Little Drummer Boy.' The single became one of Bowie's best selling in his career, with total estimated sales over 400,000 in the UK alone. The Christmas song was written in 1941, while the 'Peace on Earth' tune and lyrics, written by Ian Fraser, Larry Grossman, and Alan Kohan, were added to the song specially for Bowie and Crosby's recording.
25 Dec 1981
Michael Jackson
phoned
Paul McCartney
and suggested they write and record together, the first result being 'The Girl Is Mine'. The song was a US No.2 & UK No.8 in 1982.
25 Dec 1978
John Lydon's new group Public Image Ltd played their first live gig at the Rainbow Theatre, London. PiL released their debut First Issue (1978), creating an abrasive, bass-heavy sound that drew on dub, noise, progressive rock and disco.
25 Dec 1977
The
Sex Pistols
played their last ever UK gig, (until 1996), before splitting, at Ivanhoes in Huddersfield. It was a charity performance before an audience of mainly children.
25 Dec 1976
American MOR singer Johnny Mathis was at No.1 on the UK singles chart with 'When A Child Is Born', the singers only UK No.1 and the Christmas hit of 1976.
25 Dec 1968
Led Zeppelin
arrived in the United States for the very first time in preparation of their debut North American tour. The group were paid an average of $1,500 for each show.
25 Dec 1964
The Beatles
recorded six songs for the BBC radio program Saturday Club in London: 'Rock and Roll Music', 'I'm a Loser', 'Everybody's Trying to Be My Baby', 'I Feel Fine', 'Kansas City/Hey Hey Hey Hey' and 'She's a Woman.'
25 Dec 1964
25 Dec 1954
Bing Crosby's 'White Christmas' entered the Billboard Pop chart for the eleventh time. Bing's rendition has sold over 100 million copies around the world, with at least 50 million sales as singles. It was the largest selling single in music history until it was surpassed by
Elton John
's 'Candle in the Wind 1997'.
25 Dec 1954
Johnny Ace shot himself dead backstage at the City Auditorium in Houston, Texas. The R&B singer was playing with a revolver during a break between sets, someone in the room said "Be careful with that thing'' and he said 'It's OK the gun's not loaded, see'' and pointed it at himself with a smile on his face.
Born on this day in music
25 Dec 1972
American session drummer, multi-instrumentalist, songwriter Josh Freese. He played drums for Guns N' Roses from 1997 to 2000, A Perfect Circle from 1999 to 2012, Nine Inch Nails from 2005 to 2008, Weezer from 2009 to 2010, and Sublime with Rome from 2011 to 2017. He has appeared on nearly 400 records.
25 Dec 1971
Dido, singer, songwriter, (2001 UK No.1 & US No.4 album 'No Angel', 2001 UK No.4 single 'Here With Me').
25 Dec 1971
Noel Hogan, guitarist with Irish rock band The Cranberries who had the 1994 UK No.14 single 'Linger'. The bands 1993 album Everybody Else Is Doing It So Why Can't We spent 86 weeks on the UK chart.
25 Dec 1964
Bob Stanley from English band Saint Etienne who had the 1993 UK No.12 single 'You're In A Bad Way'.
25 Dec 1958
Alannah Myles, Canadian singer, 1990 US No.1 and UK No.2 single 'Black Velvet.'
25 Dec 1957
Shane MacGowan, singer from Irish-British Celtic punk band The Pogues who scored the 1987 UK No.8 single 'The Irish Rover' and the 1987 UK No.2 single with Kirsty MaCcoll, 'Fairytale Of New York'.
25 Dec 1954
Annie Lennox, singer, The Tourists, (1979 UK No.4 single 'I Only Want To Be With You'). Eurythmics, (1983 US No.1 single 'Sweet Dreams', 1985 UK No.1 single 'There Must Be An Angel'). Solo, (1995 UK No.2 single 'No More I Love You's').
25 Dec 1954
Robin Campbell, guitar, vocals, with UB40, who had the 1983 UK No.1 & 1988 US No.1 single 'Red Red Wine' and over 30 other top 40 hits.
25 Dec 1948
Country singer Barbara Mandrell, named Country Music Association entertainer of the year in 1979, 1980 & 1981, (1977 US No.1 Country single 'Sleeping Single In A Double Bed').
25 Dec 1946
Jimmy Buffett, American singer songwriter, (1977 US No.8 single 'Margaritaville', 2004 US No.1 album 'License to Chill').
25 Dec 1945
Noel Redding, bassist with The
Jimi Hendrix Experience
who had the 1967 UK No.3 single 'Purple Haze', and the 1970 UK No.1 single 'Voodoo Chile'. Redding was the first person to join the
Jimi Hendrix Experience
, and the first to leave, his final concert with them was in June 1969. Redding died on 11th May 2003 aged 57.
25 Dec 1944
Henry Vestine, guitarist with American rock band Canned Heat. Two of their songs 'Going Up the Country' and 'On the Road Again' became international hits. He died on 20th October 1997.
25 Dec 1944
Kenny Everett, UK radio and TV presenter, (1983 UK No.9 single 'Snot Rap'). Died 4th April 1995.
25 Dec 1943
Trevor Lucas, Fairport Convention, UK folk group, (1969 UK No.21 single 'Si Tu Dois Partie'). Also worked with Al Stewart and The Strawbs. Lucas died 4th February 1989.
25 Dec 1940
25 Dec 1937
O'Kelly Isley from American group The Isley Brothers who first came to prominence in 1959 with their fourth single, 'Shout', and then the 1962 hit 'Twist and Shout. The Isley Brothers also scored the hits 'This Old Heart Of Mine', 'Summer Breeze' and 'Harvest for the World'. Sixteen of their albums charted in the Top 40. O'Kelly Isley died on 31st March 1986.
25 Dec 1929
American singer Bill Horton from The Silhouettes. The doo wop/R&B groups single 'Get A Job' was a No.1 hit on the Billboard R&B singles chart and pop singles chart in 1958. The doo-wop revival group Sha Na Na derived their name from the song's lyrics. 'Get A Job' is included in the soundtracks of the film American Graffiti, Trading Places and Stand By Me. Horton died on January 23, 1995.
25 Dec 1929
Chris Kenner, US singer, (1961 US No.2 single 'I Like It Like That'). Also a hit for Dave Clarke Five.