December 27th: The Biggest Music Headlines
Scroll down the page to see all the music headlines, stories and events for December 27 throughout music history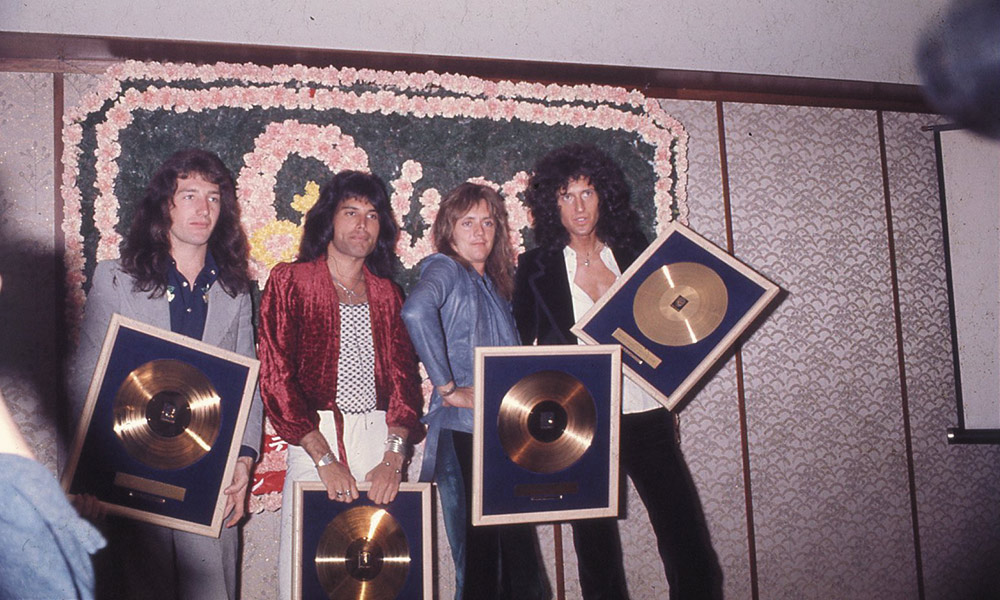 Queen Score Their First No.1 Album With 'A Night at the Opera'
On this day in music, December 27, 1975, Queen scored their first No.1 album in the UK with A Night At The Opera. Produced by Roy Thomas Baker and Queen, the band's fourth LP was rumored to be the most expensive album ever recorded at the time, thanks to months of sessions at studios across England. The band recouped the costs, however, as the album flew up the charts across the globe, landing in the Top Five in multiple territories, including Australia, Canada, and the US, where it was certified Platinum. A Night at the Opera also featured Queen's first No.1 UK hit, "Bohemian Rhapsody," an enduring song of epic proportions.
In 1969, Led Zeppelin's Led Zeppelin II went to No.1 in the US. Certified 12x Platinum by the RIAA, the album is widely considered to be one of the most influential in modern rock music.
In 1975, the Rod Stewart-led Faces officially split up. Faces, and the band's original incarnation, Small Faces, were jointly inducted into the Rock and Roll Hall of Fame in 2012.
In 2008, Taylor Swift began a seven-week run at the top of the Billboard 200 with Fearless. The album included three Top Ten singles: "Love Story," "You Belong with Me," and "Fearless."
In 1980, John Lennon and Yoko Ono's Double Fantasy began an eight-week run at the top of the US chart. The album was the final studio recording released by Lennon during his lifetime.
In 1978, singer, songwriter, and founding member of Big Star, Chris Bell, died at the age of 27, following a car accident. Bell's work in Big Star would go on to influence many of the alt-rock musicians of the 80s and 90s.
In 1997, The Spice Girls scored their second consecutive Christmas No.1 single in the UK with "Too Much."
In 1986, two years after his death, R&B star Jackie Wilson scored the UK's Christmas No.1 hit with "Reet Petite." The 1957 song surged thanks to its use in a Levi's commercial.
Looking for more things that happened on this day in music?
Keep scrolling for all of the headlines for December 27.
BORN ON DECEMBER 27:
1941: Mike Pinder (The Moody Blues)
1941: Les Maguire (Gerry and the Pacemakers)
1944: Mick Jones (Foreigner)
1948: Larry Byrom (Steppenwolf)
1952: David Knopfler (Dire Straits)
1988: Hayley Williams (Paramore)
Looking for more artists born on this day?
Keep scrolling for all of our December 27 birthdays.
---
What to find another day?
---
December 27th
27 Dec 2022
Jamaican reggae artist Jo Mersa Marley died in Miami-Dade County, Florida aged 31. He was the son of Stephen Marley and grandson of reggae musician Bob Marley.
27 Dec 2022
British rock and roll singer and guitarist Casey Jones (aka Brian Cassar) died aged 86. His British beat band Casey Jones & Governors appeared at The Cavern Club in Liverpool many times in the early 1960s.
27 Dec 2021
Adele
was at No.1 on the US chart with her fourth studio album, 30. Its lead single, 'Easy on Me', topped the charts in 27 territories, while 30 was the world's best-selling album of 2021, selling a total of 5.5 million copies in less than two months of its release.
27 Dec 2015
Singer Stevie Wright died aged 68. During 1964–69 he was lead singer of Sydney-based band the Easybeats, who had the 1966 world-wide hit 'Friday on My Mind'. The Easybeats were widely regarded as the greatest Australian pop band of the 1960s.
27 Dec 2008
Thieves broke into a house belonging to
The Allman Brothers Band
singer and keyboardist
Gregg Allman
in Georgia and stole a coin collection, knives and unreleased concert recordings. Two men where charged with the burglary two days later.
27 Dec 2008
Taylor Swift
started a seven-week run at No.1 on the US album charts with Fearless. The album was the best-selling album of 2009, making Swift, 18 at the time of the album's release, the youngest artist to have the best-selling album of a calendar year. The album is certified diamond by RIAA and has sold over 7.18 million copies.
27 Dec 2008
Singer, songwriter, guitarist, Delaney Bramlett died in Los Angeles from complications after gall bladder surgery. Was a member of Delaney, Bonnie & Friends and worked with
George Harrison
, The Everly Brothers,
John Lennon
,
Janis Joplin
, J.J. Cale, and
Eric Clapton
.
27 Dec 2005
It was announced that 'Crazy Frog' by Axel F was the best selling UK ringtone of 2005. 'Tweet Tweet' by Sweetie Chick was the second and '(Is This The Way To) Amarillo' by Tony Christie and Peter Kay was the third biggest seller. The UK ringtone market was now worth more than double the value of the CD singles sales.
27 Dec 1999
Sean 'Puff Daddy' Combs and his girlfriend Jennifer Lopez were arrested after a gun was found in their car as they left a Manhattan nightclub. Police were investigating a shooting in the club.
27 Dec 1997
The
Spice Girls
went to No.1 on the UK singles chart with 'Too Much'. The group set another new world record as their first six singles all made No.1.
27 Dec 1989
A former chef at the
Chuck Berry
owned restaurant Southern Air started court proceedings against Berry alleging that the singer had installed secret video cameras in the ladies toilets. A further 200 other women also took action claiming that the recordings were used for improper sexual fetishes.
27 Dec 1986
Jackie Wilson had the UK Christmas No.1 single with 'Reet Petite' two years after Wilson's death, following its use in a commercial for Levi's. Written in 1957 by
Berry Gordy
and Tyran Carlo, the success of the song helped Gordy fund the launch of
Motown
Records.
27 Dec 1983
Walter Scott, lead singer of Bob Kuban & The In-Men, who scored a 1966 US hit with 'The Cheater', was seen alive for the last time. On April 10th, 1987, his body was discovered. Scott's second wife, Jo Ann Calceterra, pleaded guilty to hindering prosecution in his murder and received a five-year sentence. Her boyfriend (whom she married in 1986), James H. Williams Sr. was found guilty of two counts of capital murder in the deaths of Walter Scott as well as his previous wife, Sharon Williams. James Williams received two life terms.
27 Dec 1981
American composer, pianist, singer, actor, and bandleader Hoagy Carmichael died aged 82. Composer of 'Georgia On My Mind', (covered by many acts including Ray Charles), 'Star Dust' and 'Lazy River'.
27 Dec 1980
John and Yoko's Double Fantasy album started an eight-week run at No.1 on the US chart. 'Just Like Starting Over' started a five-week stay at No.1 on the singles chart.
27 Dec 1978
27-year-old singer, songwriter, and guitarist Chris Bell was killed in a car accident. Known best as a co-founder of Big Star, the Memphis native inspired the likes of Beck,
R.E.M.
, Teenage Fanclub, Primal Scream, Wilco, The Posies, and The Replacements, all of which have covered his music or name-dropped Big Star in the press.
27 Dec 1975
27 Dec 1975
The
Faces
split became official.
Rod Stewart
had severed all connections with the group to work as a solo artist,
Ronnie Wood
was on permanent loan to the Stones, Ronnie Lane went on to form Slim Chance and drummer Kenny Jones joined
The Who
.
27 Dec 1975
The Staple Singers went to No.1 on the US singles chart with 'Let's Do It Again' the group's second US No.1.
27 Dec 1975
Future
Smiths
singer Steve Morrissey had a letter published in this week's music magazine the NME, complaining about the lack of media coverage for the New York Dolls.
27 Dec 1970
George Harrison
was at No.1 on the US singles chart with '
My Sweet Lord
' making him the first Beatle to score a No.1 US hit. The song was originally intended for Billy Preston.
27 Dec 1969
Led Zeppelin II
was at No.1 on the US album charts, (the band's first album to reach No.1 on charts in the UK and the US), it went on to sell over six million copies in the US alone. The album's cover designer David Juniper was nominated for a Grammy Award for Best Recording Package.
27 Dec 1969
Diana Ross and The
Supremes
went to No.1 on the US singles chart with 'Someday We'll Be Together', the group's 12th US No.1. A No.13 hit in the UK.
27 Dec 1967
The Doors
appeared on the Jonathon Winters Show CBS TV show from Los Angeles, California.
27 Dec 1963
The music critics from the UK newspaper The Times, named
John Lennon
and
Paul McCartney
as The Outstanding Composers of 1963. Two days later, the Sunday Times' music critic Richard Buckle proclaims the same two songwriters "the greatest composers since Beethoven."
27 Dec 1960
The Beatles
appeared at Litherland Town Hall Ballroom in Liverpool. Added to the bill at the last minute,
The Beatles
were not advertised to appear, so banners had been pasted onto advertising posters, saying "Direct From Hamburg,
The Beatles
!" Since
The Beatles
were playing in an area they'd only played in once before, most of the audience assumes they were a German group.
Born on this day in music
27 Dec 1988
Hayley Williams, singer, from American rock band Paramore, who had the 2009 UK No.1 album Brand New Eyes and their 2013 self-titled fourth studio album hit No.1 on the US chart.
27 Dec 1984
Spectacular Blue Smith, singer, from American R&B/hip hop group Pretty Ricky who scored the 2007 US No.1 album Late Night Special.
27 Dec 1972
Matt Slocum, guitarist, keyboards, Sixpence None The Richer, (1999 UK No.4 single, 'Kiss Me', 1999 US No.8 single 'There She Goes').
27 Dec 1961
Youth, record producer and a founding member and bassist of Killing Joke who had the 1985 UK No.16 single 'Love Like Blood'. As a producer he has worked with
U2
and he is a member of The Fireman, along with
Paul McCartney
.
27 Dec 1952
British singer-songwriter, guitarist, David Knopfler, (the younger brother of guitarist Mark Knopfler). He is a co-founder of the rock band
Dire Straits
, with whom he spent three years. After quitting the band, Knopfler embarked upon a solo career.
27 Dec 1950
American drummer Terry Bozzio best known for his work with Frank Zappa. He has also worked with Jeff Beck, Duran Duran, Robbie Robertson and Richard Marx.
27 Dec 1948
British music producer and sound engineer Martin Birch. He became renowned for engineering and producing albums recorded predominantly by British rock bands, including
Deep Purple
, Rainbow,
Fleetwood Mac
, Whitesnake,
Black Sabbath
and Iron Maiden. He died on 6 Aug 2020 age 71.
27 Dec 1948
Larry Byrom, guitarist from Steppenwolf who had the 1969 US No.2 hit single 'Born To Be Wild'. Steppenwolf sold over 25 million records worldwide, released eight gold albums and scored 12 Billboard Hot 100 singles.
27 Dec 1944
Mick Jones, guitarist with English-American rock band Foreigner, who scored the 1985 UK & US No.1 single 'I Want To Know What Love Is'. They are one of the world's best-selling bands of all time with worldwide sales of more than 80 million records. Prior to Foreigner, Jones was in the band Spooky Tooth.
27 Dec 1942
Mike Heron, The Incredible String Band, UK folk group, (1967 album 'The 5000 Spirits or The Layers Of The Onion).
27 Dec 1941
Les Maguire, who with Gerry And The Pacemakers had the 1963 UK No.1 single 'How Do You Do It' and the 1965 US No.6 single, 'Ferry Cross The Mersey'. In common with
The Beatles
they came from Liverpool, were managed by Brian Epstein, and were recorded by George Martin.
27 Dec 1941
Mike Pinder, Keyboards with English rock band The Moody Blues who had the 1965 UK No.1 & US No.10 single 'Go Now' and the hits singles including 'Go Now', 'Nights in White Satin' and 'Question'.
27 Dec 1931
Scotty Moore, guitarist, whose first group was Doug Poindexter & the Starlite Wranglers. He played on the first Sun Studios session with
Elvis Presley
and went on to a lengthy career with Presley, playing on many of his most famous recordings including 'Baby Let's Play House', '
Heartbreak Hotel
', 'Mystery Train', 'That's All Right', 'Hound Dog' and 'Jailhouse Rock'. Moore died on 28th June 2016 aged 84.