December 5th: The Biggest Music Headlines
Scroll down the page to see all the music headlines, stories and events for December 5 throughout music history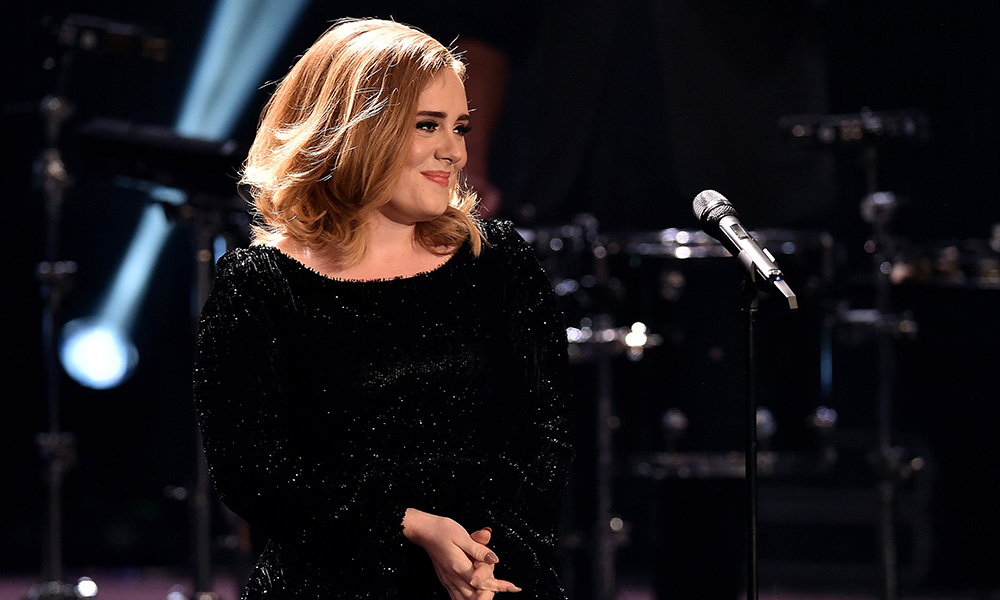 Adele's '21' Is Named the UK's Best Selling Album of the 21st Century
On this day in music, December 5, 2011, Adele's sophomore LP, 21, was named Britain's biggest-selling album of the 21st century, surpassing a title previously held by Amy Winehouse, for 2006's Back To Black. The album, which spent 45 weeks at the top of the UK charts, was an instant sensation, and its legacy has proven it to be one of the most important releases of this century. Among other honors, 21 was shortlisted for the 2011 Mercury Prize, while in 2012, it won a Grammy for Album of the Year and British Album of the Year at BRITs. It has since been ranked on Rolling Stone's 500 Greatest Albums of All Time list.
In 1992, Whitney Houston began a ten-week run at the top of the UK singles chart with"'I Will Always Love You." The Dolly Parton-penned song, which Houston recorded for The Bodyguard soundtrack, also spent a record-breaking 14 weeks at the top of the Billboard Hot 100 (her longest run at No.1 in the US).
In 1964, the Beach Boys scored their first No.1 album in the US with Beach Boys Concert. The live release was recorded at the Memorial Auditorium in Sacramento, CA.
In 1973, Paul McCartney and Wings released their third LP, Band On The Run. Recorded primarily at EMI's studio in Lagos, Nigeria, the album featured a pared-down line-up (Paul and Linda McCartney, plus Denny Laine). It went on to become the top-selling album of 1974 in Australia and Canada and the second-best-selling album of the year in the UK.
In 1965, The Beatles played their final show in their hometown of Liverpool. 40,000 applications for tickets were received for the two shows at the Empire, which seated just 2,550 people. The 11-track setlist was identical for the two gigs.
In 1981, Julio Iglesias scored his sole No.1 on the UK singles chart with "Begin The Beguine," a Spanish-language cover of the 1935 Cole Porter standard.
In 1970, Judy Collins' rendition of "Amazing Grace" entered the UK singles chart for the first of eight times. It would eventually spend a total of 67 non-consecutive weeks on the chart. The Library of Congress has a collection of more than 3,000 versions of the traditional hymn, including Collins' recording.
In 1987, The Go-Go's frontwoman Belinda Carlisle scored her first solo chart-topper in the US with "Heaven Is a Place on Earth."
In 1993, 32-year-old Doug Hopkins, who co-founded the Gin Blossoms, took his own life. Hopkins, who served as the alt-rock band's principal songwriter and lead guitarist, was responsible for such hits as "Hey Jealousy" and "Found Out About You."
Looking for more things that happened on this day in music?
Keep scrolling for all of the headlines for December 5.
BORN ON DECEMBER 5:
1912: Sonny Boy Williamson
1932: Little Richard
1938: JJ Cale
1947: Jim Messina (Loggins & Messina)
1960: Les Nemes (Haircut 100)
1965: Johnny Rzeznik (Goo Goo Dolls)
1982: Keri Hilson
Looking for more artists born on this day?
Keep scrolling for all of our December 5 birthdays.
---
What to find another day?
---
December 5th
5 Dec 2022
Jim Stewart, founder of the influential southern soul label Stax Records, died aged 92. As the founder of Stax, Stewart was responsible for signing and nurturing the careers of many of soul and R&B's most influential figures, including
Otis Redding
, Carla Thomas, Albert King and the Bar-Kays.
5 Dec 2021
British rock music vocalist, guitarist, and keyboardist John Miles died after a short illness age 72. Best known for his 1976 top 3 UK hit single 'Music'. He won the 'Outstanding Musical Achievement' award at the 2017 Progressive Music Awards.
5 Dec 2016
A statue of
David Bowie
was set to go up in the town where he first performed as
Ziggy Stardust
following the success of a crowdfunding campaign. More than 650 people pledged sums totalling more than the £100,000 goal, 19 hours before the deadline. The statue would be put up in Aylesbury, Buckinghamshire, where Bowie unveiled his Ziggy character.
5 Dec 2013
Spotify responded to critics by revealing how much acts can expect to earn from the music streaming site. The company said it paid an average of $0.007 per play, according to figures on its new website Spotify Artists, aimed specifically at musicians. Explaining its business model, Spotify said it had paid more than $1bn (£612m) in royalties since its 2008 launch. Earlier this year
Radiohead
singer Thom Yorke pulled material from the site in protest at how much it pays artists.
5 Dec 2011
After spending 45 weeks at the top end of the UK charts, singer
Adele
's second album '21' become the biggest selling LP in Britain this century, surpassing the late
Amy Winehouse
's 2006 LP 'Back to Black'.
5 Dec 2009
Phish played the final show of their 2009 Fall Tour at the John Paul Jones Arena at the University of Virginia. At the beginning of a first set an erratic fan proceeded to run on stage fully naked. He ran up and hugged guitarist Trey Anastasio and kissed him on the cheek. He made three laps around the stage before finally being chased down by security.
5 Dec 2009
In an interview with the UK daily newspaper The Guardian,
George Michael
said he had cut back on his cannabis intake and now only smoked 'seven or eight' spliffs per day instead of the 25 he used to smoke.
5 Dec 2007
Robbie Williams apologised to Nigel Martin-Smith the ex-manager of
Take That
and agreed to pay undisclosed damages over an allegation he made about him in a song. In the lyrics of 'The 90s' Williams had suggested that Nigel Martin-Smith had stolen funds from the band.
5 Dec 2006
Beatles lyrics handwritten by Sir
Paul McCartney
to an early version of Maxwell's Silver Hammer sold for $192,000 (£97,000) at an auction in New York. A guitar owned by
Jimi Hendrix
fetched $168,000 (£85,000), a notebook containing lyrics written by
Bob Marley
sold for $72,000 (£36,445) and a poem penned by Doors frontman
Jim Morrison
made $49,000 (£25,500) at the Christie's sale.
5 Dec 2004
Band Aid 20 started a four week at No.1 on the UK singles chart with a new version of Do They Know It's Christmas? The third time the song had reached No.1. The new version featured, Joss Stone, Busted,
Chris Martin
,
Bono
, Justin Hawkins, Dizzee Rascal, Tom Chaplin, Ms Dynamite, Beverly Knight, Will Young, Jamelia, Fran Healy, Sugababes, Dido and Robbie Williams.
5 Dec 2004
U2
started a two week run at No.1 on the UK album chart with 'How To Dismantle An Atomic Bomb', the bands ninth UK No.1 album. The band also went to No.1 on the US album chart giving them their sixth US No.1 album.
5 Dec 1993
Songwriter and guitarist Doug Hopkins, who co-founded the American rock band, Gin Blossoms, took his own life. The 32 year old had struggled with his mental health, particularly as the band's fame grew, following their best-selling hit, "Hey Jealousy."
5 Dec 1992
Whitney Houston
started a ten-week run at No.1 on the UK singles chart with 'I Will Always Love You'. The longest ever run at No.1 for a female artist the
Dolly Parton
penned song was taken from the Bodyguard soundtrack.
5 Dec 1987
Belinda Carlisle went to No.1 on the US singles chart with 'Heaven Is a Place on Earth', the ex Go-Go's member first solo No.1, also a No.1 hit in the UK. The promotional video was directed by Academy Award-winning actress Diane Keaton and features an appearance of Carlisle's husband Morgan Mason.
5 Dec 1987
The Jesus And Mary Chain were banned from appearing on a US music TV show after complaints of blasphemy when the group's name was flashed across the screen. The CBS show asked the band to be called JANC but the group didn't agree.
5 Dec 1987
Fat Larry James, drummer, singer and leader of Fat Larry's Band died of a heart attack aged 38. Scored the 1982 UK No.2 single 'Zoom'. The opening drum break from Down On The Avenue, from the band's first album, Feel It has been sampled by N.W.A. Ice-T, Jungle Brothers and Run-D.M.C.
5 Dec 1981
Julio Iglesias was at No.1 in the UK singles chart with 'Begin The Beguine.' A Cole Porter song from 1935 with Spanish lyrics it was the singers only UK chart topper.
5 Dec 1976
Music weekly NME reviewed The
Sex Pistols
debut single 'Anarchy In The UK' saying "Johnny Rotten sings flat, the song is laughably naive, and the overall feeling is of a third-rate Who imitation."
5 Dec 1973
Paul McCartney
and Wings released
Band On The Run
, his fifth album since his departure from
The Beatles
. Two hit singles from the album – 'Jet' and 'Band on the Run' made it McCartney's most successful album. The majority of Band on the Run was recorded at EMI's studio in Lagos, Nigeria, as McCartney wanted to make an album in an exotic location. McCartney went into the studio with just his wife Linda and Denny Laine, doubling on drums, percussion and most of the lead guitar parts himself as well as bass.
5 Dec 1970
'Amazing Grace' by Judy Collins entered the UK singles chart for the first of eight times, it spent a total of 67 weeks on the chart never making the No.1 position. 'Amazing Grace' is a Christian hymn with lyrics written by the English poet and clergyman John Newton which was first published in 1779.
5 Dec 1968
The release of The
Rolling Stones
' new album
Beggars Banquet
was celebrated at a party in London. A food fight with custard pies was the highlight of the event that went on without an ill
Keith Richards
. The original cover for the LP was in the form of a plain white invitation, but was later changed.
5 Dec 1967
This was the final night of a 16-date UK
package tour
with
Jimi Hendrix
,
Pink Floyd
, The Move, The Nice, The Outer Limits, The Erie Apparent and Amen Corner at Green's Playhouse, Glasgow. All performances had two shows per night, in this case at 6.15pm, with the second at 8.45pm. Jimi Hendrix had the curtains closed on him halfway through his set, after the management at the venue regarded his movements with his guitar as having sexual overtones.
5 Dec 1965
The Beatles
played their last ever show in their hometown of Liverpool when they appeared at The Liverpool Empire during the group's final UK tour. Only 5,100 tickets were available, but there were 40,000 applications for tickets. The group also had the UK No.1 single with 'We Can Work It Out / Day Tripper.'
5 Dec 1964
Beach Boys
started a four week run at No.1 on the US album chart with 'Beach Boys Concert', the group's first US No.1. The album was recorded live at the Memorial Auditorium in Sacramento, California and is one of the few live documents of the original line up of the Beach Boys in officially released LP form.
5 Dec 1964
Lorne Greene star of the NBC TV show 'Bonanza' was at No.1 on the US singles chart with 'Ringo', making him the second Canadian (after Paul Anka) to have a US No.1 single. The song was a No.22 hit in the UK.
5 Dec 1960
Paul McCartney
and Pete Best were arrested for pinning a condom to a brick wall and then igniting it. The two were told to leave Germany and
The Beatles
returned home, discouraged.
5 Dec 1960
Elvis Presley
started a ten-week run at No.1 on the US album chart with 'G.I. Blues'. His fifth US No.1 album. Music on this album comprised songs that had appeared in the film of the same name.
Born on this day in music
5 Dec 1982
American singer, songwriter Keri Hilson who has written songs for artists, including
Britney Spears
, The Pussycat Dolls, and Mary J. Blige, with the production and songwriting team, The Clutch. Her breakthrough came in 2007 after appearing on Timbaland's single 'The Way I Are', which topped charts around the world.
5 Dec 1980
Zainam Higgins, singer from R&B/pop girl group Cleopatra who had the 1998 UK No.3 single 'Cleopatra's Theme'.
5 Dec 1971
Craig Gill, drummer from English alternative rock band Inspiral Carpets who had the 1990 UK No.14 single 'This Is How It Feels'. He ran musical tours of the Manchester area, explaining landmarks relating to the Madchester scene and Manchester's musical heritage. He co-wrote the book, The Manchester Musical History Tour. Gill died at the age of 44 on 22 November 2016.
5 Dec 1965
Johnny Rzeznik, singer and guitarist with Goo Goo Dolls who had the 2002 US No.3 album 'Gutterflower'. In 2007, Rzeznik was a judge on the Fox network's The Next Great American Band.
5 Dec 1960
Les Nemes, bass, Haircut 100. The band had four UK Top 10 hit singles between 1981 and 1982, including 'Favourite Shirts (Boy Meets Girl)', 'Love Plus One' and 'Fantastic Day'.
5 Dec 1947
British bass guitarist, Rick Wills. He is best known for his work with Foreigner and his associations with the
Small Faces
Peter Frampton and Bad Company.
5 Dec 1947
Welsh rock singer and musician Kim Simmonds. He was the only consistent member of the blues rock band Savoy Brown and performed and appeared on every album the band recorded. He died on 13 December 2022 aged 75.
5 Dec 1947
American musician, songwriter, singer, guitarist, Jim Messina, who with Buffalo Springfield scored the 1967 US No.17 single 'For What It's Worth'. With the soft rock duo Loggins and Messina he had the 1972 US No.4 single 'Your Mama Don't Dance'.
5 Dec 1946
Andy Kim, singer, (1974 US No.1 & UK No.2 single 'Rock Me Gently')
5 Dec 1945
Eddie Serrato, drummer with ? & The Mysterians, (1966 US No. 1 & UK No.37 single '96 Tears'). '96 Tears' was a UK No.17 hit for The Stranglers in 1990. He died from a heart attack on February 24, 2011, aged 65.
5 Dec 1938
JJ Cale, US guitarist, singer songwriter. Songs written by Cale that have been covered by other musicians include 'After Midnight' by
Eric Clapton
, Phish and
Jerry Garcia
, 'Cocaine' by
Eric Clapton
, 'Clyde' by Waylon Jennings and Dr. Hook, and 'Call Me the Breeze' by Lynyrd Skynyrd, John Mayer,
Johnny Cash
, Bobby Bare and
Eric Clapton
. Cale died on 26th July 2013 of a heart attack.
5 Dec 1932
American musician, singer and songwriter Richard Penniman, (
Little Richard
) who had the 1956 US No. 6 & 1957 UK No.3 single 'Long Tall Sally', plus over 10 other US & UK Top 40 singles. His music played a key role in the formation of other popular music genres, including soul and funk and helped shape rhythm and blues for generations to come. He died of bone cancer on 9 May 2020 at the age of 87.
5 Dec 1912
Sonny Boy Williamson II, American blues harmonica player, singer and songwriter. He used various names, including Rice Miller and Little Boy Blue, before calling himself Sonny Boy Williamson. Van Morrison,
The Who
The Animals, Yardbirds and Moody Blues and many blues and rock artists have recorded his songs. He died on 25th May 1965.