February 13th: The Biggest Music Headlines
Scroll down the page to see all the music headlines, stories, and events for February 13 throughout music history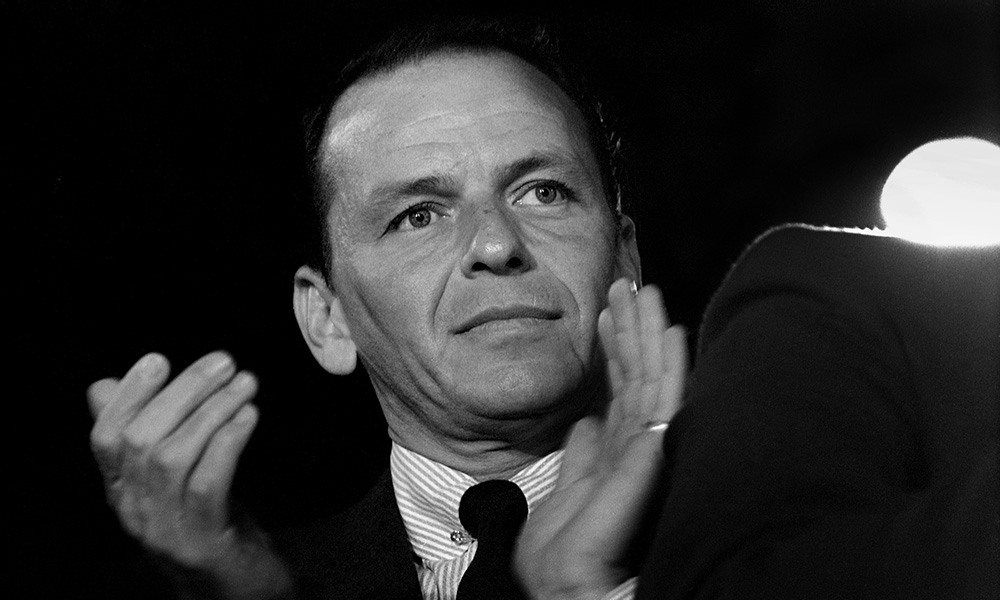 Frank Sinatra Launches Reprise Records
On this day in music, February 13, 1960, Frank Sinatra launched his own record label, Reprise Records. The legendary singer's initiative, which led to his nickname "The Chairman of the Board," offered him the opportunity to gain more artistic freedom over his recordings. That concept became a founding principle of Reprise, which also sought to give its artists complete ownership of their work. Over the years, Reprise housed many monumental acts, including Jimi Hendrix, Neil Young, Joni Mitchell, and The Beach Boys.
In 1970, Black Sabbath released their self-titled debut in the UK, fittingly on Friday the 13th. Reportedly recorded in a single twelve-hour session in 1969, Black Sabbath has long been regarded as the first heavy metal album, while the title track is recognized as the first doom metal song. The eponymous record was released in the US in June 1970, where it received a Platinum certification by the RIAA.
In 1996, Take That announced their disbandment at a press conference in Manchester. One of the biggest groups of the 90s, Take That sold more than 14 million albums and 11.4 million singles in the UK. The band reunited as a quartet in 2006, releasing two new albums without original member, Robbie Williams. In 2010, Williams rejoined his former bandmates to record Progress, which became the fastest-selling album of the 21st century.
In 1978, Dire Straits began recording their self-titled debut in London's Basing Street Studios. All songs were written by Mark Knopfler, including the hit single, "Sultans of Swing," which peaked at No.4 on the Billboard Hot 100 and No.8 in the UK. Dire Straits, meanwhile, was certified double Platinum in both the US and UK.
In 1969, Bob Dylan recorded versions of "Lay, Lady, Lay" in Nashville. While the song was initially intended for the Midnight Cowboy soundtrack, the song instead appeared on Dylan's subsequent album, Nashville Skyline, and found the singer-songwriter performing the sultry tune in a lower register – marking a departure for the artist. Released in July 1969, the song was a Top Ten hit in the US and has since been covered by numerous artists, including the Byrds, The Everly Brothers, and Buddy Guy.
In 2016, indie rock group Viola Beach and their manager, Craig Tarry, died in a car crash in Sweden. The English group was traveling after an appearance at the Where's the Music? Festival and was scheduled to support Blossoms on a UK/Ireland tour later in the month. Their self-titled debut was released posthumously and reached No.1 in the UK.
Looking for more things that happened on this day in music?
Keep scrolling for all of the headlines for February 13.
BORN ON FEBRUARY 13:
1942: Peter Tork (The Monkees)
1950: Peter Gabriel
1952: Ed Gagliardi (Foreigner)
1956: Peter Hook (Joy Division)
1961: Henry Rollins
1974: Robbie Williams
Looking for more artists born on this day?
Keep scrolling for all of our February 13 birthdays.
---
What to find another day?
---
February 13th
13 Feb 2021
English music arranger and keyboard player Louis Clark died age 73. He was best known for his work with Electric Light Orchestra and Hooked on Classics. Clark started out as a bass guitarist for Birmingham band The Buccaneers, who later became Monopoly and eventually The Raymond Froggatt Band.
13 Feb 2017
Arriva Buses launched five buses in the home town of Viola Beach in Warrington. Each vehicle had a picture of one of the band members and their manager. Arriva collaborated with the River Reeves Foundation, an organisation founded by Reeves' family, to produce the vehicles, one of which would be a mobile recording studio. On 13 February 2016, the four band members and their manager, Craig Tarry, died in an incident on the E4 motorway bridge at Södertälje, southwest of Stockholm, Sweden.
13 Feb 2016
All four members of English indie rock group Viola Beach, Kris Leonard (guitar and vocals), River Reeves (guitar), Tomas Lowe (bass guitar), and Jack Dakin (drums) along with their manager Craig Tarry, died in a car crash in Södertälje, Sweden. Witnesses said they saw the car fall through a gap on the E4 motorway bridge, which was open to let a boat pass. The band had played at the Where's the Music? festival in Norrköping the previous day. The band had been scheduled to support Blossoms on a tour of the UK and Ireland during February and March 2016.
13 Feb 2013
Lady Gaga was forced to postponed her world tour after sustaining an injury which left her unable to walk. The singer had severe inflammation of the joints, known as synovitis.
13 Feb 2012
Adele
won all six categories she was nominated for at this years Grammy Awards. The British singer won song of the year for 'Rolling In the Deep', and also received Grammys for best pop solo performance for 'Someone Like You', best pop vocal album and album of the year for 21, and record of the year and best short form music video for 'Rolling In the Deep'.
13 Feb 2010
American rock singer, songwriter, and rhythm guitarist Dale Hawkins died from colon cancer aged 73. He is best known for his recording of his swamp-rock classic, 'Susie Q.' recorded late in the rockabilly era in 1957. Hawkins later became a record producer and executive working with many artists including Michael Nesmith, Bruce Channel and Harry Nilsson.
13 Feb 2008
A fan paid $3,000 (£1,500) for a jewelled bra, which Shakira wore on her Oral Fixation world tour in 2007, in an auction for the pop star's children's charity. More than $60,000 (£30,700) had been raised so far, with one fan paying $14,100 (£7,200) to meet Shakira. The charity was currently building a school for poor children in the singer's home country, Colombia. Other items in the auction included a purple wig and Gibson guitar used in the video for Las De La Intuicion, which sold for $3,301 (£1,700), a shiny lavender skirt with turquoise and coral beading that Shakira wore while singing Hips Don't Lie on tour, fetched more than $1,076 (£550).
13 Feb 2007
Rod Stewart
was paid $1million when he performed at a billionaire's birthday bash. Stewart was booked to play a one-hour gig to help Steve Schwarzman celebrate his 60th birthday held at New York's Park Avenue Armory.
13 Feb 2005
Readers of UK newspaper The Sun voted
George Michael
's 'Careless Whisper' as the greatest British pop single of the past 25 years.
Oasis
came second with 'Wonderwall' and
Kate Bush
third with 'Wuthering Heights'. The rest of the Top 10: No.4, Robbie Williams, 'Angels', No.5,
The Jam
, 'Going Underground', in equal 6th,
Sex Pistols
, 'God Save The
Queen
' and
Joy Division
, 'Love Will Tear Us Apart', 7th was
Queen
, 'We Are The Champions', 9th, The Stone Roses, 'Fool's Gold' and 10th The Undertones 'Teenage Kicks'.
13 Feb 2004
Led Zeppelin
were awarded a Lifetime Achievement Award at this year's Grammys.
Jimmy Page
, John Paul Jones and Jason Bonham all attended. Robert Plant did not, since he was working on a new album and tour.
13 Feb 2002
American country singer, songwriter Waylon Jennings died in his sleep after a lengthy fight with diabetes. He was bassist for
Buddy Holly
following the break-up of The Crickets. Released a series of duet albums with Willie Nelson in the late 1970s. Scored the 1980 US No.21 single 'Theme From The Dukes Of Hazzard', he was also the narrator on the television series. Member of The Highwaymen with Willie Nelson,
Johnny Cash
and Kris Kristofferson.
13 Feb 1998
Police at Manchester Airport arrested former Stone Roses singer, Ian Brown after an incident during a flight from Paris. Brown was found guilty in August the same year and jailed for four months; British Airways also banned him from flying with the airline. Come Fly With Me
13 Feb 1997
Michael Menson of Rebel MC died from burns sustained in a racial attack aged 30. Lost on a street in North London, Menson was attacked twice. His tormentors were determined to burn him alive, throwing fuel at him, setting his back on fire. He suffered terrible burns and died 16 days later. Rebel MC had the 1989 UK No.3 single 'Street Tuff'.
13 Feb 1996
Take That
split up, the biggest band of the 90s announced their demise in front of the world's press at The Hilton in Manchester, the band had achieved 7 No.1 singles & 2 No.1 albums. They released one more single and a Greatest Hits album. (
Take That
reformed in 1996 and have now scored another 5 No.1 albums in the UK).
13 Feb 1993
Founder member of Musical Youth, Patrick Waite died aged 24, of natural causes (hereditary heart condition), whilst awaiting a court appearance on drug charges. Best remembered for their successful 1982 single 'Pass the Dutchie', which became a No.1 hit around the world. It was a cover version of two songs: 'Gimme the Music' by U Brown, and 'Pass the Kouchie' by Mighty Diamonds, which deals with the recreational use of cannabis (kouchie being slang for a cannabis pipe).
13 Feb 1989
This years Brit Awards was hosted by Sam Fox and
Mick Fleetwood
in which just about everything went wrong - lines were fluffed and bands mis-cued onto the stage. Winners included
Phil Collins
who won British Male Solo Artist, British Female Solo Artist was Annie Lennox, Erasure won Best British Group, Best British Album went to Fairground Attraction for 'First Of A Million Kisses', British Breakthrough Act was Bros,
Michael Jackson
won International Male, International Female went to Tracey Chapman and
U2
won Best International Group. This was the last year the show was broadcast live.
13 Feb 1982
The Jam
became the first band since
The Beatles
to play two numbers on the same edition of
Top Of The Pops
when they performed 'A Town Called Malice', and 'Precious', their latest double A sided No.1.
13 Feb 1982
The marble slab was stolen from the grave of Lynyrd Skynyrd's singer Ronnie Van Zant, police found it two weeks later in a dried up river bed.
13 Feb 1980
Police raided the home of former
Sex Pistols
John Lydon who greeted them waving a ceremonial sword, the only illegal item they found was a canister of tear gas, claimed to be for defence against intruders.
13 Feb 1978
Dire Straits
began recording their first album at Basing Street Studios, London. The whole project cost £12,500 ($21,250) to produce. The album which featured the group's breakthrough single 'Sultans of Swing' went on to enjoy a 132 week run on the UK chart. The inspiration for 'Sultans of Swing' came from Mark Knopfler witnessing a mediocre jazz band playing in the corner of a practically deserted pub. At the end of their performance, the lead singer came up to the microphone and announced that they were the "Sultans of Swing."
13 Feb 1977
Julie Covington was at No.1 on the UK singles chart with 'Don't Cry For Me Argentina', taken from the Tim Rice & Andrew Lloyd-Webber musical Evita. Covington had been in the 1977 UK TV series based on an all female group called Rock Follies.
Madonna
had a hit with her version of the song in 1996.
13 Feb 1976
The 101'ers featuring
Joe Strummer
played at The Town Hall, Hampstead, London, and on the same night DP Costello, (Elvis Costello) played at The Half Moon, Putney, London supporting Vivian Stanshall.
13 Feb 1974
David Bowie
turned down an offer from the Gay Liberation group to compose 'the world's first Gay National Anthem.'
13 Feb 1972
The Greasy Truckers concert took place at the Roundhouse in London, featuring Man, Brinsley Schwarz and Hawkwind. The eveining was recorded and released as a double vinyl album, in a limited edition of 20,000 which sold at just £1.50. The release rapidly sold out, becoming a collector's item.
13 Feb 1971
The
Osmonds
started a five week run at No.1 on the US singles chart with 'One Bad Apple'. The group had been appearing on TV in the US from 1962, on the Andy Williams Show and then the Jerry Lewis show.
13 Feb 1970
On this day, Friday the 13th,
Black Sabbath
released their debut self-titled studio album on Vertigo records in the UK. Peaking at No.8 on the charts, the album has been recognised as the first main album to be credited with the development of the heavy metal genre.
13 Feb 1969
Bob Dylan
recorded versions of 'Lay, Lady, Lay', at Columbia Recording Studios in Nashville, Tennessee. 'Lay Lady Lay' was originally written for the soundtrack of the movie Midnight Cowboy, but wasn't submitted in time to be included in the finished film. The song has gone on to become a standard and has been covered by numerous bands and artists over the years, including The Byrds, Ramblin' Jack Elliott, The Everly Brothers,
Neil Diamond
, Melanie, The Isley Brothers,
Duran Duran
, Hoyt Axton and Isaac Hayes amongst others.
13 Feb 1969
A launch party was held for the release of Mary Hopkin's album Postcard at the Post Office Tower in London. Guests included
Jimi Hendrix
, Donovan and
Paul McCartney
with his new girlfriend Linda Eastman.
13 Feb 1967
The Beatles
released the double A sided single 'Strawberry Fields Forever/Penny Lane' on Capitol Records in the US. The single spent 10 weeks on the chart peaking at No.1.
13 Feb 1967
The
Monkees
announced that from now on they would be playing on their own recordings instead of session musicians.
13 Feb 1960
Frank Sinatra
launched his own record label, Reprise Records, in order to allow more artistic freedom for his own recordings. Hence, he garnered the nickname "The Chairman of the Board."One of the label's founding principles under Sinatra's leadership was that each artist would have full creative freedom, and at some point complete ownership of their work. Reprise later became the home of many influential US acts such as
Neil Young
,
Jimi Hendrix
,
Joni Mitchell
, Randy Newman and
The Beach Boys
.
Born on this day in music
13 Feb 1988
Aston Merrygold, singer with English boy band JLS, who were the runners-up of the fifth series of The
X Factor
in the UK. Their first two singles 'Beat Again' and 'Everybody in Love' both went to No.1 on the UK singles chart.
13 Feb 1974
Robbie Williams, vocalist with
Take That
who had the 1995 UK No.1 single with 'Back For Good' and seven other UK No.1 singles. He left to pursue a solo career and since then has had a 1998 UK No.1 single with 'Millennium' and six other UK No.1 singles. His 1997 UK No.1 album 'Life Thru A Lens' spent 123 weeks on the UK chart. Re joined
Take That
in 2010.
13 Feb 1972
Robert Harrell, bassist, with 3 Doors Down, who had the 2003 US No.4 single 'When I'm Gone, 2005 US No.1 album 'Seventeen Days'.
13 Feb 1971
Sonia, (Sonia Evans), who had the UK No.1 single in 1989 with 'You'll Never Stop Me Loving You.'
13 Feb 1966
Freedom Williams, singer with C+C Music Factory, who had the 1991 UK No.4 single 'Things That Make You Go Hmmm..., and the 1991 US No.1 single 'Gonna Make You Sweat'.
13 Feb 1961
Henry Rollins, American singer, actor, presenter, comedian, and activist who was a member of Black Flag and fronted the Rollins Band. He has campaigned for various political causes in the United States, including the promotion of LGBT rights, World Hunger Relief, the West Memphis Three, and an end to all war.
13 Feb 1959
Tony Butler, bassist with Scottish rock band Big Country, who had the 1983 UK No.10 single 'Fields Of Fire' plus 14 other UK Top 40 singles. Butler has also worked with Roger Daltrey and Pete Townshend and The Pretenders.
13 Feb 1958
Mark Fox, percussion, with English group Haircut 100. The band had four UK Top 10 hit singles between 1981 and 1982, including 'Favourite Shirts (Boy Meets Girl)', 'Love Plus One' and 'Fantastic Day'.
13 Feb 1956
Peter Hook, bass, vocals, with
Joy Division
who had the 1980 UK No.13 single 'Love Will Tear Us Apart'. Formed New Order, who had the 1983 UK No.9 single 'Blue Monday'. And with Revenge and Monaco, had the 1997 UK No.11 single 'What Do You Want From Me'.
13 Feb 1952
Ed Gagliardi, bassist with English-American rock band Foreigner, who scored the 1985 UK & US No.1 single 'I Want To Know What Love Is'. They are one of the world's best-selling bands of all time with worldwide sales of more than 80 million records.
13 Feb 1951
Rod Dees, singer from English revival group Showaddywaddy who had the 1976 UK No.1 single with their version of 'Under The Moon Of Love'. Showaddywaddy spent 209 weeks on the UK Singles Chart, and had 10 Top Ten singles.
13 Feb 1950
English singer-songwriter, record producer Peter Gabriel, with
Genesis
who had the 1974 UK No.21 single 'I Know What I Like In Your Wardrobe'. Gabriel left
Genesis
in 1975 to launch his solo career and had the 1986 US No.1 & UK No.4 single 'Sledgehammer' from the 1986 UK No.1 & US No.2 album So. Gabriel has been a champion of world music for much of his career. He co-founded the WOMAD festival in 1982.
13 Feb 1950
Roger Christian, singer with English group The Christians who had the 1988 UK No.8 single 'Harvest For The World'. The name of the band refers to the surname of the three brothers that were originally in the line-up. He died on 8 March 1998 from brain tumour.
13 Feb 1949
English singer-songwriter Judy Dyble. She was a founding member of Fairport Convention and Trader Horne. In addition, she and multi-instrumental Ian McDonald joined and recorded several tracks with Giles, Giles and Fripp, who later became King Crimson. During Fairport's early live shows in London in the late 1960s Dyble shared stages with acts such as
Jimi Hendrix
, and
Syd Barrett
-era
Pink Floyd
. Famously, she sat on the front of the stage at the Speakeasy Club knitting, while Hendrix and Fairport Convention guitarist Richard Thompson jammed. She died on 12 July 2020 age 71.
13 Feb 1945
English drummer Roy Dyke who was a member of The Remo Four, Badger and Ashton, Gardner and Dyke who had the 1971 UK No.3 single 'The Resurrection Shuffle'. He married Stacia Blake, a former dancer with Hawkwind.
13 Feb 1943
American producer Bill Szymczyk best known for his work with the
Eagles
including Hotel California. Other hit singles he has produced include: Edgar Winter Group 'Frankenstein', Joe Walsh 'Rocky Mountain Way', Elvin Bishop 'Fooled Around and Fell in Love', and
The Who
's 'You Better You Bet'.
13 Feb 1942
Peter Tork, American musician with The
Monkees
who were brought together for an American TV series in 1966. They had the 1967 UK & US No.1 single 'I'm A Believer' plus other hits including 'Last Train to Clarksville', 'Pleasant Valley Sunday', and 'Daydream Believer'. Tork was diagnosed with a rare form of tongue cancer in 2009. He died on February 21, 2019 age 77.
13 Feb 1920
Boudleaux Bryant, songwriter with his wife Felice. They wrote The Everly Brothers hits, 'Bye Bye Love', 'All I Have To Do Is Dream' and 'Wake Up Little Susie' as well as 'Raining In My Heart', which was a hit for
Buddy Holly
. Bryant died on June 25th 1987.
13 Feb 1919
American recording artist and television host Tennessee Ernie Ford, who had a 1955 US No.1 & 1956 UK No.1 single with 'Sixteen Tons'. It was Capitol Records' first No.1 of the rock era. Ford died on October 17th 1991 age 72.