February 27th: The Biggest Music Headlines
Scroll down the page to see all the music headlines, stories, and events for February 27 throughout music history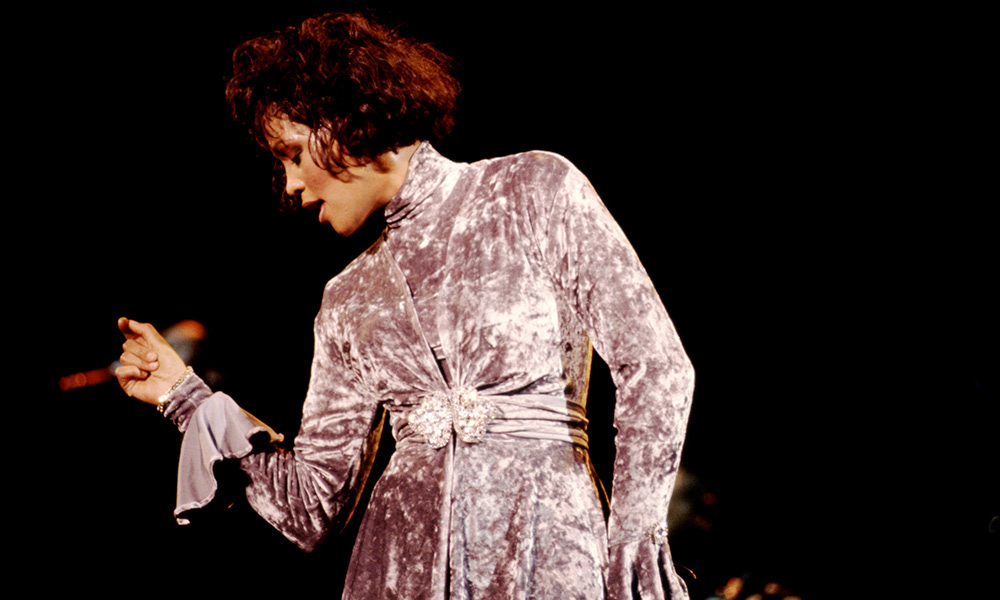 Whitney Houston's 'I Will Always Love You' Makes History
On this day in music, February 27, 1993, Whitney Houston's moving rendition of Dolly Parton's "I Will Always Love You" became the longest US No.1 hit to date, breaking a record previously held by Boyz II Men's "End Of The Road." Recorded by Houston for the soundtrack to her film debut, The Bodyguard, the song spent 14 weeks at the top of the Billboard Hot 100 and quickly became one of the world's best-selling singles of all time.
In 1999, Britney Spears' debut single, "…Baby One More Time," began a two-week run at the top of the UK pop chart. The song, which also hit No.1 in more than 20 countries, including the US, Australia, Canada, and across Europe, broke first-week sales records in the UK for a female act. In the US, it became the second-highest-selling single of the year (behind Lou Bega's "Mambo #5"), while today, it remains one of the best-selling singles of all time, worldwide.
In 1971, five months after her untimely death, Janis Joplin began a nine-week run at the top of the US album chart with Pearl. Released on January 11, 1971, the title marked Joplin's second and final solo studio album.
In 1964, Cavern Club cloakroom attendant Cilla Black hit No.1 on the UK singles chart with her cover of "Anyone Who Had A Heart." While the song was written months earlier by Burt Bacharach and Hal David for Dionne Warwick, Black's rendition found greater success in the UK, where it remained at the top of the chart for three weeks and eventually became the fourth best-selling single of 1964. Warwick's original recording, however, was more popular in the US, Canada, South Africa, Spain, and Australia, among other territories.
In 1993, Marlena Davis of The Orlons died at age 48 after battling lung cancer. The Orlons had five US Top 20 hits in the 1960s, and the quartet's first hit, "The Wah-Watusi," peaked at No.2 on the US pop chart.
Looking for more things that happened on this day in music?
Keep scrolling for all of the headlines for February 27.
BORN ON FEBRUARY 27:
1910: Winifred Atwell
1927: Guy Mitchell
1954: Neal Schon (Journey)
1957: Adrian Smith (Iron Maiden)
1960: Johnny Roy Van Zant (Lynyrd Skynyrd)
1971: Rozonda "Chilli" Thomas (TLC)
1981: Josh Groban
Looking for more artists born on this day?
Keep scrolling for all of our February 27 birthdays.
---
What to find another day?
---
February 27th
27 Feb 2019
English drummer Doug Sandom died one day after his 89th birthday. He was the first drummer for the rock band
The Who
. No recordings with Sandom playing with the band were ever released.
27 Feb 2015
Madonna
said she suffered whiplash as a result of her "nightmare" accident at the 2015 Brit Awards. The 56-year-old was pulled backwards off stage by a cape, which was supposed to fall from her shoulders causing the singer to fall down a flight of steps.
27 Feb 2010
U2
raked in more money than any other music act in the US in 2009 making $109m (£71m) from touring, record sales and other royalties, almost twice as much as the second best,
Bruce Springsteen
who took home $58m (£38m), followed by
Madonna
with $47m (£31m) and
AC/DC
with $44m (£29m).
Coldplay
were the most successful British group, at number eight, with takings of $27m (£18m).
27 Feb 2007
Bobby Brown was sentenced to 30 days in jail over $19,000 (£9,670) in unpaid child support. An arrest warrant was issued in October 2006 after he failed to show up at a hearing on overdue child support for Kim Ward, the mother of two of his children.
27 Feb 2004
A worker in a supermarket in Aspen, Colorado alerted the police-after seeing a man shopping with his face covered by a mask. Police arrived on the scene and identified the man as
Michael Jackson
who was in town on holiday with his children.
27 Feb 1999
Britney Spears
started a two-week run at No.1 on the UK singles chart with '...Baby One More Time'. It became the biggest UK selling single of the year and also a No.1 in the US. It was originally written for TLC but the song was submitted after completion of their third record, FanMail.
27 Feb 1993
Marlena Davis of The Orlons lost a battle with lung cancer aged 48. The Orlons who formed in the late 1950s had five US Top 20 hits in the Sixties including 'The Wah Watusi', 'Don't Hang Up' and 'South Street'. The Orlons provided back-up vocals on Dee Dee Sharp's 1962 hit 'Mashed Potato Time' and Dee Dee Sharp's second hit, 'Gravy (For My Mashed Potatoes)'.
27 Feb 1993
After 14 weeks at No.1 on the US singles chart, 'I Will Always Love You', gave
Whitney Houston
the longest ever US chart topper, taking over from Boyz II Men's hit 'End Of The Road', and became the second biggest selling single in the US.
27 Feb 1991
James Brown
was paroled after spending two years of a six-year prison sentence, imposed for resisting arrest after a car chase across two States.
27 Feb 1988
George Michael
scored his sixth No.1 US single with 'Father Figure' a No. 11 hit in the UK - the first time Michael had failed to reach the top ten in his home country.
27 Feb 1980
Winners at the Grammy Awards included: song of the year, 'What A Fool Believes', The Doobie Brothers, album of the year,
Billy Joel
's '52nd St', best new artist, Rickie Lee Jones, best disco record, 'I Will Survive' Gloria Gaynor.
27 Feb 1977
Keith Richards
was arrested at Toronto's Harbour Castle Hotel, after an ounce of heroin was found following a raid of his hotel room by 15 Royal Canadian Mounted Police. Richards, who was charged with possession with intent to traffic, faced seven years to life in prison. Bail was set at $25,000 (£14,705).
27 Feb 1972
Led Zeppelin
appeared at Sydney Showgrounds, Sydney in Australia, over 25,000 fans attending the show.
Jimmy Page
appeared clean shaven having shaved of the beard he had grown since the summer of 1970.
27 Feb 1971
Five months after her death,
Janis Joplin
started a nine-week run at No.1 on the US album chart with her second and final solo studio album Pearl. Joplin sang on all tracks except 'Buried Alive in the Blues', which remained a Full Tilt Boogie instrumental because she died before adding her vocals.
27 Feb 1968
25 year old Frankie Lymon, lead singer of The Teenagers, died of a heroin overdose in his grandmother's New York home. Lymon was on leave from a Georgia Army post at the time and was scheduled to record for Roulette Records the next day. He first hit the national charts in 1956 when he was just 13 with 'Why Do Fools Fall in Love'.
27 Feb 1967
Pink Floyd
continued working on their debut album The Piper At The Gates Of Dawn at Abbey Road Studios, London. With the exception of two group-composed instrumentals and one Roger Waters song, the album was written entirely by
Syd Barrett
.
27 Feb 1964
27 Feb 1964
21 year-old former hairdresser and cloakroom attendant at The
Cavern Club
, Cilla Black was at No.1 on the UK singles chart with 'Anyone Who Had A Heart.' Written by Bacharach and David it was Black's first UK No.1. Also this week's UK Top Ten was the first ever to feature only UK acts.
Born on this day in music
27 Feb 1981
Josh Groban, US singer, who had the 2002 US No.7 & UK No.28 album 'Josh Groban' and the 2004 US No.1 album 'Closer'. Groban was America's top selling artist of 2007.
27 Feb 1973
Peter Andre, singer and former actor and reality TV star who had the 1996 UK No.1 single 'I Feel You', and the 1996 UK No. 1 album 'Natural'.
27 Feb 1971
Rozonda Thomas, Chilli, singer with American girl group TLC. They scored nine top-ten hits on the Billboard Hot 100, including four No.1 singles, 'Creep', 'Waterfalls', 'No Scrubs', and 'Unpretty'. Their 1999 US No.1 album Fanmail spent 57 weeks on the UK chart. Having sold over 65 million records worldwide, TLC is the best-selling American girl group.
27 Feb 1964
Derek McKenzie from British group The Shamen who had the 1992 UK No.1 single 'Ebeneezer Goode'.
27 Feb 1964
Ewan Venal, from Scottish group Deacon Blue who had the 1988 UK No.8 single 'Real Gone Kid' plus over 15 other UK Top 40 singles.
27 Feb 1960
Johnny Roy Van Zant, American musician and the current lead vocalist of Southern rock band Lynyrd Skynyrd. He is the younger brother of the late Lynyrd Skynyrd co-founder and former lead vocalist Ronnie Van Zant and of the 38 Special founder Donnie Van Zant.
27 Feb 1960
Paul Humphreys, keyboards and vocals with Liverpool duo
Orchestral Manoeuvres in the Dark
who released their debut single, 'Electricity, in 1979, and gained popularity throughout Europe with the 1980 anti-war song 'Enola Gay'.
27 Feb 1957
Adrian Smith, guitarist with English heavy metal band
Iron Maiden
, who had the 1982 UK No.1 album The Number Of The Beast, and the 1991 UK No.1 single 'Bring Your Daughter ...To The Slaughter'.
Iron Maiden
have sold over 100 million copies of their albums worldwide.
27 Feb 1955
Gary Christian, singer with English group The Christians who had the 1988 UK No.8 single 'Harvest For The World'. The name of the band refers to the surname of the three brothers that were originally in the line-up.
27 Feb 1954
American rock guitarist, songwriter, and vocalist, Neal Schon with Journey who had the 1982 US No.2 single 'Open Arms'. Schon was also a member of
Santana
, who had the 1977 UK No.11 single 'She's Not There'.
27 Feb 1951
English singer and songwriter Steve Harley best known as the frontman with Cockney Rebel who had the 1975 UK No.1 single 'Make Me Smile, (Come Up And See Me') as well as hits with 'Mr Soft' and 'Judy Teen'. Harley has released over five solo albums and has also worked as a radio presenter.
27 Feb 1950
Robert Balderrama, from American group ? & The Mysterians who had the 1966 US No. 1 & UK No.37 single '96 Tears'. (which was also a UK No.17 hit for The Stranglers in 1990).
27 Feb 1948
Eddie Gray from American rock band, Tommy James & The Shondells who had the 1966 US No.1 single 'Hanky Panky', the 1968 UK No.1 single 'Mony Mony' and the hit 'I Think We're Alone Now'.
27 Feb 1947
British musical arranger and keyboard player Louis Clark. He was the conductor of the orchestra and choir hired to back Electric Light Orchestra's sound, introduced on their album Eldorado in 1974. and arranged string arrangements for the studio albums Eldorado, Face the Music, A New World Record, Out of the Blue, Discovery and Xanadu.
27 Feb 1927
American singer Guy Mitchell. Successful in his homeland the UK and Australia he sold 44 million records, including six million-selling singles. His biggest hit, 'Singing the Blues', was No.1 for 10 weeks in 1956. At age 11 Mitchell was signed by Warner Brothers Pictures, to be a child star, and performed on the radio on KFWB in Los Angeles, California. Mitchell died on July 1st 1999.
27 Feb 1910
Trinidadian pianist Winifred Atwell who enjoyed great popularity in Britain and Australia from the 1950s with a series of boogie-woogie and ragtime hits, selling over 20 million records. She was the first black person to have a No.1 hit in the UK Singles Chart (with the 1954 'Let's Have Another Party') and is still the only female instrumentalist to do so. She died on 28 February 1983 age 69.