February 6th: The Biggest Music Headlines
Scroll down the page to see all the music headlines, stories, and events for February 6 throughout music history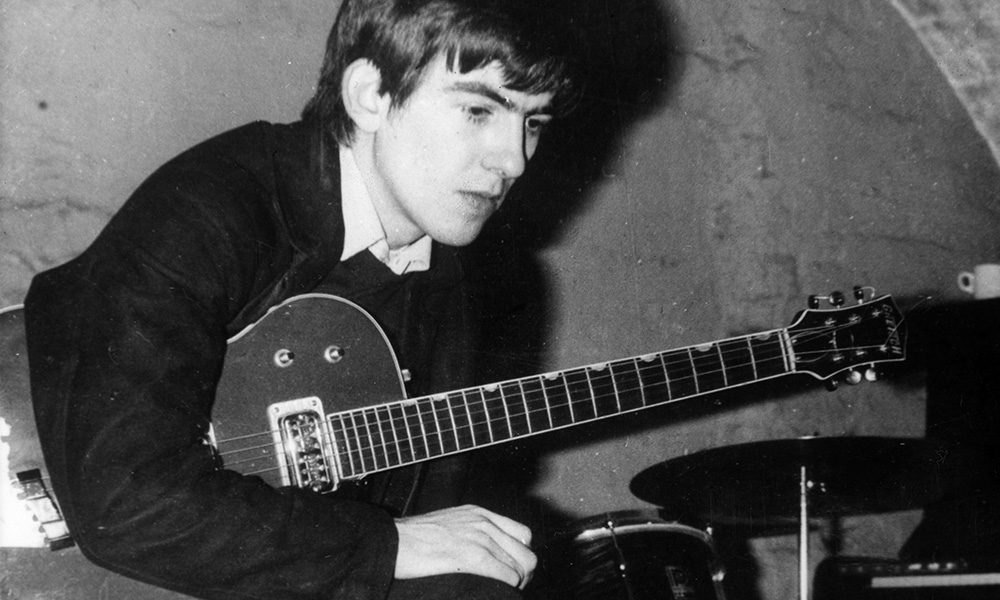 George Harrison Joins The Quarrymen
On this day in music, February 6, 1958, George Harrison joined The Quarrymen, a British skiffle/rock group formed by John Lennon. Named after a line from Lennon's school song at Allerton's Quarry Bank High School, the group originally consisted of Lennon and several of his classmates. Paul McCartney, who joined the band in October 1957, recommended Harrison, despite Lennon's initial resistance. By the turn of the decade, as they began to shift further toward rock'n'roll, Lennon, McCartney, and Harrison would evolve into The Beatles.
In 1998, Carl Wilson, a founding member of The Beach Boys, died at the age of 51. Wilson not only served as the legendary group's lead guitarist, but also performed lead vocals on several of their biggest hits, including "God Only Knows," "Good Vibrations," and "Kokomo." While Wilson was diagnosed with brain and lung cancer in early 1997, he continued to play with the Beach Boys through their entire summer tour. In 1988, he was inducted into the Rock and Roll Hall of Fame alongside his bandmates.
In 1982, with the double A-side "The Model/Computer Love." Kraftwerk made history as the first German act to top the UK singles chart. As pioneers of electronic music, Kraftwerk was honored with a Grammy Lifetime Achievement Award in 2014 and received an Early Influence Award from the Rock & Roll Hall of Fame in 2021.
In 1971, Led Zeppelin announced a UK tour through universities and small venues. With tickets priced at 60 shillings (less than $1), manager Peter Grant stated that they "decided to do the clubs and forget about the bread and the big concert halls." The tour kicked off in Belfast and included the first public performance of their future hit, "Stairway to Heaven."
In 1982, The J. Geils Band scored their sole No.1 hit on the Billboard Hot 100 with the cheeky single, "Centerfold." Simultaneously, their tenth studio album Freeze-Frame also began a four-week run at the top of the Billboard 200.
In 2014, the NME named Nirvana's "Smells Like Teen Spirit" as the greatest song of all time. The grunge anthem marked the opening track and lead single from the band's second album, Nevermind.
Looking for more things that happened on this day in music?
Keep scrolling for all of the headlines for February 6.
BORN ON FEBRUARY 6:
1945: Bob Marley
1946: Kate McGarrigle
1950: Natalie Cole
1962: Axl Rose (Guns N' Roses)
1964: Gord Downie (The Tragically Hip)
1966: Rick Astley
Looking for more artists born on this day?
Keep scrolling for all of our February 6 birthdays.
---
What to find another day?
---
February 6th
6 Feb 2017
US Tax Court Judge Mark Holmes had always been puzzled by the rap at the end of
Michael Jackson
's
Thriller
, so when the star's former lawyer John Branca appeared in front of him, he took the opportunity to settle the matter. "What exactly does 'the funk of 40,000 years' mean?" "Karma," answered Branca. The exchange came during the first day of a trial looking into
Michael Jackson
's debts to the taxman. The IRS claimed that Jackson's estate owed it over $700 million (£566 million) in taxes and penalties, a massive chunk of the star's estimated $1bn fortune. It put Jackson's team in the strange position of arguing the star was worth much less, after his image was tarnished by accusations of child molestation, skin bleaching and drug use.
6 Feb 2016
American singer-songwriter Dan Hicks, best-known as the lead musician and founder of the Seventies acoustic band Hicks and His Hot Licks, died at the age of 74 after suffering with throat and liver cancer. Hot Licks' hits included 'I Scare Myself' and 'Canned Music', which blended genre such as country, blues, jazz and swing.
6 Feb 2014
Nirvana
's '
Smells Like Teen Spirit
' was named as the greatest song of all time by NME. 'Smells Like Teen Spirit' was one of the last songs written for Nirvana's breakthrough album, '
Nevermind
', which was released in 1991. The rest of the top five tracks were: 5: 'Last Nite', The Strokes, 4: 'How Soon Is Now?',
The Smiths
, 3: 'I Feel Love', Donna Summer, 2: 'Love Will Tear Us Apart',
Joy Division
6 Feb 2013
It was announced that Warner Music was set to buy the record label Parlophone which was formerly a part of EMI Music from Universal Music for £487m ($765m). The Parlophone label group also included the Chrysalis and Ensign labels, but
The Beatles
part of Parlophone, was exempted from the sale.
6 Feb 2011
Irish guitarist and singer Gary Moore died aged 58 in his sleep of a heart attack in his hotel room while on holiday in Estepona, Spain. Moore had been a member of Skid Row,
Thin Lizzy
, and Colosseum II, before going solo, scoring the 1979 UK No.8 single 'Parisienne Walkways'. Moore's greatest influence in the early days was guitarist Peter Green of
Fleetwood Mac
, who was a mentor to Moore when performing in Dublin. His 1990 album Still Got the Blues featured contributions from Albert King, Albert Collins, and
George Harrison
.
6 Feb 2008
Feist won the seventh annual Shortlist Music Prize - American's version of the Mercury Prize. The Canadian singer-songwriter won for her album The Reminder, which included the song 1234 used in an Apple iPod advert. Feist was also nominated for four Grammy awards, including best new artist.
6 Feb 2008
A Los Angeles judge issued a restraining order against
Britney Spears
' manager, after her mother made the request to the court. Lynne Spears claimed Sam Lutfi, 33, had drugged the troubled pop star and interfered with her finances. In a six-page declaration, Lynne Spears said Mr Lutfi "moved into Britney's home and has purported to take control of her life, home and finances". Her declaration focused on the night of 28 January, a few days before the Grammy-winning superstar was admitted to hospital for a mental evaluation.
6 Feb 2007
Italian American singer, songwriter, and actor Frankie Laine died aged 93. He scored the 1953 UK No.1 single 'I Believe', plus over 25 other UK Top 20 singles and the 1956 US No.3 single 'Moonlight Gambler'. He sang well-known theme songs for many movie Western soundtracks, including 3:10 To Yuma, Gunfight at the O.K. Corral, and Blazing Saddles.
6 Feb 2007
An exhibition of
Kylie Minogue
's stage costumes, awards and accessories was launched in central London. The display at the Victoria and Albert Museum showed her changing image from 1987 onwards, from the dungarees she wore as Charlene in the Australian soap Neighbours and the gold hot pants she wore in her 'Spinning Around' video.
6 Feb 2005
Eminem
was at No.1 on the UK singles chart with 'Like Toy Soldiers', the rappers 6th No.1, taken from the album Encore. The track featured samples from 'Toy Soldiers' by Martika and '50 Ways to Leave Your Lover' by
Paul Simon
.
6 Feb 2001
Guitarist Don Felder was fired from the
Eagles
. He would later launch a $50 million law suit against drummer Don Henley and guitarist Glen Frey, alleging wrongful termination and breach of implied-in-fact contract. Henley and Frey then countersued Felder for breach of contract, alleging that Felder had written and attempted to sell the rights to a "tell-all" book. Both parties settled out-of-court for an undisclosed amount.
6 Feb 1998
American singer and guitarist Carl Wilson from
The Beach Boys
died aged 51 after a long battle with lung cancer, (Wilson was diagnosed with brain and lung cancer in early 1997). He sang lead vocal on
'God Only Knows'
, 'Good Vibrations,' and 'I Can Hear Music.' Wilson also sang backing vocals on
Elton John
's 'Don't Let The Sun Go Down On Me.'
6 Feb 1998
Austrian singer Falco (Johann Holzel) was killed in a road accident after his car collided with a bus. He scored the 1986 UK & US No.1 single 'Rock Me Amadeus' making him the first-ever Austrian act to score a UK and US No.1 hit single.
6 Feb 1996
Former
Jam
members Bruce Foxton and Rick Buckler reached a high court settlement with Paul Weller after suing him for more than £100,000, after claiming they were owed royalties and group assets.
6 Feb 1990
Billy Idol suffered serious injuries when he failed to pull up at a stop sign and crashed from his Harley-Davidson motorbike into a car.
6 Feb 1990
Over 200 women filed court actions against
Chuck Berry
after it was alleged that he had been secretly filming them in the toilets of the restaurant he owned.
6 Feb 1989
Jamaican sound engineer, and producer King Tubby died after being shot in the street outside his home. Worked with Robbie Shakespeare, Sly Dunbar, Carlton Barrett.
6 Feb 1982
Kraftwerk were at No.1 on the UK singles chart with 'The Model / Computer Love', the first German act to score a UK No.1 single. The single spent 21 weeks on the UK chart.
6 Feb 1982
The J Geils Band started a six week run at No.1 on the US singles chart with 'Centrefold', the bands only US No.1. A No.3 hit in the UK. The bands album 'Freeze- Frame' started a four-week run at No.1 on the US album chart on the same day.
6 Feb 1981
Composer Hugo Montenegro died in California. Had the 1968 UK No.1 & US No.2 single 'The Good The Bad And The Ugly' from the soundtrack to the Clint Eastwood spaghetti western film. Worked for RCA records, producing a series of albums and soundtracks and television themes, including two volumes of Music From The Man From U.N.C.L.E.
6 Feb 1971
Led Zeppelin
announced a small UK club tour which would see the group playing Universities and small venues with ticket prices at 12 shillings (60p). Zeppelin manager Peter Grant said 'We decided to do the clubs and forget about the bread and the big concert halls'.
6 Feb 1967
Pink Floyd
were photographed for the weekly British girls magazine Jackie. The magazine was the best-selling teen magazine in Britain for ten years. The best-ever selling issue was the 1972 special edition to coincide with the UK tour of American singer David Cassidy.
6 Feb 1965
The
Righteous Brothers
started a two week run at No.1 on the US singles chart with the Phil Spector produced 'You've Lost That Lovin' Feelin'. The song was also No.1 in the UK for the duo (who were not related in any way).
6 Feb 1965
The
Rolling Stones
second album Rolling Stones No.2 started a three-week run at No.1 on the UK charts. The album followed its predecessor's tendency to largely feature R&B covers. However, it did contain three compositions from the still-developing
Mick Jagger
-
Keith Richards
songwriting team.
6 Feb 1960
27-year-old Jesse Belvin, who scored a 1956 hit with 'Goodnight, My Love', was killed in a car accident in Hope, Arkansas. His wife and the car's driver also died of their injuries. The three were trying to make a fast get-a-way from the first ever mixed race audience concert in the town of Little Rock, after threats had been made against Belvin's life.
6 Feb 1958
Born on this day in music
6 Feb 1980
Yasutaka Nakata, Japanese musician, songwriter, record producer and DJ. In addition to his own group Capsule, he is the exclusive songwriter, arranger and producer for singer Kyary Pamyu Pamyu (two No.1 Japanese albums) and electro-pop group Perfume (four No.1 Japanese albums).
6 Feb 1966
Rick Astley, singer who had the 1987 UK & US No.1 single 'Never Gonna Give You Up', which became the UK biggest seller of 87. Astley scored 7 other UK Top 10 hits, and the 1987 UK No.1 album 'Whenever You Need Somebody' spent 34 weeks on UK chart..
6 Feb 1964
Canadian rock musician Gord Downie the lead singer and lyricist for the Canadian rock band The Tragically Hip as well as releasing six solo albums. He died of glioblastoma on 17 October 2017 aged 53.
6 Feb 1962
American singer, songwriter, Axl Rose, (born William Bruce Rose), lead singer with Guns N' Roses who had the 1987 US No.1 album Appetite For Destruction which spent 158 week's on the UK chart and the 1988 US No.1 & 1989 UK No.6 single 'Sweet Child o' Mine'. Rose has been the lead singer of
AC/DC
since 2016.
6 Feb 1962
Richie McDonald, guitarist and singer with American country group Lonestar who had the 2000 US No.1 & UK No.21 single 'Amazed'. Lonestar has charted more than 20 singles on the Hot Country Songs chart, including 9 that reached No.1.
6 Feb 1957
Simon Phillips, English drummer who has worked with
Jeff Beck
, Gary Moore, Mike Oldfield, Judas Priest, Mike Rutherford, Tears for Fears, 10cc and
The Who
. He became the drummer for the band Toto in 1992 after the death of Jeff Porcaro.
6 Feb 1950
Mike Batt, songwriter, and the man behind The Wombles, who had the 1974 UK No.3 single 'Remember You're A Womble'. Batt wrote 'Bright Eyes' the 1979 UK No.1 single for
Art Garfunkel
and discovered UK singer, songwriter Katie Melua.
6 Feb 1950
Natalie Cole, US singer, who had the 1989 UK No.2 single 'Miss You Like Crazy', and the hits 'This Will Be', 'Inseparable', and 'Our Love'. Natalie is the daughter of Nat 'King' Cole. She died on December 31, 2015 aged 65 due to congestive heart failure.
6 Feb 1947
Peter Lucia, from American rock band, Tommy James & The Shondells who had the 1966 US No.1 single 'Hanky Panky', the 1968 UK No.1 single 'Mony Mony' and the hit 'I Think We're Alone Now'.
6 Feb 1947
Alan Jones, saxophone, Amen Corner who had the 1967 hit 'Gin House Blues' and the 1969 UK No.1 single 'If Paradise Is Half As Nice' plus five other UK Top 40 hits.
6 Feb 1946
Canadian folk singer Kate McGarrigle. Once married to folk singer Loudon Wainwright lll, Kate is the mother of singers Rufus and Martha Wainwright. She rose to prominence with sister Anna when they recorded together in the 1970s. McGarrigle died of cancer on 18th Jan 2010.
6 Feb 1946
American drummer Richie Hayward best known as a founding member and drummer in the band Little Feat. He performed with several bands and worked as a session player. He died on 12 August 2010.
6 Feb 1945
Bob Marley
singer / songwriter and guitarist who had the 1981 UK No.8 single with 'No Woman No Cry', plus over ten other UK Top 40 singles. In July 1977, Marley was found to have a type of malignant melanoma under the nail of a toe, Marley's health deteriorated as the cancer had spread throughout his body. He died on May 11th 1981. The 1984 'Best Of' album spent 330 weeks on the UK chart. In 1990, February 6th was proclaimed a national holiday in Jamaica to commemorate his birth. Inducted into the Rock and Roll Hall of Fame in 1994.
6 Feb 1944
Georgeanna Tillman American singer, famed for her tenure in the Motown all-female singing group the Marvelettes who scored the 1961 US No.1 single 'Please Mr Postman'. She died on 6 January 1980, one month before her 36th birthday.
6 Feb 1942
John London, session bass player. He worked with The
Monkees
, Linda Ronstadt, James Taylor and The Nitty Gritty Dirt Band. London died on February 12th 2000.
6 Feb 1941
Dave Berry, singer who had the 1964 UK No.5 single 'The Crying Game'.