February 7th: The Biggest Music Headlines
Scroll down the page to see all the music headlines, stories, and events for February 7 throughout music history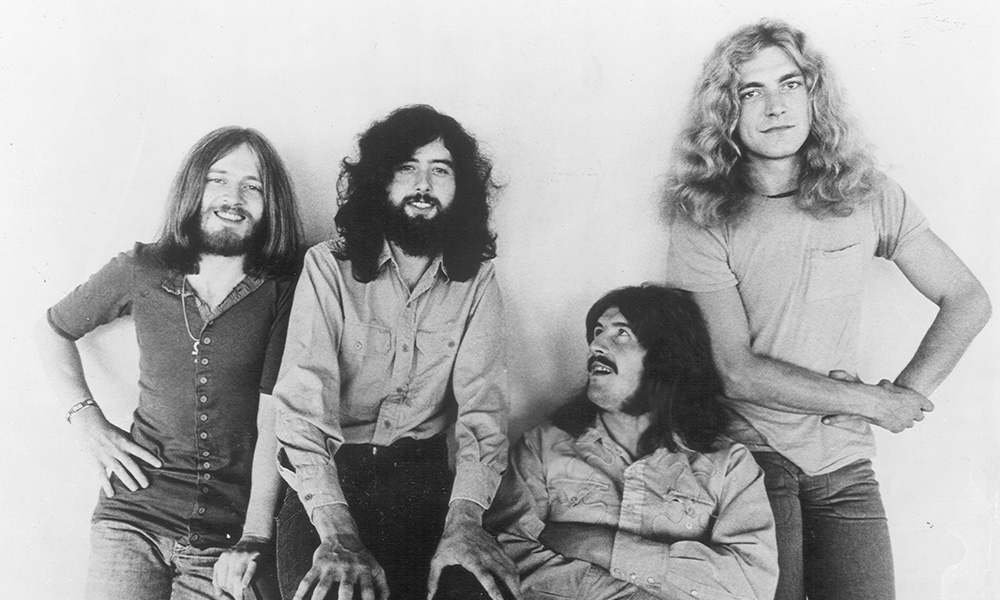 Led Zeppelin Lands First UK No.1 Album
On this day in music, February 7, 1970, Led Zeppelin earned their first UK No.1 album with Led Zeppelin II. The British band's second studio album remained on the chart for a total of 138 weeks, while across the Atlantic, it topped the Billboard 200 for seven weeks. Written throughout the band's 1969 European and American tours, Led Zeppelin II was recorded at multiple studios in the UK and US, with lead guitarist Jimmy Page serving as producer.
In 1969, The Who recorded "Pinball Wizard" at London's Morgan Studios. Penned by singer Pete Townshend, the track was a highlight of their 1969 rock opera, Tommy. Although once described by Townshend as "the most clumsy piece of writing [he'd] ever done," the song remains a fan favorite and has been played at nearly every Who concert since its debut in May 1969.
In 1981, Kool & The Gang's enduring party staple, "Celebration," began a two-week run at the top of the Billboard Hot 100. In 2021, The Library of Congress selected the song for preservation in the National Recording Registry.
In 1959, 32-year-old blues icon, Guitar Slim, died of pneumonia. Best known for his hit, "The Things that I Used to Do," the musician experimented with distortion on his electric guitar nearly a decade before Jimi Hendrix. His pioneering techniques, meanwhile, influenced the likes of Buddy Guy, Albert Collins, and Frank Zappa, among others.
In 1987, after nearly 20 years, Aretha Franklin returned to the top of the UK pop chart with "I Knew You Were Waiting (For Me)," a duet with George Michael. The pair later won a Grammy for Best R&B Performance by a Duo or Group With Vocal.
In 1963, the first Beatles single, "Please Please Me," was released in the US via Vee-Jay Records. Dick Biondi, of Chicago's WLS, played the song on the radio, becoming the first American DJ to play a Beatles record on air.
In 1959, Buddy Holly was laid to rest in his hometown of Lubbock, TX. His tombstone included an incorrect spelling of his last name (Holley) as well as a carving of his Fender guitar. The 22-year-old artist passed away in a plane crash on February 3.
Looking for more things that happened on this day in music?
Keep scrolling for all of the headlines for February 7.
BORN ON FEBRUARY 7:
1934: King Curtis
1960: Steve Bronski (Bronski Beat)
1962: Garth Brooks
1962: David Bryan (Bon Jovi)
1974: J Dilla
1975: Wes Borland (Limp Bizkit)
Looking for more artists born on this day?
Keep scrolling for all of our February 7 birthdays.
---
What to find another day?
---
February 7th
7 Feb 2021
Producer Elliot Mazer died at the age of 79. He is most famous for his work with
Neil Young
, working on a string of releases including Harvest, Journey Through The Past, Times Fades Away, Tonight's The Night, American Stars & Bars, Hawks & Doves, Everybody's Rockin', Old Ways, Lucky 13 and the recently released "lost" album Homegrown. He also worked with The Band, Janis Joplin,
Rory Gallagher
and many more.
7 Feb 2015
American bass player, songwriter, Joe B. Mauldin died aged 74. He was best known as the bassist for the early rock and roll group
The Crickets
and later became a recording engineer at Gold Star Studios, the Los Angeles studio which became the "hit factory" for Phil Spector,
Brian Wilson
and other major 1960s rock performers.
7 Feb 2013
Music venues and fans criticised "heartless" touts and agencies selling tickets for guitarist Wilko Johnson's farewell tour at inflated prices. The former Dr Feelgood guitarist, was suffering from terminal cancer and was playing a series of farewell dates in February and March. Originally tickets sold for £20, but were now being offered online at prices of £225.
7 Feb 2008
Amy Winehouse
was told she could not perform at this year's Grammy awards ceremony because her US visa application has been rejected by the embassy in London. The singer was arrested for marijuana possession in Norway last year. Winehouse has been nominated for six Grammy awards ahead of the ceremony in Los Angeles on Sunday.
7 Feb 2005
Michael Jackson
's
Thriller
was named the top pop video in a poll of Channel 4 viewers in the UK. The 1983 video, which depicts the singer as a werewolf and a zombie, beat videos by
Madonna
and Robbie Williams. Animated videos for Peter Gabriel's Sledgehammer and
A-Ha
's Take On Me were in second and third place respectively. 4th was
Queen
with
Bohemian Rhapsody
, 5th,
Madonna
Like a Prayer, 6th, Robbie Williams, Rock DJ, 7th,
Michael Jackson
, Billie Jean, 8th, The Verve, Bittersweet Symphony, 9th,
Madonna
Vogue and 10th
Nirvana
,
Smells Like Teen Spirit
.
7 Feb 2004
Queen
's single 'We Will Rock You' topped a poll of music fans to find the greatest rock anthem of all time. The 1977 song beat the band's classic '
Bohemian Rhapsody
' into second place in a survey of 1,000 people carried out for the UCI cinema chain. The poll was carried out to mark the release of new Jack Black comedy 'School of Rock.'
7 Feb 2000
American rapper Big Punisher (better known by his stage name Big Pun), died of a heart attack, aged 28. The rapper had weighed 318kg (50 stone) when he had the attack. His second album, Yeeeah Baby, completed before his death, was issued as scheduled in April 2000. It peaked at No.3 on the Billboard charts.
7 Feb 2000
English guitarist and singer Dave Peverett died from kidney cancer aged 56. He had been a member of the English blues rock band Savoy Brown and Foghat who had the Seventies hit singles 'My Babe', and 'Slow Ride'.
7 Feb 1999
Blondie
went to No.1 on the UK singles chart with 'Maria', giving the group their sixth UK No.1 single, 20 years after their first No.1 'Heart of Glass.' At the age of 54, lead singer Debbie Harry became the oldest female to make No.1 in the UK.
7 Feb 1994
Blind Melon's lead singer Shannon Hoon was forced to leave the American Music Awards ceremony for his loud and disruptive behaviour. Hoon was later charged with battery, assault, resisting arrest, and destroying a police station phone.
7 Feb 1987
George Michael
and
Aretha Franklin
were at No.1 on the UK singles chart with 'I Knew You Were Waiting (For Me)'. Written by Simon Climie it gave Aretha her first UK No.1 almost 20 years after her first hit.
7 Feb 1985
Matt Monro, 60s UK ballad singer died from liver cancer at the Cromwell Hospital, Ealing, London. 1964 UK No.4 & US No.23 single 'Walk Away' plus 10 other UK Top 40 hits including the 1965 hit with his version of
The Beatles
' '
Yesterday
'.
7 Feb 1981
Kool & The Gang started a two week run at No.1 on the US singles chart with 'Celebration' the group's first No.1 and 8th top 40 hit, a No.7 hit in the UK.
7 Feb 1981
John Lennon
was at No.1 on the UK singles chart with 'Woman', an ode to his wife Yoko Ono. It was Lennon's third No.1 in seven weeks after his death on December 8, 1980.
7 Feb 1979
Stephen Stills
became the first rock performer to record on digital equipment in the Los Angeles' Record Plant Studio.
7 Feb 1976
Paul Simon
started a three week run at No.1 on the US singles chart with '50 Ways To Leave Your Lover', the singers first solo US No.1.
7 Feb 1973
The Stooges released their third studio album Raw Power. The album gained a cult following in the years following its release and, like its predecessor (1970s Fun House), is generally considered an influential forerunner of punk rock.
Kurt Cobain
said on numerous times that Raw Power was his favorite album of all time.
7 Feb 1970
Led Zeppelin
scored their first UK No.1 album with
Led Zeppelin II
. Released in November 1969, and featuring the US No. 4 single 'Whole Lotta Love', it went on to stay on the UK chart for 138 weeks. Also reaching No. 1 in the US, the RIAA in the US has now certified it as having sold over 12 million copies in the US alone.
7 Feb 1970
One Hit Wonders
Shocking Blue went to No.1 on the US singles chart with 'Venus', making them the first Dutch act to top the US charts. It made No.8 in the UK. Girl group Bananarama also took the song to No.8 on the UK chart in 1986.
7 Feb 1969
Doors singer
Jim Morrison
was arrested for drunk driving and driving with no license in Los Angeles, California.
7 Feb 1969
The Who
recorded 'Pinball Wizard' at Morgan Studio's, London, England. The song is one of the band's most famous live songs, being played at almost every Who concert since its debut live performance on 2 May 1969. The track which featured on their 1969 rock opera album Tommy was released as a single in 1969 and reached No. 4 in the UK charts and No. 19 in the US.
7 Feb 1967
Robin, Maurice and Barry Gibb of The
Bee Gees
returned to the UK after living in Australia for nine years.
7 Feb 1964
Pan Am flight 101 was greeted by over 5,000 Beatles fans as it arrived at New York's JFK airport, bringing
The Beatles
to the US for the first time and causing riotous scenes as they touched down.
7 Feb 1963
The first
Beatles
single 'Please Please Me' was released in the US on the Vee Jay label. Capitol Records, EMI's United States label, were offered the right to release the single in the US, but turned it down. Dick Biondi, a disc jockey on WLS in Chicago and a friend of Vee-Jay executive Ewart Abner, played the song on the radio from February 1963, thus becoming the first DJ to play a Beatles record in the United States.
7 Feb 1959
Buddy Holly
was buried in Lubbock, Texas. His tombstone reads "Holley", the correct spelling of his given surname and includes pictures of a guitar. On Feb 3rd 1959, after a show in Clear Lake, Iowa, Holly chartered an airplane to travel to his next show in Moorhead, Minnesota. Soon after takeoff, the plane crashed, killing Holly, Ritchie Valens, the Big Bopper and the pilot, an infamous milestone in rock history known as The Day the Music Died.
7 Feb 1959
New Orleans blues guitarist Guitar Slim died of pneumonia aged 32. Born Eddie Jones he is best known for the million-selling song 'The Things That I Used to Do'. Slim had a major impact on rock and roll and experimented with distorted overtones on the electric guitar a full decade before
Jimi Hendrix
. He became known for his wild stage act and had an assistant who followed him around the audience with up to 350 feet of cord between his guitar and his amplifier, and occasionally rode on his assistant's shoulders or even took his guitar outside the club, bringing traffic to a stop.
Born on this day in music
7 Feb 1983
Sam Martin, American musician, singer, songwriter. He rose to fame in 2014 for not only writing, but being a featured artist on David Guetta's No.1 singles 'Lovers on the Sun' and 'Dangerous'.
7 Feb 1975
Wes Borland, guitarist with Limp Bizkit, who had the 2001 UK No.1 single 'Rollin' & US & UK No.1 album 'Chocolate Starfish and the Hotdog Flavoured Water'.
7 Feb 1974
James Dewitt Yancey, (J Dilla or Jay Dee), hip hop producer and MC. He died on Feb 10th 2006 of a rare blood disease at his home in Los Angeles, California.
7 Feb 1974
Danny Goffey, drummer with English group Supergrass who had the 1995 UK No.2 single 'Alright', and the 1995 UK No.1 album I Should Coco which spent 35 weeks on the UK chart.
7 Feb 1968
Sully Erna, guitar, vocals, Godsmack, who had the 2003, US No.1 album 'Faceless', 2006 US No.1 album 'IV'.
7 Feb 1962
David Bryan, keyboards with
Bon Jovi
who had the 1987 US No.1 & UK No.4 single 'Livin' On A Prayer'. Bryan is also the writer of the successful Broadway musical Memphis.
7 Feb 1962
Garth Brooks, US country singer, who had the 1991 US No.1 album 'Ropin' The Wind' which spent 70 weeks on the US chart, and the 1994 UK No.13 single 'The Red Strokes.' Brooks is the biggest selling artist of the 90s with over 60 million sales.
7 Feb 1962
Deborah Bonham, English rock and blues vocalist and the sister of
John Bonham
the late drummer for the band
Led Zeppelin
.
7 Feb 1960
Steve Bronski, from English group Bronski Beat who had the 1984 UK No.3 single 'Smalltown Boy'. He died in a fire at his flat in Soho, London on 7 December 2021 age 61.
7 Feb 1959
Brian Travers, saxophonist with UB40, who had the 1983 UK No.1 & 1988 US No.1 single 'Red Red Wine' and over 30 other top 40 hits. He died from cancer age 62 on 22 August 2021.
7 Feb 1953
American guitarist, composer, and producer Bruce Gaitsch best known for working Chicago, Peter Cetera,
Madonna
, and Agnetha Fältskog. Gaitsch co-wrote the
Madonna
song 'La Isla Bonita', an 1987 international No.1 hit single from her third studio album True Blue.
7 Feb 1952
Andrew Chapin, American keyboardist best known for his short stint with the Ricky Nelson Band, which ended in 1985 when he and his bandmates died after their plane crashed on New Year's Eve in De Kalb, Texas. Prior to joining Ricky Nelson, Chapin had been a member of The Association and before that Steppenwolf. He died on 31 December 1985.
7 Feb 1949
Alan Lancaster, bassist with English group Status Quo. He left the band in 1984. The group have had over 60 chart hits in the UK, more than any other rock band, including 'Pictures of Matchstick Men' in 1967, 'Whatever You Want' in 1979 and 'In the Army Now' in 2010. Twenty-two of these reached the Top 10 in the UK. In July 1985 the band opened
Live Aid
at Wembley Stadium with 'Rockin' All Over the World'. He died on 26 September 2021 age 72 due to complications from multiple sclerosis.
7 Feb 1948
Jimmy Greenspoon, organist with Three Dog Night, who had the 1970 UK No.3 & US No.1 single with a cover of the Randy Newman song 'Mama Told Me Not To Come'. The band scored 21 Billboard Top 40 hits (with three hitting No.1) between 1969 and 1975. He died on March 11 2015 after a long battle with cancer at the age of 67.
7 Feb 1934
Earl King, New Orleans Blues guitarist. He wrote 'Come On, (Let The Good Times Roll'), covered by
Jimi Hendrix
and
Stevie Ray Vaughan
. King died on April 17th 2003 from diabetes-related complications aged 69.
7 Feb 1934
US sax player King Curtis who was stabbed to death by a vagrant on the front steps of his New York home on 13th August 1971. Curtis worked with
John Lennon
and had played on The Coasters hit 'Yakety Yak'.
7 Feb 1924
Dora Bryan, English actress and singer who had the 1963 UK No.20 single 'All I Want For Christmas Is A Beatle'. She died on 23 July 2014.