February 8th: The Biggest Music Headlines
Scroll down the page to see all the music headlines, stories, and events for February 8 throughout music history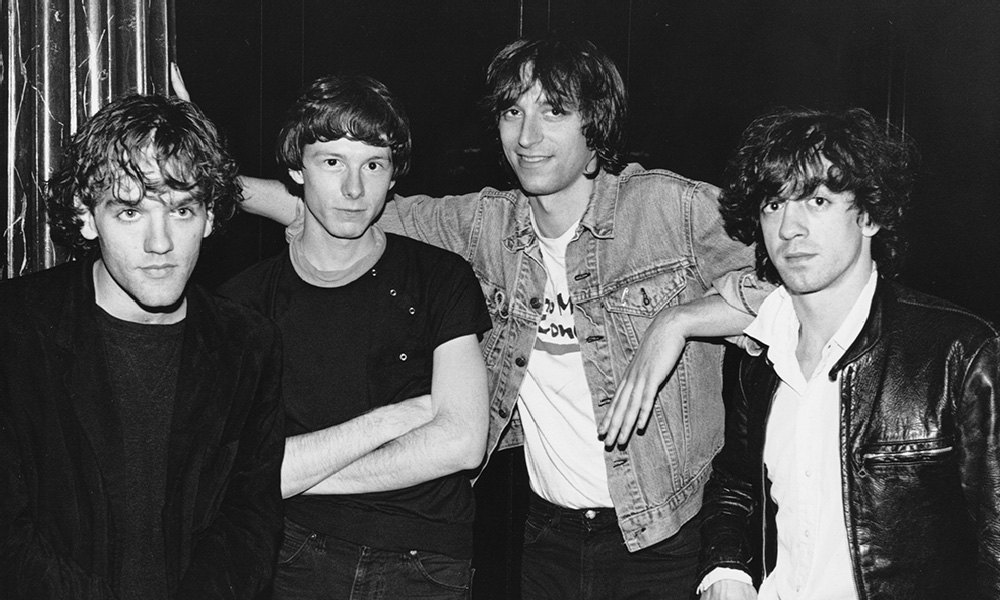 R.E.M. Make Their First Professional Recordings
On this day in music, February 8, 1981, R.E.M. held their first-ever recording sessions at Bombay Studios in Smyrna, GA. In addition to capturing songs like "Sitting Still," "Gardening At Night," and "(Don't Go Back To) Rockville," the band recorded their first single, "Radio Free Europe." Released that July, the song received attention from journalists and A&R execs alike, leading to the band's subsequent record deal. A re-recording of "Radio Free Europe" appeared on the band's 1983 debut, Murmur.
In 1977, New York City band Television released their debut, Marquee Moon. Produced by frontman Tom Verlaine, the album was a foundational release in the rock canon, influencing the new wave and indie rock movements of the 1980s and beyond.
In 2002, Cavern Club booker and resident DJ, Bob Wooler, died at the age of 76. Wooler was instrumental in The Beatles' early career – introducing the band to their manager, Brian Epstein, and booking their first residency at the Liverpool venue, where they would go on to play nearly 300 shows.
In 1994, Oasis were forced to cancel their first foreign tour after being deported from Holland, following a drunken brawl aboard a ferry. They returned to the road in March, playing a total of 143 shows on their international run.
In 1968, The Band Of Joy, featuring John Bonham and Robert Plant, made their London debut at The Marquee Club, supporting Edwin Starr. Originally formed in 1966, the band went through several lineup changes, including future Jethro Tull and Fairport Convention member, Dave Pegg. Bonham and Plant would go on to become members of Led Zeppelin.
In 1964, a cover of Richard Berry's "Louie Louie" by The Kingsmen was under FBI investigation for obscenity, despite the recording's unintelligible lyrics. The investigation lasted 31 months, and the FBI concluded that they were "unable to interpret any of the wording in the record." The song's publishers, meanwhile, offered $1,000 to anyone that could definitively distinguish the "vulgar" language.
Looking for more things that happened on this day in music?
Keep scrolling for all of the headlines for February 8.
BORN ON FEBRUARY 8:
1942: Terry Melcher (Producer, songwriter)
1943: Creed Bratton (Grass Roots)
1961: Vince Neil (Mötley Crüe)
1974: Guy Man (Daft Punk)
1977: Dave "Phoenix" Ferrel (Linkin Park)
1985: Jeremy Davis (Paramore)
1986: Anderson .Paak
Looking for more artists born on this day?
Keep scrolling for all of our February 8 birthdays.
---
What to find another day?
---
February 8th
8 Feb 2023
American composer, songwriter, record producer, pianist, and singer Burt Bacharach died of natural causes at his home in Los Angeles, California, at the age of 94. With Hal David he wrote many classic songs including, 'Close To You', '24 Hours From Tulsa', 'Make It Easy On Yourself', 'Magic Moments', 'I Say A Little Prayer'. He won two Oscars for the film score to Butch Cassidy And The Sundance Kid, and for the song 'Raindrops Keep Fallin' On My Head'. Bacharach's songs have been recorded by more than 1,000 different artists and as of 2014, he had written 73 US and 52 UK Top 40 hits.
8 Feb 2020
Roddy Ricch was at No.1 on the US chart with his debut studio album Please Excuse Me for Being Antisocial. The album later won Album of the Year at the 2020 BET Awards and Apple Music named it Album of the Year, where it was 2020's most streamed album globally.
8 Feb 2015
British soul singer Sam Smith won four Grammy Awards in the US, including the prestigious prizes for record and song of the year for 'Stay With Me' and best new artist. Album of the year went to Beck for Morning Phase.
8 Feb 2013
LA Superior Court Judge Charles Palmer threw out a claim by
Axl Rose
of fraud and misrepresentation against Guitar Hero III. Rose claimed that his deal with the company to license the song 'Welcome to the Jungle' for use in the game included a promise from Activision that no images of Slash would be used in the game. Later, both Maroon 5 singer Adam Levine and Gwen Stefani's band No Doubt sued the company over their own portrayals in Band Hero, a Guitar Hero series spin-off.
8 Feb 2013
A report on the the rise of digital music showed that one in five consumers (19.6%) bought all their music as downloads. The report said that 27.7% of UK music fans purchased downloads from stores such as iTunes or Amazon; or streamed songs on services like Spotify or YouTube and that the streaming market was now worth £49m to record labels.
8 Feb 2009
R&B singer Chris Brown was questioned by police in Los Angeles over a complaint of assault. The 19-year-old had pulled out of his performance at the Grammy Awards, as did his pop star girlfriend
Rihanna
. Police said Mr Brown argued with an unidentified woman while sitting in a car. Brown had walked into a police station and was later released on $50,000 (£34,000) bail. Los Angeles police did not identify the woman who had made the complaint against Brown.
8 Feb 2005
American rock drummer, vocalist, and songwriter Keith Knudson from with The Doobie Brothers died of pneumonia aged 56. The Doobie Brothers scored the 1979 US No.1 single 'What A Fool Believes' and 1993 UK No.7 single 'Long Train Runnin.' He founded the band Southern Pacific with fellow Doobie Brother John McFee.
8 Feb 2005
Pete Doherty was released from jail on bail after four nights when his manager paid the remaining £100,000 ($170,000) bail to Highbury Corner Magistrates Court, London. The ex-Libertines star had been charged with robbery and blackmail after a fracas at a London hotel. His bail arrangements stated he would not be able to leave his house between 2200pm and 0700am every night and must be accompanied by a security guard or his manager if he goes out at any other time.
8 Feb 2005
Kylie Minogue
was voted the world's sexiest woman in her 30s by UK magazine Good Housekeeping. Sade was voted No.4 in the over 40s with
Madonna
coming in at No.7 and Jerry Hall at No.8. And Sharon Osbourne was voted into 3rd place in the over 50s section.
8 Feb 2002
Bob Wooler died aged 76. He was the resident DJ and booker at The
Cavern Club
in Liverpool during the early 1960s. Wooler introduced
The Beatles
to their manager, Brian Epstein.
8 Feb 1994
Oasis
were forced to cancel their first foreign tour after they were deported from Holland. The band were involved in a drunken brawl on a cross-channel ferry resulting in members of the band being arrested and locked in the brig on the ferry.
8 Feb 1992
UK act Right Said Fred started a three-week run at No.1 on the US singles chart with 'I'm Too Sexy', a No.2 hit in the UK.
8 Feb 1990
Suffering from depression American singer songwriter Del Shannon died of self inflicted gunshot wounds. He scored the 1961 UK and US No.1 single 'Runaway', plus nine US and 12 other UK Top 40 singles. In 1963, he became the first American to record a cover version of a song by the Beatles: his version of 'From Me to You' charted in the US before
The Beatles
' version. Shannon had been working with
Tom Petty
and Jeff Lynne and was rumoured to be replacing
Roy Orbison
who had recently died, in the
Traveling Wilburys
supergroup.
8 Feb 1986
Billy Ocean started a four week run at No.1 on the UK singles chart with 'When The Going Gets Tough, The Tough Get Going', as featured in the film 'The Jewel Of The Nile.' The video was banned in the UK because it featured non-musician union members. Boyzone took the song to No.1 in 1999.
8 Feb 1983
Winners at the second annual Brit Awards held in London included
Paul McCartney
who won Best British Male Solo Artist, Kim Wilde won Best British Female Solo Artist,
Dire Straits
won British Group, British Breakthrough Act went to Yazoo, International Act was Kid Creole & The Coconuts, Best Selling Single Dexy's Midnight Runners "Come On Eileen" and the Life Achievement Award went to
Pete Townshend
.
8 Feb 1981
R.E.M.
made their first ever-recording sessions at Bombay Studios Smyrna, Georgia. Tracks included 'Gardening At Night', 'Radio Free Europe' and '(Don't Go Back To) Rockville.'
8 Feb 1980
The divorce became final between
David Bowie
and his wife Angie. He won custody of their son Zowie, (now known as Joe), Angie received a £30,000 ($51,000) settlement.
8 Feb 1977
Marquee Moon the debut album by American rock band Television was released. The album was met with widespread acclaim and was hailed by critics as an original musical development in rock music. Marquee Moon also proved to be a foundational record of alternative rock, as Television's innovative post-punk instrumentation for the album strongly influenced the new wave and indie rock movements of the 1980s and rock guitar playing in general.
8 Feb 1975
Bob Dylan
went to No.1 on the US chart with his 15th studio album Blood On The Tracks, his second US No.1 album. The album has become one of Dylan's all-time best-selling studio releases, with a double-platinum US certification by the Recording Industry Association of America.
8 Feb 1973
Max Yasgur died of a heart attack aged 53. He was the owner of the dairy farm in Bethel, New York at which the
Woodstock
Music and Art Fair was held between August 15 and August 18, 1969.
8 Feb 1968
The Band Of Joy, featuring
John Bonham
and Robert Plant, made their first London appearance, supporting Edwin Starr at the The
Marquee Club
in London, England. The Marquee was witness to the London scene of the late 60s, represented at the club by bands like the Move, The Syn,
Pink Floyd
, (who played the club many times), Neat Change, The In Crowd, Soft Machine and Arthur Brown.
8 Feb 1964
With 'Louie Louie' by The Kingsmen under FBI investigation for containing obscene lyrics, the song's publishers offered $1,000 to anyone who could definitively distinguish the dirty words.
8 Feb 1964
On their first full day in New York,
The Beatles
(minus George who had a sore throat), went for a photo-opportunity walk around Central Park. Over 400 girl fans followed
The Beatles
and extra police were called in to control them. Later in the day The Ronettes interviewed
The Beatles
for radio.
Born on this day in music
8 Feb 1994
Canadian jazz-pop singer Nikki Yanofsky. She sang the CTV Olympic broadcast theme song, 'I Believe', which was also the theme song of the 2010 Winter Olympic Games.
8 Feb 1986
American rapper, singer, songwriter and drummer Anderson .Paak. He won his first Grammy award for Best Rap Performance with the song 'Bubblin' in 2018. In 2021, he formed the duo Silk Sonic with Bruno Mars. The duo's debut single, 'Leave the Door Open', won Song of the Year and Record of the Year at the 2022 Grammy Awards.
8 Feb 1985
Jeremy Davis, bassist with US band Paramore who had the 2009 UK No.1 album 'Brand New Eyes' and their 2013 self-titled fourth studio album hit No.1 on the US chart.
8 Feb 1980
Cameron Muncey, guitarist from Australian rock band Jet, who had the 2003 Australian No.1 & UK No.14 album Get Born. The group sold over 6.5 million albums.
8 Feb 1977
Dave 'Phoenix' Ferrel, bassist with
Linkin Park
, who had the 2002 US No.2 & UK No.4 single 'In The End', and the 2002 US No.2 & 2001 UK No.4 album Hybrid Theory.
8 Feb 1974
Guy Man, (Guy-Manuel de Homem-Christo), French electronic musician with Daft Punk, 1997 UK No.5 single 'Around The World', remixed Gabrielle, Chemical Brothers. Scored the 2013 UK No.1 hit 'Get Lucky' featuring Pharrell Williams.
8 Feb 1969
New Zealand singer, songwriter Pauly Fuemana. He scored the 1995/1996 internationally hit 'How Bizarre. He died on on 31 January 2010 eight days before his 41st birthday.
8 Feb 1968
Tjinder Singh, guitarist from British indie rock band Cornershop, who had the 1998 UK No.1 single 'Brimful Of Asha'.
8 Feb 1962
Ken McCluskey, drummer from Scottish indie rock band The Bluebells who had the 1993 UK No.1 single with the re-issued 'Young At Heart' after it was used in a Volkswagen television advertisement.
8 Feb 1961
Vince Neil, singer from American heavy metal band Motley Crue. Their highest-selling album, 1989's Dr. Feelgood established the quartet as one of the biggest hard rock/metal bands of the '80s.
8 Feb 1948
American musician Dan Seals from England Dan & John Ford Coley, who had the 1976 US No. 2 & UK No. 26 single, 'I'd Really Love To See You Tonight.' Seals who died on 25 March 2009 was the younger brother of Seals & Crofts member Jim Seals.
8 Feb 1946
Mexican drummer Adolpho De La Para with American band Canned Heat who had the 1970 UK No.2 & US No.26 single 'Let's Work Together'. He has also played with some of the greatest blues singers of our time including, Big Joe Turner, T-Bone Walker, Albert Collins and John Lee Hooker.
8 Feb 1946
Paul Wheatbread, Gary Puckett and the Union Gap, who had the 1968 UK No.1 & UK No.2 single 'Young Girl' as well as the hits 'Woman, Woman', 'Over You' and 'Lady Willpower.'
8 Feb 1943
Creed Bratton, from Grass Roots, who had the 1968 US No.5 single 'Midnight Confessions', plus 13 other US Top 40 singles. He is more recently known for playing a fictional version of himself on The Office on NBC.
8 Feb 1942
Terry Melcher, who was behind hits by the Byrds, Ry Cooder and the Beach Boys. The son of actress Doris Day, he co-wrote 'Kokomo' for
The Beach Boys
, and produced 'Mr Tambourine Man' for the Byrds, as well as hits for The Mamas & the Papas. Melcher died on 19 November 2004 aged 62 after a long battle with skin cancer.