January 16th: The Biggest Music Headlines
Scroll down the page to see all the music headlines, stories and events for January 16 throughout music history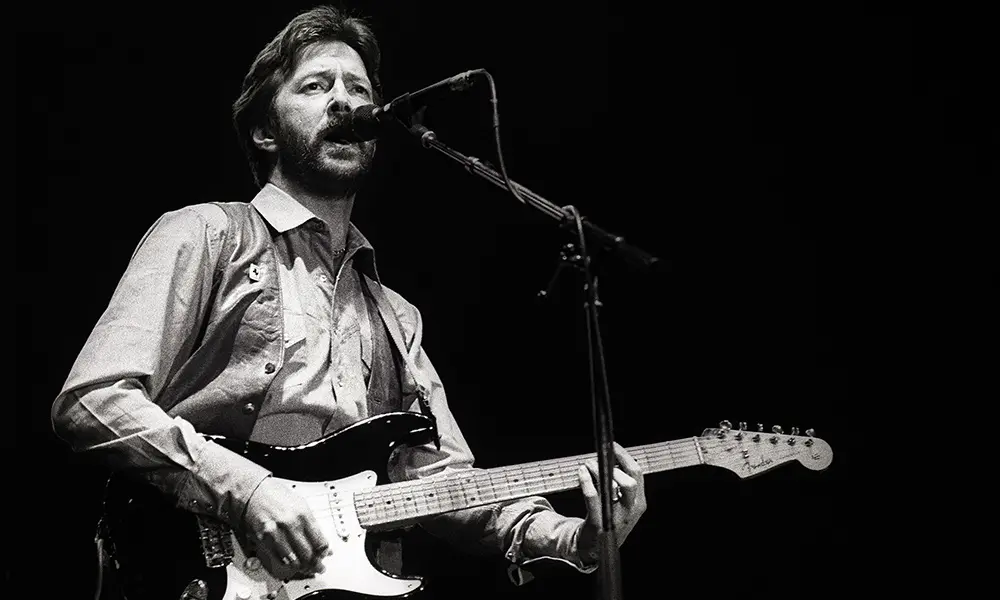 Eric Clapton Records His MTV 'Unplugged' Special
On this day in music, January 16, 1992, Eric Clapton entered Windsor, England's Bray Studios, to record a stripped-down set for MTV Unplugged, the wildly popular concert series that featured acoustic performances from superstar musicians. In front of an audience, the legendary artist delivered a moving set of blues standards, classic hits from his career, and new material, including "Layla" and a touching tribute to his recently departed son, "Tears in Heaven." Released in August, Clapton's Unplugged album not only became the best-selling album of his career, but also the best-selling live album of all time. The album earned Clapton six Grammy Awards and remains a favorite in his impressive catalog.
In 2021, Phil Spector passed away at the age of 81, following complications from Covid-19. At the time, the pioneering producer was serving a prison term for the murder of actress Lana Clarkson. Despite his wildly controversial life, Spector was a highly influential figure in music, who created the popular "Wall of Sound" production technique. During the height of his career, Spector worked with such legendary artists as The Ronettes, The Righteous Brothers, The Ramones, and The Beatles.
In 2005, The Killers began a two-week run at the top of the UK charts with their debut album, Hot Fuss. The Las Vegas band's indie-rock sound resonated on both sides of the Atlantic, with the record reaching the Top Ten in the US.
In 1988, former Wham! star George Michael topped the US album charts with his solo debut, Faith. The hugely popular release, which would eventually sell more than 25 million copies worldwide, yielded numerous hit singles, including "One More Try," "Father Figure," "Monkey," "I Want Your Sex," and the title track.
In 1988, Tina Turner proved her enduring appeal when she performed in front of 182,000 people in Rio De Janeiro, setting the world record for the largest audience ever for a single artist.
In 1988, nearly two decades after the Beatles disbanded, George Harrison topped the Billboard Hot 100 with his addictive solo hit, "I've Got My Mind Set On You," a cover of an old James Ray song.
In 1957, The Cavern Club opened in Liverpool, England. The subterranean bunker-turned-venue became the home to many local bands, including, most famously, The Beatles who appeared at the club 292 times in the early 60s.
Looking for more things that happened on this day in music?
Keep scrolling for all of the headlines for January 16.
BORN ON JANUARY 16:
1937: Bob Bogle (The Ventures)
1946: Ronnie Milsap
1959: Sade
1965: Maxine Jones (En Vogue)
1970: Brendan O'Hare (Teenage Fanclub)
1979: Aaliyah
1981: Nick Valensi (The Strokes)
Looking for more artists born on this day?
Keep scrolling for all of our January 16 birthdays.
---
What to find another day?
---
January 16th
16 Jan 2021
American producer Phil Spector died in prison age 81. Known for his 'Spector Wall Of Sound' he was a member of Teddy Bears, who had the 1958 US No.1 single 'To Know Him Is To Love Him'. He went on to produce many classic songs including; Ben E King, 'Spanish Harlem', The Crystals, 'Da Doo Ron Ron', The Ronettes, 'Baby I Love You', The
Righteous Brothers
, 'You've Lost That Lovin' Feeling', Ike and Tina Turner, 'River Deep, Mountain High'. He also produced albums for The
Ramones
,
John Lennon
,
George Harrison
,
The Beatles
, Cher and Harry Nilsson. The 2003 shooting of actress Lana Clarkson in his Alhambra, California home led to his 2009 conviction of murder in the second degree.
16 Jan 2019
American musician Lorna Doom died of cancer age 61. She was the bass guitarist for the punk rock band the Germs. Their music was influential to many later punk rock acts. Germs guitarist Pat Smear went on to achieve greater fame performing with
Nirvana
and Foo Fighters.
16 Jan 2013
It was announced that
Joe Strummer
was to have a city square named after him in Spain following a Facebook campaign. More than 2,000 residents of Granada, where
The Clash
frontman became a frequent visitor, signed a petition calling for him to be honoured. City hall officials agreed to the proposals and a square in the area was set to be renamed Plaza de
Joe Strummer
.
16 Jan 2009
Boy George was sentenced to 15 months in prison after being convicted of falsely imprisoning a male escort. The Culture Club frontman denied the charge at Snaresbrook crown court and claimed the victim, Norwegian Audun Carlsen, 29, had stolen photos from his laptop. The singer told police he invited Carlsen back to his home after a cocaine-fuelled pornographic photo shoot in January, 2007, because he suspected the Norwegian of stealing pictures from his computer. He admitted handcuffing Carlsen to a wall in April 2007 but said he did so in order to trace the missing property.
16 Jan 2008
Radiohead
were forced to abandon an intimate gig at Rough Trade East records in London after police raised safety fears. The band moved the gig to a nearby club after over 1,500 fans turned up after the event was announced in the morning promising tickets to the first 200 fans.
16 Jan 2007
Bob Dylan
and his brother bought Aultmore House a mansion in the Scottish Cairngorms National Park, near Nethybridge, Inverness-shire.
16 Jan 2007
James "Pookie" Hudson the lead singer of the fifties doo-wop group The Spaniels died. Their 1954 hit 'Goodnite, Sweetheart, Goodnite' was featured in such films as Three Men and a Baby and American Graffiti. The Spaniels became one of the first artists to sign with Vee-Jay Records, the first large, independent Afro-American owned record label.
16 Jan 2005
The Killers started a two week run at No.1 on the UK charts with their debut album 'Hot Fuss.' The Las Vegas band also entered the UK singles chart at No.3 with 'Somebody Told Me'.
Green Day
were at No.1 on the US album chart with 'American Idiot.'
16 Jan 2005
Elvis Presley
's single 'One Night' made chart history by becoming the 1,000th UK No.1. Elvis, who led last week's chart with 'Jailhouse Rock', had now scored more number one UK hits than any other artist with 20 No.1's, beating
The Beatles
' 17 chart toppers.
16 Jan 2004
Michael Jackson
appeared in court and pleaded not guilty to seven charges of child molestation. The singer who arrived 21 minutes late was told off by the Santa Barbara judge saying 'Mr Jackson, you have started out on the wrong foot here, it is an insult to the court.'
16 Jan 2000
It was reported that
Mick Jagger
had lost the chance of a knighthood because of his errant ways, British Prime Minister Tony Blair having doubts about the message it would give about family values. This decision was changed and on 12 December 2003, Mick Jagger was made a Knight Bachelor by The Prince of Wales for services to music, as Sir Michael Jagger.
16 Jan 2000
American singer Will Jones died aged 71 from the effects of diabetes. He is best known as the bass vocalist for The Coasters and The Cadets. The Cadets' biggest hit was 'Stranded In The Jungle' and his bass vocals can be heard on The Coasters' hits 'Yakety Yak' and 'Charlie Brown.' He also sang lead on The Trammps' cover version of 'Zing! Went the Strings of My Heart'.
16 Jan 1996
Jamaican authorities opened fire on Jimmy Buffett's seaplane, mistaking it for a drug trafficker's plane.
U2
singer Bono was also on the plane; neither singer was injured in the incident. The incident inspired Buffett to write a song called 'Jamaica Mistaica'.
16 Jan 1992
Eric Clapton
recorded his unplugged session for
MTV
. The set which included his current hit single 'Tears in Heaven' and a reworked acoustic version of 'Layla', earned six Grammy Awards for the album including Record of the Year.
16 Jan 1990
Ike Turner was convicted of driving under the influence of cocaine and being under the influence of cocaine and sentenced to a four year prison sentence in California.
16 Jan 1989
Michael Jackson
played the first of five nights at the Memorial Sports Arena in Los Angeles, California. These were the last shows on the singers Bad World Tour. Jackson donated more than $1m of the final concert's takings to an organisation fighting child cruelty.
16 Jan 1988
24 years after
The Beatles
first topped the chart,
George Harrison
went to No.1 on the US singles chart with 'Got My Mind Set On You' an old favorite of George's that was originally recorded by James Ray in 1962. In the UK, Harrison's version spent four weeks at No.2.
16 Jan 1988
Former Go-Go's singer Belinda Carlisle scored her first UK No.1 single with 'Heaven Is A Place On Earth.' The promotional video was directed by Academy Award-winning actress Diane Keaton and features an appearance of Carlisle's husband Morgan Mason.
16 Jan 1988
George Michael
went to No.1 on the US album charts with his debut solo album 'Faith', which went on to sell over 8 million copies.
16 Jan 1988
Tina Turner gave herself a place in the record books when she performed in front of 182,000 people in Rio De Janeiro. The largest audience ever for a single artist.
16 Jan 1987
TV presenter Jools Holland was suspended from Channel 4's UK music show
The Tube
for 6 weeks, after using the phrase 'groovy fuckers' during a live trailer broadcast in children's hour.
16 Jan 1982
Bucks Fizz were at No.1 on the UK singles chart with their second No.1 'Land Of Make Believe'. The lyrics to the song were written by ex-King Crimson member Peter Sinfield.
16 Jan 1980
Paul McCartney
was jailed for nine days in Tokyo for marijuana possession after being found with 219g on his arrival at Narita Airport in Japan. McCartney said in 2004. "This stuff was too good to flush down the toilet, so I thought I'd take it with me."
16 Jan 1977
David Soul one half of TV cop show Starsky & Hutch went to No.1 on the UK singles chart with 'Don't Give Up On Us'. The track was also a No.1 in the US.
16 Jan 1973
Bruce Springsteen
appeared at Villanova University, Philadelphia, to an audience of 25 people. Due to a strike at the time by Villanova's school newspaper The Villanovan, this concert went unadvertised, so this is probably the smallest crowd Bruce and The E Street Band have ever played in front of.
16 Jan 1970
Two days after it opened, the Bag One Gallery in London, England was raided by Scotland Yard. The police remove eight
John Lennon
lithographs under the Obscene Publications Act.
16 Jan 1964
The Beatles
played two shows at the Olympia Theatre, Paris, France, the first of an 18-night engagement. This first show was attended mostly by Paris' 'top society' members (all dressed in formal evening attire). The French press had little good to say about
The Beatles
in the next day's papers, but
The Beatles
didn't care, because they'd just received news that their single 'I Want to Hold Your Hand' had hit No.1 in the US, selling 10,000 copies an hour in New York City alone.
16 Jan 1957
Born on this day in music
16 Jan 1989
Kiesza, Canadian singer and multi-instrumentalist. Her 2014 single 'Hidaway' peaked at No.1 on the UK Chart.
16 Jan 1982
Samuel Preston, lead singer of British indie rock group The Ordinary Boys. Their name derives from a Morrissey song, 'The Ordinary Boys'.
16 Jan 1981
Nick Valensi, guitarist with The Strokes who had the 2001 UK No.14 single 'Last Nite' and the 2001 UK No.2 album Is This It? Valensi is married to TV presenter Amanda de Cadenet who was formerly married to
Duran Duran
bassist John Taylor.  
16 Jan 1979
Aaliyah, US singer, actress, killed in a plane crash in the Bahamas 25/8/01. (2000, US No.1 single 'Try Again', 2002 UK No.1 single 'More Than A Woman').
16 Jan 1976
Stuart Fletcher, The Seahorses, (1997 UK No.3 single 'Love Is The Law').
16 Jan 1970
Brendan O'Hare, Teenage Fanclub, (1992 UK No. 31 single 'What You Do To Me').
16 Jan 1965
Jill Sobule, American singer-songwriter best known for the 1995 single 'I Kissed a Girl', and 'Supermodel' from the soundtrack of the 1995 film Clueless.
16 Jan 1965
Maxine Jones, singer, En Vogue, (1992 US No.2 & UK No.4 single 'My Lovin').
16 Jan 1962
Paul Webb, English bassist, with Talk Talk, who had the 1984 hit 'It's My Life' and the 1986 UK No.16 single 'Life's What You Make It'.
16 Jan 1959
Nigerian-born British singer Helen Folasade Adu (Sade).She had the 1984 UK No.6 single 'Your Love Is King', and the 1985 US No.5 single 'Smooth Operator'. Diamond Life (1984), reached No.2 on the UK Album Chart, selling over 1.2 million copies and won the Brit Award for Best British Album in 1985.
16 Jan 1955
Yan Style, from English pop and glam rock band Kenny who had several hit singles in the UK in the mid-1970s, including 'The Bump' and 'Fancy Pants'.
16 Jan 1950
American guitarist and Grammy Award-winning record producer, Bob Kulick best known for his studio work with
Kiss
and for his tenure in W.A.S.P. Kulick has also worked with
Meat Loaf
, Michael Bolton and Lou Reed. He died on 28 May 2020 from natural causes due to heart disease.
16 Jan 1946
Ronnie Milsap, country music singer and pianist. He became country music's first well-known blind singer, and one of the most successful and versatile country "crossover" singers of his time scoring the crossover hits, 'It Was Almost Like a Song,' 'Smoky Mountain Rain,' and 'Stranger in My House.' He is credited with six Grammy awards.
16 Jan 1944
Katherine Anderson, American singer, famed for her tenure in the Motown all-female singing group the Marvelettes who scored the 1961 US No.1 single 'Please Mr Postman'. She was the only member to survive the group's several incarnations that occurred during the 1960s until breaking up in 1970.
16 Jan 1942
Raymond Philips, from English rock band, Nashville Teens who scored the 1964 UK No.6 single and US Top 20 hit 'Tobacco Road'.
16 Jan 1942
William Francis, keyboards, with American rock band Dr Hook who had the 1970s hits 'The Cover of Rolling Stone', 'A Little Bit More', 'When You're in Love with a Beautiful Woman' and 'Sylvia's Mother'.
16 Jan 1942
Barbara Lynn, US singer, who had the 1962 US No.8 single 'You'll Lose A Good Thing'.
16 Jan 1937
American musician Bob Bogle, guitarist with The Ventures, who had the 1960 UK No.4 single 'Perfidia', and the 1960 US No.2 'Walk Don't Run'.