January 18th: The Biggest Music Headlines
Scroll down the page to see all the music headlines, stories and events for January 18 throughout music history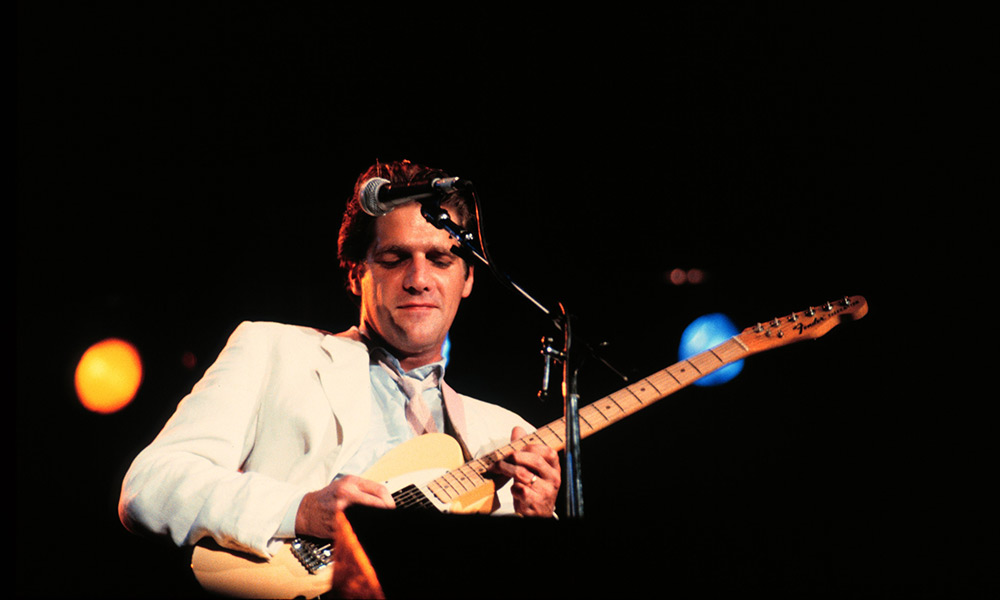 Eagles Guitarist Glenn Frey Passes Away
On this day in music, January 18, 2016, famed Eagles guitarist, vocalist, and co-founder, Glenn Frey, died at the age of 67 in New York City. Frey formed the Eagles in 1971, alongside vocalist and drummer Don Henley, guitarist/vocalist Bernie Leadon, and bassist/vocalist Randy Meisner. Together, they rose to become one of the best-selling bands of all time, thanks to chart-topping hits like "Hotel California, "One of These Nights," and "New Kid in Town." In 1980, Frey embarked on a successful solo career and went on to score such Top 40 hits as "The One You Love," "Smuggler's Blues," "The Heat Is On," and "You Belong to the City."
In 1989, 38-year-old Stevie Wonder became the youngest living person to be inducted into the Rock and Roll Hall of Fame.
In 1975, Barry Manilow scored his first No.1 hit on the Billboard Hot 100 with a cover of the Scott English/Richard Kerr song, "Mandy." The song was originally titled "Brandy" when English recorded it in 1972, but Manilow changed the name in order to avoid confusion with Looking Glass' chart-topping hit, "Brandy (You're a Fine Girl)."
In 1967, The Jimi Hendrix Experience recorded their second appearance on Top of the Pops, performing "Hey Joe" at Lime Grove Studios.
In 1965, The Rolling Stones recorded "The Last Time" and "Play with Fire" at RCA Studios in Hollywood. While the subsequent album (Out of Our Heads) was helmed by Andrew Loog Oldham, producer Phil Spector made a cameo on "Play with Fire," playing the acoustic guitar.
In 1997, singer-songwriter Tori Amos topped the UK pop chart with "Professional Widow (It's Got To Be)." The song was rumored to be about one of rock's more famous widows, Courtney Love, although Amos has never confirmed its inspiration.
Looking for more things that happened on this day in music?
Keep scrolling for all of the headlines for January 18.
BORN ON JANUARY 18:
1941: David Ruffin (The Temptations)
1958: Tom Bailey (Thompson Twins)
1971: Jonathan Davis (Korn)
1973: Crispian Mills (Kula Shaker)
1980: Estelle
1983: Katie White (Ting Tings)
1983: Samantha Mumba
Looking for more artists born on this day?
Keep scrolling for all of our January 18 birthdays.
---
What to find another day?
---
January 18th
18 Jan 2023
American singer-songwriter and guitarist David Crosby died age 81. He was a founding member of both the Byrds and Crosby, Stills & Nash. With CS&N he had the 1969 UK No.17 single 'Marrakesh Express', 1970 US No.11 single with
Crosby, Stills Nash & Young
plus the 1970 US No.1 album 'Deja Vu' and the 1975 US No. 6 solo album 'Wind On The Water'.
18 Jan 2021
American composer, producer, arranger, and musician Perry Botkin Jr. died age 87. As an arranger, he worked with Bobby Darin,
Harry Nilsson
, Gary Crosby, The Lettermen and Harpers Bizarre, among others. "Nadia's Theme", composed by Botkin and Barry De Vorzon, peaked at No.8 on the Billboard chart in 1976. He was also a major contributor to Incredible Bongo Band, one of the most influential groups of all-time for its Bongo Rock album which is one of the most sampled from records, making it a major influence in the origins of Hip hop.
18 Jan 2020
Nashville folk singer David Olney died age 71 after suffering a heart attack during a performance in Santa Rosa Beach, Florida. He formed the band The X-Rays, which released two albums before splitting up in 1985. His songs have been covered by numerous artists, including Emmylou Harris, Del McCoury, Linda Ronstadt and Steve Earle.
18 Jan 2016
The
Eagles
guitarist Glenn Frey died at the age of 67 in New York City from complications arising from rheumatoid arthritis, colitis and pneumonia. Frey co-founded the Eagles in 1971 with Don Henley, Bernie Leadon and Randy Meisner. After the breakup of the Eagles in 1980, Frey embarked on a successful solo career and went on to score the Top 40 hits 'The One You Love', 'Smuggler's Blues', 'The Heat Is On', and 'You Belong to the City'.
18 Jan 2015
American session drummer Dallas Taylor died of complications from viral pneumonia and kidney disease, aged 66. He is best known as the drummer on Crosby, Stills and Nash's debut album, Crosby, Stills & Nash (1969) and their follow-up with
Neil Young
, Déjà Vu (1970) as well as appearing on Stephen Stills' eponymous first solo album in 1970. Taylor was the drummer for Stills' group Manassas in 1972 and 1973. In 1970, Dallas sat in with
The Doors
accompanying John Densmore on drums.
Jim Morrison
acknowledges him on
The Doors
Live in New York album.
18 Jan 2011
The largest collection of Beatles memorabilia went on display in a new museum in Buenos Aires, Argentina. Rodolfo Vazquez, a 53-year-old accountant, turned his mammoth Beatles collection into a museum with more than 8,500 objects - setting the new world record for the largest collection of Beatles memorabilia. Some of the items included a box of condoms bearing the names of
John Lennon
and Yoko Ono, a brick from the
Cavern Club
, a chunk of the stage from the Star Club in Hamburg, and certified copies of the band members' birth certificates. Among his favorite items were 64 boxes of chewing gum in the form of Beatles records.
18 Jan 2010
Canadian folk singer Kate McGarrigle died of cancer at home in Montreal at the age of 63. Once married to folk singer Loudon Wainwright lll, Kate was the mother of singers Rufus and Martha Wainwright. She rose to prominence with sister Anna when they recorded together in the 1970s. Other artists who covered the pair's songs included Emmylou Harris, Elvis Costello, Billy Bragg, Kirsty MacColl and Judy Collins.
18 Jan 2007
Islington Green School in North London was fighting plans to turn it into an academy. The school, which found fame when some of its pupils sang on
Pink Floyd
's hit 'Another Brick In
The Wall
(Part 2)' wrote a new version of the song to sing outside Islington Town Hall as part of their protest. They hoped lyrics such as 'We don't need no business control' and 'Hey bankers leave our kids alone' could persuade authorities to reject the proposal.
18 Jan 2006
Animals in
Michael Jackson
's private zoo were declared to be in good health after officials paid a surprise visit to the singer's Neverland ranch. A medical officer from the US department of agriculture inspected the property following concerns voiced by the animal rights group, People for the Ethical Treatment of Animals. Jackson had earlier moved out of Neverland and had taken up residence in Bahrain in the Middle East.
18 Jan 2005
Motown
producer Norman Whitfield pleaded guilty for failing to report royalty income he earned from 1995 to 1999 to the Internal Revenue Service. Facing charges of tax evasion on over $2 million worth of income, he was sentenced to six months of house arrest and a $25,000 fine. The producer was not imprisoned because of health problems.
18 Jan 2001
Oasis
guitarist Noel Gallagher was granted a quickie divorce from Meg Matthews at the High Court in London. The couple had split last September, eight months after Meg had given birth to their daughter, Anais.
18 Jan 2000
Spencer Goodman was executed by lethal injection in Huntsville, Texas. Goodman was convicted of kidnapping and murdering the wife of ZZ Top manager Bill Ham in 1991. Ham was present for the execution.
18 Jan 1997
Songwriter and producer Keith Diamond died of a heart attack. He wrote, 'Caribbean Queen' and 'Suddenly' for Billy Ocean, and also wrote hits for Donna Summer, James Ingram,
Mick Jagger
, Sheena Easton and Michael Bolton.
18 Jan 1997
Tori Amos was at No.1 on the UK singles chart with 'Professional Widow' (It's Got To Be)'. The song had been remixed by Armand Van Helden and was rumoured to be about Courtney Love the former wife of
Kurt Cobain
.
18 Jan 1993
Elton John
resigned his directorship of Watford Football Club. Having supported Watford Football Club since growing up locally,
Elton John
became the club's chairman and director in 1976, investing large sums of money as the club rose three divisions into the English First Division.
18 Jan 1990
English singer Mel Appleby died of Pneumonia aged 23 following treatment for metastatic paraganglioma. Appleby was one half of the duo Mel and Kim who had the 1997 UK No.1 'Respectable'. She initially worked as a glamour model, (in 1987 she did a photo shoot for Mayfair).
18 Jan 1989
At just 38 years old,
Stevie Wonder
became the youngest living person to be inducted into the Rock and Roll Hall of Fame. At a ceremony held at the Waldorf Astoria Hotel in New York, other inductees include The
Rolling Stones
, The
Temptations
,
Otis Redding
and Dion DiMucci.
18 Jan 1981
Wendy O. Williams of The Plasmatics was arrested on stage at Milwaukee and was charged with the offence of simulating sex with a sledgehammer. Williams later filed a multimillion dollar civil suit against the Milwaukee Police, claming they sexually assaulted and beat her during the arrest, but a jury rejected her claims.
18 Jan 1975
Barry Manilow scored his first US No.1 single when 'Mandy', (originally titled 'Brandy' when it was recorded in 1972 by Scott English), went to the top of the charts.
18 Jan 1974
Former members from
Free
, (Paul Rodgers & Simon Kirke),
Mott The Hoople
(Mick Ralphs), and King Crimson, (Boz Burrell), formed Bad Company. The band went on to score a US No.1 album with their debut release.
18 Jan 1967
The
Jimi Hendrix Experience
recorded an appearance on UK TV show
Top Of The Pops
performing a live version of "Hey Joe". They also played a show at the Seven and a Half Club in Mayfair, London during the evening.
18 Jan 1965
The
Rolling Stones
recorded 'The Last Time' and 'Play With Fire' at the RCA studio in Hollywood, California. Producer Phil Spector played acoustic guitar on 'Play With Fire.'
18 Jan 1964
The Beatles
made their US chart debut when 'I Want To Hold Your Hand' entered the chart at No.45 just ten days after its release, making it the fastest-breaking and the fastest selling single in Capitol Records history. It went on to spend seven weeks at the No.1 position.
18 Jan 1960
Johnny Preston started a three week run at No.1 on the US singles chart with 'Running Bear'. Written by J.P. Richardson (The Big Bopper), the tune originally entered the chart in October 1959, then quickly vanished, but re-entered in November and slowly climbed to the top. It was also a UK No.1.
Born on this day in music
18 Jan 1983
Samantha Mumba, singer, actress, (2000 UK No.2 & US No.4 single 'Gotta Tell You', 2001 UK No.3 single 'Always Come Back To').
18 Jan 1983
Katie White, British musician and member of the pop duo The Ting Tings. After some success with a girl group punk trio TKO, White and De Martino formed the Ting Tings in 2007.
18 Jan 1980
British singer, songwriter, rapper Estelle Swaray, who had the 2008 UK No.1 single 'American Boy' featuring Kayne West.
18 Jan 1977
Richard Archer, singer, guitarist, Hard-Fi, (2006 UK No.1 album,'Stars of CCTV').
18 Jan 1974
Christian Burns, from English pop group BBMak who scored the 2001 UK No.5 single 'Back Here' which was also a No.1 hit in Japan.
18 Jan 1973
Crispian Mills, guitar, vocals, with English psychedelic rock band Kula Shaker, who had the 1996 UK No.2 single 'Hey Dude'.
18 Jan 1971
Jonathan Davis, singer from American nu metal band Korn who scored the 1998 US No.1 album, Follow The Leader. Twelve of the band's official releases have peaked in the top ten of the Billboard Chart.
18 Jan 1962
Jeremy Healey, guitar, Haysi Fantayzee, (1982 UK No.11 single 'John Wayne Is Big Leggy').
18 Jan 1959
Bob Rosenberg, Will To Power, (1988 US No.1 & 1989 UK No.6 single 'Baby I Love Your Way / Freebird').
18 Jan 1958
Tom Bailey, vocals, keyboards, The Thompson Twins, (1984 UK No.2 single 'You Take Me Up', 1984 US No.3 single, 'Hold Me Now').
18 Jan 1956
American guitarist Jack Sherman who was best known as the second guitarist to have joined the Red Hot Chili Peppers, in between Hillel Slovak's departure and return. He played on their debut album, and co-wrote much of their second album, Freaky Styley. He went on to collaborate with Bob Dylan, George Clinton and Feargal Sharkey. Sherman died of a heart attack age 64 on 18 August 2020.
18 Jan 1944
Legs Larry Smith, drummer with Bonzo Dog Doo Dah Band, who had the 1968 UK No.5 single 'I'm The Urban Spaceman'. As a solo artist, Smith also toured with
Eric Clapton
and
Elton John
. Smith was a close friend of ex-Beatle
George Harrison
for many years and designed the cover for his Gone Troppo album (1982).
18 Jan 1941
Bobby Goldsboro, US singer, (1968 US No.1 & UK No.2 single 'Honey').
18 Jan 1941
David Ruffin, vocals, The
Temptations
, (1971 US No.1 & UK No. 8 single 'Just My Imagination' and re-issued 'My Girl' UK No.2 in 1992, solo, 1975 US No.9 & UK No.10 single 'Walk Away From Love'). Ruffin died of a drug overdose on 1st June 1991.