January 19th: The Biggest Music Headlines
Scroll down the page to see all the music headlines, stories and events for January 19 throughout music history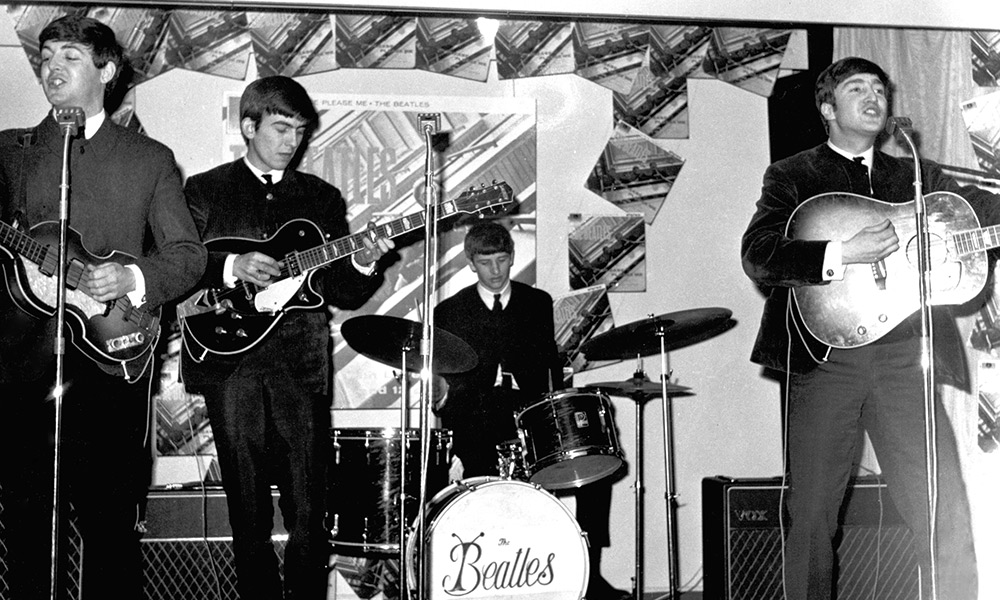 The Beatles Make Their National UK TV Debut
On this day in music, January 19, 1963, The Beatles made their national TV debut on the UK's Thank Your Lucky Stars. Filming at Birmingham's Alpha Television Studios, the young band played their second single, "Please Please Me," which had just been released a week earlier. While the show didn't have much faith in the group, placing them last in a roster of seven acts, the appearance was instrumental in helping the Fab Four gain exposure. Not long after, "Please Please Me" would take off on the UK charts and the band would be booked on a national tour.
In 1980, Pink Floyd's 11th studio album, The Wall, began a 15-week run at the top of the Billboard 200. The double LP prog-rock opera has since become one of the highest-grossing albums of all time in the US, trailing behind Michael Jackson's Thriller and the Eagles' Greatest Hits.
In 1967, The Monkees scored their one and only UK No.1 hit with "I'm a Believer." The Neil Diamond-penned song was wildly successful, attaining gold status within two days of release, while also topping the pop charts in the US, Australia, Canada, and beyond.
In 2011, Aerosmith frontman Steven Tyler added some rockstar spice to American Idol when he made his debut as a judge on the long-running show's tenth season.
In 1993, the classic line-up of Fleetwood Mac reunited after six years for a one-off performance at Bill Clinton's presidential inauguration. The band's 1977 hit, "Don't Stop," was used as the theme for Clinton's campaign.
In 1980, The Pretenders scored their first UK No.1 hit with "Brass in Pocket." On the same day, the British-American band's self-titled debut began a four-week run at the top of the UK album chart.
In 2006, legendary soul singer Wilson Pickett died at the age of 64, following a heart attack. The influential artist, who scored 15 Top 40 singles in the US, was best-known for such hits as "Mustang Sally," "Everybody Needs Somebody to Love," and "In The Midnight Hour."
Looking for more things that happened on this day in music?
Keep scrolling for all of the headlines for January 19.
BORN ON JANUARY 19:
1935: Johnny O'Keefe
1937: Phil Everly (Everly Brothers)
1943: Janis Joplin
1946: Dolly Parton
1949: Robert Palmer
1950: Francis Buchholz (The Scorpions)
1979: Wiley
Looking for more artists born on this day?
Keep scrolling for all of our January 19 birthdays.
---
What to find another day?
---
January 19th
19 Jan 2020
American R&B singer and musician Robert Parker died age 89. He was best known for his 1966 hit, 'Barefootin'. He played with most of New Orleans' musicians, including Fats Domino, Irma Thomas, and Huey "Piano" Smith.
19 Jan 2019
Scottish drummer Ted McKenna died aged 68 of a hemorrhage during a routine operation for a hernia. He worked with The Sensational Alex Harvey Band, Rory Gallagher, The Michael Schenker Group and toured with Ian Gillan for a short period in 1990.
19 Jan 2018
The Los Angeles County Medical Examiner announced that
Tom Petty
had died accidentally from mixed drug toxicity, a combination of fentanyl, oxycodone, acetylfentanyl and despropionyl fentanyl (all opioids); temazepam and alprazolam (both sedatives); and citalopram (an antidepressant). Petty's wife and daughter said he had multiple medical problems, including emphysema, knee difficulties and most significantly a fractured hip. The statement read, "It is our feeling that the pain was simply unbearable and was the cause for his overuse of medication. We feel confident that this was, as the coroner found, an unfortunate accident."
19 Jan 2017
The former business manager of
Alanis Morissette
has admitted stealing over $7m (£5.7m) from the singer and other celebrities. Jonathan Schwartz was charged with fraud over claims he transferred the singer's money into his own accounts. When initially confronted about the theft, Mr Schwartz lied and said he had invested the money in an illegal marijuana growing business.
19 Jan 2014
19 Jan 2012
Jamaican singer, songwriter and record producer Winston Riley died aged 68. He had been shot in the head at his home in Kingston. After being in a coma since the shooting, he died on 19 January. He formed the band The Techniques in 1962 and Riley's own song, 'Double Barrel', performed by Dave and Ansell Collins under his own production, was one of the first international reggae hits, reaching No.1 in the Dutch and UK Singles Chart.
19 Jan 2011
Aerosmith
singer Steven Tyler made his debut appearance as a judge on American Idol, during the premiere of the show's tenth season, (replacing
Simon Cowell
).
19 Jan 2008
American songwriter and singer John Stewart, who wrote the
Monkees
1967 hit 'Daydream Believer' died aged 68 after he suffered a brain aneurysm in San Diego. Stewart was a member of folk group The Kingston Trio and went on to record more than 45 solo albums with his biggest solo success being a US top five single, 'Gold', in 1979.
19 Jan 2007
Canadian singer songwriter and former Mamas and the Papas singer Denny Doherty died at the age of 66 at his home near Toronto, Canada after a short illness. The group scored the 1966 US No.1 & UK No.2 single 'Monday Monday.' Doherty started his musical career in 1956 with a band called the Hepsters and in 1963, established a friendship with Cass Elliot when she was with a band called The Big 3.
19 Jan 2006
American soul singer, Wilson Pickett died in hospital near his Ashburn, Virginia home of a heart attack aged 64. Pickett recorded the soul classics 'Mustang Sally', 'Everybody Needs Somebody to Love' and 'In The Midnight Hour' plus Pickett scored 15 other US Top 40 singles.
19 Jan 2001
It was reported that
Paul McCartney
was set to become the world's first pop star billionaire. McCartney was said to be worth £725 million ($1,233) and was expected to become a billionaire after huge sales from
The Beatles
compilation hits album.
19 Jan 1998
American singer, songwriter Carl Perkins died aged 65 from throat cancer. He wrote the classic rock & roll song 'Blue Suede Shoes', the first record on the Sun label to sell a million copies. His songs were recorded by
Elvis Presley
,
The Beatles
Jimi Hendrix
and
Johnny Cash
.  
Paul McCartney
claimed that "if there were no Carl Perkins, there would be no Beatles."
19 Jan 1993
Fleetwood Mac
re-formed to perform at Bill Clinton's inauguration. The band's "Don't Stop" was used as the theme for his campaign.
19 Jan 1988
Bon Jovi
and Mötley Crüe manager Doc McGhee pleaded guilty to importing more than 40,000lb of marijuana into the US from Colombia via a shrimp boat. McGhee received a five-year suspended prison sentence, a fine of $15,000, and was ordered to set up an anti-drugs foundation.
19 Jan 1980
The Pretenders scored their first UK No.1 hit with their third single 'Brass In Pocket'. The bands self-titled debut album started a four-week run at No.1 on the UK chart also on this day. Singer Chrissie Hynde got the idea for the song's title when, during an after-show dinner, she overheard someone enquiring if anyone had, "Picked up dry cleaning? Any brass in pocket?"
19 Jan 1980
Pink Floyd
's
The Wall
started a 15-week run at No.1 on the US album chart. The group's third US No.1, it went on to sell over 23 million copies in the US alone.
The Wall
is still the third largest grossing album in the US, behind
Michael Jackson
's
Thriller
and
Eagles
' 'Greatest Hits'.
19 Jan 1971
Tracks from
The Beatles
The
White Album
(including 'Helter Skelter), were played in the courtroom at the Sharon Tate murder trial to find out if any songs could have influenced Charles Manson and his followers to commit murder. Actress Sharon Tate who was married to film director Roman Polanski, was eight and a half months pregnant when she was murdered in her home, along with four others, by followers of Charles Manson.
19 Jan 1967
The Beatles
began recording 'A Day In The Life' at Abbey Road studios London, recording four takes of the new song. According to Lennon, the inspiration for the first two verses was the death of Tara Browne, the 21-year-old heir to the Guinness fortune who had crashed his Lotus Elan on 18 December 1966 in Redcliffe Gardens, London.
19 Jan 1967
Pink Floyd
and Marmalade played at The
Marquee Club
, London, England. Marmalade went on to score a No.1 UK hit with their version of
The Beatles
' Ob-La-Di, Ob-La-Da in 1968.
19 Jan 1967
The
Monkees
were at No.1 on the UK singles with 'I'm A Believer', the group's only UK No.1. The song composed by
Neil Diamond
had 1,051,280 advance orders, and went gold within two days of release. It is one of the fewer than forty all-time singles to have sold 10 million (or more) physical copies worldwide.
19 Jan 1963
The Beatles
made their first national TV appearance in the UK on 'Thank Your Lucky Stars' performing 'Please Please Me'.
Born on this day in music
19 Jan 1979
Richard Kylea Cowie Jr, MBE, better known by his stage name Wiley and in his early career Wiley Kat, English MC, rapper, and record producer. Often labelled the 'Godfather of Grime' he had the 2012 UK No.1 single 'Heatwave'.
19 Jan 1978
John Parker, double bass, human beatbox, vocals, Nizlopi, (2005 UK No.1 single 'JCB Song').
19 Jan 1969
Trey Lorenz, US singer, sang on
Mariah Carey
's 1992 UK No.2 & US No 1 version of the Jackson Five hit 'I'll Be There'.
19 Jan 1963
Caron Wheeler, vocals, Soul II Soul, (1989 UK No.1 single 'Back To Life').
19 Jan 1957
Mickey Virtue, keyboards, with UB40, who had the 1983 UK No.1 & 1988 US No.1 single 'Red Red Wine' and over 30 other top 40 hits.
19 Jan 1953
Michael Boddicker American film composer and session musician. Played synthesizer on
Michael Jackson
's albums,
Thriller
, Bad and Dangerous.
19 Jan 1952
Eric Leeds, American jazz and funk musician, saxophone and other woodwind and brass instruments. Best known for his work with
Prince
. Played on The Black Album, Lovesexy and Batman albums.
19 Jan 1951
American rock and new wave singer-songwriter Martha Davis. With The Motels she scored the 1981 UK hit single 'Days Are OK'.
19 Jan 1951
Dewey Bunnell, singer songwriter with America, who had the 1972 US No.1 & UK No.3 single 'Horse With No Name'.
19 Jan 1950
British musician, author, broadcaster and lecturer CP Lee. He was a member of the band Greasy Bear and became a linchpin of the punk rock explosion with Alberto y Lost Trios Paranoias. In 1977 Lee wrote the "snuff-rock" musical Sleak. Lee died on 25 July 2020 age 70.
19 Jan 1950
Francis Buchholz, from German rock band Scorpions. Their 1990 power ballad 'Wind Of Change' topped the European charts and was a No.4 hit in the US. The Scorpions hold the record for the best-selling single by a German artist and band.
19 Jan 1949
Robert Palmer, British singer, songwriter, member of Vinegar Joe and solo artist. His first solo album the 1974 Sneakin' Sally Through the Alley was heavily influenced by the music of Little Feat and the funk fusion of the Meters who acted as backing band along with producer/guitarist Lowell George of Little Feat. He had the 1986 US No.1 & UK No.5 single 'Addicted To Love'. He was also a member of the Power Station with former Chic drummer Tony Thompson, and Duran Duran members John Taylor and Andy Taylor. Palmer died on 26th Sept 2003 aged 54.
19 Jan 1948
Harvey Hinsley, Hot Chocolate, who had the 1975 US No.3 single 'You Sexy Thing' the 1977 UK No.1 single 'So You Win Again' and over 25 other Top 40 hits.
19 Jan 1947
English singe Rod Evans who was an early member of
Deep Purple
who had the US No.14 single 'Hush' which was taken from the bands debut 1969 album Shades of
Deep Purple
.
19 Jan 1946
Dolly Parton
US singer, songwriter, actress, (1976 UK No.7 single 'Jolene', 1981 US No.1 single '9 to 5'). Parton wrote 'I Will Always Love You' which was a US Country No.1 for her in 1974 and became a UK & US No.1 for
Whitney Houston
in 1992.
19 Jan 1944
Laurie London, actor, singer. At the age of 13 had the 1958 US No.1 & UK No. 12 single 'He's Got
The Who
le World In His Hands'.
19 Jan 1943
Janis Joplin
, US singer, who had a 1971 U.S No.1 single with 'Me And Bobby McGee' and the 1971 U.S No.1 album 'Pearl'. Janis died on October 4th 1970 after an accidental heroin overdose. Joplin was cremated in the Pierce Brothers Westwood Village Mortuary in Los Angeles; her ashes were scattered from a plane into the Pacific Ocean and along Stinson Beach.
19 Jan 1942
Michael Crawford, UK actor, singer, (1987 UK No.7 single 'The Music Of The Night').
19 Jan 1939
American singer, songwriter Phil Everly from The Everly Brothers, who had the 1958 UK & US No.1 single 'All I Have To Do Is Dream' plus over 25 other Top 40 hits. The duo was raised in a musical family, first appearing on radio singing along with their father Ike Everly and mother Margaret Everly as "The Everly Family" in the 1940s. Everly died on 3rd Jan 2014 aged 74 of chronic obstructive pulmonary disease.
19 Jan 1935
Johnny O'Keefe, singer known as 'Australia's King of rock 'n' roll'. He co-wrote and had the 1958 Australian hit with, 'Real Wild Child', which was covered by Iggy Pop in 1986. Other hits included 'Shout!', 'Don't You Know Pretty Baby' and 'She's My Baby.' O'Keefe died on October 6th 1978.