January 26th: The Biggest Music Headlines
Scroll down the page to see all the music headlines, stories and events for January 26 throughout music history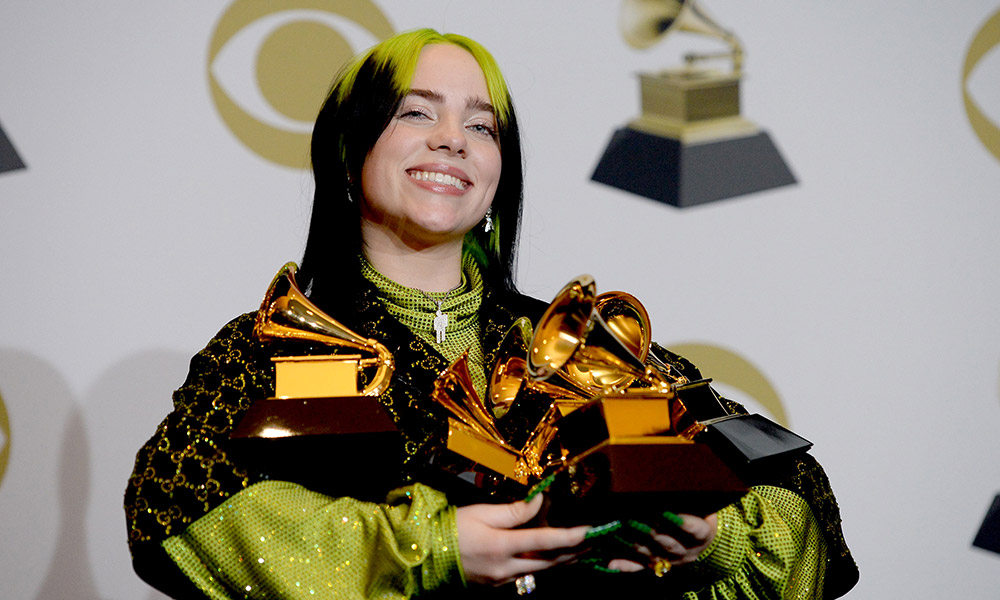 Billie Eilish Sweeps The Grammys
On this day in music, January 26, 2020, Billie Eilish achieved a remarkable feat when she swept the board at the 2020 Grammys, winning five major awards, including Best New Artist and Song of the Year (the last artist to have the same success was Christopher Cross in 1981). The 18-year-old also won Album of the Year for her debut, When We All Fall Asleep, Where Do We Go.
In 1980, Prince made his debut on American Bandstand. While he delivered confident performances of "I Wanna Be Your Lover" and "Why You Wanna Treat Me So Bad," the shy artist struggled to answer Dick Clark's questions.
In 2008, singer, songwriter, and pianist, Alicia Keys, broke first-week sales records with her third full-length, As I Am. The album moved more than 742,000 copies in its first week (more than any other LP by a female R&B artist) and would become the artist's third No.1 album in the US, eventually selling more than five million copies worldwide.
In 1968, Pink Floyd played their first gig without singer and spiritual leader, Syd Barrett, at Southampton University. Supported by Tyrannosaurus Rex, the band would soon achieve greater heights but never forgot their former frontman.
In 1956, Buddy Holly made his first official recordings at Nashville's Bradley Film and Recording Studios. Working with producer Owen Bradley, he performed "Love Me" and "Blue Days, Black Nights," both of which would become early staples of the singer-songwriter's career.
Looking for more things that happened on this day in music?
Keep scrolling for all of the headlines for January 26.
BORN ON JANUARY 26:
1943: Thomas Bell (Delfonics, The Spinners)
1951: Andy Hummel (Big Star)
1953: Lucinda Williams
1955: Eddie Van Halen
1958: Anita Baker
1963: Andrew Ridgeley (Wham!)
Looking for more artists born on this day?
Keep scrolling for all of our January 26 birthdays.
---
What to find another day?
---
January 26th
26 Jan 2020
Billie Eilish swept the board at the 2020 Grammys, winning five awards, including best new artist and song of the year becoming the first person to achieve the feat since Christopher Cross in 1981. The 18-year-old also won album of the year for her debut, When We All Fall Asleep, Where Do We Go. She replaced
Taylor Swift
as the youngest person ever to win the award. Her elder brother, Finneas O'Connell, also picked up producer of the year for his work on Eilish's album.
26 Jan 2020
American singer and guitarist Bob Shane died age 85. He was a founding member of The Kingston Trio a folk and pop music group that helped launch the folk revival of the late 1950s.
26 Jan 2016
American guitarist T. J. Tindall died of cancer age 65. He was a member of MFSB and played on more than 30 hits produced by Gamble and Huff in the 1970s and 1980s. Tindall is considered one of the architects of the Philadelphia Sound. He can be heard on The Trammps' 1976 hit 'Disco Inferno'.
26 Jan 2016
English singer-songwriter Colin Vearncombe, who with Black had the 1987 UK No.8 single 'Wonderful Life', died at the age of 53. Vearncombe was involved in a road traffic accident, on Jan 10th 2016 near Cork Airport in Ireland, and placed in a medically-induced coma after sustaining serious head injuries. He died from his injuries at the intensive care unit of Cork University Hospital at the age of 53. Black sold over two million records worldwide with Comedy (1988) and Black (1991).
26 Jan 2011
American singer Gladys Horton died aged 66. She was the founder and lead singer of the
Motown
all-female vocal group The
Marvelettes
who had the hits 'Please Mr. Postman', (when Horton was reportedly just fifteen years old). Horton would later sing lead on
Marvelettes
' classics such as 'Playboy', 'Beechwood 4-5789' and 'Too Many Fish in the Sea'.
26 Jan 2008
Alicia Keys was at No.1 on the US album chart with her third album 'As I Am'. The album sold over 742,000 copies in its first week the largest ever first week sales for any female R&B artist.
26 Jan 2007
The
Rolling Stones
topped the US music rich list for the second year running after making $150.6m (£76.2m) in 2006. Tim McGraw and Faith Hill were second in the poll with a combined fortune of $132m (£67.2m) and American country band Rascal Flatts appeared third, having earnt $110.5m (£56.2m) in the past year.
26 Jan 2004
John Lydon was one of ten contestants to take part in the latest I'm A Celebrity... Get Me Out Of Here UK TV show set in the Australian outback. The former
Sex Pistols
singer was seen by 11 million viewers on the first night covered in bird seed being pecked by giant ostriches. Lydon who was paid £25,000 ($42,500) to appear in the show, but walked off the jungle set after four days.
26 Jan 2003
Billy Joel
was airlifted to hospital after his car smashed into a tree. The singer lost control of his Mercedes S500 and skidded for 100 yards before crashing. The accident happened in The Hamptons, New York.
26 Jan 1991
Queen
had their second UK No.1 with 'Innuendo'. At 6 minutes 30 seconds, it exceeded their epic '
Bohemian Rhapsody
' by 35 seconds and became the third longest UK No.1 song of all time, behind
The Beatles
'Hey Jude'
and
Simple Minds
'Belfast Child' (subsequently the 9 minutes 38 seconds 'All Around The World' by
Oasis
took over the top slot and demoted Innuendo to fourth place). For 'Innuendo's' flamenco guitar solo, Brian May was joined by Yes guitarist Steve Howe.
26 Jan 1989
American soul singer Donnie Elbert died of a stroke aged 52. In 1955 he formed a doo-wop group, the Vibraharps making his recording debut on their single 'Walk Beside Me' but it wasn't until the Seventies when he had major success with the solo hit 1972 US No. 22 & UK No.11 single 'I Can't Help Myself', Sugar Pie Honey Bunch', as well as the hits 'Where Did Our Love Go?' and 'A Little Piece of Leather'.
26 Jan 1986
Allen Collins, guitarist from Lynyrd Skynyrd crashed his car, paralysing him from the waist down and killing his girlfriend Debra Jean Watts. Collins had survived a plane crash in 1977 that killed two other band members.
26 Jan 1980
Prince
made his TV debut on the US show American Bandstand. When interviewed after his performance the singer froze and struggled to reply to the questions he was being asked.
26 Jan 1977
Former
Fleetwood Mac
guitarist Peter Green was committed to a mental hospital following an incident when he threatened his accountant Clifford Adams with an air rifle when he was trying to deliver a £30,000 ($51,000) royalty cheque to him.
26 Jan 1975
The BBC 'Omnibus' documentary 'Cracked Actor' a film about
David Bowie
was shown on UK TV. Filmed in 1974 when Bowie was was a cocaine addict, the documentary has become notorious for showing Bowie's fragile mental state during this period.
26 Jan 1974
Ringo Starr
went to No.1 on the US singles chart with his version of the Johnny Burnette 1960 hit 'Your Sixteen', a No.3 hit in the UK.
26 Jan 1973
Sweet were at No.1 on the UK singles chart with 'Blockbuster'. The glam rockers only UK No.1 of 15 Top 40 hits.
26 Jan 1968
Pink Floyd
played their first gig without
Syd Barrett
at Southampton University. They were supported by Tyrannosaurus Rex, (later to be renamed
T Rex
) featuring
Marc Bolan
and percussionist Steve Peregrine Took.
26 Jan 1965
During a
Rolling Stones
tour of Australia and New Zealand, guitarist
Keith Richards
had his shirt torn off after 50 fans invaded the stage during the gig at The Town Hall in Brisbane.
26 Jan 1963
The Beatles
played two gigs, the first was at the El Rio Club/Dance Hall in Macclesfield, Cheshire, supported by Wayne Fontana and the Jets. Then
The Beatles
drove 20 miles to their next gig at King's Hall, Stoke-on-Trent in Staffordshire.
26 Jan 1961
Elvis Presley
was at No.1 on the UK singles chart with 'Are You Lonesome Tonight'. The singers sixth UK No.1. The song which was written by Roy Turk and Lou Handman in 1926 first became a hit in 1950 when the Blue Barron Orchestra version reached the top twenty on Billboard's Pop chart. Elvis recorded the song at the suggestion of his manager Colonel Tom Parker as it was Parker's wife, Marie Mott's, favorite song.
26 Jan 1956
Buddy Holly
recorded what would become his first release, 'Love Me' and 'Blue Days, Black Nights'. Both tracks were later featured on That'll Be The Day the third album from Holly, after Decca, Holly's first major record label packaged these 1956 tunes after he had some success with recordings from the Brunswick and Coral labels.
Born on this day in music
26 Jan 1964
26 Jan 1963
Andrew Ridgeley, singer and one half of Wham! with
George Michael
, who had the 1984 UK & US No.1 single 'Wake Me Up Before You Go Go' plus 10 other UK Top 20 hit singles. Ridgeley became a prominent environmentalist in the cause of British surfing beaches and riverways, working with the UK charity, Surfers Against Sewage. He lives with his girlfriend Keren Woodward of the pop group Bananarama.
26 Jan 1963
Jazzie B, British DJ, music producer, and entrepreneur and founding member of British group Soul II Soul who had the 1989 UK No.1 single 'Back To Life'.
26 Jan 1961
American vocalist and guitarist Tom Keifer from the band Cinderella.
26 Jan 1958
Anita Baker, US soul singer who had the 1986 UK No.13 single 'Sweet Love' and the 1998 US No.1 album 'Giving You The Best That I Got'.
26 Jan 1957
Norman Hassan, percussion with UB40 who had the 1983 UK No.1 & 1988 US No.1 single 'Red Red Wine' and over 30 other Top 40 hit singles.
26 Jan 1955
Eddie Van Halen
, Dutch guitarist with Van Halen who had the 1984 US No.1 & UK No. 7 single 'Jump'. His guitar solo in the track 'Eruption' was voted No.2 on Guitar World magazine's readers poll of the 100 Greatest Guitar Solos. Halen also played the guitar solo on
Michael Jackson
's 'Beat It'. Van Halen died on 6 October 2020 at the age of 65, the Dutch-American musician had been receiving treatment for throat cancer. Van Halen have sold more than 80 million worldwide, making them one of the best-selling groups of all time.
26 Jan 1953
Lucinda Williams, rock, folk, blues and country music singer and songwriter who wrote 'Passionate Kisses' the Grammy winning song made famous by the 1993 single version by Mary Chapin Carpenter.
26 Jan 1952
American musician, singer and songwriter Billy Greer bass guitarist for Kansas.
26 Jan 1951
David Briggs, from Australian group, Little River Band who scored the 1978 US No.3 single 'Reminiscing' plus 12 other US Top 40 singles selling more than 30 million records.
26 Jan 1951
American bassist and singer-songwriter Andy Hummel best known as the bass player of Big Star. He died from cancer on July 19, 2010.
26 Jan 1949
Derek Holt, from British blues rock group Climax Blues Band, who had the 1977 US No.3 & 1976 UK No.10 single 'Couldn't Get It Right'.
26 Jan 1948
Corky Laing, drummer with heavy rock group Mountain who had the 1971 album 'Nantucket Sleighride'. Also worked with Jack Bruce.
26 Jan 1945
Ashley Hutchings, bassist with UK folk group Fairport Convention who had the 1969 UK No.21 single 'Si Tu Dois Partir'.
26 Jan 1943
Thomas Bell, Jamaican-born American singer, songwriter, arranger, and record producer, known as one of the creators of Philadelphia soul in the 1970s, particularly with the Delfonics, Stylistics and Spinners. In June 2006, Bell was inducted into the Songwriters Hall of Fame.
26 Jan 1943
American singer, songwriter, record producer, and composer Thom Bell. He was known as one of the creators of Philadelphia soul in the 1970s. He found success as a producer and songwriter for the Delfonics, Stylistics, and Spinners. Bell died on December 22, 2022, aged 79.
26 Jan 1934
Huey 'Piano' Smith, US R&B pianist who had the 1958 US No.9 single 'Don't You Just Know It'. Smith also played played on Frankie Ford's hit 'Sea Cruise'.