January 31st: The Biggest Music Headlines
Scroll down the page to see all the music headlines, stories and events for January 31 throughout music history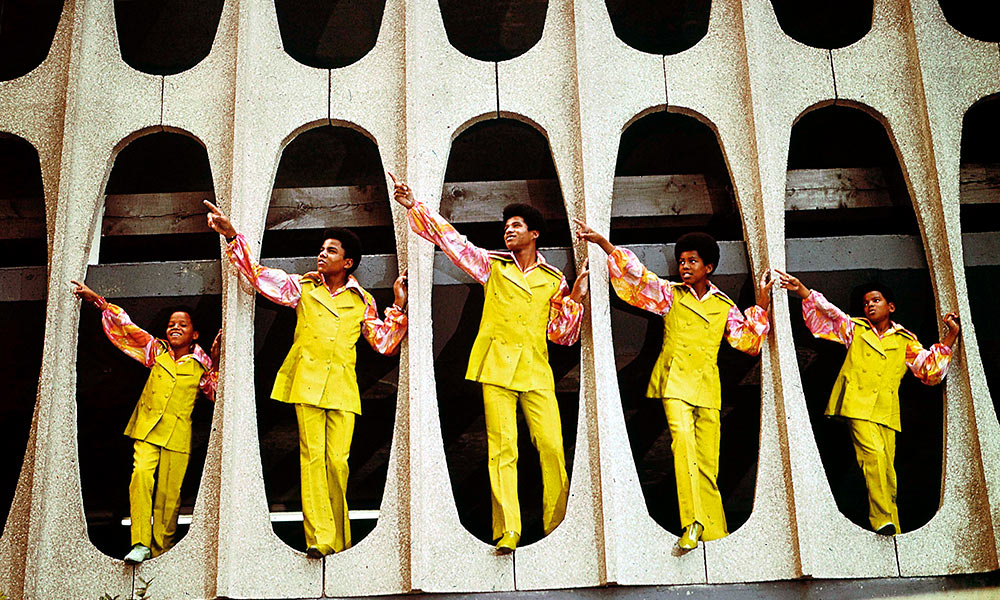 The Jackson Five Land Their First No.1
On January 31, 1970, The Jackson Five scored their first No.1 hit on the Billboard Hot 100 with "I Want You Back." The upbeat tune, which also marked the family band's Motown debut, was originally written with two other acts in mind: Gladys Knight & the Pips and Diana Ross. Released in October 1969, the song was performed by the young brothers during all of their national appearances, including The Ed Sullivan Show and Hollywood Palace. Their hard work paid off, as "I Want You Back" slowly moved up the charts, eventually becoming the Jacksons' first of four consecutive No.1 hits.
In 1981, Blondie ruled the airwaves when their rendition of The Paragons' "The Tide Is High" topped the Billboard Hot 100. The cover, which paid homage to the song's reggae roots, marked the group's third No.1 in the US and, later in the year, their fifth No.1 in the UK.
In 1987, Paul Simon returned to the top of the UK chart for a three-week stay with his 1986 album, Graceland. The Grammy-winning title first hit No.1 in October 1986, spending five consecutive weeks atop the chart, while it remained on the UK chart for a whopping total of 163 weeks.
In 2008, British singer-songwriter Natasha Bedingfield entered the US album chart at No.3 with her third LP, Pocketful of Sunshine. The feat matched Bedingfield with Nigerian-British singer Sade, in having the highest-ever debut on the Billboard 200 by a UK-signed female.
In 2019, Country Music Hall of Famer Harold Bradley died at the age of 93. A revered guitarist and in-demand session musician, Bradley is believed to be one of the most recorded instrumentalists in history, having appeared on hundreds of albums by the likes of Patsy Cline, Willie Nelson, Roy Orbison, Elvis Presley, and Slim Whitman.
In 1970, 46-year-old blues legend, Slim Harpo, died of a heart attack while recording in London. The masterful harmonica player influenced a generation of musicians, including The Rolling Stones, the Yardbirds, and the Kinks, while he scored several hits during his career, including "Baby Scratch My Back," "I'm a King Bee," and "Rainin' In My Heart."
Looking for more things that happened on this day in music?
Keep scrolling for all of the headlines for January 31.
BORN ON JANUARY 31:
1932: Rick Hall (producer, songwriter, owner of Muscle Shoals Studio)
1946: Terry Kath (Chicago)
1947: Phil Manzanera (Roxy Music)
1951: Harry "K.C." Wayne Casey (KC and the Sunshine Band)
1956: Johnny Rotten (Sex Pistols)
1964: Jeff Hanneman (Slayer)
1981: Justin Timberlake
1987: Marcus Mumford (Mumford & Sons)
Looking for more artists born on this day?
Keep scrolling for all of our January 31 birthdays.
---
What to find another day?
---
January 31st
31 Jan 2019
Harold Bradley the American country and pop guitarist died age 93. As a session musician into the 1970s, he performed on hundreds of albums by country stars such as Patsy Cline, Willie Nelson, Roy Orbison, Elvis Presley and Slim Whitman. Bradley, who was inducted into the Country Music Hall of Fame in 2006, is believed to be one of the most recorded instrumentalist in history.
31 Jan 2017
English singer, bassist, and songwriter John Wetton died in his sleep at his home in Bournemouth, Dorset, UK from colon cancer. He rose to fame with bands Mogul Thrash, Family, King Crimson, Roxy Music, Uriah Heep, and Wishbone Ash. After his period with King Crimson, Wetton formed UK, and later he was the frontman and principal songwriter of the supergroup Asia. Their biggest hit 'Heat of the Moment', reached No. 4 in the US in 1982.
31 Jan 2016
David Bowie
left an estate valued at about $100m (£70m), according to his will which was filed in New York. Half would go to his widow, Iman, along with the home they shared in New York. The rest was shared between his son and daughter. Bowie's personal assistant, Corinne Schwab, was left $2m and another $1m went to a former nanny, Marion Skene.
31 Jan 2015
R&B rock and roll singer and songwriter Don Covay passed away at the age of 78. His most successful recordings include 'Mercy, Mercy' (1964), 'See-Saw' (1965), and 'It's Better to Have (and Don't Need)' (1974). He also wrote 'Pony Time', a US No.1 hit for Chubby Checker, and 'Chain of Fools', a Grammy-winning song for
Aretha Franklin
.
31 Jan 2014
American businesswoman, composer and songwriter Anna Gordy Gaye died three days after her 92nd birthday. An elder sister of
Motown
founder
Berry Gordy
, she became a record executive in the mid-to-late 1950s distributing records released on Checker and Gone Records before forming the Anna label. Gordy later became known as a songwriter for several hits including the Originals' 'Baby, I'm for Real', and two songs on
Marvin Gaye
's What's Going On album. The first wife of Gaye, their turbulent marriage later served as inspiration for Gaye's album, Here, My Dear.
31 Jan 2011
English guitarist Mark Ryan died aged 51. He joined The Ants appearing with the band in the Derek Jarman movie Jubilee (released in July 1977). Subsequently, he joined The Photons, and was involved with The Moors Murderers.
31 Jan 2009
Dewey Martin drummer with The Dillards and Buffalo Springfield died aged 68. The Canadian musician had the 1967 US No.17 hit single 'For What It's Worth' with Buffalo Springfield as well as working with The
Monkees
. In 1971, Martin retired from the music industry to become a car mechanic.
31 Jan 2009
David Gilmour appeared at Coldfall Primary School, Muswell Hill, London, during a charity show with The Seat Of The Pants Band. The black-tie dinner dance, at which Bob Hoskins, Suggs from Madness and comedian Les Dennis also appeared, raised over £50,000 for a cancer charity.
31 Jan 2008
Natasha Bedingfield entered the US chart at number three with her album Pocketful of Sunshine, equaling the record set by soul singer Sade in having the highest-ever US chart debut for a UK-signed female. The British singer sold 50,000 copies of the record in its first week of release.
31 Jan 2007
Jim Morrison
was enlisted to help fight global warming more than 35 years after his death. 'Woman in the Window', a previously unreleased poem written and recorded by
The Doors
frontman shortly before he died in 1971 was being set to music and used to publicise the Global Cool campaign.
31 Jan 2003
Robbie Williams topped a chart based on UK album sales from the past 5 years. The former
Take That
singer had sold 9.7 million albums in Britain, an average of more than 5,000 every day. The Corrs were in second place with 5.8m sales, Westlife in third with 5.1,
Madonna
in fourth with 5m and
The Beatles
in fifth with 4.7m.
31 Jan 1999
US dance music producer Armand Van Helden went to No.1 on the UK singles chart with 'You Don't Know Me'. Helden also had a No.1 with the remix of the Tori Amos track 'Professional Widow'.
31 Jan 1990
The Stone Roses were granted conditional bail by Wolverhampton Magistrates court after the band had trashed their record company's offices.
31 Jan 1987
Paul Simon
went back to No.1 on the UK album chart with Graceland, (the album stayed on the chart for a total 163 weeks). 'Graceland' later won the 1987 Grammy Award for Album of the Year, while the title song won the 1988 Grammy Award for Record of the Year.
31 Jan 1984
Queen
's 'Radio Ga Ga' entered the UK charts at No.4. The track which was released after Queen's recording and touring hiatus of over a year spent eleven weeks in the chart, peaking at No.2.
31 Jan 1981
Blondie
went to No.1 on the US singles hart with 'The Tide Is High', the group's third US No.1, also a No.1 in the UK.
31 Jan 1978
Greg Herbert saxophone player with Blood Sweat & Tears died of an accidental drug overdose in Amsterdam, Holland aged 30. Blood, Sweat & Tears won a Grammy Award in 1969 for Album of the Year.
31 Jan 1976
ABBA
knocked
Queen
from the UK No.1 position on the UK singles chart with 'Mamma Mia.' Queen's single '
Bohemian Rhapsody
' had enjoyed a nine week run at the top of the charts, by coincidence, Queen's single contains the famous "mamma mia, mamma mia, mamma mia let me go" line.
31 Jan 1970
American blues musician Slim Harpo died of a heart attack while recording in London aged 46. His most successful and influential recordings included 'I'm a King Bee' (1957), 'Rainin' In My Heart' (1961), and 'Baby Scratch My Back' (1966). A master of the blues harmonica, his stage name was derived from the popular nickname for that instrument, the "harp". The
Rolling Stones
, Pretty Things, Yardbirds and Them all covered his songs.
31 Jan 1970
The Jackson Five went to No.1 on the US singles chart with 'I Want You Back'. The song was originally written for
Gladys Knight
& The Pips and was the first of four No.1's for the group. It made No.2 in the UK.
31 Jan 1969
Led Zeppelin
played the first of two nights at The Fillmore East, New York City during the band's first North American tour. Porter's Popular Preachers opened the night, then Led Zeppelin took the stage. It is alleged that Zeppelin's show was so powerful and got such an enthusiastic audience that headliners
Iron Butterfly
refused to follow them.
31 Jan 1967
The Beatles
spent a second day at Knole Park, Sevenoaks, Kent, England to complete filming for the 'Strawberry Fields Forever' promotional video. The film was shot in colour, for the benefit of the US market, since UK television was still broadcasting only in black and white. Taking time out from filming
John Lennon
bought a 1843 poster from an antiques shop in Surrey which provided him with most the lyrics for
The Beatles
song 'Being For The Benefit Of Mr Kite'.
31 Jan 1959
Elvis Presley
had his third UK No.1 single 'One Night / I Got Stung' a double A side, (originally written and recorded under the title 'One Night of Sin') a revival of the Smiley Lewis's R&B hit. Presley was in the army by the time this song reached No.1.
31 Jan 1957
Decca Records announced that
Bill Haley
& His Comets, 'Rock Around the Clock' had sold over a million copies in the UK, mostly on 10inch 78's. The version of 'Rock Around the Clock' that was used in the movie Blackboard Jungle differs from the hit single version. The difference is in the two solo breaks.
Born on this day in music
31 Jan 1987
Marcus Mumford, English musician, best known as the lead singer of Mumford & Sons. Their second studio album 'Babel' released in 2012 debuted at No.1 on both the UK Albums Chart and the US Billboard 200. It became the fastest selling album of 2012 in the UK. The live performance at the 2011 Grammy ceremony with
Bob Dylan
and The Avett Brothers led to a surge in popularity for the band in the US. The band received eight total Grammy nominations for Babel and won the Grammy Award for Album of the Year.
31 Jan 1981
Justin Timberlake, singer with *NSYNC who had the 2000 US No.1 single 'It's Gonna Be Me' and the 1999 UK No.5 single 'I Want You Back'. As a solo artist scored the 2003 UK No.2 & US No.3 single 'Cry Me A River'. His second solo album 'FutureSex/LoveSounds' was released in 2006 with the US No.1 hit singles 'SexyBack', 'My Love' and 'What Goes Around... Comes Around.' With his first two albums, Timberlake has sold over fourteen million albums worldwide. Timberlake has his own record label called Tennman Records. He also has an acting career, having starred in films such as The Social Network, Bad Teacher and Friends with Benefits.
31 Jan 1970
Minnie Driver, actress, singer, songwriter who had the 2004 album 'Everything I've Got In My Pocket'. Was once a member of UK band Puff, Rocks and Brown who were signed to Island records.
31 Jan 1967
Chad Channing,
Nirvana
's first drummer who left the band in 1990. Has since worked with The Methodists, East of the Equator and Redband.
31 Jan 1966
Al Jaworski, bassist with English group Jesus Jones who had the 1990 US No.2 hit with 'Right Here Right Now' and the 1991 UK No.7 single 'International Bright Young Thing'.
31 Jan 1964
Jeff Hanneman, guitarist with American thrash metal band Slayer who released the 1986 album 'Reign in Blood'. Hanneman died on 2nd May 2013 at the age of 49. Since 2011, Hanneman had been suffering from necrotising fasciitis, a flesh-eating disease that he is believed to have contracted from a spider bite.
31 Jan 1961
Lloyd Cole, English singer, songwriter, who formed Lloyd Cole and the Commotions. Had the 1985 UK No.19 single 'Brand New Friend', from their debut album 'Rattlesnakes' and as a solo artist the 1995 UK No.24 'Like Lovers Do'. An avid golfer, he is known for playing concerts in towns suspiciously close to famous golf courses.
31 Jan 1956
John Lydon, (Johnny Rotten,) singer with the
Sex Pistols
who had the 1977 UK No.2 single 'God Save The
Queen
' and 1977 UK No.1 album
Never Mind The Bollocks
, Here's The
Sex Pistols
'. Formed Public Image Ltd who scored the 1983 UK No.5 single 'This Is Not A Love Song'.
31 Jan 1954
Adrian Vandenburg, Dutch guitarist who was a member of Whitesnake who had the 1987 US No.1 & UK No.9 single 'Here I Go Again'. Also a member of Manic Eden.
31 Jan 1952
Curley Smith, drummer with American group Jo Jo Gunne who had the 1972 UK No.6 & US No. 27 single 'Run Run Run.'
31 Jan 1951
Harry Wayne Casey, singer with American disco and funk group KC and the Sunshine Band who had the 1975 US No.1 single 'That's The Way, I Like It', and the 1983 UK No.1 single 'Give It Up'.
31 Jan 1951
Phil Manzanera, guitarist with Roxy Music who with Roxy Music scored the hit singles 'Street Life', 'Love is the Drug', 'Dance Away', 'Angel Eyes', 'Jealous Guy' and 'Avalon'. In 2006 Manzanera co-produced David Gilmour's No.1 album album On An Island.
31 Jan 1946
Terry Kath, guitarist with Chicago who had the 1976 UK & US No.1 single 'If You Leave Me Now'. Kath accidentally shot himself dead on January 23rd 1978. His last words were, "Don't worry it's not loaded" as he put the gun to his head and pulled the trigger. The guitarist and singer was killed instantly. Chicago have had five consecutive No.1 albums on the Billboard chart and 20 top-ten singles on the Billboard Hot 100.
31 Jan 1941
American bassist Jerry Scheff best known for his work with
Elvis Presley
in the 1960s and 1970s as a member of his TCB Band and his work on
The Doors
' final recordings. Scheff has also worked with Willy DeVille,
Bob Dylan
, John Denver and Elvis Costello.
31 Jan 1932
American record producer, songwriter, music publisher, and musician Rick Hall best known as the owner of Fame Studios in Muscle Shoals, Alabama. Hall almost single-handedly established the town of Muscle Shoals as a crucible of some of the greatest soul music to be produced in America in the Sixties and Seventies.
Aretha Franklin
, Wilson Pickett, Etta James and Clarence Carter were just a few of the rhythm and blues artists who recorded under Hall's supervision, using the superlative group of session musicians who formed the basis of what became known as the "Muscle Shoals sound". Hall died on January 2, 2018 aged 85.
31 Jan 1930
American record producer and session musician Al De Lory. He played keyboards for various Phil Spector productions, and
The Beach Boys
Glen Campbell
including John Hartford's 'Gentle on My Mind', Jimmy Webb's 'By the Time I Get to Phoenix', 'Wichita Lineman' and 'Galveston'. He was also a member of the Los Angeles session musicians known as The Wrecking Crew. As a bandleader he had his own hit in 1970 with an instrumental version of the 'Song from M*A*S*H'. Died on 5 February 2012.
31 Jan 1921
Mario Lanza, American tenor of Italian ancestry and an actor and Hollywood film star of the late 1940s and the 1950s. Lanza played the role of tenor Enrico Caruso, his idol, in the biopic The Great Caruso, which produced 'The Loveliest Night Of The Year', a duet with Anne Shelton which was a million-selling single in 1957. Lanza died age 38 on 7 October 1959.