January 7th: The Biggest Music Headlines
Scroll down the page to see all the music headlines, stories and events for January 7 throughout music history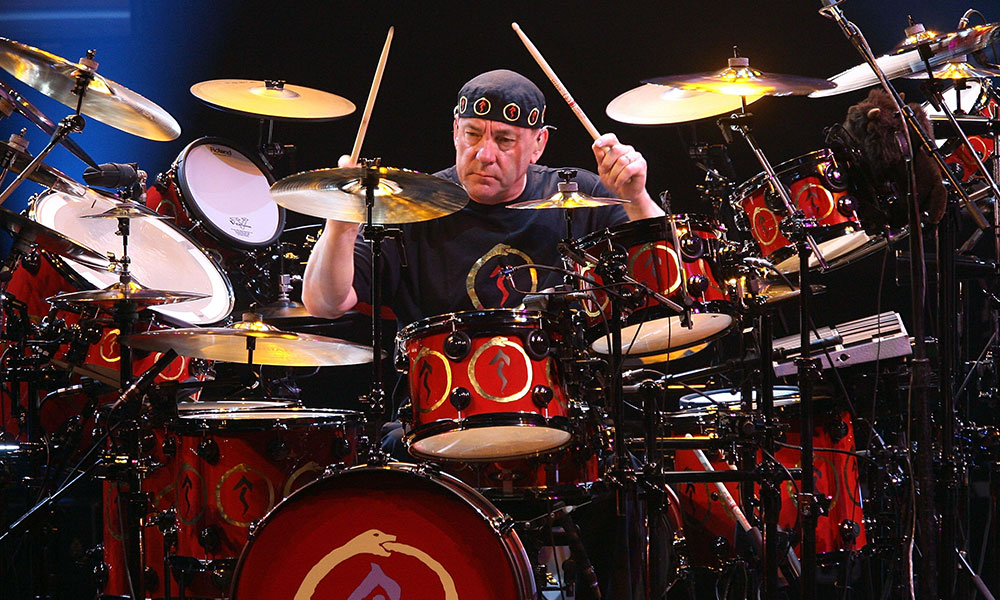 Rush Drummer Neil Peart Passes Away
On this day in music, January 7, 2020, Neil Peart, the drummer and lyricist for Rush and one of rock's greatest percussionists, died at 67, following a battle with brain cancer. Known for his technical prowess, Peart was revered for his epic live solos, which would often include unusual time signatures and complex arrangements. During their 50-year tenure, Rush became one of the most respected and musically dynamic bands of the prog-rock era, transcending genre and influencing multiple generations of artists, including Metallica, Iron Maiden, Smashing Pumpkins, Red Hot Chili Peppers, and Nine Inch Nails. The Juno Award-winning band was inducted into the Rock and Roll Hall of Fame in 2013 and the Canadian Music Hall of Fame in 1994.
In 1971, Black Sabbath released their second studio album, Paranoid, in the US. With fan favorites like "War Pigs," "Iron Man," and the title track, the album cemented their status as heavy metal giants.
In 1980, Pink Floyd released "Another Brick In The Wall (Part 2)" in the US. Featuring an eerie children's choir echoing the song's legendary chorus ("we don't need no education, we don't need no thought control"), paired with a disco-influenced bassline, the anthemic track would become the British band's only No.1 hit in America.
In 1994, future Britpop superstars, Oasis, began recording their debut, Definitely Maybe, at Monnow Valley Studio in South Wales. Released in August of that same year, the album became a global phenomenon, eventually selling over 12 million copies.
In 1972, David Bowie released "Changes," a single off his fourth studio album, Hunky Dory. Considered to be among the artist's best works, the song offers a reflection on creative reinvention and individualism. Decades later, in 2006, Bowie would close his final live performance with the tune.
In 1955, Bill Haley & His Comets' foundational tune, "Rock Around the Clock," entered the UK chart for the first time, where it peaked at No.17. Seven months later, it would be the first rock'n'roll song to top the US charts, while in November, it would also hit No.1 in the UK. Over the next few years, the track would continue to re-enter the UK charts, eventually becoming the territory's first single to sell one million copies.
In 1998, record producer Owen Bradley died at the age of 82. As an architect of country music, Bradley collaborated with such foundational artists as Patsy Cline, Brenda Lee, Loretta Lynn, Lenny Dee, and Conway Twitty.
Looking for more things that happened on this day in music?
Keep scrolling for all of the headlines for January 7.
BORN ON JANUARY 7:
1937: Paul Revere (Paul Revere and the Raiders)
1948: Kenny Loggins
1959: Kathy Valentine (Go-Go's)
1965: John Ondrasik (Five For Fighting)
1974: Jon Rich (Lonestar)
Looking for more artists born on this day?
Keep scrolling for all of our January 7 birthdays.
---
What to find another day?
---
January 7th
7 Jan 2020
Neil Peart, drummer and lyricist for Canadian rock band Rush, died from brain cancer aged 67. Placed at No.4 in Rolling Stone's list of all-time greatest drummers, Peart was well-known for his technical proficiency and animated live performances.
7 Jan 2016
American singer Troy Shondell died from complications of Alzheimer's and Parkinson's disease aged 76. He became a transatlantic one-hit wonder, with his 1961 'This Time', which topped the charts in both US and the UK, selling over one million records. He also recorded under the name of Gary Shelton.
7 Jan 2010
According to Nielsen SoundScan's final 2009 figures,
Michael Jackson
was the best selling artist of the year, moving 8,286,000 units. Forty years after their break-up,
The Beatles
were still the best selling group, thanks to their remastered catalog which sold 3,282,000 copies. Digital downloads however, were a different story. Lady Gaga was the queen of the downloads, selling 15,297,000 digital tracks. The Black Eyed Peas,
Michael Jackson
and
Taylor Swift
all finished in the vicinity of 12 million digital units.
7 Jan 2006
Pink
married her motocross racer boyfriend Carey Hart on a beach in Costa Rica. More than 100 people attended the singer's big day, including Lisa-Marie Presley. Pink proposed to him during one of his races in Mammoth Lakes, California, by holding up a sign that read "Will you marry me?" Hart pulled out of the race to say yes.
7 Jan 2004
Drummer John Guerin died of pneumonia aged 64. Worked with
Joni Mitchell
,
Frank Zappa
, Linda Rondstadt,
Gram Parsons
, Todd Rundgren. He also played on the original title tune for the television series Hawaii Five-O.
7 Jan 2003
The Beatles
Book Monthly closed down after 40 years. Author Sean O'Mahony who set up the magazine in 1963 said there was nothing more to say as the number of things the former Beatles were doing gets less and less as the years go on.
7 Jan 2001
American rhythm and blues and soul singer James Carr died aged 58. After being turned down by Stax, he made his first recordings for Goldwax Records in 1964. He released several singles for the label before achieving his first success in 1966, when 'You've Got My Mind Messed Up' reached No.7 on the Billboard R&B chart.
7 Jan 1998
American record producer Owen Bradley died aged 82. Along with Chet Atkins and Bob Ferguson, he was one of the chief architects of the 1950s and 1960s Nashville sound in country music and rockabilly. Bradley produced artists such as
Patsy Cline
, Brenda Lee, Loretta Lynn, Lenny Dee, and Conway Twitty.
7 Jan 1994
Oasis
started recording their debut album
Definitely Maybe
at Monnow Valley Studio in South Wales. When released in August 1994, it became the fastest selling debut album of all time in the UK, (being surpassed in 2006 by Arctic Monkeys debut album Whatever People Say I Am, That's What I'm Not). The album went on to sell over 12 million copies worldwide.
7 Jan 1981
The Police
played the first night of a North American tour at The University of Montreal, Quebec, Canada during their Zenyatta Mondatta World Tour.
7 Jan 1980
Pink Floyd
released 'Another Brick In
The Wall
(Part 2)' in the US. The single peaked at No.1 on both the US and UK charts, giving
Pink Floyd
their first and only No.1 hit single. The single went to No.1 in many other countries, including Australia, Germany and Italy.
7 Jan 1980
Hugh Cornwall of The Stranglers was found guilty of possession of heroin, cocaine and cannabis. He was fined £300 ($510) and sentenced to three months in Pentonville prison.
7 Jan 1974
Aerosmith
played at the Michigan Theatre in Detroit, the first date on their 56 date North American Get Your Wings Tour.
7 Jan 1972
David Bowie
released 'Changes' as a single in the UK. The track peaked at No.49 on the UK chart and later at No.41 on the US chart. This was the last song Bowie performed live on stage before his retirement from live performances at the end of 2006 when he joined Alicia Keys at the Black Ball fundraiser at New York's Hammersmith Ballroom.
7 Jan 1971
Black Sabbath
released '
Paranoid
' their second studio album in the US. The album features the band's best-known signature songs, including the title track, 'Iron Man' and 'War Pigs'. The album was originally titled War Pigs, but allegedly the record company changed it to Paranoid, fearing backlash from supporters of the ongoing Vietnam War.
7 Jan 1970
Led Zeppelin
kicked off an 8-date UK tour at Birmingham Town Hall. The set list included: I Can't Quit You Baby, Dazed And Confused, Heartbreaker, Since I've Been Loving You, Thank You, Moby Dick, How Many More Times, Whole Lotta Love and Communication Breakdown.
7 Jan 1964
The Beatles
recorded a seven-song appearance for the BBC Radio program Saturday Club. They played 'All My Loving', 'Money', 'The Hippy Hippy Shake', 'I Want to Hold Your Hand', 'Roll Over Beethoven', 'Johnny B. Goode', and 'I Wanna Be Your Man'. The show was broadcast on February 15, while the Beatles were in the US.
7 Jan 1964
English blues musician Cyril Davies died of leukaemia aged 32. Davies was a driving force in the early Sixties blues movement forming Blues Incorporated with Alexis Korner. Davies and Korner opened a London Rhythm and Blues club "England's Firstest and Bestest Skiffle Club", later known as the "London Blues and Barrelhouse Club". Popular with other musicians, the club hosted gigs by blues musicians such as Muddy Waters, Sonny Terry and Brownie McGhee and Memphis Slim.
7 Jan 1955
'Rock Around the Clock' by
Bill Haley
and his Comets, entered the UK chart for the first time. The original full title of the song was 'We're Gonna Rock Around the Clock Tonight!' and is often cited as the biggest-selling vinyl rock and roll single of all time with sales over 25m.
Born on this day in music
7 Jan 1986
Jeremy Miles Ferguson, American musician, better known by the stage name Jinxx, with American rock band Black Veil Brides.
7 Jan 1974
John Rich, bass, vocals, with American country group Lonestar who had the 2000 US No.1 & UK No.21 single 'Amazed'. Lonestar has charted more than 20 singles on the Hot Country Songs chart, including 9 that reached No.1.
7 Jan 1972
Taja Sevelle, (real name Nancy Richardson), US singer, she started recording at age 15 in 1987. (1988 UK No.7 single 'Love Is Contagious').
7 Jan 1965
John Ondrasik, known by his stage name Five for Fighting, American singer, songwriter and record producer. He is best known for his piano-based rock, such as the top 40 hits, 'Superman (It's Not Easy)' (2001), '100 Years' (2003) and 'The Riddle' (2006).
7 Jan 1959
Kathy Valentine, bass, The Go- Go's, (1982 US No.2 single 'We Got The Beat', 1982 UK No.47 single 'Our Lips Our Sealed').
7 Jan 1948
Kenny Loggins, singer, songwriter, (one half of Loggins & Messina 1971-76), 1984 US No.1 & UK No. 6 single 'Footlose' from the film of the same name.
7 Jan 1946
Andy Brown, drummer from English harmony beat group The Fortunes, who had the 1965 UK No.2 & US No.7 single 'You've Got Your Troubles' and the hits 'Here It Comes Again and 'Storm in a Teacup'.
7 Jan 1945
Dave Cousins, singer songwriter with English folk rock group The Strawbs who scored the 1973 UK No.2 single with 'Part Of The Union'.
7 Jan 1944
Mike McGear, singer, brother of
Paul McCartney
, The Scaffold, (1968 Christmas UK No.1 single 'Lily The Pink').
7 Jan 1942
Danny Williams, singer, (1961 UK No. 1 'Moon River', the Oscar-winning song was from the film Breakfast At Tiffany's).
7 Jan 1937
Paul Revere, keyboards, Paul Revere and the Raiders, (1971 US No.1 single 'Indian Reservation', plus 14 other US Top 30 hit singles. He died on 4th Oct 2014.