January 9th: The Biggest Music Headlines
Scroll down the page to see all the music headlines, stories and events for January 9 throughout music history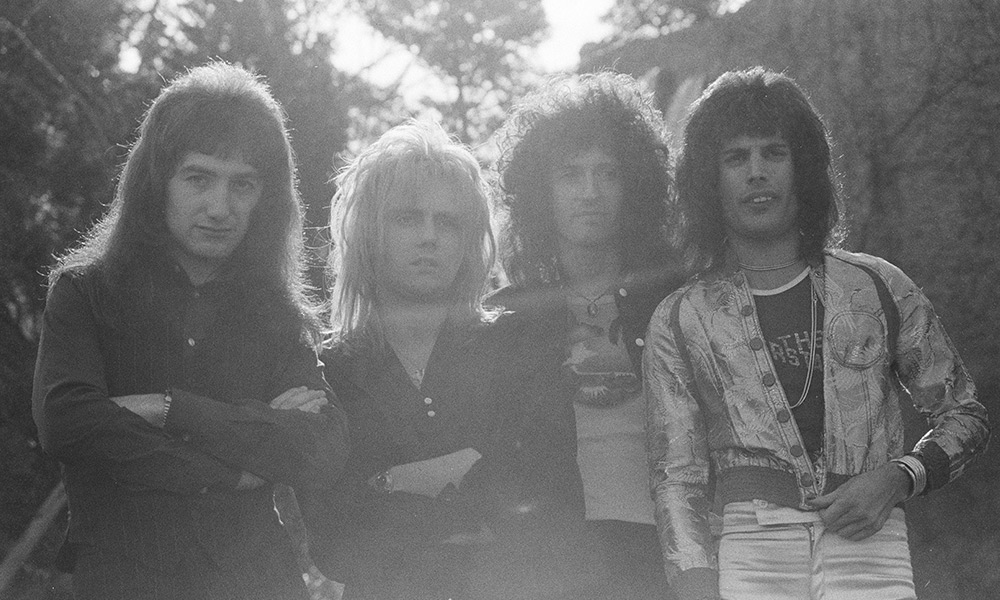 Queen Scores Big with 'Bohemian Rhapsody'
On this day in music, January 9, 1976, Queen began a nine-week run at the top of the UK pop chart with their nearly six-minute-long operatic hit, "Bohemian Rhapsody." The single would go on to sell more than one million copies by the end of the month and was later named the UK's third best-selling single of all time. After frontman Freddie Mercury's death, the song re-entered the chart – and topped it for five weeks. One year later, in the US, "Bohemian Rhapsody" topped the Billboard Hot 100, thanks to its use in the blockbuster film, Wayne's World.
In 1997, David Bowie performed a star-studded 50th birthday benefit concert (one day after his birthday) at Madison Square Garden. Joining him on stage was a who's who of alternative rockers, including the Pixies' Frank Black, Sonic Youth, The Cure's Robert Smith, Lou Reed, Dave Grohl, Billy Corgan, and Placebo. Proceeds from the event benefitted Save The Children.
In 2016, heavy metal hero Lemmy Kilmister was laid to rest in Los Angeles' Forrest Hills Cemetary. The biggest names in rock and metal came out to pay their respects to the Motörhead frontman, including his bandmate, Mikkey Dee, Foo Fighters' Dave Grohl, Guns N' Roses' Slash, Robert Trujillo, and Lars Ulrich from Metallica, Judas Priest's Rob Halford, and Anthrax frontman Scott Ian, all of whom spoke at the service.
In 1988, Whitney Houston scored her sixth consecutive No.1 hit in the US with "So Emotional." The song was penned by Billy Steinberg and Tom Kelly, the duo behind chart-topping hits by Madonna, Cyndi Lauper, Heart, and The Bangles.
In 1963, drummer Charlie Watts left Blues Incorporated and his job as a graphic designer to join The Rolling Stones. While friends and family members might have questioned the young man's choices, no one could have predicted the unprecedented job security that laid ahead.
Looking for more things that happened on this day in music?
Keep scrolling for all of the headlines for January 9.
BORN ON JANUARY 9:
1941: Joan Baez
1943: Scott Walker
1944: Jimmy Page (Led Zeppelin)
1950: David Johansen (NY Dolls)
1951: Crystal Gayle
1963: Eric Erlandson (Hole)
1978: AJ McLean (Backstreet Boys)
Looking for more artists born on this day?
Keep scrolling for all of our January 9 birthdays.
---
What to find another day?
---
January 9th
9 Jan 2016
Stars paid tribute to
Motorhead
frontman Lemmy at his funeral at Forest Lawn Memorial Cemetery.
Motorhead
drummer Mikkey Dee, Foo Fighters'
Dave Grohl
, Slash from Guns N' Roses, Robert Trujillo and Lars Ulrich from
Metallica
, Judas Priest singer Rob Halford and Anthrax frontman Scott Ian. all spoke at the service. Lemmy's bass guitar was plugged in to a stack of amplifiers and the volume turned up, with the congregation applauding as feedback from the speakers filled the chapel.
9 Jan 2015
Darren Partington, a member of 1980s and '90s acid house pioneers 808 State, was jailed for 18 months for dealing heroin and crack cocaine. The court was told how Partington was pressured into dealing drugs after getting into debt with his own dealer.
9 Jan 2014
9 Jan 2009
Dave Dee died at the age of 65, following a three-year battle with cancer. The UK singer had eight top 10 hits, with Dave Dee, Dozy, Beaky, Mick and Tich including a UK number one single in 1968 with 'The Legend of Xanadu', in which Dee famously cracked a whip. The singer, whose real name was David Harman, was originally a police officer and as a police cadet was called to the scene of the car crash that killed Eddie Cochrane during a UK tour in 1960.
9 Jan 2008
Spice Girl
Victoria Beckham was named the worst dressed celebrity in an annual list of fashion disasters. Fashion critic Richard Blackwell, who had compiled the poll every year since 1960, said Beckham stepped out in "one skinny-mini monstrosity after another".
Amy Winehouse
's trademark beehive and tattoos helped earn her second place in the list.
9 Jan 2005
Elvis Presley
went to No.1 on the UK singles chart with 'Jailhouse Rock.' The single sold just 21,262 copies to reach No.1, the lowest sales ever for a UK chart topper since data began in 1969. The single was released to celebrate the 70th anniversary of his birth, a previous Elvis chart topper was re-released each week.
9 Jan 2003
A grand piano once owned by
Elvis Presley
was sold for $685,000 (£425,711). Music producer Robert Johnson and partner Larry Moss sold the piano to the chairman of the Blue Moon Group, Michael Muzio who was planning to take the piano on a casino-sponsored promotional tour. He was then planning for the piano to be shown at the proposed rock museum at Walt Disney World.
9 Jan 2002
Irish singer, songwriter David McWilliams died of a heart attack at his home in Ballycastle, County Antrim aged of 56. Released over 10 solo albums and wrote 'The Days Of Pearly Spencer,' 1992 UK No.4 for Marc Almond.
9 Jan 2000
The chauffeur who drove Puff Daddy and his girlfriend Jennifer Lopez from a night-club after a shooting was reported to be co-operating with prosecutors. Puff Daddy faced up to 15 years in jail for allegedly pulling a gun in a New York club.
9 Jan 1997
David Bowie
performed his 50th Birthday Bash concert (the day after his birthday) at Madison Square Garden, New York with guests Frank Black, Sonic Youth, Robert Smith of
The Cure
,
Dave Grohl
, Lou Reed, Billy Corgan and Placebo. Proceeds from the concert went to the Save The Children fund.
9 Jan 1988
Whitney Houston
scored her sixth consecutive No.1 in the US with 'So Emotional'.
9 Jan 1981
Terry Hall and Jerry Dammers from The Specials were both fined £400 ($680) after being found guilty of using threatening words during a gig in Cambridge, England.
9 Jan 1976
Queen
were at No.1 on the UK singles chart with '
Bohemian Rhapsody
'. The single enjoyed a nine week run on the chart selling more than a million copies by the end of the month. It reached No.1 again in 1991 for five weeks following Mercury's death, eventually becoming the UK's third best selling single of all time.
9 Jan 1973
Mick Jagger
was refused a Japanese visa on an account of a 1969 drug conviction causing The
Rolling Stones
to cancel a forthcoming tour.
9 Jan 1970
During a UK tour
Led Zeppelin
appeared at The Royal Albert Hall, London, the night of
Jimmy Page
's 26th birthday. (
John Lennon
,
Eric Clapton
and
Jeff Beck
were all in the audience). The two and a quarter hour set was recorded and filmed but shelved for several decades, eventually seeing a release on a 2003 official DVD.
9 Jan 1965
The Beatles
started a nine week run at No.1 on the US album chart with 'Beatles 65', the group's fourth No.1. Beatles '65 includes eight of the fourteen songs from Beatles for Sale and also includes 'I'll Be Back' from A Hard Day's Night and the single 'I Feel Fine'/'She's a Woman'.
9 Jan 1963
Drummer Charlie Watts joined The
Rolling Stones
after leaving Blues Incorporated and his job working as a graphic designer.
9 Jan 1955
Rosemary Clooney was at No.1 on the UK singles chart with 'Mambo Italiano' the singers second No.1. The song was banned by all ABC owned stations in the US because it "did not reach standards of good taste".
Born on this day in music
9 Jan 1987
Paolo Nutini, Scottish singer, songwriter. His first album the 2006 These Streets peaked at No.3 on the UK chart and both his 2009 UK No.1 album Sunny Side Up and the 2014 Caustic Love peaked at No.1.
9 Jan 1978
A.J McLean, vocals, Backstreet Boys, (1997 US No.2 single 'Quit Playing Games With My Heart', 1999 UK No.1 single 'I Want It That Way').
9 Jan 1967
South African-born American singer-songwriter, Dave Matthews who had the 1998 US No.1 album 'Before These Crowded Streets' and the 2001 US No.1 album 'Everyday'. Dave Matthews Band are the first group to have six consecutive studio albums debut at the top of the US charts.
9 Jan 1967
Steve Harwell, American musician who is best known as the lead vocalist for the band Smash Mouth.
9 Jan 1965
Trinidadian-born German-American singer Haddaway, that had the 1993 UK No.2 'What Is Love' which reached No. 1 in 13 countries.
9 Jan 1964
Phil Hartnoll, from English electronic dance music duo Orbital, who had the 1996 UK No.11 single 'The Box'. The band's name is taken from Greater London's orbital motorway, the M25.
9 Jan 1963
American guitarist Eric Erlandson known as founding member, songwriter and lead guitarist of alternative rock band Hole. He has also had several musical side projects, including Rodney & the Tube Tops, which he formed with Thurston Moore of Sonic Youth.
9 Jan 1951
American country music singer Crystal Gayle best known for the 1977 US No.2 & UK No.5 single 'Don't It Make Your Brown Eyes Blue'. Gayle is the younger sister of country singer Loretta Lynn.
9 Jan 1950
David Johansen, vocals, The New York Dolls, 1973 album 'New York Dolls'. Now a solo artist and actor. Played Buster Poindexter in Saturday Night Live House band.
9 Jan 1948
Tim Hart, guitarist and singer with English folk rock band Steeleye Span who formed in 1969. They had the 1975 UK No.5 single 'All Around My Hat' and a hit with 'Gaudete'. Hart died on 24 Dec 2009.
9 Jan 1948
Bill Cowsill, from American singing group The Cowsills, who had the 1967 US No.2 single 'The Rain, The Park & Other Things', and the 1969 US No.2 single the theme from 'Hair'. TV's Partridge Family was based on The Cowsills family. He died on 18 February 2006.
9 Jan 1946
Drummer Bill Albaugh, with the psychedelic pop, bubblegum group the Lemon Pipers he had the 1968 US No.1 hit 'Green Tambourine'. He died on 20 January 1999, at the age of 53.
9 Jan 1944
Jimmy Page
guitarist and producer, member of the Yardbirds and
Led Zeppelin
. The bands fourth album released in 1971 featuring the rock classic
Stairway To Heaven
has sold over 37 million copies. Formed The Honeydrippers, (with Robert Plant,
Jeff Beck
& Nile Rodgers) who had the 1984 US No.3 single Sea Of Love. As a session guitarist in the 60s Page played on Here Comes The Night by Them, Shout by Lulu and
The Who
's 'Can't Explain'.
9 Jan 1943
Scott Walker (born Noel Scott Engel), singer with The Walker Brothers best known for their 1966 UK No.1 & US No.13 single 'The Sun Ain't Gonna Shine Anymore'. Walker began a solo career with 1967's Scott, moving toward an increasingly challenging baroque pop style on late '60s albums such as Scott 3 (1969) and Scott 4 (1969). As a record producer or guest performer, he worked with a number of artists including Pulp, Ute Lemper and Bat for Lashes. Walker died on 25 March 2019 age 76.
9 Jan 1943
Kenneth Kelley, vocals, The Manhattans, (1976 US No.1 & UK No.4 single 'Kiss And Say Goodbye').
9 Jan 1943
Dick Yount, guitar, vocals, Harper's Bizarre, (1967 US No. 13 & UK No.34 single 'The 59th Street Bridge Song, Feelin' Groovy').
9 Jan 1941
American folk singer, songwriter, musician, and activist Joan Baez. She scored the 1971 US No.3 & UK No.6 single 'The Night They Drove Old Dixie Down' and was one of the first major artists to record the songs of
Bob Dylan
in the early 1960s. Baez also performed three songs at the 1969
Woodstock
Festival.
9 Jan 1920
Clive Dunn, singer, actor in UK TV's 'Dads Army' 1971 UK No.1 single 'Granddad'. Died on 6 November 2012.