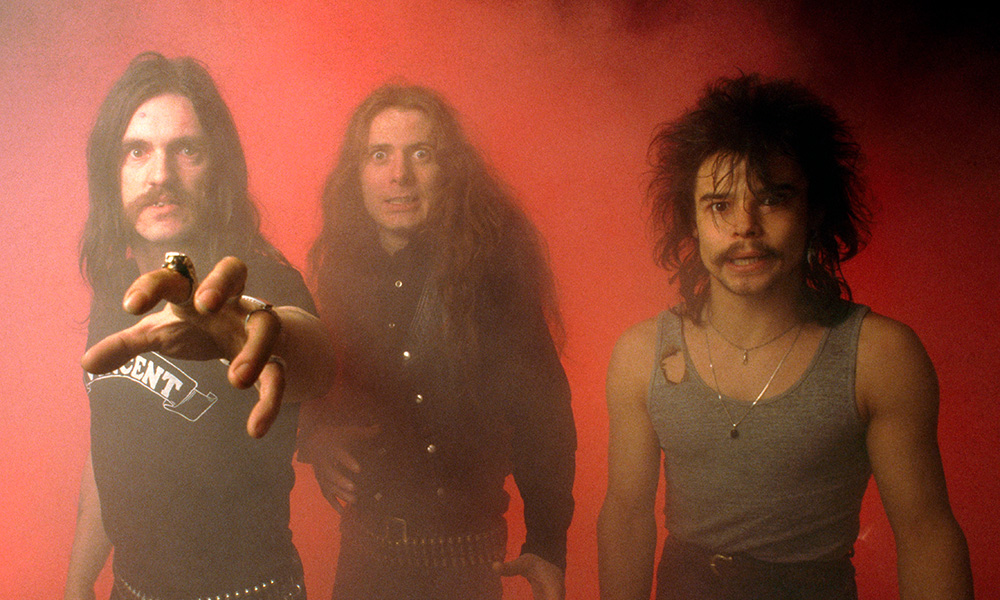 The cover didn't look much like a British classic, with the Motorhead line-up of Lemmy, Phil Taylor and 'Fast' Eddie Clarke standing on top of what appeared to be a Californian mountain ridge, dressed in full Mexican bandit regalia and backed by the kind of blue skies that had little in common with their nocturnal lifestyle.
Then there was the title: Ace Of Spades evoked card games and cowboys, not the dank torpor of rainy Britain at the dawn of the 1980s. In the end, though, Lemmy's hand on the tiller meant that Ace Of Spades was still shot through with the wry pessimism and sense of absurdity that form the backbone of any British classic.
On closer inspection, this album was English to its rotten core. The sleeve was shot not in LA, but in a sandstone quarry in High Wycombe. And the title wasn't meant to sound indomitable; it was pure British gallows humour – a nod to the band's underdog status. "The ace of spades is bad luck," Lemmy explained. "So we figured, if we use bad luck as our theme, it can't get any worse." It's fitting, then, that Ace Of Spades was a victory snatched from the jaws of defeat.
The album got off to a muted start with a two-week rehearsal session at Rockfield Studios in Wales, with the band struggling to find a producer and Lemmy often failing to show up at all. Frustrated, they threw their hand in with Vic Maile, recording the album in August and September 1980, at Maile's studio, Jackson's in Rickmansworth, Hertfordshire. This is the first of what would be a series of projects with Maile, whose admonitory presence would help shape Lemmy's greatest set of songs. "He'd come up with these magnificent mixes," Clarke recalls. "He was only a little guy, but he didn't take any shit, so we didn't give him any in the end. He could get us to do anything."
What Maile got Motorhead to do was tighten up their sound, nail down their world-view, and play with an intensity that makes listening to Ace Of Spades a masochistic experience. Taylor's drumming is brilliantly unhinged, and Clarke's guitar sneers, but it's Lemmy's underrated writing that commands this record's place in this chart. From the leering stomp of Love Me Like A Reptile ('Women don't like the title,' says Clarke) to the bulldozer grind of (We Are) The Road Crew, these brutal milestones have lost none of their power.
Ace Of Spades peaked at #4 on the UK chart, and with the release of the title track as a single (giving them a #15 hit), Motorhead were almost brought into the mainstream – appearing on Top Of The Pops (twice) and were guests on the British ITV children's Saturday morning show Tiswas.
Continuing to support the release, the band undertook a UK tour during October through to early December under the banner Ace Up Your Sleeve, with support from Girlschool and Vardis. On the final night of the tour in Belfast, Northern Ireland, high jinks resulted in drummer Phil 'Philthy Animal' Taylor breaking his neck, forcing him to wear a neck-brace and curtailing any further band activity.
Fast-forwarding to the contemporary world, though, the enduring power of the 'Ace Of Spades' album can be measured by the fact that, in March 2005, Q magazine placed it at No. 27 in its list of the '100 Greatest Guitar Tracks', stating 'This song has an intro which wouldn't be out of place ushering in the end of the world'. In 2009, it was named the 10th greatest hard rock song of all time by VH1.
Phil Taylor better known as "Philthy Animal" Taylor and drummer with Motorhead died on 11 Nov 2015, aged 61. He was in The classic mark IV Motörhead line-up of Lemmy, Taylor, and Fast Eddie Clarke who recorded ten studio albums and the live album No Sleep 'til Hammersmith.
Lemmy the founding member died on 28 December 2015, at the age of 70 shortly after learning he had been diagnosed with cancer. On the news of his death, the band requested fans to "play Lemmy's music LOUD. Have a drink or few. Share stories. Celebrate the life this lovely, wonderful man celebrated so vibrantly himself.
Important Dates In The Life Of Motorhead:
28 May 2019
Motorhead's 'Ace of Spades' was named Greatest Gambling Song of All Time with Lady Gaga's 'Poker Face' voted into second place. Online poker giant PokerStars asked 1,000 of its European customers to select their favorite poker-themed song from a list of choices.
9 Jan 2016
Stars paid tribute to
Motorhead
frontman Lemmy at his funeral at Forest Lawn Memorial Cemetery.
Motorhead
drummer Mikkey Dee, Foo Fighters'
Dave Grohl
, Slash from Guns N' Roses, Robert Trujillo and Lars Ulrich from
Metallica
, Judas Priest singer Rob Halford and Anthrax frontman Scott Ian. all spoke at the service. Lemmy's bass guitar was plugged in to a stack of amplifiers and the volume turned up, with the congregation applauding as feedback from the speakers filled the chapel.
11 Nov 2015
Phil Taylor better known as "Philthy Animal" Taylor and drummer with
Motorhead
died aged 61. He was in the classic mark IV Motörhead line-up of Lemmy, Taylor, and Fast Eddie Clarke who recorded ten studio albums and the live album No Sleep 'til Hammersmith.
27 Jun 1981
Motorhead
scored their only UK No.1 album with 'No Sleep Til Hammersmith'. The live album was recorded at Leeds and Newcastle shows during their Short, Sharp Pain In The Neck tour in 1981. The name of the tour was a reference to the injury sustained by Phil Taylor when he was dropped on his head during some after-show horseplay. Despite the title of the album, the London venue the Hammersmith Odeon was not played on the tour.
1 Jun 1981
The first issue of the Heavy Metal magazine Kerrang! was published as a special pull-out by UK weekly music paper Sounds.
AC/DC
had the front cover plus features on
Motorhead
, Girlschool and Saxon.