July 10th: The Biggest Music Headlines
Scroll down the page to see all the music headlines, stories and events for July 10 throughout music history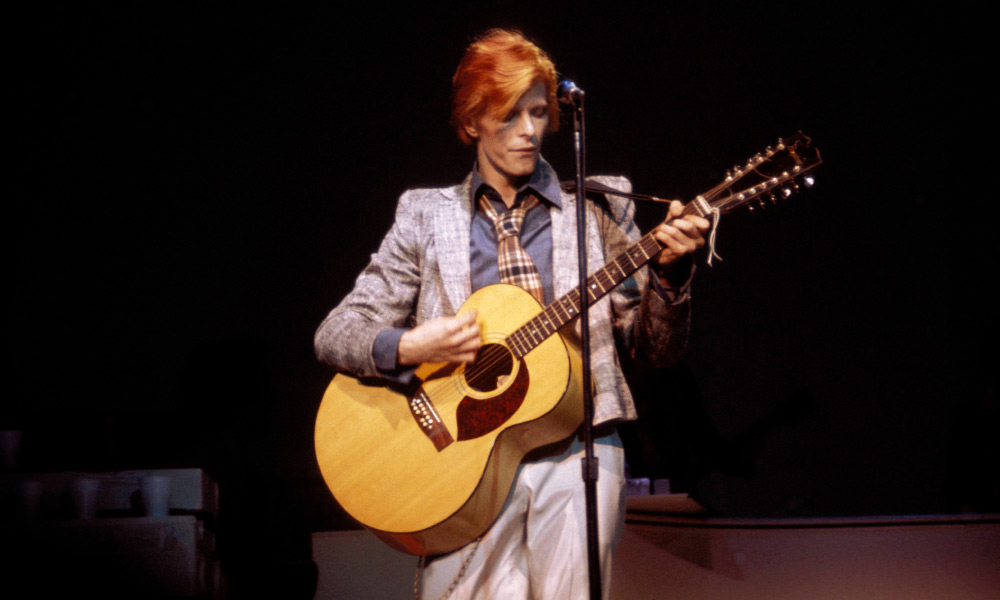 David Bowie Records His First Live Album
In 1974, David Bowie began a five-night engagement at Philadelphia's Tower Theater, all of which was recorded for his first live album, David Live, released in October of that year. The performance was an interesting one, as it found the artist in transition between his Ziggy Stardust glam phase and the "plastic soul" era of Young Americans. Despite the album cover, which showcased Bowie in the latter style, the set list primarily featured material from his glam days – spanning Ziggy Stardust, Aladin Sane, and his most recent release, Diamond Dogs.
In 1987, legendary producer and Columbia Records executive John Hammond passed away at 76. During his lengthy career, Hammond was pivotal in launching the careers of countless artists – from Billie Holiday and Bob Dylan to Aretha Franklin and Bruce Springsteen. Hammond was also a tireless civil rights activist, who fought for racial integration in the music industry and beyond.
In 1965, The Rolling Stones scored their first No.1 hit in the US with "(I Can't Get No) Satisfaction." The song, which was initially only played on pirate radio stations, due to its suggestive nature, held the top spot for four weeks.
In 1976, Starland Vocal Band scored a No.1 hit with their suggestive ditty, "Afternoon Delight." Despite its subject matter, the song's title was inspired by the name of a happy hour menu item at a Washington, DC restaurant. "Afternoon Delight" went on to become one of the biggest songs of the year and later earned a Grammy for Best Arrangement for Voices. Elsewhere, the song landed in the UK's Top 20 and Australia's Top 10, while it was a No.1 hit in Canada.
Looking for more things that happened on this day in music?
Keep scrolling for all of the headlines for July 10.
BORN ON JULY 10:
1939: Mavis Staples
1942: Ronnie James Dio
1947: Arlo Guthrie
1954: Neil Tennant (Pet Shop Boys)
1958: Béla Fleck
1959: Sandy West (The Runaways)
1970: Jason Orange (Take That)
1970: Gary LeVox (Rascal Flats)
1974: Imelda May
1978: Jesse Lacey (Brand New)
1980: Jessica Simpson
Looking for more artists born on this day?
Keep scrolling for all of our July 10 birthdays.
---
What to find another day?
---
July 10th
10 Jul 2021
American fiddle player Byron Berline died at the age of 77 of complications of a stroke. He joined The Flying Burrito Brothers in 1971, worked with
Stephen Stills
's band Manassas and played on 'Country Honk' on the
Rolling Stones
' album
Let It Bleed
. He also worked with many other artists including:
Bob Dylan
,
Elton John
, The Byrds, Janis Ian, Willie Nelson, John Denver,
Rod Stewart
,
The Eagles
and The Band.
10 Jul 2019
Bob Dylan
super-fan Bill Pagel purchased the ultimate rock collectible: the Hibbing, Minnesota house where Dylan lived from 1948 to 1959. He bought the 1,600 square foot home from Gregg and Donna French, who had lived there since 1990 for $84,000. Pagel, a pharmacist in his late seventies, has run the Bob Dylan essential fan website boblinks.com since 1995.
10 Jul 2016
Cliff Richard instructed lawyers to make formal legal complaints to South Yorkshire Police and the BBC over their handling of a police raid on his home in 2014. Police investigating historical sex allegations launched an investigation in 2014, which was filmed by the BBC.
10 Jul 2015
John Fogerty filed a countersuit alleging that his former bandmates in
Creedence Clearwater Revival
had breached their contract in which he allowed them to use the name Creedence Clearwater Revisited while touring and playing the music they recorded together four decades ago. Fogerty's action, claimed that Creedence bassist Stu Cook and drummer Doug Clifford had not paid him in more than three years under terms of the agreement they set up more than a decade ago.
10 Jul 2011
A pub in Dundee, Scotland called Lennon's Bar was forced to change the name of the venue and remove all Beatles memorabilia the former Beatles wife Yoko Ono threatened legal action for copyright infringement.
10 Jul 2008
The drum skin used on the cover of
The Beatles
'
Sgt. Pepper
album sold for £541,250 ($1m) at Christie's Memorabilia auction in London. Other items sold included
John Lennon
's lyrics for 'Give Peace a Chance' which sold for £421,250 ($832,257) and a pair of tinted prescription sunglasses belonging to Lennon, which he wore for the cover of the single 'Mind Games', sold for £39,650 ($79,000). A rare 1/4 inch reel to-reel master tape recording of the
Jimi Hendrix Experience
performing at the Woburn Music Festival in 1968 went for £48,050 ($95,000), a Marshall amplifier used by Hendrix in concert fetched £25,000 ($50,000).
10 Jul 2005
The four members of
Led Zeppelin
were voted the UK's ideal supergroup after 3,500 music fans were asked to create their fantasy band for Planet Rock Radio.
Jimmy Page
won best guitarist, followed by Guns N' Roses' Slash and
Deep Purple
's Ritchie Blackmore. John Paul Jones was named top bassist, with
John Bonham
, who died in 1980, winning best drummer and Robert Plant beat the late
Freddie Mercury
to best singer.
10 Jul 1989
David F Pearsall age 18 from Manchester, New Jersey was charged with theft after stealing a guitar at a concert in Riverfront Park belonging to Richie Sambora of
Bon Jovi
.
10 Jul 1987
10 Jul 1986
Jerry Garcia
of the Grateful Dead went into a five day diabetic coma, resulting in the band withdrawing from their current tour.
10 Jul 1984
Session drummer and former member of Derek and the Dominos,
Jim Gordon
, was sentenced to 16 years to life in prison after being found guilty of murdering his mother. It was after he was arrested that he was properly diagnosed with schizophrenia and, although at the trial the court accepted that Gordon had acute schizophrenia, he was not allowed to use an insanity defense because of changes to California law.
10 Jul 1979
Chuck Berry
was sentenced to five months in jail after being found guilty of tax evasion.
10 Jul 1978
Rolling Stone Bill Wyman was knocked unconscious after falling from the stage during a Stones concert at the Coliseum, St Paul, Minnesota.
10 Jul 1976
One Hit Wonders
Starland Vocal Band started a two week run at No.1 on the US singles chart with 'Afternoon Delight', it was also their only hit in the UK making No.18 on the chart.
10 Jul 1974
David Bowie
played the first of five dates at The Tower Theatre in Upper Darby, Pennsylvania, the recordings of which made up the "David Live" album released later that year. The performance found the artist in transition between his Ziggy Stardust glam phase and the "plastic soul" era of "Young Americans."
10 Jul 1972
Harry Nilsson's eighth album, Son of Schmilsson was released. It featured
George Harrison
under the name George Harrysong and
Ringo Starr
, listed as Richie Snare, on some of the tracks. Peter Frampton also played guitar on most of the album.
10 Jul 1969
The funeral of Rolling Stone
Brian Jones
took place in his home town at Hatherley Road Parish Church, Cheltenham. Canon Hugh Evan Hopkins read Jones' own epitaph, 'Please don't judge me too harshly'. Bill Wyman,
Keith Richards
and Charlie Watts from The Stones attended the funeral.
10 Jul 1968
Eric Clapton
announced that
Cream
would break-up after their current tour. The group's third album, Wheels of Fire, was the world's first platinum-selling double album and
Cream
are widely regarded as being the world's first successful supergroup.
10 Jul 1968
The Nice were banned from appearing at London's Royal Albert Hall after burning an American flag on stage. Two years later, Keith Emerson, leader of the Nice, joined Greg Lake and Carl Palmer in Emerson, Lake and Palmer.
10 Jul 1966
Johnny Tilotson, The Jive Five, The Tymes, The Shangra-Las and local band The Castiles (with
Bruce Springsteen
on vocals) all appeared at the Surf 'n See Club in Seabright New Jersey.
10 Jul 1965
The
Rolling Stones
started a four week run at No.1 on the US singles chart with
'(I Can't Get No) Satisfaction'
the group's first chart-topper there. In the UK, the song was initially played only on pirate radio stations because its lyrics were considered too sexually suggestive.
10 Jul 1964
200,000 Liverpudlians took to the streets to celebrate
The Beatles
return to Liverpool for the northern premiere of the group's first film 'A Hard Day's Night.' The group were honored in a public ceremony in front of Liverpool Town Hall and as
The Beatles
stood on a balcony looking at the large crowd gathered below,
John Lennon
gave a few Nazi "Sieg Heil" salutes. Not everyone appreciated his sense of humor.
10 Jul 1961
Bobby Lewis started a seven week run at No.1 on the US singles chart with 'Tossin' and Turnin', the longest running No.1 single of 1961, spending seven weeks at the top of the chart.
10 Jul 1950
The US music show Your Hit Parade premiered on NBC-TV. The program, which featured vocalists covering the top hits of the week, had been on radio since 1935. It moved to CBS in 1958 but was canceled the following year, unable to cope with the rising popularity of Rock 'n' Roll.
Born on this day in music
10 Jul 1980
Jessica Simpson, American singer who had the 2000 UK No.7 single 'I Wanna Love You Forever'. Her debut studio album released in 1999 sold over four million copies worldwide.
10 Jul 1978
American musician, singer-songwriter Jesse Lacey, the lead vocalist and guitarist for Brand New. Their fifth album Science Fiction released in 2017 went to No.1 on the US chart.
10 Jul 1974
Imelda May, Irish singer, songwriter, multi-instrumentalist who has worked with
Jeff Beck
,
Eric Clapton
, and David Gilmour. May is known for her musical style of rockabilly revival and has also been compared to female jazz musicians such as Billie Holiday
10 Jul 1970
Gary LeVox, singer, with American country band Rascal Flatts who scored the 2004 US country No.2 single 'I Melt', and the 2006 US No.1 album 'Me And My Gang'.
10 Jul 1970
Jason Orange, vocals,
Take That
(1995 UK No.1 single 'Back For Good' and seven other UK No.1 singles, 1993 UK No.1 album 'Everything Changes spent 78 weeks on the UK chart). Re-formed without Robbie Williams in 2006 for a sold-out European tour. Topped the UK singles and album charts simultaneously for the first time in their career when the single 'Patience' and album 'Beautiful World' both reached No.1 in Dec 2006.
10 Jul 1965
Peter DiStefano, American guitarist and songwriter, best known for his work in the alternative rock band Porno for Pyros.
10 Jul 1964
Graham Lambert, guitarist from English alternative rock band Inspiral Carpets who had the 1990 UK No.14 single 'This Is How It Feels'.
10 Jul 1960
Martyn P Casey, keyboards, from Australian rock band Nick Cave And The Bad Seeds who have released over 15 studio albums including the 2013 Australian No.1 Push the Sky Away.
10 Jul 1959
Sandy West, drummer, founding member of US all girl group The
Runaways
. West died on 21 Oct 2006.
10 Jul 1958
American banjo player Béla Fleck, widely acknowledged as one of the world's most innovative and technically proficient banjo players. Fleck has shared Grammy wins with Asleep at the Wheel, and has been nominated in more categories than any other musician, namely country, pop, jazz, bluegrass, classical, folk, spoken word, composition, and arranging.
10 Jul 1954
Neil Tennant, vocals, Pet Shop Boys, (1986 UK & US No.1 single 'West End Girls', plus 3 other UK No.1 singles and over 20 UK Top 40 hits), ex editor of music paper Smash Hits.
10 Jul 1950
Greg Kihn, American singer who scored the 1983 US No.2 single 'Jeopardy'.
10 Jul 1949
Dave Smalley, The Raspberries famous for their hits 'Go All The Way', 'I Wanna Be With You' and 'Overnight Sensation (Hit Record)'.
10 Jul 1947
Arlo Guthrie, US singer, songwriter, son of folksinger Woody Guthrie, (1967 album 'Alice's Restaurant', 1972 US No.18 single 'The City Of New Orleans').
10 Jul 1944
John Dymond, (Beaky), guitarist from British pop/rock group, Dave Dee, Dozy, Beaky, Mick and Tich, who scored the 1968 UK No.1 single 'Legend Of Xanadu'.
10 Jul 1943
Jerry Miller, guitarist from American psychedelic rock group Moby Grape, known for their debut album Moby Grape (1967).
10 Jul 1942
Ronnie James Dio, vocals, Elf, Rainbow,
Black Sabbath
, and his own band Dio. He died on May 16, 2010, after a six-month battle with stomach cancer. He was 67 years old.
10 Jul 1939
Mavis Staples, American rhythm and blues and gospel singer, actress and civil rights activist. She recorded and performed with her family's band The Staple Singers who scored two No.1 singles, 'I'll Take You There' and 'Let's Do It Again'.
10 Jul 1936
American Keyboard player Johnny Griffith. He was a member of the
Motown
records in-house
Funk Brothers
studio band and played on
Marvin Gaye
's 'Heard It Through The Grapevine', 'I Can't Help Myself (Sugar Pie, Honey Bunch)' by
Four Tops
, and 'Stop! In the Name of Love' by The
Supremes
. He died of a heart attack on 10 November 2002 aged 66.
10 Jul 1919
British singer John Johnston. With the Johnston Brothers he had the 1955 UK No.1 with their version of 'Hernando's Hideaway', from the movie The Pajama Game, beating off the American versions by both Johnnie Ray and Archie Bleyer. Johnston died on 10 June 1998.