July 13th: The Biggest Music Headlines
Scroll down the page to see all the music headlines, stories and events for July 13 throughout music history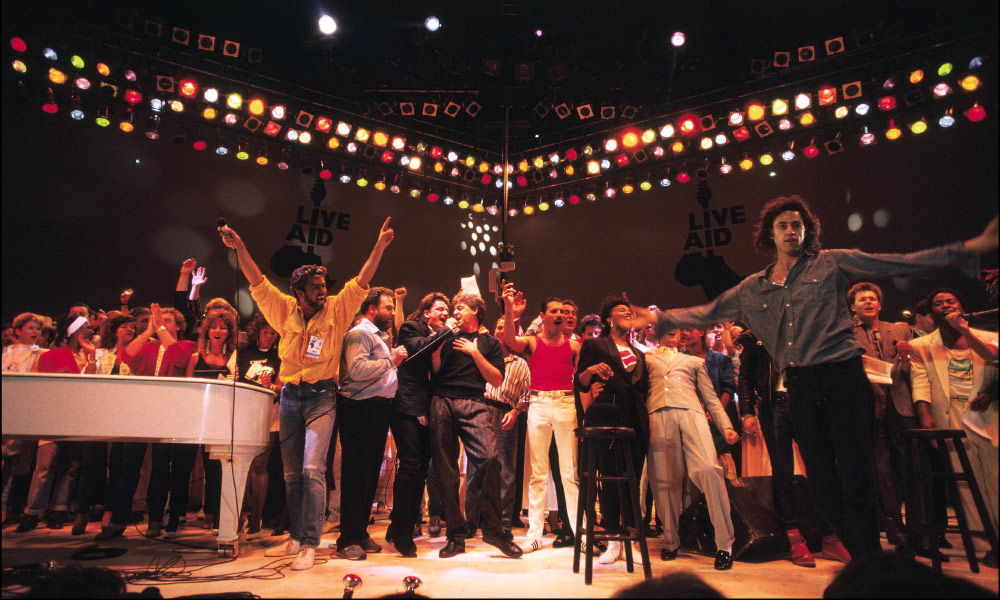 Live Aid Sets a New Standard For Benefit Concerts
On this day in music, July 13, 1985, the world's biggest music stars gathered at London's Wembley Stadium and Philadelphia's John F. Kennedy Stadium for Live Aid. One of the most memorable moments in 80s pop culture, Live Aid was the brainchild of Bob Geldof and Midge Ure (the organizers behind "Do They Know It's Christmas?"), who sought to raise additional funds to bring relief to Ethiopia, amid a years-long famine. An ambitious satellite feed broadcast the show across the globe, as performances by Queen, Paul McCartney, David Bowie, Elton John, George Michael, and U2 (among many others) kicked off the concert in London. Across the Atlantic, Madonna, Run-D.M.C., and Tom Petty took to the stage, while acts like Led Zeppelin, Crosby, Stills, Nash & Young, and Black Sabbath reunited. In one particularly epic moment, Phil Collins performed on both continents, thanks to well-coordinated helicopter and Concorde flights. Approximately £150 million was raised from the day-long event.
In 1991, Bryan Adams began a record-breaking 16-week consecutive run at the top of the UK pop chart with "(Everything I Do) I Do It For You." The power ballad, which was featured on the soundtrack to the blockbuster film, Robin Hood: Prince of Thieves, also enjoyed a seven-week run at No.1 on the Billboard Hot 100 and spent 18 consecutive weeks at the top of the European-wide chart. The song, which remains the Canadian singer-songwriter's most successful hit, went on to win a Grammy and earned an Academy Award nomination.
In 1974, George McCrae hit No.1 on the Billboard Hot 100 with "Rock Your Baby." The song, which also topped pop charts in the UK, Canada, Italy, and Germany (among many other territories), is widely considered to be the first breakthrough disco hit.
In 1966, Ike & Tina Turner scored their first major hit in the UK with "River Deep – Mountain High." The song, which peaked at No.3 on the British pop charts, caught the attention of the Rolling Stones, who invited the couple to open for them. In 1970, the tune was covered famously by Motown giants The Supremes and the Four Tops.
Looking for more things that happened on this day in music?
Keep scrolling for all of the headlines for July 13.
BORN ON JULY 13:
1938: Al Rex (Bill Haley & His Comets)
1942: Roger McGuinn (The Byrds)
1942: Stephen Bladd (The J. Geils Band)
1955: Mark "The Animal" Mendoza (Twisted Sister)
1966: Gerald Levert (LeVert, LSG)
1969: Barney Greenway (Napalm Death)
1974: Deborah Cox
1988: Tulisa (N-Dubz)
Looking for more artists born on this day?
Keep scrolling for all of our July 13 birthdays.
---
What to find another day?
---
July 13th
13 Jul 2019
George Michael's
family and lawyers stepped up their battle to force Fadi Fawaz to leave the singers former home after he broke a number of windows. The jobless squatter admitted smashing windows at George Michael's old house but bizarrely claimed he was doing home improvements. Fadi was seen smoking a joint on the balcony next to some of the smashed windows.
13 Jul 2015
Rapper 50 Cent filed for Chapter 11 bankruptcy protection. A report in the Wall Street Journal said the businessman and actor had assets and debts in the range of $10m to $50m (£6.5m- £32m). The news came out just days after a jury ruled that he must pay $5m to a woman suing over a sex tape case.
13 Jul 2013
Five people were arrested and ejected from the T in the Park music festival in Scotland, for possessing or using pyrotechnic flares. There was also another 53 arrests, mainly for petty crimes and minor drugs offences.
13 Jul 2012
Roger Waters' tour
The Wall
Live, topped worldwide concert ticket sales for the first half of 2012. The show based
Pink Floyd
's hit 1970s album, took $158.1m (£102.3m) beating
Bruce Springsteen
and
Madonna
. Waters sold 1.4 million tickets according to Pollstar magazine, which tracks the live concert business.
13 Jul 2007
Rod Stewart
collected his CBE from Prince Charles at Buckingham Palace. The singer who was honoured for his services to music wore a skull and crossbones tie, white trousers and a stripy shirt instead of the conventional morning suit.
13 Jul 2004
Arthur 'Killer' Kane, bass player with The New York Dolls, died aged 55 after checking himself in to a Los Angeles emergency room, complaining of fatigue. He was quickly diagnosed with leukaemia, and died within two hours. The influential American band formed in 1972 and made just two albums, the 1973 'New York Dolls' and 1974 'Too Much Too Soon'. His estranged wife wanted to honour her late husband's wishes and bury him next to former Dolls stars Johnny Thunders and Jerry Nolan in Mount St Mary's cemetery in Brooklyn, New York, but officials at the morgue refused to release his body for burial because his remains were so decomposed. (His body had laid in a morgue for over a month).
13 Jul 2002
Fatboy Slim brought the Brighton area to a standstill when he threw a free beach party. Organisers had expected 60,000 fans to attend but over 250,000 turned up causing chaos on the roads with traffic jams over ten miles long. Fatboy Slim spent £100,000 of his own money supporting the event after a sponsor pulled out.
13 Jul 1999
Paul McCartney
displayed 73 paintings at the Kunstforum Lyz gallery in the German town of Siegen. McCartney had been painting for the past 16 years (since he turned 40).
13 Jul 1999
The New Radicals called it a day after just one album and a world-wide hit single. Front man, songwriter and driving force Gregg Alexander said he would concentrate on producing and writing.
13 Jul 1997
Red Hot Chili Peppers
singer Anthony Kiedis underwent five hours of hospital surgery after being involved in a motorbike accident in Los Angeles.
13 Jul 1997
The Prodigy started a five-week run at No.1 on the UK album chart with their third album The Fat Of The Land. The album has now sold over 10 million copies worldwide.
13 Jul 1997
A trial against John Denver for drunken driving ended in a hung jury, deadlocked 3-3. Denver's defence attorney argued that the singer suffered from a thyroid condition that had distorted blood alcohol tests.
13 Jul 1996
Over 2,000 guitar players, including Chet Atkins and Jeff "Skunk" Baxter, set a new world record for the largest jam session ever when they played '
Heartbreak Hotel
' for 75 minutes at Nashville's Riverfront Park. The previous record was set in Vancouver, Canada on May 7th, 1994, when Randy Bachman led 1,322 amateur guitarists in a performance that lasted 68 minutes.
13 Jul 1991
Bryan Adams
went to No.1 on the UK singles chart with "(Everything I Do) I Do It For You," which featured on the soundtrack for the film "Robin Hood: Prince of Thieves."
13 Jul 1990
Curtis Mayfield was badly injured after a strong gust of wind blew a lighting rig on him during an outside concert in Brooklyn, New York.
13 Jul 1987
Representatives of fifty of America's largest record retailers were guests at
Michael Jackson
's home in Encino, California to preview his new album, 'Bad'. The LP would go on to sell over 30 million copies worldwide.
13 Jul 1985
At 12.01 Status Quo started the
Live Aid
extravaganza, held between Wembley Stadium, London and The JFK Stadium, Philadelphia. The cream of the world's biggest rock stars took part in the worldwide event, raising over £40million. TV pictures beamed to over 1.5bn people in 160 countries made it the biggest live broadcast ever known. Artists who appeared included
Paul McCartney
,
Phil Collins
,
The Who
,
U2
,
David Bowie
and
Mick Jagger
,
Queen
, Tina Turner, The Cars,
Neil Young
,
Tom Petty
,
Bob Dylan
,
Bryan Adams
,
Hall and Oates
, Lionel Richie and
Led Zeppelin
.
13 Jul 1985
Duran Duran
became the first artists to have a No.1 on the US singles chart with a James Bond theme when 'A View To A Kill', went to the top of the charts.
13 Jul 1985
Elton John
re-signed with MCA Records in America, his five-album deal being worth $8 million, the biggest advance in history at the time.
13 Jul 1978
The BBC announced a ban on The
Sex Pistols
latest single 'No One Is Innocent', which featured vocals by Ronnie Biggs, the British criminal notorious for his part in the Great Train Robbery of 1963. At the time of the recording, Biggs was living in Brazil, and was still wanted by the British authorities, but immune from extradition.
13 Jul 1974
Elton John
started a two-week run at No.1 on the UK album chart with his eighth studio release, Caribou, and his third No.1 album. The album contained the singles, 'Don't Let the Sun Go Down on Me', and 'The Bitch Is Back'.
13 Jul 1974
George McCrae started a two week run at No.1 on the US singles chart with 'Rock Your Baby', his only US No.1, also No.1 in the UK. Regarded by some as the first Disco No.1. It was a New York City club hit first.
13 Jul 1974
Bruce Springsteen
and the E Street Band played the first of a three night, six show residency at the newly-opened Bottom Line in New York City. The shows received rave reviews and created a buzz in the music industry.
13 Jul 1972
13 Jul 1969
Over 100 US radio stations banned
The Beatles
new single 'The Ballad Of John and Yoko' due to the line 'Christ, you know it ain't easy', calling it offensive.
13 Jul 1968
Black Sabbath
played their first gig at a small backstreet Blues club in Birmingham, England.
13 Jul 1967
Pink Floyd
made their second appearance on BBC
Top Of The Pops
to promote their new single 'See Emily Play' which was hosted by Pete Murray. The single went on to peak at No.6 on the UK chart.
13 Jul 1966
Ike & Tina Turner's 'River Deep - Mountain High,' peaked at No.3 on the UK singles chart, earning them a gig opening for
Rolling Stones
. Their success had tragic consequences, as Ike became more and more violent toward Tina, who endured years of abuse.
13 Jul 1965
Paul McCartney
was presented with five Ivor Novello Awards at a lunch party at The Savoy, London.
John Lennon
refused to attend; Paul was 40 minutes late after he had forgotten about the engagement.
13 Jul 1964
The Animals went to No.1 on the UK singles chart with 'The House Of The Rising Sun.' Recorded in one take, this was the first UK No.1 to have a playing time of more than four minutes.
13 Jul 1963
The
Rolling Stones
played their first ever gig outside London when they appeared at The Alcove Club, Middlesbrough, Yorkshire supporting The Hollies.
Born on this day in music
13 Jul 1988
Tula Paulinea "Tulisa" Contostavlos, English singer-songwriter. She is best known for being a member of hip hop group N-Dubz, during 2011 to 2012, she participated as a judge on the The
X Factor
.
13 Jul 1974
Deborah Cox, Canadian R&B singer-songwriter and actress. Her 1998 song 'Nobody's Supposed to Be Here' held the record for longest-running number one single on Billboard's Hot R&B/Hip-Hop Singles & Tracks chart (14 weeks).
13 Jul 1969
Born on his day, Mark Greenway, singer, Napalm Death, Extreme Noise Terror and Benediction.
13 Jul 1966
Gerald Levert, R&B trio LeVert, who scored a UK top 10 single with Casanova in 1987. Died of a heart attack 11th Nov 2006 aged 40. The singer who was the son of O'Jays vocalist Eddie Levert.
13 Jul 1961
Lawrence Donegan, bassist from British pop band Lloyd Cole And The Commotions who had the 1985 UK hit single 'Brand New Friend'. Between 1984 and 1989, the band scored four Top 20 albums and five Top 40 singles in the UK.
13 Jul 1955
Mark "The Animal" Mendoza, bassist Twisted Sister, (1983 UK No.18 single 'I Am, I'm Me', 1984 album 'Stay Hungry'). The Dictators.
13 Jul 1942
Roger McGuinn, guitar, vocals, The Byrds, (1965 US & UK No.1 single 'Mr Tambourine Man'). He was the only member of The Byrds to play on the hit, the others being session players. He toured with
Bob Dylan
in 1975 and 1976 as part of Dylan's Rolling Thunder Revue, and later worked with fellow ex-Byrds Gene Clark and Chris Hillman to form McGuinn, Clark and Hillman.
13 Jul 1942
Stephen Bladd, drummer with American rock band The J Geils Band, who had the 1982 US No.1 & UK No.3 single 'Centerfold' which was taken from their US No.1 1981 album Freeze Frame.
13 Jul 1941
English singer-songwriter, Steve Gibbons. He was a member of The Ugly's, in 1969 Gibbons teamed up with guitarist Trevor Burton from The Move and formed a new group called Balls, he then joined The Idle Race for three months in 1971 and this band evolved into the Steve Gibbons Band who scored the hit 'Tulane'.
13 Jul 1938
American bassist Al Rex, (Albert Floyd Piccirilli). He started playing for
Bill Haley
& His Comets and its predecessor Bill Haley and the Saddlemen in 1949 and became noted for 'wild antics' on stage. He died on 24 May 2020 age 91.