July 19th: The Biggest Music Headlines
Scroll down the page to see all the music headlines, stories and events for July 19 throughout music history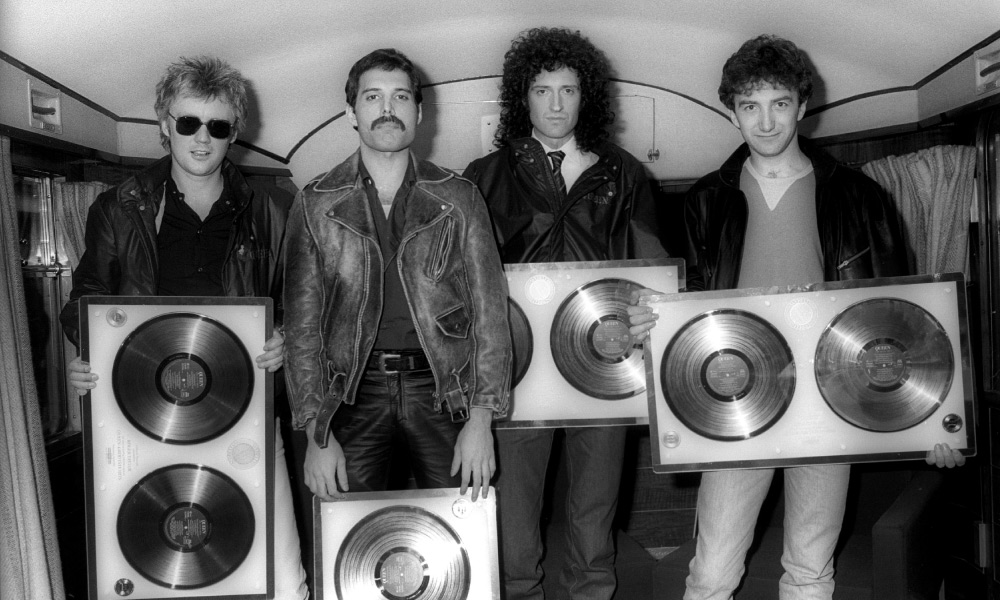 Queen's 'Greatest Hits' Shatters UK Album Sales Record
On this day in music, July 19, 2022, Queen wrote themselves into the pages of the UK's pop history books when sales of their 1981 Greatest Hits album reached a record-breaking seven million copies. A month earlier, the compilation – which included the band's iconic hits "Bohemian Rhapsody," "We Will Rock You," and "Don't Stop Me Now" – had smashed another record by becoming the first LP to spend 1,000 weeks on the UK's Official Albums Chart.
In 1988, Bruce Springsteen gave his first concert behind the Iron Curtain, delivering an epic four-hour performance in communist East Berlin before an estimated audience of 300,000. The show was also broadcast on state TV and was seen by some commentators as being a catalyst that helped bring about the end of both the Berlin wall and communism in East Germany.
In 1974, the three-day Ozark Music Festival kicked off at the Missouri State Fairgrounds. While only 50,000 tickets were supposed to be sold, an estimated 350,000 concert-goers attended the event, which featured performances by Aerosmith, the Marshall Tucker Band, Lynyrd Skynyrd, Bob Seger, and Jeff Beck, among many others. One of the largest music festivals ever held, the event resulted in a reported $100,000 worth of damages and more than 1,000 drug overdoses, leading city council members to ban future rock concerts in the area.
In 1986, Genesis scored their first and only US No.1 single with "Invisible Touch," the title track from the British prog-rock band's 13th album. It spent a week at the top of the Hot 100 only to be overtaken by "Sledgehammer," the new single from ex-Genesis frontman, Peter Gabriel.
In 1976, British hard-rockers Deep Purple announced that they had split, seven months after releasing their tenth album, Come Taste The Band, their first without co-founder and guitarist, Richie Blackmore. Singer David Coverdale launched Whitesnake three years later and didn't join a new incarnation of Deep Purple, which emerged in 1984.
In 1996, The Spice Girls debuted on the iconic UK TV music show, Top Of The Pops with "Wannabe," their first of nine chart-topping singles. The London-based "Girl Power" group was on tour in Japan at the time and transmitted their performance via a satellite link from a temple in Tokyo.
In 1954, Elvis Presley's first single, "That's All Right," was released on producer Sam Phillips' Memphis-based Sun Records. A sped-up cover of a tune by Mississippi blues singer Arthur "Big Boy" Crudup, the single was a hit in Memphis and purportedly sold 20,000 copies, though that wasn't enough to dent the national charts.
Looking for more things that happened on this day in music?
Keep scrolling for all of the headlines for July 19.
BORN ON JULY 19:
1937: George Hamilton IV
1944: Commander Cody (Commander Cody And His Lost Planet Airmen)
1946: Allan Gorrie (Average White Band)
1947: Brian May (Queen)
1947: Bernie Leadon (Eagles)
1952: Allen Collins (Lynyrd Skynyrd)
1976: Eric Prydz
1979: Michelle Heaton (Liberty X)
1992: Ellie Rowsell (Wolf Alice)
Looking for more artists born on this day?
Keep scrolling for all of our July 19 birthdays.
---
What to find another day?
---
July 19th
19 Jul 2022
Queen
made UK chart history when they become the first act ever to reach 7 million UK chart sales of an album with their 1981 Greatest Hits album. The Official best-selling album of all time in the UK, the record includes such classic tracks as 'We Will Rock You', 'Don't Stop Me Now' and 'Bohemian Rhapsody.' The record also recently celebrated its 1000th week on the Official Albums Chart, with Queen becoming the first British act ever to achieve this landmark milestone.
19 Jul 2020
American singer-songwriter, multi-instrumentalist and recording engineer Emitt Rhodes died age 70. He was a member of The Palace Guard as the group's drummer before joining The Merry-Go-Round as a multi-instrumentalist. He worked as a recording engineer and record producer for Elektra Records.
19 Jul 2019
Crowds dancing at a festival triggered minor earthquakes. The biggest tremors were recorded during a headline set by indie band Two Door Cinema Club at Tramlines Festival in Sheffield, England. Manic Street Preachers, Lewis Capaldi and Nile Rogers and Chic were also on the bill.
19 Jul 2018
New York State declared '
Billy Joel
Day' after he became the first artist to appear 100 times at Madison Square Garden. During the landmark show Joel was joined on stage by
Bruce Springsteen
, for 'Tenth Avenue Freeze-Out' and 'Born To Run'. Joel had become a staple of Madison Square Garden, consistently selling out the 20,000-person venue as part of his concert residency which started in 2014.
19 Jul 2017
A US judge halted an auction of personal items of
Madonna
, after she said her privacy was violated.
Madonna
's underwear, a chequebook, a hairbrush, photos and a break-up letter from the late rapper
Tupac Shakur
had been among the scheduled lots. The singer said her possessions had been stolen by a former friend.
19 Jul 2014
Ed Sheeran
was at No.1 on the UK album chart with X (pronounced multiply), his second studio album. The album peaked at No. 1 in fifteen countries, and the lead single, 'Sing', became Sheeran's first UK No.1 song. By the end of 2014 Spotify named X the most-streamed album in the world for 2014, racking up more than 430 million streams for the year.
19 Jul 2010
Ozzy Osbourne
and his former
Black Sabbath
band mate Tony Iommi settled a long-running legal dispute over the use of the group's name. Ozzy had filed suit against the guitarist in May of last year, accusing Iommi of falsely proclaiming to be the sole owner of the
Black Sabbath
name by lodging an application with the US Patent and Trademark Office. The pair released a joint statement confirming they have settled the dispute "amicably".
19 Jul 2005
James Blunt was at No.1 on the UK singles chart with 'You're Beautiful', from his debut album 'Back To Bedlam'. The UK singer songwriters first No.1, spent 5 weeks at the top of the charts.
19 Jul 2001
Wu Tang Clan rapper ODB, (Russell Jones), was sentenced to spend between two and four years behind bars after being found guilty of drug possession. He was arrested in July 1999 when police found cocaine and marijuana in his car after he was pulled over for driving through a red light. The rapper was later sent to a Los Angeles rehabilitation centre, but went on the run from authorities last October.
19 Jul 2001
American soul and gospel singer Judy Clay died. Was a member of the Drinkard Singers - who later became better known as The Sweet Inspirations , also worked with Billy Vera, and had hits with William Bell (Private Number), and sang with Wilson Pickett and Ray Charles.
19 Jul 1999
A gunman who sprayed bullets at Westwood's car in Kensington, London, shot BBC
Radio 1
DJ Tim Westwood. A statement the following day said he was recovering in a London Hospital.
19 Jul 1997
Oasis
went to No.1 on the UK singles chart with 'D'You Know What I Mean'. The first single from their third album 'Be Here Now'.
19 Jul 1996
The
Spice Girls
made their debut on UK TV music show
Top Of The Pops
performing their debut single ' Wannabe' which gave them their first of nine UK chart toppers.
19 Jul 1993
Rage Against The Machine walked out on stage naked at their Lollapalooza set in Philadelphia in a protest against censorship by appearing completely nude except for black electrical tape over their mouths. They stood in protest for their full 15 allocated minutes of stage time with the letters PMRC written on their chests, a reference to the Parents Music Resource Center.
19 Jul 1991
Steven Adler ex drummer with Guns N' Roses filed a suit in Los Angeles county court alleging that he was fraudulently removed from the group and that the band introduced him to hard drugs.
19 Jul 1989
James Brown
changed accommodations behind bars after $40000 in cash and cheques was discovered in his minimum security cell. The Godfather of Soul had been given a six year sentence the previous December after several run-ins with the law, including illegal gun possession, resisting arrest, assault and leading the authorities on a number of car chases. His new home was at a medium security cell at the Stevenson Correctional Institute.
19 Jul 1989
Residents of Washington, Connecticut formed a 'Roll the Stones Out of Town', action group after they were unhappy with The
Rolling Stones
and their entourage setting up in the town for rehearsals for their forthcoming tour. Residents said it was like the army had moved in and taken over, with security guards stopping locals and asking them what they were doing there.
19 Jul 1987
Bruce Springsteen
played his first ever show behind the Iron Curtain when he appeared in East Berlin in front of 180,000 people. The show was broadcast on East German TV.
19 Jul 1986
Genesis
went to No.1 on the US singles chart with 'Invisible Touch'. The bands former lead singer Peter Gabriel was at No.2 with 'Sledgehammer'.
19 Jul 1981
It was
Roy Orbison
Day in Odessa, Texas. Orbison was given the keys to the city, and performed for the crowd, the first time in Odessa in 15 years.
19 Jul 1980
Queen
scored their third UK No.1 album with 'The Game', featuring the single 'Another One Bites The Dust'.
19 Jul 1976
Deep Purple
split up at the end of an UK tour. David Coverdale went on to form Whitesnake,
Jon Lord
and Ian Paice formed a band with Tony Ashton. The classic line up of Blackmore, Gillan, Glover, Lord & Paice reformed in 1984. Glenn Hughes returned to Trapeze and Tommy Bolin put together his own band, (but would die before the end of the year).
19 Jul 1975
On his Natty Dread tour,
Bob Marley
& the Wailers appeared at the Lyceum Theatre in London. The show was recorded and the live single 'No Woman, No Cry' was later released.
19 Jul 1975
The Bay City Rollers were at No.1 on the UK singles chart with 'Give A Little Love', the group's second and final UK No.1.
19 Jul 1975
Paul McCartney
and Wings went to No.1 on the US singles chart with 'Listen To What The Man Said', his fourth US No.1, and No.6 hit in the UK, (the track features Tom Scott playing the saxophone solo). It would go on to sell a million copies in America and reach No.6 in the UK. Wings also had the US No.1 album chart with 'Venus And Mars'.
Paul McCartney
's fourth No.1 album since
The Beatles
.
19 Jul 1974
The Ozark Music Festival was held over three days on the Missouri State Fairgrounds in Sedalia, Missouri. One of the largest music festivals ever held, some estimates have put the crowd count at 350,000 people. Acts who appeared included, Bachman–Turner Overdrive, Blue Öyster Cult, the
Eagles
, America, Marshall Tucker Band, The Nitty Gritty Dirt Band, Boz Scaggs, Ted Nugent, Lynyrd Skynyrd,Electric Flag, Joe Walsh,
Aerosmith
and Spirit.
19 Jul 1972
19 Jul 1969
Special guests on this week's
Johnny Cash
ABC television music variety show included, Ed Ames, Roy Clark, The Monkees and Joni Mitchell. Cash introduced The Monkees by playing the first verse of their hit 'Last Train To Clarksville' with
The Monkees
on backing vocals, The Monkees then performed a version of the Johnny Cash song 'Everybody Loves a Nut', with Cash.
19 Jul 1968
Pink Floyd
played the second of three nights at the Boston Tea Party, Boston, Massachusetts. Opened in January 1967 as a psychedelic club, many many famous artists, including
Grateful Dead
,
Neil Young
, The J. Geils Band,
Frank Zappa
,
Cream
,
Fleetwood Mac
,
The Allman Brothers Band
,
Led Zeppelin
, The
Jimi Hendrix Experience
,
Jeff Beck
,
The Who
,
Santana
, Taj Mahal, Ten Years After and Sly & the Family Stone all appeared.
19 Jul 1967
The Beatles
were at No.1 on the UK singles chart with 'All You Need Is Love' the group's 12th UK No.1 single.
The Beatles
had been selected to represent the UK for the first-ever global-wide satellite broadcast. The group agreed to be shown in the studio recording a song written especially for the occasion, (which was aired on June 25).
John Lennon
wrote 'All You Need is Love' which was thought to sum up the 1967 'summer of love' and
The Beatles
' sympathies.
19 Jul 1967
Elvis Presley
was working on his latest movie Speedway co-starring Nancy Sinatra at the MGM Soundstage, Hollywood, California. (It was Presley's twenty-seventh film).
19 Jul 1954
Sun Records released the first
Elvis Presley
single, 'That's All Right', a cover of Arthur Crudup's 1946 tune 'That's All Right, Mama'. Only about 7,000 original copies were pressed, but the disc became a local hit in Memphis.
Born on this day in music
19 Jul 1992
English singer and musician Ellie Rowsell from the Mercury Prize winning indie rock band Wolf Alice. Their 2017 album Visions of a Life debuted at No.2 on the UK Albums Chart, and won the 2018 Mercury Prize.
19 Jul 1979
Michelle Heaton, singer, from British-Irish group Liberty X, who had the 2002 UK No.1 single 'Just A Little'. The group was formed by the five finalists of the British talent show Popstars who failed to make it into the group Hear'Say. Liberty X went on to achieve ten consecutive UK Top 20 singles.
19 Jul 1976
Eric Prydz, Swedish DJ and producer, ( 2004 UK No.1 single 'Call on Me').
19 Jul 1971
Urs B'hler, from the multi-national classical crossover vocal group Il Divo. Their 2004 self-titled album, was No.1 in 14 countries around the world.
19 Jul 1969
Gabrielle, English singer who had the 1993 UK No.1 single 'Dreams' and the 2000 UK No.1 album Rise. Gabrielle has won two BRIT Awards, the first in 1994 for British Breakthrough Act, and the second in 1997 for Best British Female.
19 Jul 1968
Ged Lynch, drums, Black Grape, (1995 UK No.8 single 'In The Name Of The Father').
19 Jul 1960
Kevin Haskins, from English post-punk band Bauhaus, who had the 1982 UK No.15 single with their version of the
David Bowie
song '
Ziggy Stardust
'.
19 Jul 1952
Allen Collins, guitarist with southern rock band Lynyrd Skynyrd who had the 1974 US No. 8 single 'Sweet Home Alabama' the 1977 US No. 5 album Street Survivors and the 1982 UK No.21 single 'Freebird'. Collins was behind the wheel in a car accident in 1986 that killed his girlfriend and left him paralysed from the waist down. Collins died on January 23, 1990 from chronic pneumonia, a complication of the paralysis.
19 Jul 1947
Bernie Leadon, guitar, the
Eagles
, quit the band in Jan 1976. (1974 US No.1 single 'Best Of My Love').
19 Jul 1947
Brian May, guitarist, singer and songwriter with
Queen
who had the 1975 UK No.1 single '
Bohemian Rhapsody
' which returned to No.1 in 1991.
Queen
scored over 40 other UK Top 40 singles, and also scored the 1980 US No.1 single 'Crazy Little Thing Called Love'. May had the solo 1992 UK No.5 single 'Too Much Love Will Kill You'. May was made Commander of the Order of the British Empire in 2005 for 'services to the music industry and his charity work'. May earned a PhD in astrophysics from Imperial College, London, in 2007.
19 Jul 1947
Keith Godchaux, pianist, best known for his tenure in
Grateful Dead
from 1971 to 1979. Godchaux sustained massive head injuries after being involved in a car crash while being driven home on his birthday. He died four days later on 23 July 1979 aged 32.
19 Jul 1946
Allan Gorrie, bassist from Scottish funk and R&B group the Average White Band who scored the 1975 US No.1 and UK No.6 single 'Pick Up The Pieces'.
19 Jul 1944
Commander Cody, (George Frayne), piano, vocals, Commander Cody And His Lost Planet Airmen, country rock group. He died on September 26, 2021.
19 Jul 1941
American blues, jazz and R&B guitarist and bassist Phil Upchurch who has worked with Curtis Mayfield, Otis Rush, Jimmy Reed, Cat Stevens, David Sanborn, and appeared on
Michael Jackson
's Off
The Wall
album.
19 Jul 1937
George Hamilton IV, US country singer, (1958 US No.10 & UK No.22 single 'Why Don't They Understand'). Hamilton had a heart attack on September 13, and died September 17 at Saint Thomas Midtown Hospital in Nashville.
19 Jul 1931
Thomas Allen, (Papa Dee), percussionist with American funk band War. Their album The World Is a Ghetto was the best-selling US album of 1973. Allen died from a heart attack while performing on stage on 30 August 1988.