July 20th: The Biggest Music Headlines
Scroll down the page to see all the music headlines, stories and events for July 20 throughout music history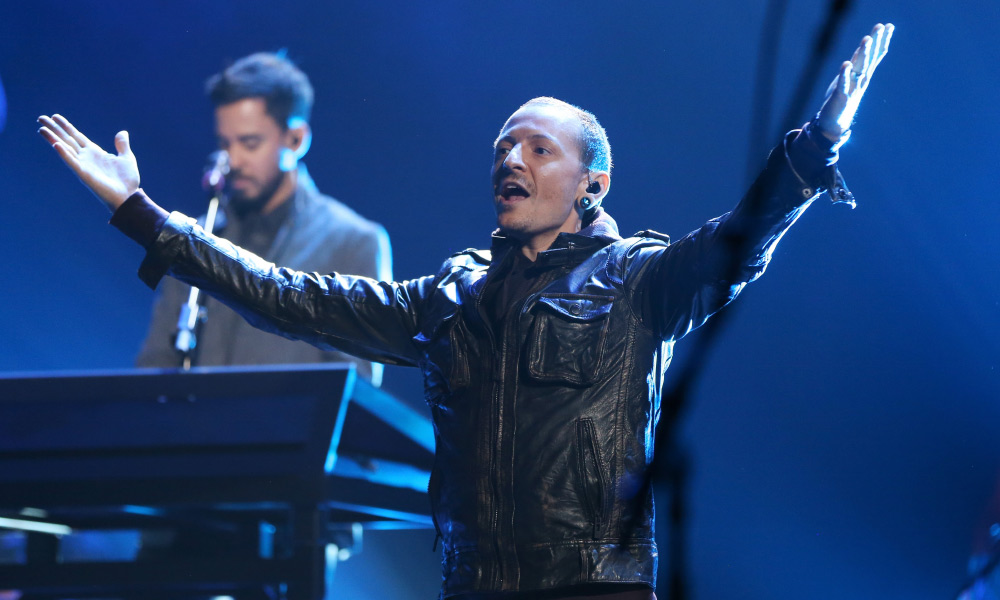 Fans Mourn Linkin Park Frontman Chester Bennington
On this day in music, July 20, 2017, rock fans around the globe were shocked to learn of the death of Linkin Park's charismatic frontman, Chester Bennington, who took his own life at 41. The double Grammy-winning, California-based rock band formed in 1996, releasing their best-selling debut, Hybrid Theory, four years later. The band would soar to international fame, thanks to hits like "In the End," "Numb," and "What I've Done." Bennington's death came two months after the release of Linkin Park's seventh studio album, One More Light.
In 1991, British alt-rockers EMF reached the summit of the US singles chart with their debut single, "Unbelievable," taken from their first album, Schubert Dip. The Gloucester-based group scored one further US hit, "Lies," which dented the Top 20 later that same year.
In 1996, Gary Barlow became the first member of Take That to clinch a No.1 solo hit when he topped the UK chart with "Forever Love," taken from his debut album, Open Road. The track also appeared on the soundtrack to the film The Leading Man, starring Jon Bon Jovi and Thandie Newton.
In 1986, the movie Sid And Nancy premiered at the Limelight Club in London. Focusing on the doomed relationship between Sex Pistol Sid Vicious and his American girlfriend, Nancy Spungen, the Alex Cox-directed picture starred Gary Oldman and Chloe Webb in the titular roles.
In 1976, Buzzcocks took to the stage for the first time, playing support to headliners The Sex Pistols and Slaughter & The Dogs at Manchester's The Lesser Free Trade Hall. Among those who paid £1 to watch from the audience were Morrissey, future Joy Division members Bernard Sumner and Peter Hook, soon-to-be Fall founder Mark E. Smith, and eventual Simply Red main man, Mick Hucknall.
In 1963, Jan and Dean's "Surf City" began a two-week run at the top of the Billboard Hot 100. Co-written by Brian Wilson and featuring the Beach Boys on backing vocals, the track was the California twosome's only US No.1.
In 1940, Billboard magazine published its first chart of best-selling records compiled from sales figures contributed by all the major record labels. Topping the chart was "I'll Never Smile Again" by the Tommy Dorsey Orchestra, featuring a 25-year-old Frank Sinatra and harmony group, The Pied Pipers.
In 1975, guitarist Steve Van Zandt performed his first show as a member of Bruce Springsteen's E Street Band at Providence, RI's Palace Theatre. It was the opening night of The Boss' Born To Run tour.
Looking for more things that happened on this day in music?
Keep scrolling for all of the headlines for July 20.
BORN ON JULY 20:
1933: Buddy Knox
1945: Kim Carnes
1945: John Lodge (The Moody Blues)
1947: Carlos Santana
1956: Paul Cook (Sex Pistols)
1958: Michael McNeil (Simple Minds)
1964: Chris Cornell (Soundgarden)
1966: Stone Gossard (Pearl Jam)
1966: Andrew Levy (The Brand New Heavies)
1999: Pop Smoke
Looking for more artists born on this day?
Keep scrolling for all of our July 20 birthdays.
---
What to find another day?
---
July 20th
20 Jul 2021
American songwriter and vocalist Chuck E. Weiss died from cancer age 76. Weiss was the subject of Rickie Lee Jones's hit song 'Chuck E.'s In Love', from her 1979 debut album. At the time, Jones was linked romantically to Tom Waits. All three lived in the Tropicana Hotel in Los Angeles.
20 Jul 2017
Linkin Park lead singer
Chester Bennington
died aged 41. His body was found at a private home, Bennington apparently hanged himself. The singer was said to be close to Soundgarden vocalist Chris Cornell, who took his own life in May of this year. Formed in 1996, Linkin Park had sold more than 70 million albums worldwide and won two Grammy Awards.
20 Jul 2015
American country musician, songwriter and record producer Wayne Carson died at the age of 72 after suffering congestive heart failure. He co-wrote 'Always on My Mind', (a hit for
Elvis Presley
, Willie Nelson and others), 'The Letter', (recorded by The Box Tops, Joe Cocker and Leon Russell), and 'Soul Deep'.
20 Jul 2011
Never-before seen photographs of
The Beatles
' first US concert in Washington DC sold in New York for more than $360,000 (£223,600). The Fab Four played their first US concert on February 11 1964, at the Washington Coliseum, two days after their debut on The Ed Sullivan Show. Mike Mitchell, of Washington, was 18 at the time and took photographs just feet away. Among the highlights was a backlit photograph Mitchell shot while standing directly behind the Fab Four which sold for more than $68,000 dollars.
20 Jul 2009
Jackson Browne settled his lawsuit against US Senator John McCain and the Republican Party after his 1977 hit 'Running On Empty' was used without permission in a 2008 McCain presidential campaign ad that aired on TV and the Internet. McCain and the Republican Party apologized for using the song in the ad and said that McCain himself "had no knowledge of, or involvement in, the creation or distribution of the video."
20 Jul 2008
Rapper DMX was arrested on suspicion after he gave a false name to get out of paying for hospital medical expenses. County Sheriff Joe Arpaio said the star told Mayo Clinic in Arizona that his name was Troy Jones and failed to pay a $7,500 (£3,752) bill in April. The rapper whose real name is Earl Simmons - was arrested at a shopping centre in Phoenix.
20 Jul 2008
John Lydon denied claims by Kele Okereke from Bloc Party that he was racially abused and attacked by a member of the
Sex Pistols
' entourage at a music festival in Barcelona. Okereke claimed he had been attacked by several men after approaching Lydon backstage at the Summercase festival. He said the 'unprovoked' attack left him with a split lip and bruises. Lydon said: 'I feel very sorry for a man that needs to lie about what was a perfect evening.'
20 Jul 2003
A tooth said to have been pulled out of
Elvis Presley
's mouth after an injury failed to sell on the auction site eBay . The tooth had been put on a 10-day sale with a reserve price of $100,000 (£64,100). Bids had pushed the price up to $2m (£1.28m) but they were later found out to be fraudulent.
20 Jul 2000
The Evergreen Ballroom in Lacey, Washington was destroyed by a fire. During the ballroom's heyday in the 1950s, 60s and 70s, many of music's greats played there:
Elvis Presley
,
Johnny Cash
, Duke Ellington,
Chuck Berry
,
Little Richard
, Ike & Tina Turner and Fats Domino.
Glen Campbell
had lived in the kitchen at the venue for a while before he became famous.
20 Jul 1999
The
Rolling Stones
reported a gross income of $337 million, (£168m), from almost two years of touring from their Bridges to Babylon and No Security tours. The Stones had played to over 5.6 million people, selling out all but 20 shows.
20 Jul 1999
Church group's in middle America claimed that pictures of
Britney Spears
printed in Rolling Stone magazine encouraged child pornography. The shots showed Britney with not many clothes on in her bedroom.
20 Jul 1996
Gary Barlow scored his first UK No.1 single with 'Forever Love' taken from his debut album Open Road. Barlow became the first member of
Take That
to top the charts with a solo record.
20 Jul 1991
British group EMF went to No.1 on the US singles chart with 'Unbelievable' which had spent 14 weeks on the chart before reaching the top. The song contains samples of US comedian and actor Andrew Dice Clay saying "Oh" and a sample of a Black Panther Party member shouting "What the fuck?"
20 Jul 1986
The film based on the life of
Sex Pistols
bassist, Sid Vicious, 'Sid And Nancy' premiered in London, England.
20 Jul 1986
Carlos Santana
celebrated his 39th birthday, and 20th anniversary in the music business, with a concert in San Francisco. Previous group members were assembled for the event, as 17 of them performed together on stage.
20 Jul 1977
20 Jul 1976
Buzzcocks
made their live debut supporting the
Sex Pistols
and Slaughter & The Dogs at The Lesser Free Trade Hall, Manchester. In the audience was, Morrissey, Bernard Sumner, Peter Hook (soon to form
Joy Division
) and Mark E Smith, (The Fall) and Mick Hucknall. Tickets cost £1.
20 Jul 1975
Bruce Springsteen
and the E Street Band played the opening night on their
Born To Run
Tour at The Palace Theatre, Providence, Rhode Island. This also saw the live debut of Steven Van Zandt, (Miami Steve) as a member of The E Street Band.
20 Jul 1973
TV talent show Opportunity Knocks winners Peters And Lee were at No.1 on the UK singles chart with their first single and only chart topper 'Welcome Home.'
20 Jul 1971
The
Carpenters
show Make Your Own Kind Of Music started a six week run on NBC-TV. A key concept of the series involved the alphabet. In the first week, Herb Alpert introduced the show, standing next to a big letter "A." During each week's show, the cast would work its way through the alphabet, ending the program with the letter "Z." Guest stars that appeared during the eight-episode series included Herb Alpert, Jose Feliciano, Dusty Springfield, and Helen Reddy.
20 Jul 1968
Jane Asher announced on the national British TV show, Dee Time, that her engagement to
Paul McCartney
was off. Paul reportedly was watching at a friend's home and was surprised by the news. She was said to have inspired many of McCartney's songs, such as 'All My Loving', 'And I Love Her', and 'We Can Work It Out'. Jane went on to have a career in films and television as well as becoming a successful author and business woman.
20 Jul 1968
Cream
started a four-week run at No.1 on the US album chart with 'Wheels Of Fire'. The double album which consisted of a studio and a live record reached No.3 in the United Kingdom.
20 Jul 1968
Iron Butterfly
's second album, 'In-A-Gadda-Da-Vida', entered the US album chart for the first time. The album contained the 17-minute title track that filled the second side of the LP which went on sell over four million copies in the US alone.
20 Jul 1965
Bob Dylan
released 'Like A Rolling Stone.' At 6:13, it was twice as long as the average pop song, but it nonetheless becomes Dylan's first big hit. Its confrontational lyrics originated in an extended piece of verse Dylan wrote in June 1965, when he returned exhausted from a grueling tour of England. 'Like A Rolling Stone' peaked at No.2 on the US chart and No.4 in the UK.
20 Jul 1963
Jan and Dean started a two week run at No.1 on the US singles chart with 'Surf City', written by The Beach Boys,
Brian Wilson
, with the Beach Boys on backing vocals. The single peaked at No.26 in the UK.
20 Jul 1954
The Blue Moon Boys made their live debut appearing on the back of a flatbed truck outside a new drug store for its grand opening in Memphis. The band line up was
Elvis Presley
Scotty Moore and Bill Black. The name was taken from a song they had recorded just two weeks previously, 'Blue Moon of Kentucky.'
20 Jul 1940
Billboard's first comprehensive record chart was published. The magazine had previously published best-seller lists submitted by the individual record companies, but the new chart combined the top sellers from all major labels. Their first number one song was 'I'll Never Smile Again' by
Frank Sinatra
and the Tommy Dorsey Orchestra.
Born on this day in music
20 Jul 1999
American rapper, singer, and songwriter Pop Smoke. His debut studio album, Shoot for the Stars, Aim for the Moon, was posthumously released in July 2020 and debuted at No.1 on the Billboard chart with all 19 tracks from the album charting on the Billboard Hot 100. He died on 19 Feb 2020 after being shot twice in the chest during a home invasion in Hollywood Hills, California.
20 Jul 1966
Andrew Levy, bassist from English group The Brand New Heavies, who had the 1994 UK No.13 single with their version of 'Midnight At The
Oasis
'.
20 Jul 1966
Stone Gossard, guitar,
Pearl Jam
, (1992 UK No.15 single 'Jeremy', 1993 US No.1 & UK No.2 album 'Vs', 1994 US No.1 & UK No.4 album Vitalogy' and 1996 US No.1 & UK No.3 album 'No Code') Also a member of Brad.
20 Jul 1964
American musician, singer and songwriter Chris Cornell, best known as the lead vocalist, primary songwriter and rhythm guitarist for Seattle rock band Soundgarden and as lead vocalist and songwriter for the group Audioslave. Cornell died suddenly in Detroit on 17 May 2017 after performing at a show with Soundgarden.
20 Jul 1962
Dig Wayne, with British new wave group Jo Boxers, who had the 1983 UK No.3 single 'Boxer Beat'.
20 Jul 1962
Lee Harris, English drummer who joined Talk Talk in 1981. They had the hits 'It's My Life' (1984) and Life's What You Make It', (1986).
20 Jul 1959
James Irvin, singer from British new wave band Furniture, who had the 1986 UK No.21 single 'Brilliant Mind'.
20 Jul 1958
Michael McNeil, keyboards, with Scottish rock band,
Simple Minds
, who had the 1985 US No.1 single 'Don't You, Forget About Me', and the 1989 UK No.1 single 'Belfast Child', plus over 20 other UK Top 40 singles.
20 Jul 1956
20 Jul 1955
Jem Finer, banjo, from Irish-British Celtic punk band The Pogues who scored the 1987 UK No.8 single 'The Irish Rover' and the 1987 UK No.2 single with Kirsty MaCcoll, 'Fairytale Of New York'.
20 Jul 1955
Marisa DeFranco, from family pop group The DeFranco Family, who scored the 1973 US No.3 single 'Heartbeat-It's A Lovebeat', the biggest selling US single of 1973. Based on The
Osmonds
, the group featured 10 year old Tony DeFranco.
20 Jul 1952
Jay Jay French, guitar, Twisted Sister, (1983 UK No.18 single 'I Am, I'm Me', 1984 album 'Stay Hungry').
20 Jul 1947
Carlos Santana
, Mexican and American rock guitarist. Santana appeared at the 1969 Woodstock Festival and were featured in the Woodstock film and soundtrack album vastly increasing the band's popularity. The bands second album, Abraxas, (1970) spent six weeks at No. 1 on the Billboard chart and remained on the charts for 88 weeks. Their 1999 US No.1 single 'Smooth' spent eleven weeks at No.1, (also No.1 in the UK) and Santana won eight Grammy Awards for the Supernatural album at the 2000 awards.
20 Jul 1947
Tony Thorpe, from English pop band The Rubettes who had the 1974 UK No.1 single 'Sugar Baby Love'.
20 Jul 1946
English actress and singer Wendy Richard,1 who had the 1962 UK No.1 single with Mike Sarne, 'Come Outside'. She was best known for her television roles as Miss Shirley Brahms on the BBC sitcom Are You Being Served? from 1972 to 1985, and Pauline Fowler on the soap opera EastEnders from 1985 to 2006. She died on 26 February 2009 of breast cancer, aged 65.
20 Jul 1945
American singer songwriter Kim Carnes, who had the 1981 US No.1 & UK No.10 single 'Betty Davis Eyes' which became the best-selling single of the year in the United States, spending nine weeks at No. 1. She began her career as a songwriter in the 1960s, writing for other artists and working as a session background singer with the famed Water Sisters
20 Jul 1943
John Lodge, bass, vocals, with English rock band The Moody Blues who had the 1965 UK No.1 & US No.10 single 'Go Now' and hit singles including 'Nights in White Satin' and 'Question'. They embraced the psychedelic rock movement of the late 1960s, with their second album, 1967's Days of Future Passed, being a fusion of rock with classical music (performed with the London Festival Orchestra) that established the band as pioneers in the development of art rock and progressive rock.
20 Jul 1933
Buddy Knox, singer, songwriter who had the 1957 US No.1 & UK No.29 single 'Party Doll' which sold over one million copies. He was the first person in the rock 'n' roll era to write and record a No.1 hit. His other hits include 'Rock Your Little Baby To Sleep' and 'Hula Love'. Knox died of lung cancer on 14 February 1999.