July 21st: The Biggest Music Headlines
Scroll down the page to see all the music headlines, stories and events for July 21 throughout music history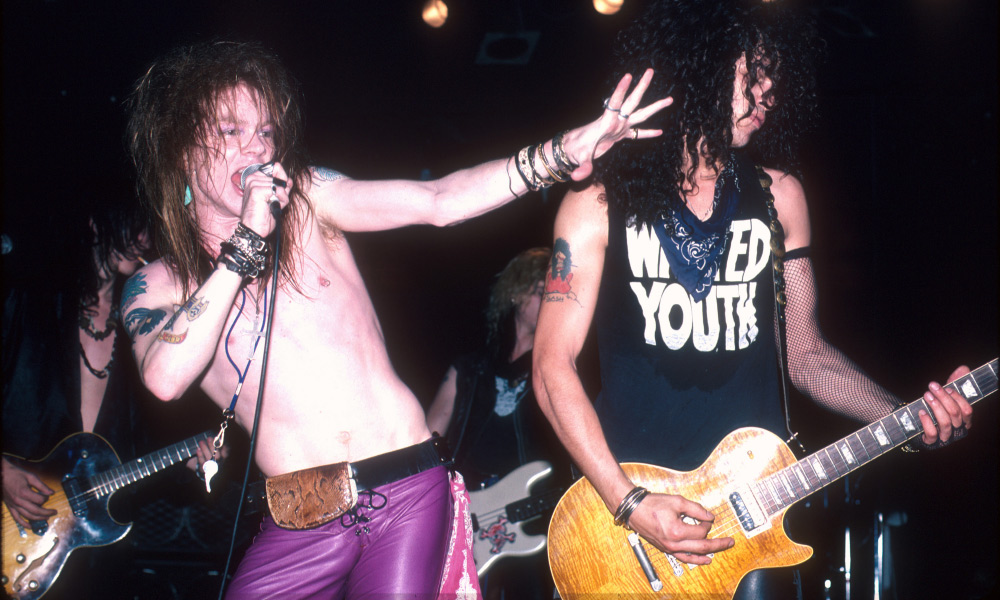 Guns N' Roses Unleash Their Debut Album
On this day in music, July 21, 1987, Los Angeles hard rockers Guns N' Roses unleashed their debut album, Appetite for Destruction, via Geffen Records. Aided by three hit singles – "Welcome To The Jungle," "Paradise City" and "Sweet Child O' Mine" – the album quickly rose to the top of the Billboard 200. It would eventually amass US sales of over 18 million, making it the best-selling debut LP of all time in America.
In 2004, the award-winning conductor and movie composer Jerry Goldsmith died, aged 75. Originally from Los Angeles, he was a classically trained pianist who began writing music for radio in the 1950s before moving into TV in the 60s, where he scored the popular US TV shows Dr. Kildare and Gunsmoke. His striking score to the 1968 movie Planet Of The Apes resulted in a slew of memorable movie soundtracks over the next 40 years, including The Omen (for which he won an Oscar) and Basic Instinct.
In 1973, Philadelphia singer-songwriter Jim Croce scored the first of two US chart-toppers with the self-penned "Bad, Bad Leroy Brown." Three months later, the 30-year-old artist perished in a plane crash. His single "Time in a Bottle," released that November, would become the third posthumous No.1 hit in the history of the Billboard Hot 100.
In 1977, controversial punk rock group the Sex Pistols made their debut on the British music show, Top Of The Pops, where they lip-synced to their third single, "Pretty Vacant," a No. 7 hit in the UK. The band's bassist, also the song's co-writer, Glen Matlock, claimed that the tune was inspired by ABBA's "SOS."
In 2002, noted record producer Gus Dudgeon died, aged 59, in a car accident alongside his wife. Born Angus Boyd Dudgeon in Surrey, England, he was best remembered for producing David Bowie's "Space Oddity" in 1969 and Elton John's "Your Song" two years later. Dudgeon's other credits included sessions with The Beach Boys, Joan Armatrading, Chris Rea, and XTC.
In 1994, Oasis made their US debut at Wetlands in New York City as part of an annual music industry convention called the New Music Seminar. The Manchester band would soon become Brit-pop icons.
Looking for more things that happened on this day in music?
Keep scrolling for all of the headlines for July 21.
BORN ON JULY 21:
1922: Kay Starr (Singer)
1939: Kim Fowley (Producer)
1946: Barry Whitwam (Herman's Hermits)
1948: Cat Stevens/Yusuf Islam
1955: Howie Epstein (Tom Petty & The Heartbreakers)
1958: Henry Priestman (The Christians)
1961: Jim Martin (Faith No More)
1981: Paloma Faith
Looking for more artists born on this day?
Keep scrolling for all of our July 21 birthdays.
---
What to find another day?
---
July 21st
21 Jul 2023
American singer Tony Bennett died at his home in New York City just two weeks short of his 97th birthday, following seven years of Alzheimer's disease. Bennett had the 1955 UK No.1 single 'Stranger In Paradise' and the 1965 UK No.25 single 'I Left My Heart In San Francisco'. In 1998, Bennett made an unlikely but highly successful appearance on the final day of a mud-soaked Glastonbury Festival in the UK dressed in an immaculate suit and tie, his whole set on this occasion consisting of songs about the weather. Bennett and
Amy Winehouse
recorded the duet 'Body and Soul' in March 2011 - the final recording made by Winehouse before her death on July 23, 2011 at the age of 27. When the song charted on the Billboard Hot 100 it made Bennett, at age 85, the oldest living artist ever to chart on the Hot 100.
21 Jul 2023
A festival in Malaysia was cancelled after British singer Matty Healy attacked the country's anti-LGBT laws. During the performance by his band The 1975 at the Good Vibes Festival, Healy addressed the audience in a profanity-laden speech before kissing bass player Ross MacDonald. The band then ended their set, claiming officials ordered them off stage. Homosexuality is illegal in Malaysia and punishable by 20 years in prison. The band were headlining the Good Vibes Festival in the capital Kuala Lumpur on Friday.
21 Jul 2019
Ed Sheeran
spent £4million on new properties in a bid to stop his neighbours moaning about the noise. He bought two houses next door to his £19.8million mansion in London. The singer had also acquired a flat above his Notting Hill bar. Sheeran's impressive portfolio of 22 properties had cost him almost £47million.
21 Jul 2017
Justin Bieber was banned from performing in China, according to Beijing's Culture Bureau. In a statement, the ministry said it was not appropriate to allow in entertainers who have engaged in "bad behaviour." The pop star, who was allowed to tour China in 2013, joined a long list of musicians who have found themselves similarly blacklisted. Most though, like the British band
Oasis
and the US group Maroon 5, because of perceived political statements, rather than on the grounds of bad behaviour.
21 Jul 2016
American musician Lewie Steinberg died age 82. He was best known as the original bass guitar player for the soul music group Booker T & the M.G.'s. and featured on 'Green Onions' rleased in 1962. Steinberg received a Grammy Lifetime Achievement Award in 2007.
21 Jul 2014
Ed Sheeran
was at No.1 on the UK album chart with X (pronounced multiply), his second studio album. The album peaked at No. 1 in fifteen countries, and the lead single, 'Sing', became Sheeran's first UK No.1 song. By the end of 2014 Spotify named X the most-streamed album in the world for 2014, racking up more than 430 million streams for the year.
21 Jul 2008
The Police
played the first of two nights at the Red Rocks Amphitheatre in Morrison, Colorado during the final leg of their 152-date world Reunion tour. The tour became the third highest grossing tour of all time, with revenues reaching over $340 million.
21 Jul 2008
Amy Winehouse
's husband was jailed for 27 months for attacking a pub landlord and perverting the course of justice. Blake Fielder-Civil, 26, of Camden, north London, admitted assaulting James King, 36, at the Macbeths pub in Hoxton, east London, in June 2006. He also admitted at Snaresbrook Crown Court trying to make Mr King withdraw his complaint using a £200,000 bribe.
21 Jul 2007
Sharon Osbourne's music mogul father Don Arden died in a Los Angeles nursing home at the age of 81. Dubbed the Al Capone of Pop for his uncompromising business practices, he steered
Small Faces
,
Black Sabbath
and ELO to stardom.
21 Jul 2005
UK singer Long John Baldry died of a chest infection. He was one of the founding fathers of British Rock 'n' Roll in the 1960s performing with Blues Incorporated and Cyril Davies' R&B All Stars. He later fronted the Hoochie Coochie Men, with
Rod Stewart
and then Steam Packet with Brian Auger and Julie Driscoll. Also a member of Bluesology with
Elton John
. He also narrated on Winnie The Pooh recordings for Disney and was the voice for Robotnik on the Sonic The Hedgehog computer game.
21 Jul 2004
Composer Jerry Goldsmith died after a long battle with cancer aged 75. Created the music for scores of classic movies and television shows 'Star Trek', 'Planet of the Apes', 'The Man from U.N.C.L.E.' and 'Dr. Kildare.'
21 Jul 2003
Coldplay
singer Chris Martin was charged with malicious damage in Australia after he allegedly attacked a photographer's car after he had taken pictures of him surfing at Seven Mile Beach. Martin admitted he had lost his temper due to the constant harassment by that journalist, and consequently smashed his windscreen and let the air out of his tyres.
21 Jul 2002
Producer Gus Dudgeon, who worked with artists including
Elton John
,
David Bowie
,
The Beach Boys
, Kiki Dee, The Bonzo Dog Doo-Dah Band, The Strawbs, XTC, and Joan Armatrading, was killed aged 59 in a car accident near Reading, together with his wife Sheila. They had been driving along the M4 motorway on their way home from a party when Gus fell asleep at the wheel of the Jaguar XK8 convertible, crashing down an embankment at speed and ending up in a ditch.
21 Jul 2001
Madonna
kicked off the North American leg of her 47-date Drowned World Tour at the First Union Center in Philadelphia, Pennsylvania. It was the singers first world tour in eight years, following The Girlie Show in 1993. Over 730,000 people attended the shows throughout North America and Europe, the tour grossed over $75 million
21 Jul 1996
Alanis Morissette
started a second run at No.1 on the UK album chart with Jagged Little Pill which stayed at the top for eight weeks. Overall, the album has sold over 33 million copies worldwide, becoming one of the most successful albums in music history.
21 Jul 1995
A judge in Los Angeles threw out a lawsuit against
Michael Jackson
by five of his former security guards. The guards had claimed they were fired for knowing too much about night-time visits by young boys to Jackson's estate. The singer denied any improprieties.
21 Jul 1994
Oasis
played their first ever American show as part of the New Music Seminar at Wetlands in New York City.
21 Jul 1990
Roger Waters'
The Wall
took place at the Berlin Wall in Potzdamer Platz, Berlin to commemorate the fall of the Berlin Wall eight months earlier. Over 350,000 people attended and the event was broadcast live throughout the world, Van Morrison,
Bryan Adams
,
Joni Mitchell
, The Scorpions, Cyndi Lauper,
Sinead O'Connor
and others took part.
21 Jul 1987
Guns N' Roses
released their debut album on Geffen Records: Appetite For Destruction featured the singles 'Welcome to the Jungle', 'Sweet Child o' Mine', and 'Paradise City'. The album now has worldwide sales in excess of 28 million, 18 million of which are in the US, making it the best-selling debut album of all time there.
21 Jul 1979
Tubeway Army scored their first UK No.1 album with 'Replicas'. The band led by lead singer Gary Numan were the first band of the post-punk era to have a synthesizer-based hit, with their single 'Are 'Friends' Electric?'
21 Jul 1977
Despite protests, The
Sex Pistols
made their first appearance on the UK music show
Top Of The Pops
where they lip-synched to their third single, 'Pretty Vacant'. The performance helped push the song up the charts to No.7.
21 Jul 1973
Jim Croce started a two week run at No.1 on the US singles chart with 'Bad, Bad Leroy Brown'. Croce was killed in a plane crash three months later.
21 Jul 1973
Canned Heat, Nazareth, Edgar Broughton Band, Groundhogs, Sensational Alex Harvey Band, Medicine Head, all appeared at Buxton Festival in Derbyshire, England. Hell's Angels arrived in force and proceeded to drink the site dry. Initially they paid for the booze, but when the money ran out a deputation was sent into the audience to collect donations of 10p per person. About 20 minutes into his set
Chuck Berry
was showing one of the Angels how to do his duck-walk properly. He did one from one end of the stage to the other and disappeared into the wings. The band played on, the Angels bopped, and Chuck legged it to his car and drove off at high speed, never to return.
21 Jul 1969
The Beatles
started work on the
John Lennon
song 'Come Together' at Abbey Road studios in London. The track became the opening song on
The Beatles
Abbey Road
album and was later released as a double A-sided single with
'Something'
, their twenty-first single in the UK and twenty-sixth in the US where it reached the top of the charts.
21 Jul 1967
The
Jimi Hendrix Experience
played the first of three nights at the Cafe-a-Go-Go in New York City. The club featured many well known acts including:
Grateful Dead
, Tim Buckley,
Joni Mitchell
,Howlin' Wolf, Muddy Waters, John Lee Hooker, The Paul Butterfield Blues Band, Jefferson Airplane, and
Cream
who all appeared at the club.
21 Jul 1966
Georgie Fame was at No.1 on the UK singles chart with 'Get Away'. The song started life as a TV jingle for a petrol advert.
Born on this day in music
21 Jul 1981
Paloma Faith, British singer-songwriter and actress. Her 2009 debut album Do You Want the Truth or Something Beautiful?, featured the top twenty singles 'Stone Cold Sober' and 'New York'.
21 Jul 1974
Terry Caldwell, from English pop boy band East 17 who had the 1994 UK No.1 single 'Stay Another Day', plus 18 top-20 singles and four top-10 albums, and were one of the UK's most popular boy bands during the early to mid-1990s.
21 Jul 1961
Jim Martin, guitarist from American rock band, Faith No More who had the 1993 UK No.3 and US No.4 hit single with their version of The Commodores 'I'm Easy'. They had the best-selling albums The Real Thing (1989) and Angel Dust (1992).
21 Jul 1958
Henry Priestman, keyboards, singer with English group The Christians who had the 1988 UK No.8 single 'Harvest For The World'. Also a member of The Yachts and It's Immaterial.
21 Jul 1955
Howie Epstein, bass,
Tom Petty
& The Heartbreakers, (1977 single 'American Girl', 1989 UK No.28 single 'I Won't Back Down', 1991 UK No.3 album 'Into The Great Wide Open'). Died of a suspected drug overdose in New Mexico on 23rd February 2003.
21 Jul 1948
Cat Stevens, singer, songwriter, who had the 1967 UK No.2 single 'Matthew And Son', and the 1972 UK No.9 & US No.6 single, 'Morning Has Broken'. He wrote 'The First Cut Is The Deepest' covered by many artists including PP Arnold, Rod Stewart and Sheryl Crow. Stevens converted to the Muslim religion in 1977 changing his name to Yusef Islam.
21 Jul 1946
Barry Whitwam, drummer with English beat rock band, Herman's Hermits who scored the 1964 UK No.1 single 'I'm Into Something Good' (cover of Earl-Jean's) and the 1965 US No.1 single 'Mrs Brown You've Got A Lovely Daughter'.
21 Jul 1945
Mike Wilson, from English 1960s pop group The Four Pennies who had the 1964 UK No.1 single 'Juliet'.
21 Jul 1943
Northern Ireland rock guitarist, Henry McCullough. He recorded with
Paul McCartney
and Wings, featuring on the hit James Bond theme, 'Live and Let Die' and 'My Love', the solo which he made up on the spot in front of a live orchestra. He was also a member of Spooky Tooth and The Grease Band. McCullough died on 14th June 2016 aged 72.
21 Jul 1939
Kim Fowley, US singer, producer, worked with The Murmaids, PJ Proby,
The Beach Boys
, The
Runaways
,
Frank Zappa
, Slade, Family. Produced the 1962, B Bumble And The Stingers UK No.1 'Nut Rocker.' Fowley died of bladder cancer in Hollywood, California on January 15, 2015 at the age of 75.
21 Jul 1931
American soul-jazz and hard bop tenor saxophonist Plas Johnson. He is best known as the tenor saxophone soloist on Henry Mancini's 'The Pink Panther Theme', as well as playing on innumerable records by Peggy Lee, Nat King Cole,
The Beach Boys
,
Frank Sinatra
, Ricky Nelson and Bobby Vee.
21 Jul 1922
American pop and jazz singer Kay Starr. She enjoyed considerable success in the 40s and 50s and is best remembered for introducing two songs that became No.1 hits in the 50s, 'Wheel of Fortune' and 'The Rock And Roll Waltz'. Starr died on 3 November 2016, age 94 from complications of Alzheimer's disease.