July 24th: The Biggest Music Headlines
Scroll down the page to see all the music headlines, stories and events for July 24 throughout music history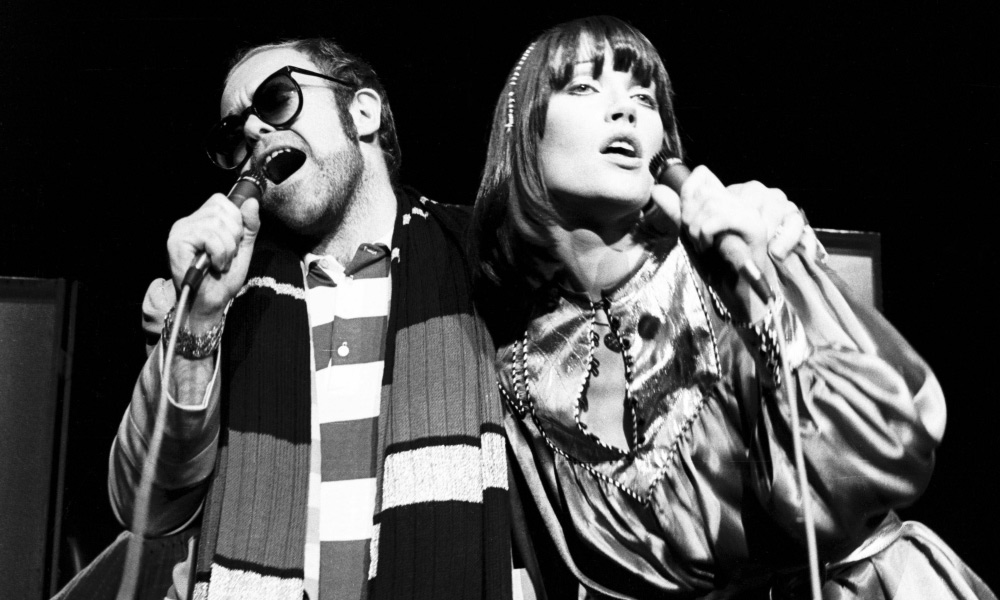 Elton John Scores His First UK No.1 Hit
On this day in music, July 24, 1976, Elton John scored his first No.1 hit in the UK with "Don't Go Breaking My Heart," a retro-flavored duet with Kiki Dee. Written by Elton and his longtime collaborator, Bernie Taupin (under the pseudonyms Ann Orson and Carte Blanche), the upbeat track paid homage to Motown's classic duos, including Marvin Gaye and Tammi Terrell. The song, which was originally earmarked for Dusty Springfield, became a global hit for Elton and Kiki, topping the charts in the US, South Africa, Canada, Australia, and many other countries. In 1994, John re-recorded the song with drag queen RuPaul on his Duets album.
In 2003, the Mark Romanek-directed visual for Johnny Cash's "Hurt" – his haunting revamp of a Nine Inch Nails number – earned six MTV Video Music Award nominations. A little over a month later, the video won Best Cinematography, making the 71-year-old Cash the oldest artist to receive a VMA. The country music legend died two weeks later.
In 1982, the Chicago rock band Survivor topped the Billboard Hot 100 with the rousing "Eye Of The Tiger," plucked from the soundtrack to Sylvester Stallone's Rocky III movie. The now-classic record spent six weeks at No.1 and later picked up a Grammy Award for Best Rock Performance. It also topped the UK singles chart.
In 1978, the musical comedy film Sgt Pepper's Lonely Hearts Club Band, which took its inspiration from the Beatles album of the same name, was released in the US. Bankrolled by producer Robert Stigwood, it boasted a stellar cast, including The Bee Gees, Alice Cooper, Steve Martin, George Burns, and Earth, Wind & Fire. After receiving harsh reviews from the critics, however, it performed poorly at the box office.
In 1977, Donna Summer confirmed her disco queen credentials by topping the UK charts for the first and only time with "I Feel Love," a groundbreaking, futuristic dance record, whose robotic rhythms drew the blueprint for electronic disco. The revolutionary Giorgio Moroder-produced track remained at No.1 for a month, but its influence certainly lasted much longer.
In 1967, The Beatles met Indian guru Maharishi Mahesh Yogi, who they regarded as their spiritual adviser, after hearing a lecture he gave on Transcendental Meditation in a London hotel. He invited them to join him for a lecture tour of North Wales, which they accepted, and later famously traveled to his ashram in Rishikesh, India.
In 1977, Led Zeppelin played their final concert in the US at California's Oakland-Alameda County Coliseum. The British hard rock group cut short their North American tour after frontman Robert Plant learned that his five-year-old son, Karac, had died.
Looking for more things that happened on this day in music?
Keep scrolling for all of the headlines for July 24.
BORN ON JULY 24:
1942: Heinz Burt (The Tornados)
1951: Lynval Golding (The Specials)
1953: Gary Shider (P-Funk All-Stars/Parliament-Funkadelic)
1957: Larry Gott (James)
1957: Pam Tillis
1958: Mick Karn (Japan)
1961: Paul Geary (Extreme)
1970: Jennifer Lopez
1973: Ladybug Mecca (Digible Planets)
1990: Jay McGuiness (The Wanted)
Looking for more artists born on this day?
Keep scrolling for all of our July 24 birthdays.
---
What to find another day?
---
July 24th
24 Jul 2022
Joni Mitchell
surprised the crowd at Newport Folk Festival, Rhode Island when she joined Brandi Carlile on stage for two songs. Fans were treated to a rare performance from the music legend when she appeared during Carlile's set. Performing from a chair (Mitchell had a brain aneurism in 2015), the pair sang Mitchell's classics 'Both Sides Now' and 'A Case Of You', released in 1966 and 1971, respectively. She also played the guitar solo from her 1974 song 'Just Like This Train'.
24 Jul 2019
Queen's
iconic
'Bohemian Rhapsody'
video reached one billion views on YouTube, a new record for one of the band's videos. The milestone made it the first pre-1990s video to reach one billion views on the platform. 'Bohemian Rhapsody' was also named as the most Googled song of 2018.
24 Jul 2017
Linkin Park
released their first official statement after the death of frontman
Chester Bennington
the previous week. "Our hearts are broken. The shock waves of grief and denial are still sweeping through our family as we come to grips with what has happened," it read.
24 Jul 2014
Duran Duran
took legal action against a US company charged with running their fan club over unpaid revenues. The group claimed they are owed $40,000 (£23,500) by the Illinois-based outfit WorldWide Fan Clubs. The company had been charged with managing subscriptions and fan records for
Duran Duran
, with 75% of profits going to the musicians.
24 Jul 2008
Pete Doherty pleaded guilty to causing criminal damage after smashing a photographer's camera. The 29-year-old lost his temper with news agency employee Catherine Mead when she followed him around Crewkerne, Somerset, in August 2007. Yeovil Magistrates' Court heard how he grabbed the camera and broke the lens, he was ordered to pay £918.27 in compensation to Ms Mead.
24 Jul 2008
Rapper 50 Cent was suing Taco Bell claiming the US fast food chain used his name and image without permission in an advertising campaign. New York court papers say the advert features the star being encouraged to change his name to 79 Cent, 89 Cent or 99 Cent. The rapper is accusing the chain of 'diluting the value of his good name'. The advertisement is part of Taco Bell's 'Why Pay More'' campaign, which promotes items for under a dollar.
24 Jul 2007
Beyonce tripped down twelve stairs while performing "Ring the Alarm" on tour in Orlando, Florida. Video from the night of the concert captured her stepping on her trench coat and then tumbling head-first down twelve steps at the Amway Arena appeared within hours on YouTube.
24 Jul 2005
Bad Beat singer Patrick Sherry died after a stage dive went wrong during a gig at the Warehouse in Leeds, England. Sherry lept towards the crowd at the end of the bands set and tried to grab a lighting rig from the ceiling but missed and hit the floor.
24 Jul 2003
Johnny Cash
picked up six nominations in the MTV Video Music Awards for his remake of Nine Inch Nails' 'Hurt' from his album, American IV: The Man Comes Around. The video, featuring images from Cash's life and directed by Mark Romanek, was also named the best video of the year by the Grammy Awards and CMA Awards, and the best video of all time by NME.
24 Jul 2002
A garden centre was sued over claims it killed a collection of the late singer
Freddie Mercury
's prized koi fish. Mercury's former partner, Mary Austin who inherited the Japanese koi collection claimed 84 fish died when the electricity powering a temporary pond was accidentally turned off by a worker from Clifton Nurseries, of Maida Vale, West London. At the time of Mercury's death he had amassed one of the best collections of the fish in the UK. One koi can be worth £250,000.
24 Jul 1999
24 Jul 1997
Police gave
Oasis
singer
Liam Gallagher
a formal caution after he admitted criminal damage following an incident with a cyclist in Camden, north London. Gallagher had grabbed the rider from the window of his chauffeur driven car and broken the man's Ray-Bans sunglasses.
24 Jul 1993
U2
started a two-week run at No.1 on the US album chart with 'Zooropa' the Irish bands fourth US No.1. Zooropa won a Grammy Award for Best Alternative Music Album in 1994.
24 Jul 1993
UB40 started a seven week run at No.1 on the US singles chart with 'Can't Help Falling In Love'.
Elvis Presley
had the first hit with the song, in 1961, Corey Hart was next up with a top 30 hit in 1987, and
Hall and Oates
recorded the song for 1990's, The Last Temptation of Elvis charity album. UB40 originally covered the song for the Honeymoon in Vegas soundtrack, but Bono's version was chosen instead. Also on the same day UB40 went to No.1 on the UK album chart with 'Promises And Lies'.
24 Jul 1984
The Rev. C.L. Franklin died, (father of soul singer
Aretha Franklin
). Franklin who was an American Baptist minister as well as a Civil Rights activist had been in a coma since 1979 after being shot by burglars at his home in Detroit.
24 Jul 1982
Survivor started a six week run at No.1 on the US singles chart with 'Eye Of The Tiger', taken from the film 'Rocky III'. Also No.1 in the UK. Survivor won the Grammy Award for Best Rock Performance for the song.
24 Jul 1978
The Robert Stigwood film
Sgt Pepper
's Lonely Hearts Club Band was released, featuring The
Bee Gees
and Peter Frampton. The film received extremely negative reviews from most critics and barely broke even at the box office.
24 Jul 1977
Donna Summer was at No.1 on the UK singles chart with the Giorgio Moroder produced 'I Feel Love'. The disco diva's only UK chart topper.
24 Jul 1976
Elton John
scored his first UK number 1 single with 'Don't Go Breaking My Heart' a duet with Kiki Dee. It was written by
Elton John
and Bernie Taupin under the pseudonym "Ann Orson" and "Carte Blanche" and was Elton's first UK No.1 after 16 Top 40 hits. John had met Dee when she was working as a backing singer. John would later re-record the song with RuPaul for his 1993 'Duets' album.
24 Jul 1974
George McCrae was at No.1 on the UK singles chart with 'Rock Your Baby'. Written and produced by Harry Wayne Casey and Richard Finch of KC and the Sunshine Band. Regarded by some as the first Disco No.1.
24 Jul 1972
Bobby Ramirez drummer with Edger Winters White Trash was killed after becoming involved in a brawl in a Chicago bar. The fight started after comments were made about the length of his hair.
24 Jul 1971
Paul Revere and the Raiders went to No.1 on the US singles chart with 'Indian Reservation'. The song was first recorded in 1959 by Marvin Rainwater and released as 'The Pale Faced Indian' and then later by Don Fardon in 1968.
24 Jul 1969
Paul McCartney
recorded a demo of his new song 'Come and Get It' at Abbey Road studios in London. McCartney gave the song to The Iveys, (soon to become known as
Badfinger
). The song was later used as the theme for the movie The Magic Christian.
The Beatles
also recorded 'Sun King/Mean Mr. Mustard' for their forthcoming Abbey Road album.
24 Jul 1967
The Beatles
meet Maharishi Mahesh Yogi, whose lecture on Transcendental Meditation (TM) they had gone to hear at the Hilton Hotel in London. TM involved the silent repetition of a word or sound to produce a state of mind that reduces stress, calms the mind, and energizes both mind and body. The Maharishi invited
The Beatles
to travel with him to Bangor, in North Wales, to attend more lectures. They accepted his invitation.
24 Jul 1967
All four Beatles and their manager Brian Epstein signed a petition printed in The Times newspaper calling for the legalisation of marijuana.
24 Jul 1965
The Byrds were at No.1 on the UK singles chart with their version of the
Bob Dylan
song 'Mr Tambourine Man'. The first
Bob Dylan
song to reach No.1. The Byrds' recording of the song was influential in initiating the musical subgenre of folk rock, leading many contemporary bands to mimic its fusion of jangly guitars and intellectual lyrics.
24 Jul 1964
A riot broke out during a
Rolling Stones
gig at The Empress Ballroom in Blackpool, Lancashire, after
Keith Richards
kicked a yob in the mouth who was spitting at the group. Two policemen and 30 fans were injured and the damage was estimated at over £4,000. The Rolling Stones were then banned from playing in Blackpool for forty-four years, (until the ban was lifted).
Born on this day in music
24 Jul 1990
British singer, songwriter Jay McGuiness with boy band The Wanted. Their debut single, 'All Time Low', topped UK Singles Chart.
24 Jul 1982
Tord Øverland Knudsen, bass, keyboards for English indie rock band The Wombats.
24 Jul 1973
Mecca, Digable Planets, (1993 UK No. 67 single 'Rebirth Of Slick').
24 Jul 1970
American singer, actress, and dancer Jennifer Lopez. She scored the 2001 UK No.1 single 'Love Don't Cost A Thing', and the 2001 US No.1 single 'I'm Real'. For her first leading role in Selena (1997), she became the first Hispanic actress to earn over $1 million for a film. She went on to star in Anaconda (1997) and Out of Sight (1998), and established herself as the highest-paid Hispanic actress in Hollywood.
24 Jul 1961
Paul Geary, drummer with, Extreme who had the 1991 US No.1 & UK No.2 single 'More Than Words'). Geary is now a manager working with The Smashing Pumpkins, Creed, The Scorpions, Fuel, Steel Panther, Jason Bonham and others.
24 Jul 1958
Mick Karn, bass, sax, Japan, (1982 UK No.5 single 'Ghosts').
24 Jul 1957
Larry Gott, guitarist from English rock band James who scored the 1991 UK No.2 single 'Sit Down' and the hits 'Laid' and 'Come Home'.
24 Jul 1957
Country music singer-songwriter and actress, Pam Tillis, (the daughter of country music singer Mel Tillis). She scored the 1991 hit 'Don't Tell Me What to Do', and has since charted more than 30 singles on the US country charts, including her only No.1 single, 1995's 'Mi Vida Loca (My Crazy Life)'.
24 Jul 1953
American musician and guitarist Gary Shider. He was musical director of the P-Funk All-Stars and as a member of Parliament-Funkadelic he scored the hit 'One Nation Under A Groove'. He died on June 16, 2010 from cancer of the brain and lungs.
24 Jul 1951
Jamaican-born British musician Lynval Golding, guitarist with The Specials who had the 1981 UK No.1 single 'Ghost Town'.
24 Jul 1949
English drummer Graham Lear best known for his time working with Gino Vannelli,
Santana
, Paul Anka, and REO Speedwagon.
24 Jul 1947
Alan Whitehead, drummer, from Scottish pop rock band Marmalade, (originally formed in 1961 as The Gaylords). They scored the 1969 UK No.1 single with their version of
The Beatles
song 'Ob-La-Di Ob-La-Da'.
24 Jul 1944
Irish guitarist Jim Armstrong, with Van Morrison and Them, who had the 1965 UK No.2 & US No.24 single 'Here Comes The Night'. Armstrong has also played with
The Doors
, Captain Beefheart and
Frank Zappa
.
24 Jul 1942
German-born bassist and singer, Heinz Burt, The Tornados, (1962 UK & US No.1 single 'Telstar'). The first major hit from a UK group on the American chart. Crippled by motor neuron disease, Heinz died aged 57 following a stroke on 7th April 2000.
24 Jul 1941
Barbara Love, The Friends Of Distinction, (1969 US No.3 single 'Grazing In The Grass').
24 Jul 1935
English songwriter Les Reed. His major songwriting partners were Gordon Mills, Barry Mason and Geoff Stephens, although he wrote songs with many others such as Roger Greenaway, Roger Cook, Peter Callander, and Johnny Worth. Reed co-wrote around sixty hit songs, and is best known for 'It's Not Unusual', 'Green, Green Grass of Home' and 'Delilah', (hits for Tom Jones) as well as 'The Last Waltz' (Engelbert Humperdinck). He died on 15 April 2019 age 83.