July 28th: The Biggest Music Headlines
Scroll down the page to see all the music headlines, stories and events for July 28 throughout music history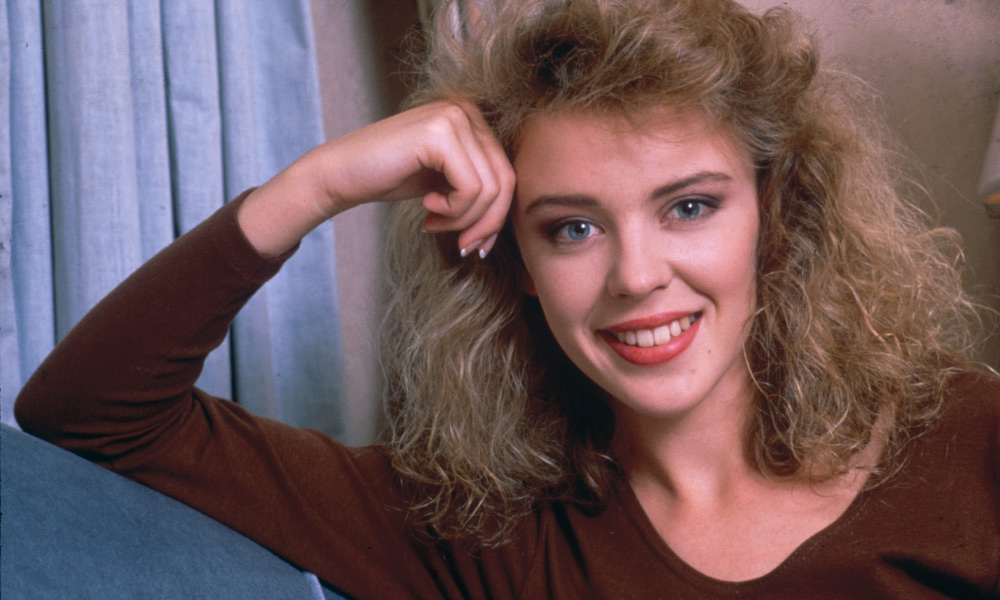 Kylie Minogue Launches Her Celebrated Music Career
On this day in music, July 28, 1987, 19-year-old Australian actress Kylie Minogue (known best at the time for her work in the soap opera Neighbours) released her debut single – a dance-pop version of Gerry Goffin and Carole King's "The Loco-Motion," which was first recorded 25 years earlier by R&B singer Little Eva. The track quickly topped the Australian pop charts, while in the US, it marked the third time that the frequently-covered song had reached the Top 3. The song's global success led Minogue to sign with the London-based production trio Stock, Aitken, and Waterman, who masterminded her debut album, helping to transform her into the most successful Australian female artist of all time.
In 1960, Roy Orbison made his British chart debut with the groundbreaking operatic rock ballad, "Only The Lonely." The song would soon become the first of three UK No.1s for the American singer-songwriter. In the US, it got stuck at No.2, behind Brenda Lee's "I'm Sorry." When Elvis Presley and the Everly Brothers both turned down the song, Orbison, who co-wrote it, elected to release his own version.
In 1992, gangsta rap pioneer Ice T appeased angry law enforcement groups by announcing that his controversial song, "Cop Killer," which he recorded with the LA heavy metal band Body Count, would be dropped from future copies of the outfit's self-titled debut. The track resurfaced as a free single given away at Body Count gigs. Ironically, T (who was born Tracy Marrow) has since played a role as a detective in the NBC cop drama Law & Order: Special Victims Unit.
In 2020, influential British monthly music magazine, Q, was published for the final time. First hitting the newsstands in 1986, it was the brainchild of journalists Mark Ellen and David Hepworth, who also presented the 80s BBC TV music show, Whistle Test.
In 2014, Tom Petty and the Heartbreakers released their 13th studio album, Hypnotic Eye. A global best-seller, the LP stormed to the top of the Billboard 200 in the first week of its release, giving the band their first US No.1 album. Sadly, the Grammy-nominated title turned out to be the band's final album, as Petty died in 2017.
In 2021, Dusty Hill, the 72-year-old singer and bassist of ZZ Top, passed away. Hill joined the long-bearded Texas trio (led by guitarist Billy Gibbons) in 1969, but it was after their third album, 1973's Tres Hombres, that the band began to get noticed. In the 1980s, the blues-rockers achieved mainstream success, aided by eye-catching videos that received heavy rotation on MTV.
Looking for more things that happened on this day in music?
Keep scrolling for all of the headlines for July 28.
BORN ON JULY 28:
1943: Rick Wright (Pink Floyd)
1943: Mike Bloomfield (Paul Butterfield Blues Band, Electric Flag)
1948: Gerald Casale (Devo)
1949: Steve Peregrin Took (Tyrannosaurus Rex)
1949: Simon Kirke (Free, Bad Company)
1965: Nick Banks (Pulp)
1974: Afroman
1986: Jacoby Dakota Shaddix (Papa Roach)
1990: Soulja Boy (Rapper)
Looking for more artists born on this day?
Keep scrolling for all of our July 28 birthdays.
---
What to find another day?
---
July 28th
28 Jul 2021
American musician and bassist Dusty Hill of ZZ Top died age 72. In 1968, he and the drummer Frank Beard joined the guitarist Billy Gibbons in ZZ Top. They went on to release 15 studio albums and sold an estimated 50 million records worldwide including the bestselling Eliminator (1983), which featured two Top-40 singles 'Gimme All Your Lovin'' and 'Legs'.
28 Jul 2020
The British music magazine Q published its last issue, ending a 34-year run. Founded in 1986 by broadcast journalists Mark Ellen and David Hepworth, who were presenters of the BBC television music series Whistle Test, every issue of Q had a different message on the spine. Readers tried to work out what the message had to do with the contents of the magazine.
28 Jul 2016
Marianne Ihlen, the subject of Leonard Cohen's song 'So Long, Marianne, died age 81. Before her death, Cohen sent her a letter that read, in part, "Know that I am so close behind you that if you stretch out your hand, I think you can reach mine." Cohen joins her in death on November 7 of this year.
28 Jul 2014
Linda Ronstadt was honored with a National Medal of Arts at the White House in Washington, D.C. The honor was a particularly special moment for Ronstadt, who didn't make it to her induction to the Rock and Roll Hall of Fame (in April of this year), since Parkinson's disease limited her ability to travel. The singer was brought into the East Room by wheelchair, but she walked onto the stage to receive her award.
28 Jul 2014
Reprise Records released
Tom Petty
and the Heartbreakers' thirteenth studio album, Hypnotic Eye. The album debuted at No.1 on the Billboard 200, becoming the first Tom Petty and the Heartbreakers album to ever top the chart.
28 Jul 2011
63-year-old singer
Meat Loaf
, passed out onstage at Pittsburgh's Trib Amphitheater during an apparent asthma attack. After about ten minutes he regained his composure and finished the show.
28 Jul 2008
Amy Winehouse
was rushed to hospital after she started to have fits at her home in Camden North London. A spokesman said it appeared the singer had suffered a reaction to medication she was taking to help her off hard drugs.
28 Jul 2006
Prince
second wife Manuela Testolini Nelson filed for divorce. His first marriage, to dancer Mayte Garcia, took place in 1996 but only lasted two years.
28 Jul 2004
Justin Timberlake obtained a restraining order against a photographer who allegedly stalked him. A judge in Santa Monica, California, granted the order against photographer Artemus Earl Lister.
28 Jul 2004
American soul singer George Williams from The Tymes died of cancer. Had the 1963 US million seller 'So Much in Love' and the 1975 UK No.1 single 'Ms Grace'.
28 Jul 2003
The wine Sir Cliff Richard made from his Algarve estate started a UK supermarket battle. Fans were asking all the stores when the wine would go on sale with the Tesco chain saying they would be the first, but the Waitrose shops had been selling the £8.49 a bottle red for the last week.
28 Jul 1996
Marge Ganser from The Shangri-Las died of breast cancer. The group scored over ten hits during the 60s including the 1964 US No.1 'Leader Of The Pack.'
28 Jul 1992
Rapper Ice T announced that Warner Brothers Records would pull the controversial song 'Cop Killer' from all future copies of his "Body Count" album. The song had been the target of protests by law enforcement groups who said it encouraged the killing of police. Ice T said he would give away recordings of 'Cop Killer' at his concerts. In an ironic twist, he would later join the cast of the NBC police drama, Law and Order.
28 Jul 1990
Partners In Kryme started a four-week run at No.1 with 'Turtle Power' the first rap chart topper in the UK. The
One Hit Wonders
track was featured in the film Teenage Mutant Ninja Turtles.
28 Jul 1987
Kylie Minogue
released a cover version of the Gerry Goffin and
Carole King
penned song 'The Loco-Motion' in Australia, as her debut single. Minogue had first performed the song at an impromptu performance at an Australian rules football charity event with the cast of the Australian soap opera Neighbours. The song reached No.1 in Australia and the success in her home country resulted in her signing a record deal with PWL Records in London, England.
28 Jul 1979
'I Don't Like Mondays' gave The Boomtown Rats their second UK No.1 single.
Bob Geldof
wrote the song after reading a report on the shooting spree of 16-year-old Brenda Ann Spencer, who fired at children playing in a school playground across the street from her home in San Diego, California. She killed two adults and injured eight children and one police officer. Spencer showed no remorse for her crime, and her full explanation for her actions was "I don't like Mondays, this livens up the day."
28 Jul 1973
The Watkins Glen outdoor summer jam was held outside of Watkins Glen, New York with
The Allman Brothers Band
, the
Grateful Dead
and The Band. Over 600,000 rock fans attended. Many historians claimed the event was the largest gathering of people in the history of the United States. 150,000 tickets were sold for $10 each, but for all the other people it was a free concert. The crowd was so huge that a large part of the audience was not able to see the stage.
28 Jul 1969
Police in Moscow reported that thousands of public phone booths had been vandalised after thieves were stealing parts of the phones to convert their acoustic guitars to electric. A feature in a Russian youth magazine had shown details on how to do this.
28 Jul 1966
Chris Farlowe and the Thunderbirds were at No.1 on the UK singles chart with the
Mick Jagger
and
Keith Richards
song 'Out Of Time'. The song was first released on the Stones 1966 album Aftermath (UK version).
28 Jul 1964
On their second visit to Sweden,
The Beatles
played two shows at an ice hockey arena, the Johanneshovs Isstadion, Stockholm. During the first show, both
Paul McCartney
and
John Lennon
received mild electrical shocks from ungrounded microphones. Supporting acts included The Kays, The Moonlighters, and The Streaplers.
28 Jul 1960
Roy Orbison
entered the UK chart with 'Only The Lonely', which went on to give Roy his first of three UK chart toppers. As an operatic rock ballad, it was a sound unheard of at the time, and is seen as a seminal event in the evolution of Rock and Roll. Released as a 45rpm single by Monument Records in May, 1960, 'Only The Lonely' went to No. 2 on the United States. The song was turned down by The Everly Brothers and
Elvis Presley
, so Orbison decided to record the song himself.
28 Jul 1956
Gene Vincent made his first appearance on national TV in the US on The Perry Como Show. Vincent had released 'Woman Love' the previous month, but it was the B-side, 'Be-Bop-A-Lula,' that eventually made the top 10. The song had been purchased from a fellow hospital patient when Vincent was recovering from leg injuries. A demo of the song made its way to Capitol Records as part of an Elvis sound-alike contest and a re-recorded version gave Vincent a hit.
Born on this day in music
28 Jul 1990
DeAndre Cortez Way (Soulja Boy), American rapper. 2007 US No.1 single 'Crank That (Soulja Boy).'
28 Jul 1986
Jacoby Dakota Shaddix, lead singer with Papa Roach.
28 Jul 1980
Welsh singer and actor Noel Sullivan from Hear'Say who had the 2001 UK No.1 single 'Pure and Simple'. Sullivan played the lead role of Galileo Figaro in the 2011 UK tour of We Will Rock You and later took over from Alex Gaumond in the lead role of Galileo in We Will Rock You in the London West End Production of the musical at the Dominion Theatre.
28 Jul 1974
American rapper, multi-instrumentalist Joseph Edgar Foreman, better known by his stage name Afroman known for his singles 'Because I Got High' and 'Crazy Rap'. In October 2014, Afroman released a remix of his song 'Because I Got High,' to highlight the usefulness of marijuana as part of the fight to legalize its sale across the United States.
28 Jul 1972
Dan Warton, drums, Neds Atomic Dustbin, (1991 UK No.16 single 'Happy').
28 Jul 1965
Nick Banks, drummer from English rock band Pulp, who had the 1995 UK No.2 single 'Common People'. He quit the band in January 1997. Pulp were regarded among the Britpop "big four", along with
Oasis
, Blur and Suede.
28 Jul 1965
Texas Axile, keyboards, with English group Transvision Vamp who had the 1989 UK No.3 single 'Baby I Don't Care'.
28 Jul 1963
Beverley Craven, (1991 UK No.3 single 'Promise Me', 1991 UK No.3 self-titled album).
28 Jul 1962
Rachel Sweet, singer, (1978 UK No.35 single 'B-A-B-Y').
28 Jul 1960
Malcolm Holmes best known for being the original drummer with
Orchestral Manoeuvres in the Dark
. In 2013 during at gig at the Danforth Music Hall, Toronto Canada, Holmes had a cardiac arrest and his heart stopped for over 3 minutes. The rest of the group thought he had died. Luckily a paramedic restarted his heart
28 Jul 1949
Peter Doyle, singer, from The New Seekers who had the 1972 UK No.1 and US No.7 single 'I'd Like To Teach The World To Sing' and hits with 'You Won't Find Another Fool Like Me' and 'Beg, Steal or Borrow'. Doyle died on 13th October 2001.
28 Jul 1949
Simon Kirke, English drummer with
Free
, who had the 1971 UK No.2 & US No.4 single '
All Right Now
' and Bad Company. Their first three albums, Bad Company (1974), Straight Shooter (1975), and Run with the Pack (1976), reached the top five in the album charts in both the UK and the US.
28 Jul 1949
Steve Took, percussionist, best known for his membership of the duo Tyrannosaurus Rex with
Marc Bolan
. Took died on 27th October 1980. His death certificate records the cause of death as being asphyxiation after inhaling a cocktail cherry.
28 Jul 1948
Gerald Casale, vocalist, bass guitar/synthesizer player, and a founding member of the new wave band Devo. He also directed most of Devo's videos and has also directed videos for The Cars, Rush,
Foo Fighters
and Soundgarden.
28 Jul 1943
American guitarist Mike Bloomfield who was a member of the Paul Butterfield band and Electric Flag. He played on
Bob Dylan
's album Highway 61 Revisited. Bloomfield's Telecaster guitar licks were featured on Dylan's 'Like a Rolling Stone', and he appeared onstage with Dylan at the Newport Folk Festival, where Dylan used Bloomfield and the Butterfield Band which marked Dylan's first use of an electric band in a live performance. Bloomfield was found dead in his car in San Francisco from an accidental heroin overdose on 15 February 1981 aged 37.
28 Jul 1943
Richard Wright
keyboards, vocals,
Pink Floyd
(1973 US No.1 & UK No.2 album
The Dark Side Of The Moon
, spent a record breaking 741 weeks on the US chart. 1979 UK and US No.1 single 'Another Brick In
The Wall
(Part 2)'. Wright died on 15th Sept 2008 aged 65 from cancer. Wright appeared on the groups first album, The Piper at the Gates of Dawn, in 1967 alongside
Syd Barrett
, Roger Waters and Nick Mason.
28 Jul 1938
George Cummings, steel guitar, with American rock band Dr Hook who had the 1970s hits 'The Cover of Rolling Stone', 'A Little Bit More', 'When You're in Love with a Beautiful Woman' and 'Sylvia's Mother'.
28 Jul 1935
Simon Dee (Cyril Nicholas Henty-Dodd), British TV and radio presenter, hosted a twice-weekly chat show 'Dee Time' during the 1960's, with musical guests including
Jimi Hendrix
and Lulu. Dee died on 29th August 2009.