July 3rd: The Biggest Music Headlines
Scroll down the page to see all the music headlines, stories and events for July 3 throughout music history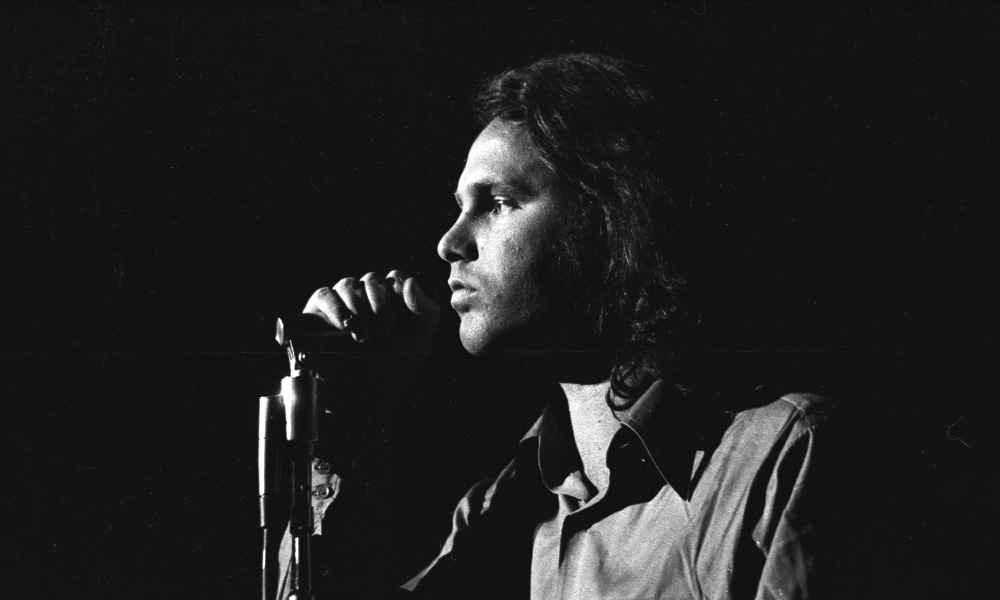 The Doors' Jim Morrison Dies at 27
On this day in music, July 3, 1971, Jim Morrison, the 27-year-old frontman of The Doors, was found dead in his Paris apartment. The influential singer, songwriter, and poet co-founded the Los Angeles rock band in 1965; rising to fame two years later with the chart-topping hit, "Light My Fire." Before Morrison's untimely passing, The Doors would become one of the biggest bands in the world, releasing six albums over five years and placing multiple singles on the Billboard Hot 100. As a frontman, Morrison captivated audiences with his commanding vocals, wild persona, and spoken-word improvisations. His songs, meanwhile, captured the collective feelings of the counterculture generation.
In 1969, 27-year-old singer, songwriter, and multi-instrumentalist, Brian Jones, drowned. Best known as a founding member of The Rolling Stones, Jones began his career in the London blues scene, playing alongside Alexis Korner and such future stars as Paul Jones (Manfred Mann) and Jack Bruce (Cream). In 1962, he sought to form an R&B group, placing an ad in a local paper for musicians. Before long, they became The Rolling Stones. While he was a talented and versatile musician, whose brilliant work can be heard on such albums as Aftermath and Between The Buttons, Jones struggled with addiction. His demons, as well as growing tensions with his bandmates, led to his dismissal in June 1969.
In 1973, David Bowie figuratively killed his alter ego, Ziggy Stardust, during the final show of his UK Aladdin Sane tour. Just before launching into "Rock'n'Roll Suicide," Bowie delivered a vague farewell speech, shocking the audience at London's Hammersmith Odeon, as well as the majority of his band and crew, who all assumed that the artist himself was retiring from the limelight. Bowie would, however, disband the Spiders from Mars (with the exception of guitarist Mick Ronson), and assemble a new ensemble ahead of his North American tour that fall.
In 1968, David Crosby, Stephen Stills, and Graham Nash all played together for the first time, during an impromptu jam session at Joni Mitchell's Laurel Canyon house. The three musicians would officially become a group later that year, releasing their self-titled debut in 1969.
Looking for more things that happened on this day in music?
Keep scrolling for all of the headlines for July 3.
BORN ON JULY 3:
1929: David Lynch (The Platters)
1930: Tommy Tedesco (Guitarist)
1940: Fontella Bass
1943: Judith Durham (The Seekers)
1948: Paul Barrere (Little Feat)
1952: Andy Fraser (Free, John Mayall's Bluesbreakers)
1957: Laura Branigan
1960: Vince Clarke (Erasure, Depeche Mode)
1969: Kevin Hearn (Barenaked Ladies)
1976: Shane Lynch (Boyzone)
Looking for more artists born on this day?
Keep scrolling for all of our July 3 birthdays.
---
What to find another day?
---
July 3rd
3 Jul 2021
Gwen Stefani and Blake Shelton married at Shelton's ranch in Oklahoma. They met in 2014 when they were judges on the TV show The Voice and started dating a year later. In 2020, their duets 'Nobody But You' and 'Happy Anywhere' both reached No. 1 on the Billboard US Country Airplay chart. Stefani was previously married to Bush lead singer Gavin Rossdale, the couple divorced in April 2016.
3 Jul 2017
Singer Tony Hadley said he had left 1980s group Spandau Ballet, and "will not be performing" with them in the future. In an oddly-worded statement, the star said: "I am required to state that I am no longer a member of the band". He did not indicate why he was leaving, but blamed "circumstances beyond my control".
3 Jul 2012
Kiss
announced that they were set to release a guitar size book containing unseen photographs from their 40-year career. The limited edition called Monster would have a $4,299 price tag and at 3 feet tall, 2.5 feet wide, was reported to be the largest music book ever published.
3 Jul 2008
Kylie Minogue
received an OBE for services to music from the Prince of Wales at Buckingham Palace, England. Earlier this year, she was also presented with the Order of Arts and Letters by the French government for her "contribution to the enrichment of French culture".
3 Jul 2007
Pete Doherty escaped jail after a judge decided to defer sentencing him for drugs offences on condition he went into rehab. Doherty pleaded guilty to possessing crack cocaine and heroin at West London Magistrates' Court. He was warned by Judge Davinder Lachhar that he would go into custody if he failed to take up a place he was offered on a detox programme.
3 Jul 2004
David Crosby was fined $5,000 (£2,745) by a US court after admitting attempted criminal possession of a weapon. It followed his arrest in New York in March when a gun, knife and marijuana were found in his luggage.
3 Jul 2002
A session violinist serenaded a High Court judge during a copyright battle worth an estimated £100,000. The case was over the rights to The Bluebells version of 'Young At Heart.' Bobby Valentino won his case as joint owner of the song.
3 Jul 2002
Three diners at a newly opened
Britney Spears
owned restaurant suffered food poisoning. The three students who had eaten wild striped bass at the New York restaurant made official complaints and vowed never to eat there again.
3 Jul 2001
American singer, songwriter Johnny Russell died aged 61. Wrote 'Act Naturally' covered by
The Beatles
and Buck Owens. Jim Reeves,
Jerry Garcia
,
Dolly Parton
, Emmylou Harris, and Linda Ronstadt all covered his songs.
3 Jul 2000
Harvard professor Ronald Ferguson accused the culture of hip-hop and rap music of stalling academic progress among young American blacks. He claimed time spent learning intricate rhyming lyrics detracted from reading.
3 Jul 1986
U2
crew member Greg Carroll was killed in a motorcycle accident in Dublin while running an errand for Bono. The song 'One Tree Hill' on the bands
Joshua Tree
album is dedicated to Carroll.
3 Jul 1982
After a record breaking jump from No.33 on the UK singles charts, The Damned's guitarist Captain Sensible started a two week run at No.1 with his version of the Rodgers and Hammerstein song 'Happy Talk' from the 1949 musical South Pacific.
3 Jul 1975
Lead singer from Three Dog Night Chuck Negron was arrested at his Louisville hotel room on the opening night of the bands tour and charged with possession of cocaine.
3 Jul 1973
After 182
Ziggy Stardust
concert performances,
David Bowie
announced he was about to retire from live performing, although it eventually transpires that the stage persona is being retired and not Bowie himself. Only his guitarist
Mick Ronson
knew about the announcement, which came as a complete shock not only to the audience but the rest of Bowie's band and crew.
3 Jul 1973
Laurens Hammond the inventor of the Hammond organ died aged 73. Many rock artists including
Procol Harum
, Keith Emerson,
Led Zeppelin
,
The Doors
,
The Allman Brothers Band
and the
Faces
featured the sound of the Hammond. He also invented a silent spring-driven clock and during the second world war he helped design guided missile systems.
3 Jul 1972
Blues singer, guitarist Mississippi Fred McDowell died of cancer aged 68. The
Rolling Stones
covered his 'You Got To Move' on their
Sticky Fingers
album. He coached Bonnie Raitt on slide guitar technique.
3 Jul 1971
American singer, songwriter and poet,
Jim Morrison
of
The Doors
was found dead in a bathtub in Paris, France, the cause of death was given as a heart attack. He co-wrote some of the group's biggest hits, including 'Light My Fire', 'Love Me Two Times', and 'Love Her Madly.' On the 25th anniversary of his death an estimated 15,000 fans gathered at Pere Lachaise Cemetery in Paris, France to pay their respects.
3 Jul 1969
Brian Jones
drowned while under the influence of drugs and alcohol after taking a midnight swim in his pool, aged 27. His body was found at the bottom of the pool by his Swedish girlfriend Anna Wohlin. The coroner's report stated "Death by misadventure", and noted his liver and heart were heavily enlarged by drug and alcohol abuse. Jones was one of the founding members of The
Rolling Stones
and in the early 60's used the name "Elmo Lewis."
3 Jul 1968
At an impromptu gathering at
Joni Mitchell
's house in Lookout Mountain, Laurel Canyon, Los Angeles, David Crosby, Stephen Stills and Graham Nash played together for the very first time. The trio went on to form
Crosby, Stills and Nash
.
3 Jul 1968
The Equals were at No.1 on the UK singles chart with 'Baby Come Back'. The group's only UK No.1. The song was first released in 1966 but did not chart. The song was covered by and became a No.1 hit for Pato Banton in 1994, (with Robin and Ali Campbell of UB40).
3 Jul 1967
Born on this day in music
3 Jul 1976
Shane Lynch, vocals, Boyzone, who have had 21 UK hit singles, including 6 UK No.1 singles. Their breakthrough hit was their second single and cover version of the classic
Osmonds
hit, 'Love Me for a Reason', which peaked at No.2 on the UK Singles Chart.
3 Jul 1975
Javier Weyler, drummer from Welsh rock band, Stereophonics, who replaced Richard Cable in 2003. Their 1999 UK No.1 album, Performance and Cocktails spent 97 weeks on the UK chart.
3 Jul 1969
Kevin Hearn, keyboards, guitar, accordion, with Canadian rock band Barenaked Ladies who scored the 1998 US No.1 & UK No.5 single 'One Week'. The group has sold over 15 million records including albums and singles, and were inducted into the Canadian Music Hall of Fame in March of 2018.
3 Jul 1968
Martyn Walsh, bassist from English alternative rock band Inspiral Carpets who had the 1990 UK No.14 single 'This Is How It Feels'.
3 Jul 1960
English synthpop musician and songwriter Vince Clarke, who with Depeche Mode had the 1981 UK No.8 single 'Just Can't Get Enough'. With Yazoo the 1982 UK No.2 single 'Only You', and with Erasure, the 1992 UK No.1 single '
Abba
-Esque EP'. Clarke was also a member of The Assembly.
3 Jul 1957
Laura Branigan, US singer, (1982 US No.2 & UK No.6 hit 'Gloria,' 1984 US No.4 & UK No.5 single 'Self Control'). Died of a brain aneurysm 26th Aug 2004.
3 Jul 1955
British guitarist and keyboardist Mike Corby, The Babys who had two hits on the US chart, 'Isn't It Time' (1977) and 'Everytime I Think of You' (1979).
3 Jul 1955
Neil Clark, guitarist from British pop band Lloyd Cole And The Commotions who had the 1985 UK hit single 'Brand New Friend'. Between 1984 and 1989, the band scored four Top 20 albums and five Top 40 singles in the UK.
3 Jul 1952
English musician Andy Fraser. He joined John Mayall's Bluesbreakers when he ws 15 years old. He joined
Free
when he was aged 16 and co-wrote the band's 1970 UK No.2 & US No.4 single 'All Right Now'. He wrote hits for Robert Palmer, ('Every Kinda People'), Joe Cocker, Chaka Khan, Rod Stewart and Paul Young. He died of a heart attack on 16 March 2015 at his home in California.
3 Jul 1949
Johnnie Wilder, singer from funk, disco band Heatwave who scored the 1977 UK No.2 single 'Boogie Nights' and the hits 'The Groove Line', and 'Always and Forever'.
3 Jul 1948
Paul Barrere, guitar, Little Feat, who scored two Top 40 albums during the 70s, best known songs, 'Dixie Chicken' and 'Sailin Shoes'. Barrere later played with Phil Lesh and Friends and also toured with
Bob Dylan
. He died on 26 October 2019 age 71.
3 Jul 1947
English musician Top Topham best known as a blues guitarist and also for being the first lead guitarist of The Yardbirds. Topham left the band before they achieved mainstream popularity and was replaced by
Eric Clapton
. Topham died on 23 January 2023, at the age of 75.
3 Jul 1946
Victor Unitt, from English psychedelic rock group Edgar Broughton Band who had the 1970 UK hit single 'Out Demons Out'.
3 Jul 1943
Judith Durham, singer from Australian folk-influenced pop quartet The Seekers who scored the 1965 UK No.1 single 'I'll Never Find Another You'. They were the first Australian group to achieve major chart and sales success in the UK and the US.
3 Jul 1940
Fontella Bass, US female singer, pianist, who had the 1965 US No.4 and UK No.11 single 'Rescue Me'. Bass died on 26th Dec 2012 of complications following a heart attack aged 72.
3 Jul 1930
Tommy Tedesco, American session guitarist. Described by Guitar Player magazine as the most recorded guitarist in history recording with
The Beach Boys
, Everly Brothers, The
Supremes
, The
Monkees
, The Association, Barbra Streisand,
Elvis Presley
, Ella Fitzgerald,
Frank Zappa
,
Sam Cooke
, Cher, and Nancy and
Frank Sinatra
. He died on 10th Nov 1997.
3 Jul 1929
David Lynch, from American vocal group The Platters who had the 1959 UK & US No.1 single 'Smoke Gets In Your Eyes'. The group had 40 charting singles on the Billboard Hot 100 chart between 1955 and 1967. Lynch died of cancer on 2nd January 1981.