July 30th: The Biggest Music Headlines
Scroll down the page to see all the music headlines, stories and events for July 30 throughout music history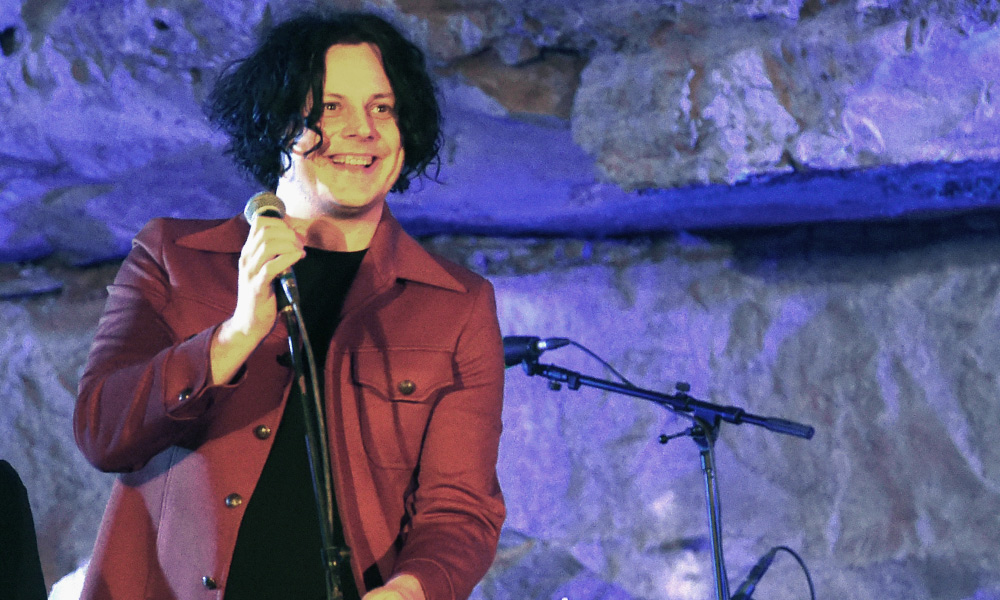 Jack White's Third Man Records Plays the First Record in Space
On this day in music, July 30, 2016, Third Man Records – a label owned by former White Stripes singer/guitarist, Jack White – celebrated their seventh anniversary by launching a specially engineered turntable into space. Propelled via a high-altitude balloon, The Icarus Craft (as it was dubbed), played the very first vinyl record in space. Fittingly, the 45 RPM single, "A Glorious Dawn," was a musical collaboration between scientist Carl Sagan and composer John D. Boswell. During its 80-minute flight, The Icarus Craft reached over 94,000 feet before the balloon burst and dropped back to Earth.
In 1955, Johnny Cash recorded "Folsom Prison Blues," one of his most iconic numbers. He wrote it after seeing the 1951 movie Walls of Folsom Prison while stationed in Germany with the United States Air Force. Released as a single, the track rose to No.4 on the Billboard country chart. In 1968, a live version taken from the album At Folsom Prison did even better, reaching No.1.
In 2015, Lynn Anderson, one of the most prominent country artists of the 1970s, died at 67. The North Dakota-born singer scored her first Top 10 US hit in 1967 with "If I Kiss You (Will You Go Away)." Three years later, she released her signature song, "(I Never Promised You A) Rose Garden," which topped the US country charts and also reached No. 3 on Billboard's Hot 100. In 1974, Anderson became the first country music artist to win an American Music Award; the same year, she achieved another precedent by becoming the first country singer to headline and sell out Madison Square Garden.
In 1966, The Troggs topped Billboard's Hot 100 with "Wild Thing," which had the distinction of being the only No.1 single to be simultaneously released by two competing record labels. Due to an unresolved dispute over the record's US distribution, both Fontana and Atco pressed up the single, which led Billboard to combine their sales figures when compiling the chart.
In 1977, Andy Gibb – the younger brother of the Bee Gees' Barry, Robin, and Maurice Gibb – made his own mark on the music industry when he scored his first US No.1 hit with "I Just Wanna Be Your Everything." Penned by Barry Gibb, the song marked the 19-year-old's first of three chart-topping hits on the Billboard Hot 100.
In 2003, record producer Sam Phillips, who discovered Elvis Presley, died at the age of 80. A pivotal figure in the rise of rock'n'roll, Phillips established Sun Records in 1952, introducing the world to Elvis Presley, Johnny Cash, Jerry Lee Lewis, Roy Orbison, and Carl Perkins. He sold the label in 1969.
In 1968, The Beatles closed their London-based Apple Boutique, which opened just seven months earlier. After announcing that they would be giving away the shop's stock, huge crowds descended on the boutique, stripping it bare within hours.
Looking for more things that happened on this day in music?
Keep scrolling for all of the headlines for July 30.
BORN ON JULY 30:
1936: Buddy Guy
1941: Paul Anka
1944: Jimmy Cliff
1957: Rat Scabies (The Damned)
1958: Kate Bush
1968: Sean Moore (Manic Street Preachers)
1980: Seth Avett (The Avett Brothers)
Looking for more artists born on this day?
Keep scrolling for all of our July 30 birthdays.
---
What to find another day?
---
July 30th
30 Jul 2019
Kraftwerk won a long-running legal battle over their song 'Metal On Metal', when The European Court of Justice ruled against the sampling of the track by hip-hop producers Moses Pelham and Martin Haas in 1999. The 'Metal On Metal' sample, specifically a drum sequence repeated throughout, was used by the producers over a version of the Sabrina Setlur song 'Nur Mir (Only Me)'.
30 Jul 2016
Jack White's mission to play the first record in space was accomplished. 'A Glorious Dawn' by composer John Boswell, mixed with audio of American scientist Carl Sagan describing the universe, was played 28,000 metres above Earth on a "space-proof" turntable. The record played for about 80 minutes until the high-altitude balloon which carried the contraption burst and propelled the turntable back towards Marsing, Idaho.
30 Jul 2015
American country music singer, Lynn Anderson, died aged 67. The multi-award-winning singer scored the 1970 US No.3 & 1971 UK No.3 single 'Rose Garden', and charted 12 No.1, 18 Top 10, and more than 50 Top 40 hits. Anderson was the first female country artist to win the American Music Award (in 1974), as well as the first to headline and sellout Madison Square Garden that same year.
30 Jul 2014
American rock guitarist, and songwriter Dick Wagner, who worked with Alice Cooper and Lou Reed died from a lung infection aged 71. One of the best-known songs written by Wagner is 'Only Women Bleed', which was one of Alice Coppers biggest hits.
30 Jul 2014
A ban on steel-string guitars in prison cells in England and Wales was reversed after a campaign including Billy Bragg, David Gilmour, Elbow's Guy Garvey and Johnny Marr. Billy Bragg founded Jail Guitar Doors, a scheme that has sent around 350 guitars to prisons since 2007.
30 Jul 2009
Procol Harum organist Matthew Fisher won his long battle to be recognised as co-writer of the band's hit
'A Whiter Shade Of Pale'
. Law Lords ruled that Fisher, who claimed he wrote the song's organ melody, was entitled to a share of future royalties. In 2006, the High Court ruled he was entitled to 40% of the copyright, but the Court Of Appeal overturned the ruling in 2008 saying he waited too long, 38 years, to bring the case to court.
30 Jul 2007
A man admitted bootlegging charges after hearing evidence from
Led Zeppelin
guitarist
Jimmy Page
. Robert Langley, 57, from Buckingham, originally denied three trademark and two copyright infringements after being caught at a record fair in Glasgow. The seizure of CDs and DVDs two years ago included £11,500 of counterfeit Led Zeppelin material.
30 Jul 2006
Shakira feat Wyclef Jean started a four week run at No.1 on the UK singles chart with 'Hips Don't Lie.' A remake of Wyclef Jean's 2004 song 'Dance Like This', the song went on to top the charts in over 50 countries. The song is the biggest selling single of the 21st century by a female artist worldwide.
30 Jul 2006
British gay magazine Attitude listed the 'Top 10 Gay Albums' of all time. No.1 was Scissor Sisters - Scissor Sisters, 2, Arrival -
ABBA
, 3, Vauxhall and I - Morrissey, 4, Light Years -
Kylie Minogue
, 5, Older -
George Michael
, 6, Welcome To The Pleasuredome - Frankie Goes To Hollywood, 7, Erotica -
Madonna
, 8, I Am a Bird Now - Antony and the Johnsons, 9, Bad Girls - Donna Summer and No. 10 The Man Who Sold The World -
David Bowie
.
30 Jul 2005
A new book published to mark the 35th anniversary of the death of
Jimi Hendrix
claimed the guitarist pretended to be gay so he would be discharged from the army. 'Room Full of Mirrors' by Charles Cross said army records showed Hendrix was discharged from the 101st Airborne Division aged 19 in 1962 for "homosexual tendencies."
30 Jul 2003
Sam Phillips the founder of Sun Records and studio died of respiratory failure at St. Francis Hospital in Memphis, Tennessee. In the 1940s, Phillips worked as a DJ for Muscle Shoals, Alabama radio station WLAY. Phillips recorded what some consider to be the first rock and roll record, 'Rocket 88' by Jackie Brenston and his Delta Cats in 1951. He discovered
Elvis Presley
, worked with Carl Perkins,
Johnny Cash
,
Roy Orbison
, Ike Turner, B.B. King and Jerry Lee Lewis.
30 Jul 2003
The
Rolling Stones
,
AC/DC
, Rush, The Guess Who, Justin Timberlake, The Flaming Lips, Sass Jordan and The Isley Brothers played a benefit concert in Toronto, Ontario, Canada, to prove that the city is safe from SARS. With 450,000 spectators, it was the largest concert in Canadian history.
30 Jul 1997
A judge in Los Angeles ruled that
Michael Jackson
and members of his family were not liable for losses incurred by the producers of the failed 1994 Jackson Family Honors TV special. The show was delayed for several weeks because Jackson was ill and could not perform solo as expected.
30 Jul 1993
Founder member and original bassist for The Wonder Stuff, Rob Jones died in New York aged 29. Vic Reeves and The Wonder Stuff had the 1991 UK No.1 with 'Dizzy', (a No.1 for Tommy Roe in 1969).
30 Jul 1991
A police officer was forced to tear up a traffic ticket given to the limousine that Axl Rose was travelling in after it made an illegal turn. Rose threatened to pull that nights Guns N' Roses gig if the ticket was issued.
30 Jul 1988
Steve Winwood started a four week run at No.1 on the US singles chart with 'Roll With It', a No.53 hit in the UK. Later
Motown
songwriters Holland-Dozier-Holland were credited with co-writing the song due to its resemblance to the Junior Walker hit (I'm a) Roadrunner.
30 Jul 1987
David Bowie
kicked of the North American leg of The Glass Spider Tour at the Veterans Stadium in Philadelphia, Pennsylvania. The tour's set, described at the time as "the largest touring set ever," was designed to look like a giant spider. It was 60 feet (18.3m) high, 64 feet (19.5m) wide. A single set took 43 trucks to move from each city.
30 Jul 1986
Variety magazine reported that RCA had dropped John Denver from its roster after the release of his single, 'What Are We Making Weapons For'. Variety said the song upset the record company's new owner, General Electric, one of the largest defense contractors in the US.
30 Jul 1977
The
Bee Gees
younger brother Andy Gibb started a four-week run at No.1 on the US singles chart with 'I Just Wanna Be Your Everything', his first of three US No.1's, it peaked at No.26 in the UK.
30 Jul 1974
Bruce Springsteen
and the E Street Band played The Troubadour in Los Angeles, California on a double bill with Roger McGuinn from The Byrds.
30 Jul 1969
The Beatles
continued working on
Abbey Road
recording overdubs on 'Come Together', 'Polythene Pam/She Came In Through the Bathroom Window', 'You Never Give Me Your Money' and 'Golden Slumbers/Carry That Weight'.
The Beatles
began to assemble the "medley" that would make up side two of the album.
Paul McCartney
told tape operator John Kurlander to discard 'Her Majesty', but Kurlander tacked it onto the end of the tape, about 20 seconds after the end of 'The End'. Hearing it like this, Paul decides to keep it, including the lengthy silence preceding it.
30 Jul 1968
The Beatles
closed their Apple Boutique in London after seven months of business, giving away all the stock to passers by and Apple staff.
30 Jul 1966
The Beatles
started a five week run at No.1 on the US album chart with 'Yesterday...And Today', the group's 8th No.1 album. Issued only in the United States and Canada, the album is remembered primarily for the controversy surrounding its original cover image, the "butcher cover" featuring the band dressed in white smocks and covered with decapitated baby dolls and pieces of meat.
30 Jul 1966
The
Troggs
started a two week run at No.1 on the US singles chart with 'Wild Thing'. Because of a distribution dispute, The
Troggs
' single was available on two competing labels: Atco and Fontana. Because both pressings were taken from the identical master recording, Billboard combined the sales for both releases, making it the only single to simultaneously reach No. 1 for two companies.
30 Jul 1955
Johnny Cash
recorded his first version of 'Folsom Prison Blues' at the Sun Recording Studio in Memphis, Tennessee. Cash was inspired to write this song after seeing the movie Inside the Walls of Folsom Prison (1951) while serving in West Germany in the United States Air Force at Landsberg, Bavaria (itself the location of a famous prison).
30 Jul 1954
Slim Whitman, Billy Walker, Sugarfoot Collins, Sonny Harvelle, Tinker Fry, Curly Harris and a young
Elvis Presley
, all appeared at the Hillbilly Hoedown, Overton Park Shell, in Memphis Tennessee. Elvis was so nervous he stood up on the balls of his feet and shook his leg in time with the music, when he came offstage he asked why people were yelling at him. Someone told him it was because he was shaking his leg, which with the baggy pleated pants created a wild gyrating effect in time with the music.
Born on this day in music
30 Jul 1980
Seth Avett, lead singer and founding member of the folk-rock band The Avett Brothers. Had the 2013 US No.5 album 'Magpie And The Dandelion'.
30 Jul 1972
Brad Hargraves, Third Eye Blind, (1997 US No.4 & UK No. 33 single 'Semi- Charmed Life').
30 Jul 1968
Louise Wener, singer, songwriter from English Britpop band Sleeper, who scored the 1996 UK No.10 single 'Sale Of The Century'.
30 Jul 1968
Sean Moore, drums, Manic Street Preachers, (1996 UK No.2 single 'A Design For Life' 1998 UK No.1 album 'This Is My Truth Tell Me Yours').
30 Jul 1966
Jyoti Mishra, White Town, (1997 UK No.1 single 'Your Woman').
30 Jul 1966
Craig Gannon, from Scottish indie rock band The Bluebells who had the 1993 UK No.1 single with the re-issued 'Young At Heart' after it was used in a Volkswagen television advertisement.
30 Jul 1959
Vaughan Toulouse, Dept S. He died from an Aids related illness in 1991, Dept S had the 1981 UK No.22 single 'Is Vic There'.
30 Jul 1958
Kate Bush
, UK singer, songwriter, who had the 1978 UK No.1 single 'Wuthering Heights' (at the age of 19). Her 1985 UK No.1 album 'Hounds Of Love' spent 52 weeks on the chart. In 1987, she won a Brit Award for Best British Female Solo Artist, and in 2002 an Ivor Novello Award for Outstanding Contribution to British Music. Bush was appointed Commander of the Most Excellent Order of the British Empire (CBE) in the 2013 New Year Honours for services to music.
30 Jul 1957
Chris Miller (Rat Scabies), drummer from English punk rock band The Damned, who had the 1983 UK No.3 single 'Eloise'.
30 Jul 1956
Phil Phearon, vocals, Galaxy, (1983 UK No.4 single 'Dancing Night').
30 Jul 1949
Joyce Jones, singer, First Choice, (1973 UK No.9 single 'Smarty Pants).
30 Jul 1949
Hugh Nicholson, from Scottish pop rock band Marmalade, (originally formed in 1961 as The Gaylords). They scored the 1969 UK No.1 single with their version of
The Beatles
song 'Ob-La-Di Ob-La-Da'.
30 Jul 1946
Jeffrey Hammond former bass guitar player for the progressive rock band Jethro Tull. Hammond appeared on the classic Tull albums Aqualung (1971) and Thick as a Brick (1972).
30 Jul 1945
30 Jul 1944
Jamaican ska and reggae musician, multi-instrumentalist, singer Jimmy Cliff who had the 1969 UK No.6 & US No.25 single 'Wonderful World Beautiful People', and the 1970 UK No.8 hit with his version of Cat Stevens' 'Wild World'. He starred in the film The Harder They Come, which helped popularise reggae across the world.
30 Jul 1944
American multi-instrumentalist and singer-songwriter Chris Darrow. He was considered to be a pioneer of country rock music in the late-1960s and performed and recorded with numerous groups, including Kaleidoscope and the Nitty Gritty Dirt Band. Darrow played bass on Leonard Cohen's debut Songs of Leonard Cohen. Darrow died on 15 January 2020 age 75.
30 Jul 1941
Canadian-American singer, songwriter and actor Paul Anka. He had the 1957 UK & US No.1 single 'Diana' which sold over 9 million copies world-wide. He wrote many classic songs including the English lyrics to Claude François and Jacques Revaux's music for
Frank Sinatra
's signature song, 'My Way' which has been recorded by many, including
Elvis Presley
. Two songs he co-wrote with
Michael Jackson
, 'This Is It' and 'Love Never Felt So Good' became posthumous hits for Jackson.
30 Jul 1936
George "Buddy" Guy, American blues guitarist and singer. Critically acclaimed, he is a pioneer of the Chicago blues sound.