July 6th: The Biggest Music Headlines
Scroll down the page to see all the music headlines, stories and events for July 6 throughout music history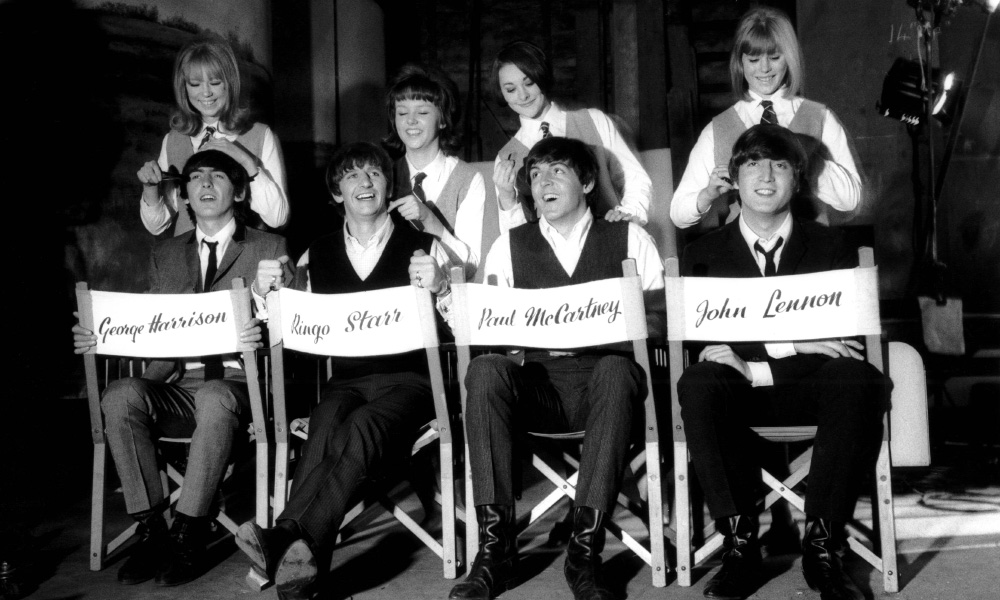 The Beatles' 'A Hard Day's Night' Premieres In London
On this day in music, July 6, 1964, The Beatles' mockumentary, A Hard Day's Night, premiered in London at the Pavillion Theatre. Directed by Richard Lester, and released amid the height of Beatlemania, the scripted musical comedy portrayed 36 hours in the lives of George, Paul, John, and Ringo. Despite a relatively low budget and short production time, the film was a massive success, critically and commercially. Long considered to be one of the most influential musical films of all time, A Hard Day's Night would inspire a host of other projects, including TV show, while its fast-paced editing set a new standard in production. A soundtrack, which also served as The Beatles' third album, was released alongside the film.
In 1973, just one week before their self-titled debut hit stores, Queen released their first single, "Keep Yourself Alive" in the UK. Backed by the B-side "Son and Daughter," the rollicking track was penned by guitarist Brian May. While the song failed to chart in the UK or the US (following its release in October), "Keep Yourself Alive" quickly became a live staple for the band, remaining in their setlist until the early 80s.
In 2017, it was announced that Jay-Z's 14th studio album, 4:44, had gone platinum in the US – just five days after its digital-only release. What made this feat even more incredible was that the album was only available at the time on Tidal (a streaming service owned by the hip-hop mogul) and to customers of the US mobile service, Sprint. Just one year earlier, the RIAA had begun counting album-equivalent digital streams.
In 1967, Pink Floyd made their debut on Top of the Pops, where they performed their second single, "See Emily Play." The appearance, which featured original frontman Syd Barrett, was later wiped by the BBC, due to Barrett's erratic behavior. Over the years, the long-lost performance became mythic among fans. Finally, in 2009, a home video featuring the episode was discovered and screened publicly in London. It was later released officially by the band.
Looking for more things that happened on this day in music?
Keep scrolling for all of the headlines for July 6.
BORN ON JULY 6:
1925: Bill Haley
1937: Gene Chandler
1952: Graham Oliver (Saxon)
1954: Nanci Griffith
1959: John Keeble (Spandau Ballet)
1969: Michael Grant (Musical Youth)
1975: 50 Cent
1979: Nic Cester (Jet)
1987: Kate Nash
Looking for more artists born on this day?
Keep scrolling for all of our July 6 birthdays.
---
What to find another day?
---
July 6th
6 Jul 2020
American singer, songwriter and multi-instrumentalist Charlie Daniels died age 83 of a hemorrhagic stroke. He is best known for his contributions to Southern rock, country, and bluegrass music and scored the 1979 number-one country hit 'The Devil Went Down to Georgia' He was inducted into the Grand Ole Opry in 2008, the Musicians Hall of Fame and Museum in 2009 and the Country Music Hall of Fame in 2016.
6 Jul 2017
Jay-Z's digital-only album 4:44 went platinum within five days - despite limits on who could access it. The music was only available on Tidal, the star's own streaming service, and to customers of US mobile firm Sprint. The Recording Industry Association of America (RIAA) platinum certification, which requires more than one million sales, is rare for digital-only albums. The RIAA only started counting digital streams last year, with 1,500 plays considered equal to one album sale.
6 Jul 2016
Drake
equalled
Michael Jackson
's 1983 US chart record after he had the No.1 album and song in the American charts for seven consecutive weeks. 'Views' and 'One Dance' remained unbeaten on the Billboard charts respectively. In the UK 'One Dance' scored its twelfth week atop the UK charts, overtaking the
Rihanna
song 'Umbrella' which was the millennium's previous longest-running No.1.
6 Jul 2012
Carol Hawkins, the former personal assistant of
U2
bassist Adam Clayton was jailed for seven years for embezzling 2.8m euros (£2.2m) of his money to fund a lavish lifestyle. Hawkins was convicted on 181 counts of theft from the bassist's bank accounts over a four-year period. The judge said Hawkins' crimes were "rooted in greed and nothing else".
6 Jul 2011
Pete Doherty was facing another prison sentence after allegedly breaking into a shop in Regensburg, Germany earlier this year. The owners of the music shop, from which The Libertines singer allegedly stole a guitar and record, were said to be pressing charges against him. The Sun Newspaper reported that Doherty admitted to smashing the shop window, but says he didn't remember stealing anything, as he was drunk at the time. Doherty was currently serving 6 months in a UK jail for cocaine possession.
6 Jul 2008
Dizzee Rascal with Calvin Harris and Chrome started a four week run at No.1 on the UK singles chart with 'Dance Wiv Me'.
6 Jul 2007
Avril Lavigne was facing legal action by members of 1970s rock band The Rubinoos, who claimed she had copied one of their songs. Songwriters Tommy Dunbar and James Gangwer alleged Lavigne's hit 'Girlfriend' was lifted from their 1979 song 'I Wanna Be Your Boyfriend.'
6 Jul 2007
Britney Spears
apologised for attacking a photographer's car with an umbrella earlier this year. Pictures of the 25-year-old lashing out appeared in several newspapers shortly after photos emerged of her shaving her head in a hair salon. In a message on her website, she said: "I apologise to the pap for a stunt that was done four months ago." She said she got "carried away" preparing for a film part but added that she did not get the role.
6 Jul 2005
Grammy award winning Rap star Lil' Kim who was convicted of perjury and conspiracy in March 2005, was sentenced to a year in jail for lying to a grand jury to protect friends. Kim told the court "I testified falsely to the grand jury and during the trial. At the time I thought it was the right thing to do. Now I know it was wrong." Lil' Kim, (real name Kimberley Jones), was also fined $50,000 (£28,000). Charges were brought against her after a gunfight erupted outside a New York radio station in 2001 as a rival rap group was arriving.
6 Jul 2004
On the 40th anniversary of the world premiere of
The Beatles
film A Hard Day's Night, a private reunion of the cast and crew was hosted in London by DVD producer Martin Lewis. The screening was attended by
Paul McCartney
actors Victor Spinetti (the television director), John Junkin (the band's road manager), David Janson (the small boy met by Ringo on his "walkabout") and many of the crew members.
6 Jul 2004
American R&B, soul singer-songwriter Syreeta Wright died after a two-year battle with bone cancer aged 58. Teamed up with Billy Preston on the 1980, No.1 US hit 'With You I'm Born Again.' Once worked as a secretary at
Motown
Records and married
Stevie Wonder
in 1970.
6 Jul 2003
Skip Battin bassist and songwriter with The Byrds died of complications from Alzheimer's disease. (1965 US & UK No.1 single 'Mr Tambourine Man'). Also played with New Riders Of The Purple Sage and The Flying Burrito Brothers.
6 Jul 2003
The Chicks performed a concert at Dallas' American Airlines Center despite an anonymous threat that group member Natalie Maines would be shot on stage, (after the controversy regarding her comments about President George W. Bush, and the Iraq war). Maines had a police escort to and from the show and then directly to the airport.
6 Jul 2003
Beyonce featuring Jay-Z started a three-week run at No.1 on the UK singles chart with 'Crazy In Love.' The track features a sample from The Chi-Lites' 1970 'Are You My Woman (Tell Me So)'. Also 8 weeks at No.1 on the US chart.
6 Jul 2002
George Harrison
's widow Olivia put the couple's home up for sale for £20m saying she couldn't bear to live with the memories of the attack by schizophrenic Michael Abram who broke into the house in 1999.
6 Jul 2001
A pair of Sir
Elton John
's sandals was set to become the most expensive shoes in history when they went under the hammer for charity. Offers over £20,000 were invited for the Salvatore Ferragamo sandals to raise funds for Elton's Aid Trust.
6 Jul 1999
East 17 were dropped by their record company after the bands last album had sold less than 20,000 copies.
6 Jul 1996
'Three Lions by comedians Baddiel and Skinner and The Lightning Seeds was at No.1 on the UK singles chart, (the official song of The England Football team).
6 Jul 1992
David Gates from Gateshead, Northumberland was given one year's probation after being convicted of stealing guitars from the back of a van belonging to The Bay City Rollers.
6 Jul 1985
Phil Collins
went to No.1 on the US singles chart with 'Sussudio', his third US No.1, it made No.12 in the UK. The track was taken from his third solo studio album, No Jacket Required.
6 Jul 1984
The Jacksons kicked off their North American Victory tour at Arrowhead Stadium, Kansas City. Over 2 million people attended the 55 concerts which grossed over $75 million.
Michael Jackson
donated $5 million to various charities.
6 Jul 1979
American singer, producer songwriter, Van McCoy died from a heart attack in Englewood, New Jersey. Van McCoy and the Soul City had the US No.1 single 'The Hustle'. Worked with
Gladys Knight
and the Pips, The Stylistics,
Aretha Franklin
and David Ruffin.
6 Jul 1973
Queen
released their debut single 'Keep Yourself Alive' in the UK. The track didn't make the charts.
6 Jul 1972
David Bowie
appeared on the UK music show
Top Of The Pops
playing his new single 'Starman', his first hit since 1969's '
Space Oddity
' three years before. The single peaked at No.10 and stayed on the charts for 11 weeks.
6 Jul 1971
American jazz trumpeter, singer and bandleader, Louis Armstrong died. Had many hits including the 1964 US No.1 'Hello Dolly!', 1968 UK No.1 'What A Wonderful World' plus 'When The Saints Go Marching In', 'Ain't Misbehavin', and 'We Have All the Time in the World.' He made frequent use of laxatives as a means of controlling his weight, resulting in Armstrong appearing in humorous, advertisements for laxative product Swiss Kriss; the ads bore a picture of him sitting on a toilet, as viewed through a keyhole, with the slogan "Satch says, 'Leave it all behind ya!"
6 Jul 1968
The
Rolling Stones
scored their fifth US No.1 single when 'Jumpin Jack Flash' hit the top of the charts.
Keith Richards
has stated that he and Jagger wrote the lyrics while staying at Richards' country house, where they were awoken one morning by the sound of gardener Jack Dyer walking past the window. When Jagger asked what the noise was, Richards responded: "Oh, that's Jack – that's jumpin' Jack."
6 Jul 1968
Woburn Music Festival, Woburn Abbey, Bedfordshire took place. A two-day affair featuring Donovan,
Fleetwood Mac
, Pentangle, The
Jimi Hendrix Experience
, Alexis Korner, Family, Taste, Tim Rose, John Mayall's Bluesbreakers, Duster Bennett and
Tyrannosaurus Rex
, two-day tickets were priced at £2.
6 Jul 1967
Pink Floyd
made their first appearance on BBC TV music show
Top Of The Pops
to promote their new single 'See Emily Play'. A badly damaged home video recording recovered by the British Film Institute of this show was given a public screening in London on 9th January 2010 at an event called "Missing Believed Wiped" devoted to recovered TV shows. It was the first time any footage was seen of the performance since its original broadcast.
6 Jul 1964
The Beatles
film A Hard Day's Night premiered at The Pavilion in London. Filmed during the height of Beatlemania, and written by Alun Owen, the film was made in the style of a mockumentary, describing a couple of days in the lives of the group.
6 Jul 1963
James Brown
went to No.2 on the US album chart with 'Live At The Apollo'. Recorded on the night of October 24, 1962 at Brown's own expense, it spent 66 weeks on the Billboard Albums chart. In 2003, the album was ranked No.24 on Rolling Stone magazine's list of the 500 greatest albums of all time.
6 Jul 1957
John Lennon
and
Paul McCartney
met for the first time at The Woolton Church Parish Fete where The Quarry Men were appearing. As The Quarry Men were setting up for their evening performance, McCartney eager to impress Lennon picked up a guitar and played 'Twenty Flight Rock' (Eddie Cochran) and 'Be-Bop-A-Lula' (Gene Vincent). Lennon was impressed, and even more so when McCartney showed Lennon and Eric Griffiths how to tune their guitars, something they'd been paying someone else to do for them.
Born on this day in music
6 Jul 1987
Kate Nash, UK singer, songwriter, who had the 2007 UK No.1 album Made Of Bricks and the 2007 UK No.2 single 'Foundations'.
6 Jul 1985
D. Woods, singer with American girl group Danity Kane, (formed on the
MTV
reality show Making the Band 3). They became the first female group in Billboard history to debut their first two albums at the top of the charts.
6 Jul 1979
Nic Cester, singer, from Australian rock band Jet, who had the 2003 Australian No.1 & UK No.14 album Get Born. The group sold over 6.5 million albums.
6 Jul 1975
50 Cent, (Curtis Jackson), US rapper. 2003 US No.1 single 'In Da Club', debut album, 'Get Rich Or Die Tryin' was named the biggest selling US album in 2003 going platinum six times over.
6 Jul 1969
Michael Grant, Musical Youth, best remembered for their successful 1982 single 'Pass the Dutchie', which became a No.1 hit around the world. It was a cover version of two songs: 'Gimme the Music' by U Brown, and 'Pass the Kouchie' by Mighty Diamonds, which deals with the recreational use of cannabis (kouchie being slang for a cannabis pipe).
6 Jul 1965
Eddie Campbell, keyboards, from Scottish pop rock band Texas who had the 1997 UK No.3 single 'Say What You Want', and the 1997 UK No.1 album White On Blonde which has been certified six-times platinum in the UK.
6 Jul 1963
Tim Bricheno, guitar, All About Eve who had the 1988 UK No.10 single 'Martha's Harbour' and with English gothic rock band, The Sisters Of Mercy the 1992 UK No.3 single 'Temple Of Love'.
6 Jul 1961
Robert Heaton, drummer in the English rock band New Model Army. Heaton died of pancreatic cancer on 4 November 2004, aged 43.
6 Jul 1959
English pop and rock drummer John Keeble with Spandau Ballet who became one of the most successful groups to emerge during the New Romantic era and have produced a number of international hits during the 80s including 'True', 'Gold' and 'Through the Barricades.'
6 Jul 1954
Nanci Griffith, US singer, songwriter. In 1994 she won a Grammy Award for the album Other Voices, Other Rooms. She died on 13 August 2021 at the age of 68.
6 Jul 1952
David Smith, from British soul group The Real Thing, who had the 1976 UK No.1 single 'You To Me Are Everything'.
6 Jul 1952
Graham Oliver, from English heavy metal band Saxon. As one of the leaders of the new wave of British heavy metal, they had eight UK Top 40 albums in the 1980s.
6 Jul 1949
American drummer and, percussionist Michael Shrieve best known as the drummer of
Santana
. He played on all albums from 1969 to 1974. When he was 20, Shrieve was one of the youngest musicians to perform at
Woodstock
in 1969.
6 Jul 1945
Rik Elswit, guitarist, with American rock band Dr Hook who had the 1970s hits 'The Cover of Rolling Stone', 'A Little Bit More', 'When You're in Love with a Beautiful Woman' and 'Sylvia's Mother'.
6 Jul 1944
6 Jul 1939
Jet Harris, the bass guitarist of the Shadows until April 1962, and had subsequent success as a soloist and as a duo with the drummer Tony Meehan who he topped the UK Singles Chart for three weeks in early 1963 with 'Diamonds'.
6 Jul 1937
American soul singer,Gene Chandler, (Eugene Dixon) who had the 1962 US No.1 single 'Duke Of Earl', and the 1979 UK No.11 single 'Get Down'.
6 Jul 1925
Bill Haley
, (William John Clifton Haley), singer, guitarist, 'The first Rock 'n' Roll star.' As
Bill Haley
and his Comets he had the 1955 UK & US No.1 single 'Rock Around the Clock' Haley was one of the earliest acts to bring rock and roll to the attention of white America and the rest of the world. He sold over 60 million records during his career. Haley died on 9th February 1981.