June 1st: The Biggest Music Headlines
Scroll down the page to see all the music headlines, stories and events for June 1 throughout music history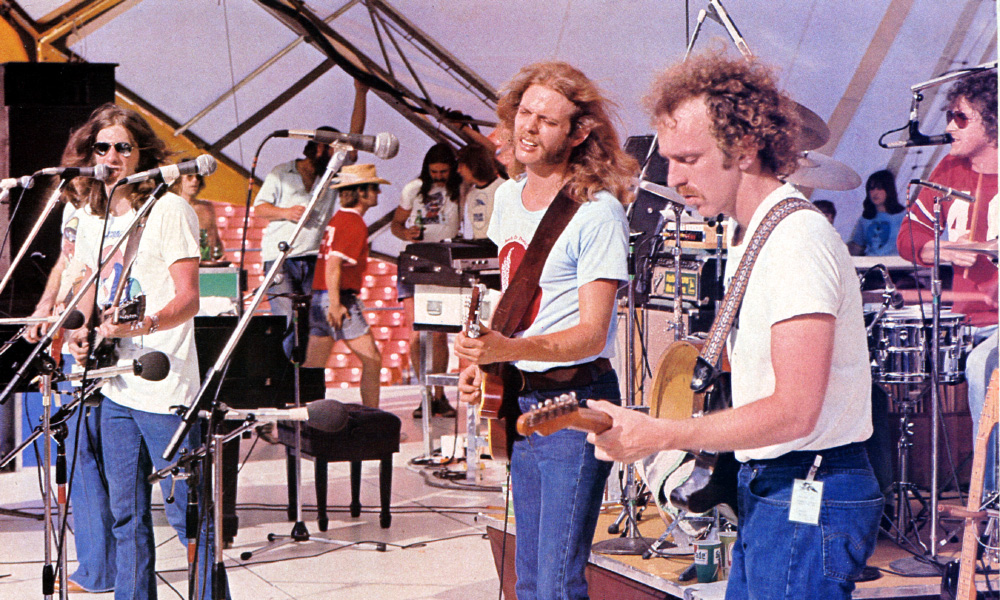 The Eagles Soar to Fame With Their Debut Album
On this day in music, June 1, 1972, the Eagles released their debut album, Eagles. Produced by Glyn Johns, Eagles catapulted the band to success, thanks to such hit singles as "Take It Easy," "Peaceful Easy Feeling," and "Witchy Woman," which reached the US Top Ten. The album, which was a defining title in the West Coast country rock canon, peaked at No.22 on the Billboard 200 and received a warm reception from critics. It has since ranked on multiple "Best Of" lists, including Rolling Stones' "500 Greatest Albums of All Time."
In 2013, with the release of Modern Vampires of the City, Vampire Weekend became the first indie rock band to debut at the top of the US album chart with two consecutive LPs. The band's third studio album followed the success of 2010's Contra.
In 1969, The Plastic Ono Band (John Lennon and Yoko Ono) recorded their anti-war anthem, "Give Peace a Chance" at Montreal's Queen Elizabeth Hotel. The song, which became Lennon's first solo release while he was still with The Beatles, featured several high-profile guests, including Timothy Leary and Petula Clark (backing vocals) and Tom Smothers (of the Smothers Brothers) on acoustic guitar.
In 1977, Bob Marley and the Wailers kicked off what was supposed to be a six-night residency at London's Rainbow Theatre. The final two dates, however, were canceled, following a football-related injury sustained by Marley. The legendary run of shows, which found the reggae group at their prime, concluded the band's Exodus Tour.
In 1967, David Bowie released his self-titled debut on the Deram label (a subsidiary of Decca Records). While the album's Baroque pop received accolades from the handful of critics that acknowledged it, the LP failed to find commercial success.
In 1968, Simon & Garfunkel topped the Billboard Hot 100 with "Mrs. Robinson." The song, which was featured in the film The Graduate, won the folk duo a Grammy the following year.
In 1963, Lesley Gore, who was just a month into her 17th year, topped the Billboard Hot 100 with "It's My Party."
In 1981, the premiere issue of heavy metal magazine, Kerrang! was published in the UK. The magazine, which began as a pull-out in the weekly music paper Sounds, featured AC/DC on the cover.
Looking for more things that happened on this day in music?
Keep scrolling for all of the headlines for June 1.
BORN ON JUNE 1:
1934: Pat Boone
1947: Ronnie Wood (The Faces, Rolling Stones)
1950: Graham Russell (Air Supply)
1959: Alan Wilder (Depeche Mode)
1960: Simon Gallup (The Cure)
1963: Mike Joyce (The Smiths)
1974: Alanis Morissette
1981: Brandi Carlile
Looking for more artists born on this day?
Keep scrolling for all of our June 1 birthdays.
---
What to find another day?
---
June 1st
1 Jun 2017
The sale of
Jerry Garcia
's favourite guitar, Wolf, raised millions of dollars for a civil rights group when an auction of the custom-made guitar fetched a total of $3.2m (£2.5m). It was bought at a New York charity concert by Brian Halligan, CEO of marketing group HubSpot and a lifelong fan of the band - or a "Deadhead". The money raised would go to the Southern Poverty Law Centre.
1 Jun 2016
Ed Sheeran
was revealed as the most-played pop act in the UK in 2015. The singer topped the music royalty body Phonographic Performance Ltd's (PPL) chart, which is based on TV and radio airplay, adverts and plays in venues like pubs and clubs. Mark Ronson's 'Uptown Funk' was the most-played song of the year, ahead of Ellie Goulding's 'Love Me Like You Do' and James Bay's'Hold Back The River'.
1 Jun 2013
'Modern Vampires of the City' by Vampire Weekend went to No.1 on the US album charts. Their sophomore album 'Contra' also debuted at No.1 in 2010, making this the first time an independent rock band had entered at No.1 with two consecutive releases. 'Modern Vampires of the City' also shattered the previous record for first week vinyl sales, moving nearly 10,000 units.
1 Jun 2006
The 1994 debut album by
Oasis
,
Definitely Maybe
was voted the greatest album of all time in a survey to mark 50 years of the Official UK Albums Chart.
The Beatles
came in second and third place with
Sgt Pepper
's Lonely Hearts Club Band and
Revolver
, OK Computer by
Radiohead
was fourth and (What's the Story) Morning Glory by
Oasis
was voted fifth.
1 Jun 2005
Crazy Frog was at No.1 on the UK singles chart with 'Axel F'. It started as a mobile phone ring tone, the single is based on Harold Faltermeyer's film theme, which reached No.2 in 1985.
1 Jun 2005
Jack White married British model Karen Elson. The wedding took place in a canoe on the Amazon River in Manaus, Brazil and was officiated by a shaman. The couple first met after she appeared in the White Stripes' music video for 'Blue Orchid'. The couple divorced in June 2011.
1 Jun 2003
Slipknot bassist Paul Gray was arrested on drugs and drink-driving charges after he collided with a car after going through a red light in his home town of Des Moines, Iowa. Gray, (who wears a pig mask on stage) then tried to write a cheque for $1,000 (£600) to the other driver, who then called the police. Gray failed two alcohol tests at the scene and was arrested for possession of marijuana, cocaine and drug paraphernalia, as well drink-driving.
1 Jun 1997
Spice Girl
Emma Bunton, (Baby Spice) arrived back in the UK at Heathrow airport in a wheelchair after breaking her ankle during a Turkish TV show.
1 Jun 1991
American soul singer David Ruffin died of a drug overdose. After taking a large amount of cocaine Ruffin passed out, a friend drove him to a hospital in Philadelphia, where he later died. With The
Temptations
, had the 1971 US No.1 & UK No. 8 single 'Just My Imagination' and 'My Girl' (which Ruffin sang lead vocals). Solo, (1975 US No.9 & UK No.10 single 'Walk Away From Love').
1 Jun 1985
Prince
& The Revolution started a three-week run at No.1 on the US album chart with Around The World In A Day.
1 Jun 1981
The first issue of the Heavy Metal magazine Kerrang! was published as a special pull-out by UK weekly music paper Sounds.
AC/DC
had the front cover plus features on
Motorhead
, Girlschool and Saxon.
1 Jun 1977
Bob Marley
and The Wailers played the first of four nights at the Rainbow Theatre in London. There were six nights booked at the Rainbow, but the last two shows were cancelled due to a serious toe injury Marley received, (in a friendly football game with French journalists just before the tour's start in Paris). Subsequently the tour's second leg in the United States was postponed and then cancelled.
1 Jun 1975
The
Rolling Stones
kicked off their biggest ever US tour at Louisiana State University. The tour would take in 45 shows in 26 cities. Guitarist
Ronnie Wood
joined The Stones on tour for the first time, replacing Mick Taylor.
1 Jun 1973
Former Soft Machine drummer Robert Wyatt broke his spine after attempting to leave a party by climbing down a drainpipe and falling three stories. It left Wyatt permanently crippled and confined to a wheelchair.
1 Jun 1972
The Eagles
released their debut studio album. The album was an immediate success and produced three top 40 singles 'Take It Easy', 'Witchy Woman' and 'Peaceful Easy Feeling'.
1 Jun 1971
The two-room shack in Tupelo, Mississippi, where
Elvis Presley
was born on January 8, 1935 was opened to the public as a tourist attraction.
1 Jun 1969
The Plastic Ono Band recorded 'Give Peace A Chance' during a 'bed-in' at the Hotel La Reine in Montreal, Canada. Producer Phil Spector, poet Allan Ginsberg and writer Timothy Leary all sang on the song.
1 Jun 1968
Simon And Garfunkel
went to No.1 on the US singles chart with 'Mrs Robinson'. Featured in the Dustin Hoffman and Ann Bancroft film 'The Graduate', the song earned the duo a Grammy Award for Record of the Year in 1969.
1 Jun 1967
David Bowie
released his self titled debut studio album. Two singles were released from the album, 'Rubber Band' and 'The Laughing Gnome'. The album's failure cost Bowie his record contract with Deram Records who dropped him in April 1968.
1 Jun 1966
During a 12 hour session at Abbey Road studios,
The Beatles
added overdubs on 'Yellow Submarine', with
John Lennon
blowing bubbles in a bucket of water and shouting "Full speed ahead Mister Captain!" Roadie Mal Evans played on a bass drum strapped to his chest, marching around the studio with
The Beatles
following behind (conga-line style) singing "We all live in a yellow submarine."
1 Jun 1964
The
Rolling Stones
were met by over 500 fans as they arrived on BA flight 505 at Kennedy Airport for their debut US tour. The Stones held a press conference and then guested on the prestigious "5th Beatle", DJ Murray The K's radio show. The first date took place on 5th June in San Bernardino, California.
1 Jun 1963
Lesley Gore started a two week run at No.1 on the US singles chart with the Quincy Jones (then a staff producer for Mercury Records) produced 'It's My Party', a No.9 hit in the UK. Dave Stewart and Barbara Gaskin scored a UK No.1 in 1981 with their version of the song.
1 Jun 1961
Elvis Presley
was at No.1 on the UK singles chart with 'Surrender', his eighth UK No.1. The song was based on the 1911 Italian song, 'Return To Sorrento.'
1 Jun 1959
The first edition of Juke Box Jury aired on the BBC. The shows host, David Jacobs, lead a revolving panel of guests in critiquing the week's top record releases. Although the songs were never played in their entirety, the four judges gave a verdict on whether each would be a "hit" or a "miss".
1 Jun 1959
'The Battle Of New Orleans' by Johnny Horton went to No.1 on both the Country and Pop charts in the US, where it will stay for two months. The song was originally a poem written by high school teacher James Morriss in 1936, which he put to the music of an old fiddle tune known as 'The Eighth Of January'. Horton later won a Grammy Award for the song.
Born on this day in music
1 Jun 1981
American alternative country and folk rock singer-songwriter Brandi Carlile. Her 2007 single 'The Story', from the album of the same name, was a commercial success, and was used by General Motors for commercials.
1 Jun 1974
Alanis Morissette
, Canadian-American, singer, songwriter, who had the 1996 US No.4 & UK No.11 single 'Ironic' from Jagged Little Pill which has sold more then 30 million copies, making it the best ever selling record by a female performer. Morissette appeared on the Canadian children's television show You Can't Do That for five episodes when she was in elementary school and has now sold more than 60 million albums worldwide.
1 Jun 1969
Damon Minchella, bassist with English rock band Ocean Colour Scene who formed in Moseley, Birmingham in 1989. They scored the 1996 UK No.4 single 'The Day We Caught The Train', plus over 12 other Top 40 singles and the 1997 UK No.1 album Marchin' Already.
1 Jun 1968
Jason Donovan, Australian actor, singer who had the 1989 UK No.1 single 'Too Many Broken hearts' plus 15 other UK Top 40 hit singles. His debut album Ten Good Reasons was one of the highest-selling albums of 1989.
1 Jun 1967
Dominican-American house music DJ Roger Sanchez, who had the 2001 UK No.1 single 'Another Chance'. He was a Grammy Award Winner for his remix of 'Hella Good' by No Doubt in 2003 and won the first International Dance Music Award for Best Podcast in 2007.
1 Jun 1963
Mike Joyce, drummer with English rock band
The Smiths
who had the 1984 UK No.10 single 'Heaven Knows I'm Miserable Now', plus 15 other UK Top 40 singles. In 1996, Joyce sued former Smiths' colleagues Johnny Marr and Morrissey for an equal share of performance and recording royalties. Joyce won the case and was awarded damages of around one million pounds from Morrissey and Marr.
1 Jun 1960
Simon Gallup, bassist with English rock band
The Cure
who had the 1989 US No.2 single 'Love Song', the 1992 UK No.6 single 'Friday I'm In Love', plus over 20 other UK Top 40 singles.
1 Jun 1959
Alan Wilder, keyboards, vocals, with English electronic band Depeche Mode. The group have had 50 songs in the UK Singles Chart and seventeen top 10 albums in the UK chart and have sold over 100 million records worldwide.
1 Jun 1958
American musician, engineer and record producer and session musician Michael Landau who has worked with Boz Scaggs,
Joni Mitchell
, Seal,
Michael Jackson
, James Taylor, Richard Marx, Steve Perry,
Pink Floyd
, Roger Daltrey, Glenn Frey, and Miles Davis.
1 Jun 1952
John Ellis, guitarist from British punk rock band The Vibrators who had the 1978 UK No.35 single 'Automatic Lover'.
1 Jun 1950
Charlene, American easy-listening singer who had the 1982 UK No.1 & US No.3 single 'I've Never Been To Me'.
1 Jun 1950
Tom Robinson, singer, songwriter, radio presenter and long-time LGBT rights activist. He was a member of Cafe Society, Sector 27, and scored the 1977 UK No.5 single with Tom Robinson Band, '2-4-6-8- Motorway', plus 'Glad to Be Gay', 'Don't Take No for an Answer' and the solo single 'War Baby'.
1 Jun 1950
Graham Russell, guitar, vocals for the Australian soft rock band Air Supply who scored the 1980 UK No.11 single 'All Out Of Love' and the 1981 US No.1 single 'The One That You Love'.
1 Jun 1947
Ronnie Wood guitarist, songwriter, painter and radio presenter. Originally a member of UK band The Birds, he first worked alongside Rod Stewart in the
Jeff Beck
Group. He then got together with three members of The
Small Faces
to form the
Faces
joined by Rod on vocals. His songwriting partnership with Rod extended to Rod's early solo albums. Wood joined The
Rolling Stones
in 1975 after the departure of Mick Taylor.
1 Jun 1946
Daniel Hamilton, American musician. He was a member of The T-Bones with his brother Judd Hamilton, and later was the lead singer of the soft-rock group Hamilton, Joe Frank & Reynolds that had the 1975 US No. 1 single 'Fallin' in Love'. He died on 23 December 1994.
1 Jun 1945
James William McCarty, guitarist, Mitch Ryder and The Detroit Wheels, Buddy Miles, Cactus, Mystery Train, Bob Seger.
1 Jun 1943
American singer, songwriter, arranger, producer, Tom Bahler, (the younger brother of singer, John Bahler). He is most known for his song, 'She's Out of My Life', recorded by
Michael Jackson
for his Off The Wall album. The song was originally written for
Frank Sinatra
who never recorded it. Together with the Wrecking Crew, the Bahler brothers have sung, produced, and arranged hundreds of worldwide hits. They were the featured background voices on The Partridge Family recordings in the 1970s.
1 Jun 1934
American singer, composer, actor, Pat Boone, who had the 1956 UK No.1 single 'I'll Be Home', and the 1957 US No.1 single 'Love Letters In The Sand'. Boone was the second-biggest charting artist of the late 1950s, behind only
Elvis Presley
.