June 11th: The Biggest Music Headlines
Scroll down the page to see all the music headlines, stories and events for June 11 throughout music history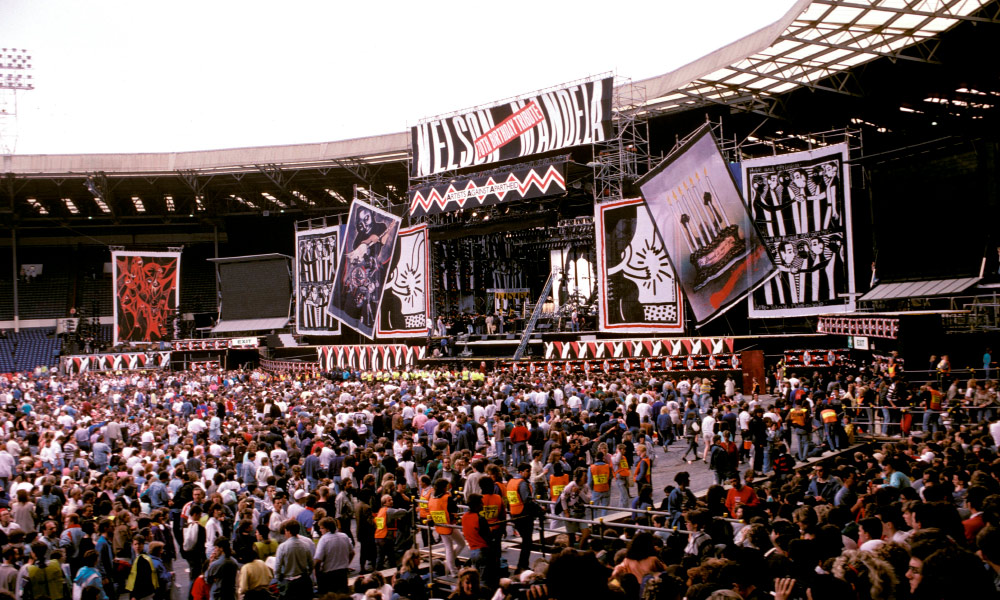 Stars Call for Change at Nelson Mandela's 70th Birthday Tribute
On this day in music, June 11, 1988, the star-studded Freedomfest concert took place at London's Wembley Stadium. The event, which marked the 70th birthday of the then-imprisoned anti-apartheid revolutionary, Nelson Mandela, was organized to raise awareness of apartheid (institutionalized racial segregation) in South Africa and called for the country's political prisoners, including Mandela, to be freed. Performances by the likes of Whitney Houston, George Michael, Phil Collins, Stevie Wonder, and the Bee Gees were broadcast live to an estimated global audience of one billion. Less than two years later, Mandela was freed from prison, while apartheid was repealed in 1991. Mandela, who died in 2013, went on to serve as South Africa's first present.
In 1966, The Rolling Stones' "Paint It, Black" became the first No.1 hit to feature a sitar. The song, which began a two-week run at the top of the Billboard Hot 100 on this day, also reached the top spot in the UK, Canada, and the Netherlands.
In 1969, The Beatles topped the UK pop chart for the 17th time with "The Ballad of John and Yoko." The recording only featured John Lennon and Paul McCartney.
In 1977, with their single "I'm Your Boogie Man," KC and the Sunshine Band became the second group in Billboard chart history (following the Jackson Five) to score four US No.1 hits.
In 2005, Queen co-founder and guitarist Brian May was recognized for his charitable and musical contributions when he was awarded a CBE by Queen Elizabeth II. On that same day, Led Zeppelin founder and guitarist Jimmy Page was awarded an OBE.
Looking for more things that happened on this day in music?
Keep scrolling for all of the headlines for June 11.
BORN ON JUNE 11:
1934: James "Pookie" Hudson (The Spaniels)
1946: John Lawton (Uriah Heep)
1947: Richard Palmer-Jones (Supertramp, King Crimson)
1949: Frank Beard (ZZ Top)
1951: Lynsey De Paul
1952: Donnie Van Zant (38 Special)
1961: Robert Birch (Stereo MCs)
1964: Penny Ford (Snap!)
1969: Steven Drozd (Flaming Lips)
1997: Kodak Black
Looking for more artists born on this day?
Keep scrolling for all of our June 11 birthdays.
---
What to find another day?
---
June 11th
11 Jun 2022
Justin Bieber was forced to cancel his current tour after he revealed he was suffering from facial paralysis. The 28-year-old said in an Instagram video that the condition was due to a diagnosis of Ramsay Hunt syndrome.
11 Jun 2020
American country music group Lady Antebellum abbreviated their name to "Lady A" during the George Floyd protests in an attempt to blunt the name's associations with slavery and the Antebellum South, causing a dispute with black blues and gospel singer Anita White, who had been using the name Lady A for more than 20 years.
11 Jun 2019
An 11-judge panel from the Ninth US Circuit Court of Appeals decided to review its decision on whether Led Zeppelin plagiarized
'Stairway To Heaven'
from the opening guitar riff on Spirit's 1968 track 'Taurus'. In June 2016, a Los Angeles jury ruled that Zeppelin were not guilty of any copyright infringement.
11 Jun 2016
Singer Christina Grimmie, who had competed on the US TV programme The Voice, died of her wounds after being shot in Florida. A man opened fire on her when she was signing autographs after a concert in Orlando. The assailant who was tackled by Ms Grimmie's brother, then shot and killed himself. The 22-year-old singer died in a local hospital.
11 Jun 2015
The Kinks
' front man and principle song writer Ray Davies was awarded with a London Legend Award at a ceremony held at the Camden Roundhouse. Davies said: "I accept this on behalf of all the young writers coming through, all the young people embarking on careers and as a symbol of the future."
11 Jun 2011
Pink Floyd
's 1973 album
The Dark Side Of The Moon
, re-entered the Billboard Album chart at No. 47, and reached the milestone of 1,000 weeks on Billboard's charts. The album which was released in 1973 has done consistently well reaching No.1 on more than one occasion.
11 Jun 2009
Peter Doherty was released on £50,000 bail to await trial accused of driving dangerously after a gig. The Babyshambles frontman was stopped after police saw a car being driven erratically in Gloucester. The 30-year-old appeared at Stroud Magistrates' Court and pleaded guilty to possessing heroin and to having no driving licence or insurance.
11 Jun 2008
The American Federation of Musicians filed a federal lawsuit against the producers of American Idol, claiming musicians were underpaid because the show's live music was re-recorded for re-runs. The union filed the suit seeking unspecified damages in the US District Court in Los Angeles, alleging that American Idol Productions Inc. and its subsidiary Tick Tock Productions Inc. violated a collective bargaining agreement.
11 Jun 2005
Jimmy Page
,
Led Zeppelin
founding member and guitarist, was awarded an OBE in the
Queen
of England's Birthday Honours list and
Queen
guitarist and founding member Brian May was awarded a CBE.
11 Jun 2004
Courtney Love surrendered to US police after allegedly assaulting a woman at the home of her former manager and ex-boyfriend. Ms Love was charged with assault with a deadly weapon. She was later released on bail. The charges related to an incident on 25 April 2004, when Ms Love allegedly assaulted a woman with a bottle and a torch at the LA home of Jim Barber.
11 Jun 2003
Adam Ant was arrested after going berserk and stripping off in a London cafe. The former 1980s pop star had thrown stones at neighbour's homes smashing windows before going to the nearby cafe.
11 Jun 2002
Sir
Paul McCartney
married Heather Mills at St Salvator Church, Ireland. Guests included
Ringo Starr
, David Gilmour, Jools Holland and Chrissie Hynde. Heather walked down the aisle clutching a bouquet of 11 'McCartney' roses. Mills had first met McCartney at the Pride of Britain Awards event in London in April 1999, which McCartney had attended to present an award to an animal rights activist. Mills and McCartney separated on 17 May 2006 and when divorced Mills was eventually awarded a lump sum of £16.5m, together with assets of £7.8m.
11 Jun 2000
Aaliyah went to No.1 on the US singles chart with 'Try Again'. It became the first "airplay-only" song to reach No.1 on the US singles chart (no points from a commercial single release).
11 Jun 1997
Simply Red singer Mick Hucknall received a Master of Science Degree at UMIST, Manchester for his fund-raising work following an IRA bombing in the city the previous year.
11 Jun 1988
Nelson Mandellas 70th birthday tribute took place at Wembley Stadium, London, featuring
Whitney Houston
,
Phil Collins
,
Dire Straits
,
Stevie Wonder
, Tracy Chapman,
George Michael
,
Eric Clapton
, UB40, The Eurythmics and
Simple Minds
. The event was broadcast live on BBC 2 to 40 different countries with an estimated audience of 1 billion.
11 Jun 1977
Joe Strummer
and Topper Headon were detained overnight in prison in Newcastle upon Tyne having failed to appear at Morpeth Magistrates on May 21st. Both
The Clash
members were to answer a charge relating to the theft of a Holiday Inn pillowcase. They were both fined £100 ($170).
11 Jun 1977
KC and the Sunshine Band became only the second group after The Jackson Five to achieve four US No.1\'s when \'I\'m Your Boogie Man\' went to the top of the charts.
11 Jun 1969
The Beatles
were at No.1 on the UK singles chart with 'The Ballad Of John and Yoko' the group's 17th UK No.1. The only two Beatles that played on the track were
John Lennon
and
Paul McCartney
.
11 Jun 1967
Printed in this week's music weekly Melody Maker's ad's pages, 'Freaky lead guitarist, bass and drummer wanted for
Marc Bolan
's new group. Also any other astral flyers like with car's amplification and that which never grows in window boxes, phone Wimbledon 0697.' The band who formed as Tyrannosaurus Rex, went on to release four underground folk albums before becoming known as T. Rex.
11 Jun 1966
The
Rolling Stones
started a two week run at No.1 on the US singles chart with 'Paint It, Black', the group's third US No.1 single. Also a No.1 in the UK, it was the first No.1 single to feature a sitar on the recording.
11 Jun 1966
European radio stations mistakenly reported that
The Who
's lead singer Roger Daltrey was dead. Actually, it was guitarist Pete Townshend who had been injured in a car accident a few days earlier.
11 Jun 1962
The Beatles
recorded a BBC radio program, "Here We Go", at the Playhouse Theatre in Manchester, in front of a studio audience composed largely of loyal Cavern fans. This was the last recording on which Pete Best played drums.
11 Jun 1960
Drummer Tommy Moore made the fateful decision to quit
The Beatles
and return to his job of driving a forklift at Garston bottle works. He was briefly replaced by Norman Chapman, who was called into National Service after just three gigs. After going drummerless and mostly jobless for a few weeks, the band hired Pete Best on August 12th, only one day before they were to go to Hamburg to play a string of club dates.
Born on this day in music
11 Jun 1997
American rapper. Bill Kahan Kapri, better known by his stage name Kodak Black. His second album, Dying to Live (2018), peaked at No.1 on the Billboard 200. Black was arrested inside of his Pembroke Pines, Florida home in January 2018 on multiple charges stemming from an Instagram live-feed video showing him passing marijuana and a gun around a small child. He was later sentenced to 364 days in prison.
11 Jun 1987
Dappy, English singer, songwriter, rapper, and actor, best known for being the lead singer of grime trio N-Dubz.
11 Jun 1969
Steven Drozd, American musician, multi-instrumentalist and songwriter for the Flaming Lips and Electric Würms. The Flaming Lips 1999 release The Soft Bulletin was NME magazine's Album of the Year and the group has won three Grammy Awards.
11 Jun 1964
American singer-songwriter Penny Ford from Eurodance group Snap! Their debut album World Power (1990), sold over 7 million copies worldwide and became one of the most successful dance albums to date and contained the No.1 hit 'The Power'.
11 Jun 1961
Robert Birch, singer with British hip hop/electronic dance group Stereo MCs who had the 1992 UK No.12 single 'Step It Up'.
11 Jun 1960
Nick Hallam, DJ, producer, co founder of Gee Street Records, and a member of Stereo MCs who had the 1992 UK No.12 single 'Step It Up'.
11 Jun 1958
English drummer Kevin Wilkinson who worked with Howard Jones, The League of Gentlemen, The Waterboys, China Crisis, and Squeeze. Wilkinson committed suicide on 17 July 1999, aged 41, by hanging himself in the family home.
11 Jun 1958
Barry Adamson, English musician who has worked with Magazine, Visage, Pete Shelley, The Birthday Party, Nick Cave and the Bad Seeds, and the electro musicians Pan sonic.
11 Jun 1954
American vocalist, songwriter Johnny Neel who has worked with
The Allman Brothers Band
, Gov't Mule, Michael McDonald and Dickey Betts.
11 Jun 1952
Donnie Van Zant, American rock vocalist, guitarist best known as having been a member of 38 Special, from its formation in 1974 until 2013. He is the middle of three brothers: his older brother Ronnie was the original lead singer for Lynyrd Skynyrd who died in a 1977 plane crash.
11 Jun 1951
Lynsey De Paul, UK singer, songwriter, who scored the 1972 UK No.5 single 'Sugar Me'. She became the first woman to win an Ivor Novello song-writing award.
11 Jun 1949
Frank Beard, American drummer with ZZ Top, who had the 1984 US No.8 & 1985 UK No.16 single 'Legs'. Beard is notable as being the only musician in the band without a long beard, an ironic fact considering his last name. The band has had global album sales in excess of 50 million as of 2014.
11 Jun 1947
Glenn Leonard, American R&B and soul singer with The
Temptations
, from 1975 to 1983.
11 Jun 1947
Richard Palmer-James, English musician who worked with King Crimson in the early 1970s and was a founding member of Supertramp; he sang vocals and wrote the lyrics for their self-titled debut album.
11 Jun 1946
John Lawton, from English rock band Uriah Heep who had the 1975 UK No.7 album Return To Fantasy. They have sold over 40 million albums worldwide. He died unexpectedly on 29 June 2021 age 74.
11 Jun 1944
Judy Craig lead singer of the American girl group The Chiffons, who had the 1963 US No.1 hit 'He's So Fine'. The song is also renowned as the plaintiff song in the famous plagiarism case against
George Harrison
's 'My Sweet Lord'.
11 Jun 1940
Joseph DiNicola, from American group Joey and the Starlighters. who scored the 1962 US No.1 single 'Peppermint Twist, Part 1'.
Jimi Hendrix
was a member of the band during 1964.
11 Jun 1934
James "Pookie" Hudson the lead singer of the fifties doo-wop group The Spaniels. Their 1954 hit 'Goodnite, Sweetheart, Goodnite' was featured in such films as Three Men and a Baby and American Graffiti. The Spaniels became one of the first artists to sign with Vee-Jay Records, the first large, independent Afro-American owned record label. Hudson died on 16th January 2007.