June 20th: The Biggest Music Headlines
Scroll down the page to see all the music headlines, stories and events for June 20 throughout music history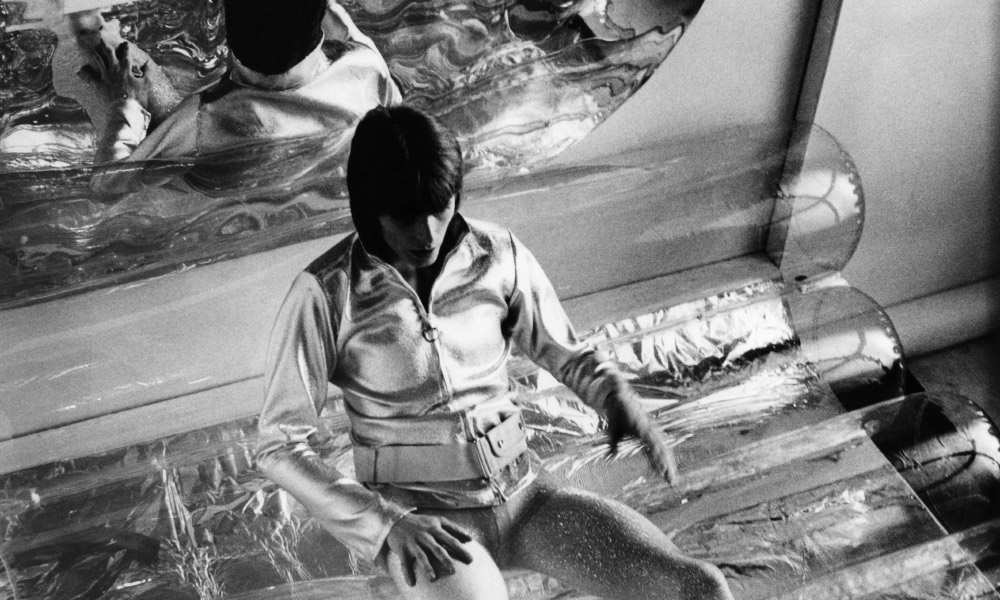 David Bowie Introduces Major Tom in 'Space Oddity'
On this day in music, June 20, 1969, David Bowie recorded "Space Oddity" – his first song about the fictional astronaut, Major Tom – at London's Trident Studios. The single was released weeks later, in time for the Apollo 11 Moon landing, and was used by the BBC during their broadcast of the event. Marking a stylistic shift in Bowie's music, "Space Oddity" was received warmly by the critics, but did not find initial commercial success in the UK or the US (where it was banned by many radio stations, due to its description as "controversial" in a press release). After performing the song on Top of the Pops that October, however, "Space Oddity" peaked at No.5 in the UK, while subsequent reissues over the next decade kept the single on the charts on both sides of the Atlantic. Bowie, meanwhile, revisited Major Tom in several future songs.
In 1966, Bob Dylan released his seventh studio album, Blonde on Blonde. Recorded between New York and Nashville with some of the country's best session musicians, Blonde on Blonde marked one of rock's first double albums and has long been considered to be among the greatest LPs of all time. Featuring enduring hits like "Just Like a Woman," "I Want You," and "Rainy Day Women #12 & 35," the album was met with critical and commercial success, peaking in the Top 10 in the US and UK.
In 1969, the second annual Newport Pop Festival took place in Costa Mesa, California. Billed as "Newport 69," it became the largest concert of its kind at the time, with an estimated 200,000 paying attendees (tickets for the three-day event were just $15.00). The Jimi Hendrix Experience, meanwhile, received a record-setting $125,000 fee to headline the festival. Other performers included The Byrds, Jethro Tull, The Rascals, Albert King, Ike & Tina Turner, and Creedence Clearwater Revival.
In 1974, the first-ever Knebworth Festival took place in England. Dubbed "The Bucolic Frolic" in its inaugural year, the open-air event hosted 60,000 music fans and featured performances by The Allman Brothers, Van Morrison, The Doobie Brothers, and many others.
In 1980, Dutch group Stars On topped the Billboard Hot 100 with "Stars on 45," a medley of ten hits, including multiple songs by The Beatles. The song, which also topped charts across the world, kicked off a brief medley craze – particularly in the US and UK.
Looking for more things that happened on this day in music?
Keep scrolling for all of the headlines for June 20.
BORN ON JUNE 20:
1924: Chet Atkins
1936: Mickie Most (Producer)
1942: Brian Wilson (The Beach Boys)
1946: Anne Murray
1949: Lionel Richie
1954: Michael Anthony (Van Halen)
1960: John Taylor (Duran Duran)
1972: Chino Moreno (Deftones)
1988: Adam Hann (The 1975)
Looking for more artists born on this day?
Keep scrolling for all of our June 20 birthdays.
---
What to find another day?
---
June 20th
20 Jun 2019
David Gilmour's guitar collection set several auction records when nearly 130 instruments went up for bid at Christie's in New York. The former
Pink Floyd
frontman's most iconic instrument, the so-called Black Strat, fetched $3,975,000. Other items sold included a 1954 Fender Stratocaster with the serial number 0001, which was used on the recording of
'Another Brick in the Wall Part 2'
went for over $1.8 million, a 1958 Gretsch White Penguin went for $447,000, and a 1955 Gibson Goldtop Les Paul, also used on 'Another Brick' sold for $447,000. Christie's declared all to be world auction records.
20 Jun 2016
Lawyers for
Led Zeppelin
asked a judge to throw out a case accusing the band of stealing the riff for '
Stairway To Heaven
'. Singer Robert Plant, guitarist
Jimmy Page
and Warner Music argued that the claimants had failed to make their case after three days of testimony. The band were accused of basing Stairway on the 1968 Spirit song, 'Taurus'.
20 Jun 2014
Songs by
Elvis Presley
,
ABBA
and the
Spice Girls
were among those being used in research that hoped to unlock the secret of how our memory works. Researchers from the University of Amsterdam had created an online game in an attempt to shed light on why some tunes get stuck in your head. Fans were asked to identify song clips and compare them by their catchiness.
20 Jun 2008
American singer songwriter Jimmy Buffett announced that his Margaritaville Holdings has partnered with New York gambling company Coastal Marina to buy the Trump Marina Hotel Casino for $316 million. His vast business empire also included tequila, beer, frozen food, footwear, restaurants, a resort, a record label and a recording studio. In 2006, Rolling Stone magazine estimated Buffett's earnings at $44 million.
20 Jun 2006
Claydes Charles Smith, co-founder and lead guitarist of Kool & the Gang died aged 57 after a long illness. They had the 1981 US No.1 & UK No.7 single 'Celebration' and 15 other Top 40 hits.
20 Jun 2004
Organisers at a
Paul McCartney
gig hired three jets to spray dry ice into the clouds so it wouldn't rain during the concert. The gig in Petersburg, Russia, was McCartney's 3,000 concert appearance. He had performed 2,535 gigs with the Quarrymen and
The Beatles
, 140 gigs with Wings and 325 solo shows.
20 Jun 2000
The Ronettes were awarded $2.6 million (£1.5 million) in back earnings from Phil Spector. New York judge Paula Omansky ruled that the legendary producer had cheated them out of royalties.
20 Jun 1999
Jamiroquai went to No.1 on the UK album chart with 'Synkronized', the group's second No.1 album.
20 Jun 1998
Baddiel, Skinner & Lightning Seeds went to No.1 on the UK singles chart with 'Three Lions '98' released for the football World Cup 98.
20 Jun 1997
Lawrence Payton of The
Four Tops
died from liver cancer aged 59. (1965 US No.1 single 'I Can't Help Myself', 1967 UK No.6 single 'Standing In The Shadows of Love').
20 Jun 1992
Mariah Carey
scored her sixth US No.1 single with 'I'll Be There', a No.2 hit in the UK. The song was also a US No.1 for The Jackson Five in 1970.
20 Jun 1987
Aerosmith
appeared at the Cotton Bowl in Dallas, Texas, the first night on their Permanent Vacation 147 date world tour. Over the years the venue has been the home to the Texxas Jam, which has featured
Deep Purple
, Boston, Journey, Ted Nugent, Scorpions, Cheap Trick,
Van Halen
, Blue Öyster Cult, Sammy Hagar, Rush, Nazareth, Styx, Foghat,
Santana
and the
Eagles
.
Eric Clapton
notably held his first massive 3-day Crossroads Guitar Festival here in 2004.
20 Jun 1981
Stars on 45 went to No.1 on the US singles chart, a medley of Beatles songs set to a disco beat. It was the start of a flood of 'Stars On' hits including Stars on
Stevie Wonder
, punk songs, Status Quo and Chas & Dave.
20 Jun 1974
Van Morrison,
The Allman Brothers Band
, The Mahavishnu Orchestra, Tim Buckley, The Sensational Alex Harvey Band and The Doobie Brothers all appeared at Knebworth Park, Stevenage, England. A special PA system was used for the event, claiming to be the best ever for an outside show, weighing 12 tons and needing five technicians.
20 Jun 1969
David Bowie
recorded '
Space Oddity
' at Trident Studios London. The track went on to become a UK No.1 when re-released in 1975. Written about the launch of Major Tom, a fictional astronaut; Bowie would later revisit his Major Tom character in the songs 'Ashes to Ashes', 'Hallo Spaceboy' and 'Blackstar'.
20 Jun 1969
The first of a three day Festival in Newport, California, featuring: Ike And Tina Turner,
Marvin Gaye
,
Creedence Clearwater Revival
, The Byrds, The Rascals, Steppenwolf, The
Jimi Hendrix Experience
,
Janis Joplin
, Johnny Winter, Eric Burdon and Love. A three day ticket cost $15 (£8.80). Hendrix received $125,000 for his appearance, at the time it was the highest fee ever paid to a rock act for a single appearance.
20 Jun 1965
The Beatles
began a 14-day European tour with two performances at the Palais Des Sports in Paris, France.
The Beatles
' set list for this tour: 'Twist and Shout', 'She's a Woman', 'I'm a Loser', 'Can't Buy Me Love', 'Baby's In Black', 'I Wanna Be Your Man', 'A Hard Day's Night', 'Everybody's Trying to Be My Baby', 'Rock and Roll Music', 'I Feel Fine', 'Ticket to Ride', and 'Long Tall Sally'.
Born on this day in music
20 Jun 1988
Adam Hann, lead guitarist for the English indie rock band The 1975. The Manchester band has seen their first three albums all debut at No.1 on the UK album charts.
20 Jun 1982
Elliot Gleave, better known by his stage name Example, English singer, songwriter, rapper and record producer. His second studio album, Won't Go Quietly, peaked at No.4 on the UK Albums Chart.
20 Jun 1979
Charlotte Hatherley, guitar, vocals, from Northern Irish alternative rock band Ash who scored the 1995 UK No.11 single 'Girl From Mars' and the 1996 UK No.1 album 1977. Also worked with Client, KT Tunstall and Bat for Lashes.
20 Jun 1972
Chino Moreno, from American alternative metal band Deftones, who had the 2003 US No.2 & UK No.7 album Deftones. Also a member of the side-project groups Team Sleep, Crosses, Saudade, and Palms.
20 Jun 1971
American musician Jeordie Osborne White (Twiggy), bassist with American rock band Marilyn Manson who had the 1998 US No.1 album, Mechanical Animals. Also a member of Goon Moon and A Perfect Circle.
20 Jun 1971
Ian Matthews, drummer with Kasabian. Their 2014 release 48:13 became their fourth UK No.1 album. Kasabian won a Brit Award in 2010 for Best British Group.
20 Jun 1967
Murphy Karges, from American rock band Sugar Ray who had the 1999 UK No. 10 single 'Every Morning'.
20 Jun 1962
American musician Amir Derakh who has worked with Julien-k, Dead By Sunrise and Rough Cutt.
20 Jun 1960
John Taylor, bass and co-founder of
Duran Duran
who scored the 1983 UK No.1 single 'Is There Something I Should Know', plus 25 other UK Top 40 singles, and the 1984 US No.1 single 'The Reflex'. Also a member of The Power Station who had the 1985 UK No.14 single 'Some Like It Hot'.
20 Jun 1958
Kelly Johnson, from British rock band Girlschool who had the 1981 UK No.5 single with
Motorhead
, 'St Valentines Massacre EP'.
20 Jun 1958
Simon Underwood, from British post-punk band Pigbag who had the 1982 UK No.3 single 'Papa's Got A Brand New Pigbag'.
20 Jun 1954
Michael Anthony, American bassist who has worked with
Van Halen
and other acts. Anthony markets a line of hot sauces and related products named Mad Anthony. He has a number of custom-made bass guitars, including a Jack Daniel's model shaped like a whiskey bottle.
20 Jun 1954
Singer Chris Francfort who as a member of The Gibson Brothers had success during the disco boom of the late 1970s. Their best known hit singles included 'Cuba' and 'Que Sera Mi Vida'.
20 Jun 1953
Alan Longmuir, from Scottish pop band Bay City Rollers who had the 1975 UK No.1 single 'Bye Bye Baby', plus 11 other UK Top 20 singles', and the 1976 US No.1 single 'Saturday Night'. Longmuir died on 2 July 2018 aged 70 after contracting an illness while on holiday in Mexico.
20 Jun 1949
American singer, songwriter, actor, and record producer Lionel Richie, who with The Commodores had the 1978 UK & US No.1 single 'Three Times A Lady'. Solo hits include the 1984 UK & US No.1 single 'Hello'. He co-wrote the 1985 charity single 'We Are the World' with
Michael Jackson
.
20 Jun 1947
Dolores Brooks, second lead singer of the girl group the Crystals. She sang lead vocalist on both the Crystals' 1963 Phil Spector produced hits 'Then He Kissed Me' and 'Da Doo Ron Ron'.
20 Jun 1946
Canadian singer Anne Murray who scored the 1978 US No.1 & UK No.22 single 'You Needed Me'. Murray was the first Canadian female solo singer to reach No. 1 on the US charts.
20 Jun 1942
Brian Wilson
American singer, songwriter with The Beach Boys who scored the 1966 UK & US No.1 single 'Good Vibrations', plus over 25 other UK Top 40 singles. The 1966 classic album
Pet Sounds
is widely considered to be one of the most influential albums in music history. Wilson released and toured the 'lost' Beach Boys Smile album in 2004.
20 Jun 1938
American jazz and rock guitarist Dennis Budimir. He was a member of The Wrecking Crew and worked with many artists including Joni Mitchell, The Carpenters, Brian Wilson, Barbra Streisand, Frank Zappa, Linda Ronstadt and Dusty Springfield. He also played on more than 900 movie soundtracks from the early 1960s until the 2000s. He died on 10 January 2023 at the age of 84.
20 Jun 1937
American pop singer and songwriter Jerry Keller, who scored the 1959 UK No.1 and US No. 14 single 'Here Comes Summer'). A One Hit Wonder in the UK. Keller went on to be a number-one-call vocalist for television jingles throughout the 1970s and 1980s.
20 Jun 1936
Billy Guy, The Coasters. The American rhythm and blues/rock and roll vocal group scored the 1958 US No.1 single 'Yakety Yak', the 1959 US No.2 and UK No.6 single 'Charlie Brown', as well as 'Young Blood' and 'Poison Ivy'.
20 Jun 1936
Mickie Most, record producer. Member of The Most Brothers during late 50s. Produced hits for The Animals, Hermans Hermits, Lulu and
Jeff Beck
. Ran his own label, RAK during the 1970s, hits with Hot Chocolate, Suzi Quatro and Mud. Most died on May 30th 2003, aged 67.
20 Jun 1924
Chet Atkins, guitarist, 1960 UK No.46 single 'Teensville'. Recorded over 100 albums during his career, major influence on
George Harrison
and Mark Knopfler. Atkins died on June 30th 2001, aged 77.
20 Jun 1920
Danny Cedrone American guitarist and bandleader, best known for his work with
Bill Haley
& His Comets. Cedrone played the lead guitar break on 'Rock Around the Clock' with
Bill Haley
and His Comets. He died on 17th June 1954, ten days after the session, of a broken neck after falling down a staircase.