June 27th: The Biggest Music Headlines
Scroll down the page to see all the music headlines, stories and events for June 27 throughout music history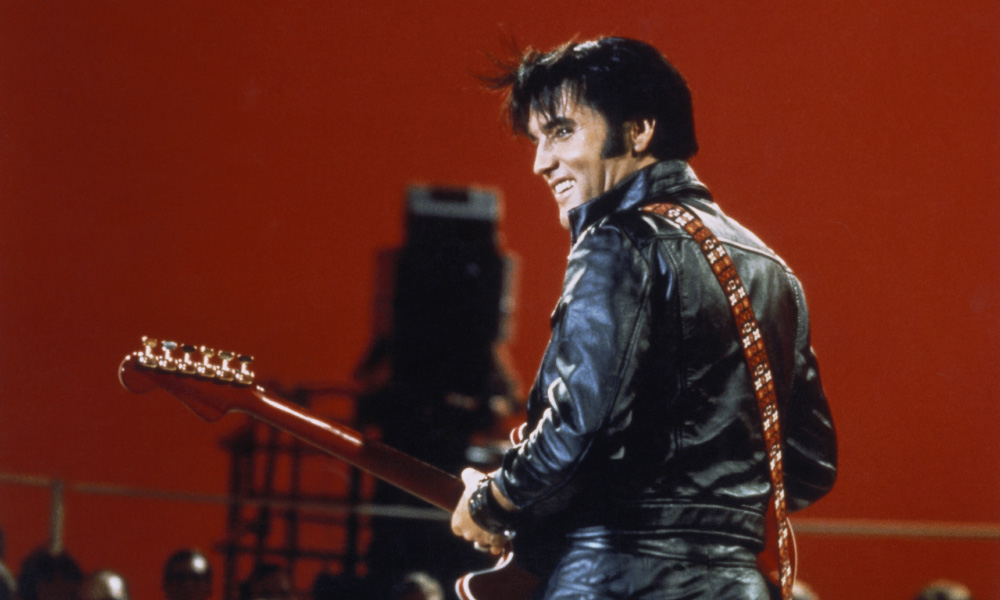 Elvis Films His '68 Comeback Special
In 1968, Elvis Presley filmed his iconic "Comeback Special" for NBC TV, after a seven-year hiatus from live performances. Initially conceived of as a Christmas concert, the show's focus instead shifted to help "The King" appeal to a younger, hipper audience. Presley, who had spent much of the decade focusing on his film career, felt that he needed to reinvigorate his musical presence – particularly amid the shifting times. Filmed at NBC Studios in Burbank, California, the concert offered an intimate, informal setting, while Presley (wearing a black leather jumpsuit) performed many of his classic hits, as well as some new material, including "If I Can Dream." Singer Presents…Elvis aired on December 3 to record-breaking ratings and effectively relaunched the artist's career.
In 1970, a young Freddie Mercury, Brian May, Roger Taylor, and bassist Mike Grose played their first concert together (billed as Smile) at Cornwall's Truro City Hall. Mercury, May, and Taylor would soon become Queen, with bassist John Deacon joining in early 1971.
In 1987, Whitney Houston became the first female artist to debut at the top of the US Album chart with Whitney. Featuring songs like "I Wanna Dance with Somebody" and "So Emotional," Whitney also made Houston the first woman to score four No.1 hits from one album and the first artist to achieve seven consecutive chart-topping singles on the Billboard Hot 100.
In 1966, The Mothers of Invention released their debut album, Freak Out. One of rock music's earliest concept albums – and one of its first double albums – Freak Out found the Frank Zappa-fronted band offering their tongue-in-cheek take on American pop culture. Helmed by legendary producer Tom Wilson (Sun Ra, Bob Dylan, the Velvet Underground), the album became a cult favorite over the following years and was later inducted into the Grammy Hall of Fame.
In 1970, the Trans-Continental Pop Festival (also known as The Festival Express) kicked off in Toronto. The unique tour found bands like the Grateful Dead, Janis Joplin, The Band, and the Flying Burrito Brothers traveling across Canada by train. The tour (as well as its spirited jam sessions in between stops) was captured in the 2003 documentary Festival Express.
Looking for more things that happened on this day in music?
Keep scrolling for all of the headlines for June 27.
BORN ON JUNE 27:
1942: Bruce Johnston (The Beach Boys)
1945: Joey Covington (Jefferson Airplane, Hot Tuna)
1947: Jim Fuller (The Surfaris)
1958: Lisa Germano
1962: Michael Ball
1976: Leigh Nash (Sixpence None the Richer)
Looking for more artists born on this day?
Keep scrolling for all of our June 27 birthdays.
---
What to find another day?
---
June 27th
27 Jun 2020
American guitarist Pete Carr died age 70. He was lead guitarist for the famed Muscle Shoals Rhythm Section and recorded extensively at FAME Recording Studio in Muscle Shoals, Alabama and Muscle Shoals Sound Studio in Sheffield, Alabama. He recorded with Joan Baez, Bob Seger, Joe Cocker, Boz Scaggs,
Paul Simon
, The Staple Singers,
Rod Stewart
, Barbra Streisand, Wilson Pickett, Hank Williams, Jr., among many others.
27 Jun 2016
Mack Rice, the composer who wrote 'Mustang Sally' died in Detroit at the age of 82. Rice originally recorded 'Mustang Sally' himself in 1965, but the song was not initially a hit. It became a chart success two years later, after Rice's former Falcons bandmate Wilson Pickett asked if he could record it. Rice was also known for co-writing one of the Staple Singers' biggest hits, 'Respect Yourself'.
27 Jun 2015
Chris Squire, the bass guitarist and co-founder of 1970s British progressive rock band Yes, died at the age of 67 after battling leukemia. He was the only member to appear on each of their 21 studio albums, released from 1969 to 2014.
27 Jun 2012
The chief medical officer of Russia said that
The Beatles
were to blame for the country's drug problem. Yevgeny Bryun, the nation's medical chief, said that the country's youth first got introduced to the idea of drug-taking when
The Beatles
traveled to India to "expand their minds". Bryun added that it was after this news entered public consciousness that people in Russia realised you could make money from the sale of drugs. When business then realised it was possible to make money from this, goods associated with pleasure, that was when the growth in the demand for drugs started."
27 Jun 2009
Black Eyed Peas went to No.1 on the US album charts with 'The E.N.D.' the group's fifth studio album. The album's lead single, 'Boom Boom Pow' topped the Billboard Hot 100 for 12 consecutive weeks, the second single, 'I Gotta Feeling' replaced 'Boom' and spent 14 weeks at No.1. giving the group 26 consecutive weeks at the top of the charts.
27 Jun 2008
Kings of Leon, The Fratellis, Editors, The Gossip, The Feeling, KT Tunstall, Kate Nash, Jay Z,
Amy Winehouse
, The Raconteurs, James Blunt, Crowded House, Seasick Steve, Martha Wainwright, The Verve, Leonard Cohen, The Ting Tings, Goldfrapp,
Neil Diamond
, Pete Doherty, Scouting for Girls, Mark Ronson, Duffy, The Zutons, Groove Armada and John Mayer all appeared at this years 3 day UK Glastonbury Festival.
27 Jun 2004
Beastie Boys were at No.1 on the US album chart with 'To The 5 Boroughs' the rappers fourth US No.1. Mike Skinner scored his first UK No.1 album when The Streets album 'A Grand Don't Come For Free' went to the top of the charts.
27 Jun 2003
Rapper Mystikal pleaded guilty to charges that he forced his hairstylist to perform sex acts on him and two bodyguards. Mystikal, (real name Michael Tyler), had been charged with aggravated rape. He agreed to plead guilty and was sentenced to five years' probation.
27 Jun 2002
One day before the scheduled first show of
The Who
's 2002 US tour, bass player John Entwistle, died aged 57 in his hotel room at the Hard Rock Hotel and Casino in Las Vegas. Entwistle had gone to bed that night with a stripper, who woke at 10am to find Entwistle cold and unresponsive. The Las Vegas medical examiner determined that death was due to a heart attack induced by an undetermined amount of cocaine.
27 Jun 1999
Brian O'Hara, the 56-year-old singer and guitarist with The Fourmost, took his own life. The Liverpool group who were managed by Brian Epstein had the 1964 UK No.6 single 'A Little Loving'.
27 Jun 1998
After spending 30 weeks on the UK album chart The Corrs went to No.1 with 'Talk On Corners'. It went on to be the best selling UK album of 1998 spending 142 weeks on the chart.
27 Jun 1998
Anne Murray, Gordon Lightfoot and
Bryan Adams
each officially received a granite star on Canada's Walk of Fame, on King Street in Toronto. They were the first three pop artists to be honoured into the newly recognized group of Canadian stars.
27 Jun 1997
Radiohead
, Cast, The Bluetones, Manson, The Chemical Brothers, Ash, The Seahorses, Smashing Pumpkins, The Prodigy, Beck, Sheryl Crow, Sting, Dodgy, Travis, Ray Davies, Kula Shaker, Steve Winwood all appeared at the 3-day Glastonbury Festival.
27 Jun 1994
Aerosmith
became the first major band to let fans download a full new track free from the internet.
27 Jun 1992
Michael Jackson
played the first night on his Dangerous World tour at the Olympic Stadium in Munich, Germany. The tour consisted of 69 concerts to approximately 3.9 million fans across three continents. All profits made from the tour were donated to various charities including the Heal the World Foundation, Jackson's main reason for conducting the tour.
27 Jun 1988
The Fat Boys filed a $5 million (£2.94 million) lawsuit against The Miller Beer Company following a TV commercial featuring three overweight rappers clad in Fat Boys-style Davy Crockett hats.
27 Jun 1987
Whitney Houston
became the first women in US history to enter the album chart at No.1 with 'Whitney' she also became the first woman to top the singles chart with four consecutive releases when 'I Wanna Dance With Somebody' hit No.1.
27 Jun 1981
Michael Jackson
had his first solo UK No.1 with 'One Day In Your Life' a song recorded by Jackson for his 1975 album, Forever, Michael.
27 Jun 1981
Motorhead
scored their only UK No.1 album with 'No Sleep Til Hammersmith'. The live album was recorded at Leeds and Newcastle shows during their Short, Sharp Pain In The Neck tour in 1981. The name of the tour was a reference to the injury sustained by Phil Taylor when he was dropped on his head during some after-show horseplay. Despite the title of the album, the London venue the Hammersmith Odeon was not played on the tour.
27 Jun 1980
Led Zeppelin
appeared at Messehalle, Nuremberg, Germany during their last ever tour. After the group had played just three songs, drummer
John Bonham
collapsed on stage, causing the remainder of the show to be cancelled.
27 Jun 1970
The newly formed
Queen
featuring
Freddie Mercury
(possibly still known as Freddie Bulsara) on vocals, guitarist Brian May, drummer Roger Taylor and Mike Grose on bass played their first gig at Truro City Hall, Cornwall, England. They were billed as Smile, Brian and Roger's previous band, for whom the booking had been made originally. Original material at this time included an early version of 'Stone Cold Crazy'.
27 Jun 1970
The 3-day Bath Festival of Blues and Progressive Music in Bath, England took place. The line-up included,
Santana
, The Flock,
Led Zeppelin
(headlining act), Hot Tuna, Country Joe McDonald, Colosseum, Jefferson Airplane (set aborted), The Byrds (acoustic set), Dr. John,
Frank Zappa
& the Mothers of Invention, Canned Heat, It's a Beautiful Day, Steppenwolf, Johnny Winter, John Mayall with Peter Green,
Pink Floyd
, (who premiered their new suite, "Atom Heart Mother", which at that time was announced as the "Amazing Pudding"), Pentangle, Fairport Convention, and Keef Hartley.
27 Jun 1970
The Jackson Five started a two week run at No.1 on the US singles chart with 'The Love You Save', the group's third No.1 of the year, it made No.7 in the UK.
27 Jun 1970
The Trans-Continental Pop Festival (better known as the The
Festival Express
) set off. The tour was unique in that rather than flying to each city, most of the acts travelled on a chartered CN train.
Grateful Dead
,
Janis Joplin
, The Band, The Flying Burrito Brothers and Buddy Guy Blues Band all travelled together on the train playing shows in Toronto, Winnipeg, Saskatoon and Calgary.
27 Jun 1968
Elvis Presley
appeared on an NBC TV show that was billed as his "comeback special". The show featured the king performing on a small, square stage, surrounded by a mostly female audience. Presley was outfitted in black leather and performed many of his early hits.
27 Jun 1967
Mick Jagger
was found guilty of illegal possession of two drugs found in his jacket at a party given by
Keith Richards
. He was remanded overnight at Lewes jail, England (prison number 7856). Jagger requested books on Tibet and modern art and two packs of Benson & Hedges cigarettes.
27 Jun 1966
The Mothers of Invention released their debut studio album Freak Out! on Verve Records. Often cited as one of rock music's first concept albums, the album is a satirical expression of frontman
Frank Zappa
's perception of American pop culture and the nascent freak scene of Los Angeles. It was also one of the earliest double albums in rock music.
27 Jun 1964
Peter and Gordon went to No.1 on the US singles chart with the
John Lennon
and
Paul McCartney
song 'A World Without Love', also a No.1 in the UK. Peter Asher went on to become James Taylor and Linda Ronstadt's manager.
27 Jun 1964
The
Rolling Stones
appeared as the entire panel on UK TV show 'Juke Box Dury'. The music panel show ran on the BBC between 1June 1959 and December 1967 attracting 12 million viewers weekly on Saturday nights.
Born on this day in music
27 Jun 1983
Evan David Taubenfeld, guitarist and singer with Avril Lavigne and The Black List Club.
27 Jun 1976
Leigh Nash, singer, Sixpence None The Richer, (1999 UK No.4 single, 'Kiss Me', 1999 US No.8 single 'There She Goes').
27 Jun 1970
Laurence Colbert, drums, Ride, (1992 UK No.9 single 'Leave Them All Behind').
27 Jun 1962
Michael Ball, UK singer, radio presenter, actor. He had the 1989 UK No.2 single 'Love Changes Everything'. In April 2020, Ball & Captain Tom Moore scored a UK No.1 with their version of "You'll Never Walk Alone" raising money for charity during the COVID-19 pandemic. This made Moore – six days short of his one hundredth birthday – the oldest person to achieve a No.1 (he was at the top of the charts on his 100th birthday), beating the previous record-holder Tom Jones.
27 Jun 1958
Lisa Germano, American singer/songwriter and multi-instrumentalist, 1994 album 'Geek the Girl.' Also worked with John Mellencamp,
Simple Minds
,
David Bowie
, Neil Finn, Sheryl Crow, Iggy Pop, Jewel and Eels.
27 Jun 1958
Jeffrey Lee Pierce, American singer, songwriter and guitarist and founding member and guitarist with The Gun Club. Pierce died from a blood clot on his brain on 31st March 1996 aged 37.
27 Jun 1951
English drummer Gilson Lavis who has worked with
Chuck Berry
, Jools Holland, Jerry Lee Lewis and
Dolly Parton
. He was working in a brickyard when he noticed the advertisement in Melody Maker for Squeeze who he joined in the seventies.
27 Jun 1947
American guitarist Jim Fuller from The Surfaris who had the 1963 US No.2 & UK No.3 single 'Wipe Out'. Fuller was known as the "Godfather" of surf music, a Californian instrumental music and with his Fender guitar contributed to the popularity of Leo Fender's instruments. Fuller died on 3 March 2017 aged 69.
27 Jun 1945
American drummer Joey Covington, best known for his involvements with Jefferson Airplane, Hot Tuna and Jefferson Starship. Covington died in an automobile accident in Palm Springs, California, on June 4, 2013.
27 Jun 1944
Bruce Johnston, vocals, guitar, The Beach Boys. In 1965, Johnston joined the band for live performances, filling in for the group's co-founder
Brian Wilson
. He wrote the No.1 Barry Manilow hit 'I Write the Songs' and also sang on the recordings for
Elton John
's 'Don't Let the Sun Go Down on Me' and several songs on
Pink Floyd
's album
The Wall
.
27 Jun 1935
American songwriter and Blues singer Doc Pomus. He is best known as the lyricist of many rock and roll hits with Mort Shuman including, 'A Teenager in Love', 'Save The Last Dance For Me', 'Sweets For My Sweet', 'Can't Get Used to Losing You', 'Little Sister', 'Suspicion', 'Surrender' and 'Viva Las Vegas.'He died from lung cancer aged 65 on March 14th 1991.