June 3rd: The Biggest Music Headlines
Scroll down the page to see all the music headlines, stories and events for June 3 throughout music history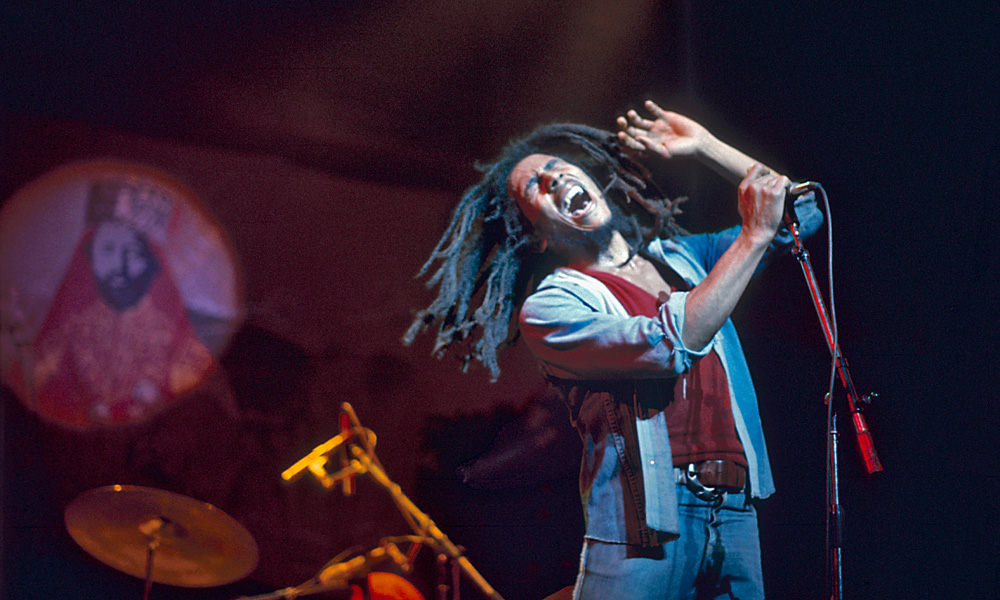 Bob Marley and The Wailers Release a Reggae Masterpiece
On this day in music, June 3, 1977, Bob Marley and the Wailers released their masterpiece, Exodus. Breaking from the traditional sounds of Jamaican reggae, the album drew from a variety of musical influences, including blues, soul, funk, and rock. Split between political discourse as well as themes of peace and love, the album featured such enduring global hits as "Three Little Birds," "Waiting in Vain," "Jamming," and "One Love/People Get Ready." A Top 20 album in the US, UK, France, and Sweden, among other territories, Exodus has long ranked as one of the greatest albums of all time. TIME named it the best album of the 20th century in 1999.
In 1967, Aretha Franklin topped the Billboard Hot 100 with her rendition of Otis Redding's "Respect." Transforming the 1965 song into a feminist anthem, Franklin earned two Grammy Awards for her recording. Her rendition was later preserved in the National Recording Registry and included on the RIAA and National Endowment for the Arts' "Songs of the Century" list, among other honors.
In 1967, The Doors released their sultry rock hit, "Light My Fire." The second single off their self-titled debut, "Light My Fire" catapulted the band to international stardom, topping the charts in the US, and landing in the Top Ten in the UK, Canada, and Australia, among other territories. Months later, the band performed the song on the Ed Sullivan Show, where they were asked to change the lyric "Girl, we couldn't get much higher," due to inferred drug references. While they initially agreed, they performed the song as-is on live television. Needless to say, The Doors were banned from future appearances on the show.
In 1972, The Rolling Stones kicked off their record-breaking North American tour at Vancouver's Pacific Coliseum. The 32-show run raked in $4 million – making it the highest-grossing rock tour to that point.
Looking for more things that happened on this day in music?
Keep scrolling for all of the headlines for June 3.
BORN ON JUNE 3:
1926: Allen Ginsberg
1939: Ian Hunter (Mott the Hoople)
1942: Curtis Mayfield
1950: Suzi Quatro
1951: Deniece Williams
1952: Billy Powell (Lynyrd Skynyrd)
1956: Danny Wilde (The Rembrandts)
1961: El DeBarge (DeBarge)
1962: David Cole (C+C Music Factory)
1964: Kerry King (Slayer)
1965: Mike Gordon (Phish)
1968: Samantha Spracklin (Republica)
Looking for more artists born on this day?
Keep scrolling for all of our June 3 birthdays.
---
What to find another day?
---
June 3rd
3 Jun 2019
Miley Cyrus was promoting her latest EP 'She Is Coming' with condoms. Fans who bought her $20 branded condoms would receive a digital download of her new music.
3 Jun 2019
Court paperwork showed that George Michael left all of his £98 million fortune to family and friends and left nothing to his former boyfriends Kenny Goss and Fadi Fawaz. George's sisters Yioda and Melanie were the main beneficiaries with them sharing equally all the major assets and his two London homes. There was also a horse racing stud farm for George's dad Kyriacos as the singer ensured his family were taken care of.
3 Jun 2016
English folk musician and singer-songwriter Dave Swarbrick died aged 75. His work for the group Fairport Convention from 1969 has been credited with leading them to produce their seminal album Liege & Lief (1969) which initiated the electric folk movement.
3 Jun 2011
American singer, songwriter Andrew Gold died in his sleep aged 59 from a heart attack. Had the 1977 US No.7 single 'Lonely Boy', 1978 UK No.5 single 'Never Let Her Slip Away' and as a member of Wax the 1987 UK No.12 single 'Bridge To Your Heart'.
3 Jun 2006
Red Hot Chili Peppers
were at No.1 on the UK and US album charts with Stadium Arcadium the bands ninth studio album.
3 Jun 2003
Barry Manilow suffered a broken nose after he accidentally walked into a wall at his home in Palm Springs, California and knocked himself unconscious. Although he passed out for four hours, he didn't endure any lasting effects as doctors determined that surgery was not necessary.
3 Jun 2002
3 Jun 2000
Kenny Chesney and Tim McGraw were arrested in Buffalo, New York after Chesney ran away with a Mounted Reserve deputy's horse, and McGraw attacked deputies that tried to corral him. Chesney asked to sit on the horse outside Ralph Wilson Stadium and the daughter of the deputy gave him permission to do so. Then Chesney mounted the horse and rode away. He was told to stop, but ignored the orders from the other deputies, the deputies were then attacked by McGraw and members of his entourage. Chesney was charged with disorderly conduct and released on bail. McGraw was charged with second-degree assault, obstructing governmental administration, menacing and resisting arrest. He was released on $2,500 bail.
3 Jun 1995
Bryan Adams
started a five week run at No.1 on the US singles chart with 'Have You Ever Really Loved A Woman' Taken from the film 'Don Juan De Marco' it became Adams third US solo No.1, a No.4 hit in the UK.
3 Jun 1983
3 Jun 1977
Bob Marley
& the Wailers released Exodus. The album featured the hits, 'Jamming', 'Waiting In Vain', 'Three Little Birds' and 'One Love'. In 1999, Time magazine named Exodus the best album of the 20th century.
3 Jun 1972
The
Rolling Stones
kicked off their seventh North American tour at the Pacific Coliseum, Vancouver, Canada. The 32 date tour grossed $4 million (£2.35 million), making it the richest rock tour in history.
3 Jun 1970
Deep Purple
released their fourth studio album '
Deep Purple
In Rock'. This was the first album to feature the classic Mk II lineup of - Ritchie Blackmore, Ian Gillan, Roger Glover,
Jon Lord
and Ian Paice.
3 Jun 1970
The Kinks
Ray Davies was forced to make a 6,000 mile round trip from New York to London to record one word in a song. Davies had to change the word 'Coca- Cola' to 'Cherry Cola' on the bands forthcoming single 'Lola' due to an advertising ban at BBC Radio.
3 Jun 1968
Valerie Solanas shot Andy Warhol and art critic and curator Mario Amaya at Warhol's studio in New York City. Solanas had been to see Warhol after asking for the return of a script which had apparently, been misplaced. Warhol was seriously wounded in the attack and barely survived.
3 Jun 1967
Aretha Franklin
went to No.1 on the US singles chart with her version of the
Otis Redding
hit 'Respect'. A No.10 hit on the UK chart. Aretha scored her first UK No.1 20 years later with a duet with
George Michael
'I Knew You Were Waiting'.
3 Jun 1967
The Doors
'Light My Fire' was released in the US, where it went on to be No.1 on the singles chart two months later. When The Doors were booked to appear on The Ed Sullivan Show they were asked to change the line "girl, we couldn't get much higher", as the sponsors were uncomfortable with the possible reference to drug-taking. The band agreed to do so, and did a rehearsal using the amended lyrics; however, during the live performance, lead singer
Jim Morrison
sang the original lyric, after which they were informed they would never appear on the Ed Sullivan show again.
3 Jun 1964
During a photo session
Ringo Starr
was taken ill suffering from tonsillitis and pharyngitis, days before a world tour was about to start. After a last-minute phone call from George Martin, session drummer Jimmy Nichol rushed over to EMI Studios, where he and
The Beatles
ran through six songs from their tour repertoire in a quick rehearsal. Nichol replaced Ringo and became a Beatle for eleven days.
3 Jun 1953
Elvis Presley
graduated from J.C. Hulmes High School in Memphis; his graduation photo shows him to have a split curl in the middle of his forehead, later to become his trademark. He was the first member of his family to graduate high school.
Born on this day in music
3 Jun 1985
Tavion La'Corey Mathis, singer from American R&B/hip hop group Pretty Ricky who scored the 2007 US No.1 album Late Night Special.
3 Jun 1974
Kelly Jones, vocals, guitar, from Welsh rock band, Stereophonics, who had the 2001 UK No.5 single 'Have A Nice Day'. Their 1999 UK No.1 album, Performance and Cocktails spent 97 weeks on the UK chart.
3 Jun 1973
Tonmi Lillman, Finnish musician, best known as Otus, the former drummer of the Finnish hard rock band Lordi.Lillman died on 13 February 2012 after a bout of illness.
3 Jun 1968
Samantha Sprackling, singer with English alternative rock band Republica who had the 1997 UK No.7 single 'Drop Dead Gorgeous' and the single 'Ready to Go'.
3 Jun 1965
Mike Gordon, bass, banjo, piano, harmonica and percussion, from American rock band Phish who are known for musical improvisation, extended jams, and blending of genres. Gordon is also an award-winning filmmaker.
3 Jun 1964
Kerry King, guitarist with American thrash metal band Slayer who released the 1986 album 'Reign in Blood'.
3 Jun 1962
David Cole, from American group C+C Music Factory who had the 1991 UK No.4 single 'Things That Make You Go Hmmm..., and the 1991 US No.1 single 'Gonna Make You Sweat'. Cole produced
Mariah Carey
,
Whitney Houston
and
Aretha Franklin
. Cole died January 24th 1995.
3 Jun 1961
El Debarge, DeBarge, singer from American family group DeBarge who had the 1983 US No.17 single 'All This Love', and the 1985 UK No.4 single 'Rhythm Of The Night'.
3 Jun 1956
Danny Wilde, singer, songwriter, from American pop rock duo The Rembrandts, who had the 1990 US Top 20 hit 'Just the Way It Is, Baby', and the 1995, UK No. 3 single 'I'll Be There For You', Theme from Friends.
3 Jun 1954
Canadian pop singer and songwriter Dan Hill who had the 1978 US No.3 & UK No. 13 single 'Sometimes When We Touch' and 'Can't We Try', a duet with Vonda Shepard.
3 Jun 1952
Billy Powell, American musician and a longtime keyboardist of Southern rock band Lynyrd Skynyrd from 1972 until his death in 2009. They had the 1974 US No. 8 single, 'Sweet Home Alabama', 1982 UK No.21 single 'Freebird'). Powell died at the age of 56 of a suspected heart attack in Florida on 28th Jan 2009. Powell called police saying he was having trouble breathing and emergency services tried to resuscitate the musician but he was pronounced dead an hour later.
3 Jun 1951
American singer–songwriter Deniece Williams, who had the 1978 US No.1 & UK No.3 single with Johnny Mathis 'Too Much Too Little Too Late', and the 1984 US No.1 & UK No.2 single 'Let's Hear It For The Boy'. Worked as a backing singer with
Stevie Wonder
's group Wonderlove.
3 Jun 1950
Florian Pilkington-Miksa English drummer who with Curved Air had the 1971 UK No.4 single 'Back Street Luv'. He also has also performed with Kiki Dee.
3 Jun 1950
American rock singer-songwriter Suzi Quatro, who had the 1973 UK No.1 single 'Can The Can', plus 10 other UK Top 40 singles, and the 1979 US No.4 single with Chris Norman, Stumblin' In'. Quatro was the first female bass player to become a major rock star, breaking a barrier to women's participation in rock music.
3 Jun 1947
English percussionist Mickey Finn, who with Tyrannosaurus Rex (on one album, A Beard of Stars) and
T. Rex
scored the 1971 UK No.1 single 'Hot Love', plus over 20 other UK Top 40 singles. Finn died from alcohol-related liver problems on January 11th 2002.
3 Jun 1947
Dave Alexander, the original bassist for The Stooges. Alexander met Iggy Pop and formed The Stooges in 1967 and had a hand in arranging, composing and performing all of the songs that appeared on the band's first two albums, The Stooges and Fun House. He was fired from the band in August 1970 after showing up at a gig too drunk to play. He died from pneumonia on 10 February 1975 aged 27.
3 Jun 1943
Michael Clarke, drummer, The Flying Burrito Brothers and The Byrds, who had the 1965 US & UK No.1 single 'Mr Tambourine Man'. Clarke died of liver failure on December 19th 1993.
3 Jun 1942
American singer-songwriter, guitarist, and record producer Curtis Mayfield. He was a member of The Impressions, who had the 1965 US No.7 single 'Lilies Of The Field'. As a solo artist the 1971 UK No.12 single 'Move On Up', and the 1972 US No.4 single 'Freddie's Dead, Theme From Superfly'. He died on December 26th 1999.
3 Jun 1939
English musician Ian Hunter, vocals, guitar with
Mott The Hoople
, who had the 1972 UK No.3 & US No.37 single 'All The Young Dudes' which was written for them by
David Bowie
. Other hits include, 'All the Way from Memphis' and 'Roll Away the Stone'. As a solo artist he had the 1975 UK No.14 single 'Once Bitten twice Shy' and later was one half of Hunter Ronson with
Mick Ronson
. He wrote the book Diary Of A Rock 'n' Roll Star.
3 Jun 1936
American soul musician Eddie Willis, who played electric guitar and occasional electric sitar for
Motown
's in-house studio band, The Funk Brothers, during the 1960s and early 1970s. He performed on many hits including 'Please Mr. Postman' by The
Marvelettes
, 'The Way You Do the Things You Do' by The
Temptations
, 'You Keep Me Hanging On' by The
Supremes
, and 'I Was Made to Love Her' by
Stevie Wonder
. Willis died on 20 August 2018 aged 82.
3 Jun 1926
in Newark, New Jersey, Irwin Allen Ginsberg. A leading figure in the Beat Generation, he first met
Bob Dylan
in 1963 and they remained life long friends. In 1971 Ginsberg and Dylan collaborated on a series of poetry readings set to music. Allen Ginsberg is one of the figures in the background for the iconic film promo of
Bob Dylan
card flipping the lyrics of
Subterranean Homesick Blues
. Ginsberg died of liver cancer on April 5th 1997 aged 70.