June 9th: The Biggest Music Headlines
Scroll down the page to see all the music headlines, stories and events for June 9 throughout music history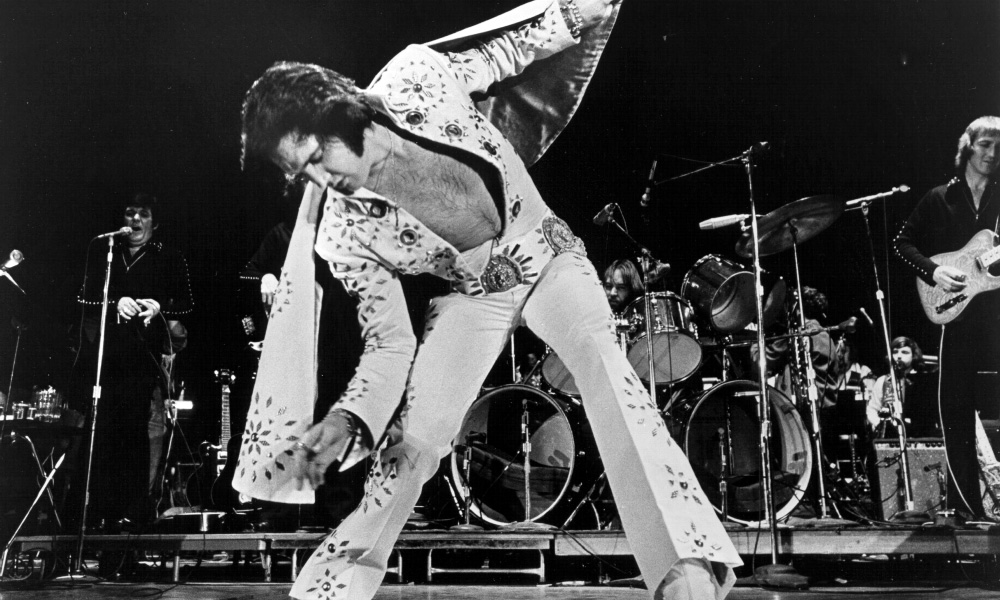 Elvis Returns to New York with Historic Shows
On this day in music, June 9, 1972, Elvis Presley made history by selling out four consecutive nights at Madison Square Garden. It's no surprise that tickets were in demand, given that The King hadn't played New York City for more than a decade. Attending the dates were a variety of stars, including John Lennon, George Harrison, David Bowie, Art Garfunkel, and Bob Dylan. The long-awaited engagement was recorded and released just nine days later as the live album Elvis: As Recorded at Madison Square Garden.
In 1990, MC Hammer broke Billboard records with his third album, Please Hammer Don't Hurt 'Em. The record, which featured his smash hit "U Can't Touch This," remained at No.1 for 21 consecutive weeks – marking the longest uninterrupted stay at the top position.
In 1978, The Rolling Stones released Some Girls, their first album to feature Ronnie Wood as a full-time band member. The album included such hits as "Beast of Burden" and the disco-influenced "Miss You."
In 2017, Glen Campbell released his 64th and final album, Adios, after his diagnosis of Alzheimer's Disease. The album was recorded after the celebrated singer-songwriter concluded his farewell tour. Campbell died a little over a year later.
In 1990, Wilson Phillips (featuring daughters of Beach Boy Brian Wilson and the Mamas & the Papas' John and Michelle Phillips) topped the Billboard Hot 100 with "Hold On." Exactly 25 years earlier, Wendy and Carnie Wilson's father, Brian, was also at No.1, with The Beach Boys' "Help Me Rhonda."
In 1984, Cyndi Lauper scored her first No.1 hit on the Billboard Hot 100 with "Time After Time."
In 1972, Bruce Springsteen signed with Columbia Records. He would release his debut album, Greetings from Asbury Park the following January.
Looking for more things that happened on this day in music?
Keep scrolling for all of the headlines for June 9.
BORN ON JUNE 9:
1891: Cole Porter (composer, songwriter)
1915: Les Paul
1934: Jackie Wilson
1947: Mick Box (Uriah Heep)
1970: Ed Simons (Chemical Brothers)
1978: Matt Bellamy (Muse)
1980: James Walsh (Starsailor)
Looking for more artists born on this day?
Keep scrolling for all of our June 9 birthdays.
---
What to find another day?
---
June 9th
9 Jun 2020
Welsh rock guitarist Paul Chapman died on his 66th birthday age 66. He is best known for his work in bands such as UFO and Lone Star.
9 Jun 2017
Adios, the 64th and final studio album by American singer-songwriter Glen Campbell, was released. After being diagnosed with Alzheimer's disease, Campbell embarked on a 2011–2012 Farewell Tour. After finishing the tour, he entered the studio in Nashville to record a final album. According to producer Carl Jackson, he had to stand with Campbell in the recording booth to record the vocals "line by line" as Campbell could not remember the lyrics. In the UK, Adiós debuted at No. 3 on the UK Albums Chart, becoming Campbell's highest UK debut ever.
9 Jun 2016
Paul Simon
said he was "elated" to notch up his first UK No.1 studio album in 26 years after his 13th solo album, Stranger To Stranger, topped the charts.
9 Jun 2015
A Toronto-based company called Nutritional High announced that they had secured the licensing rights to manufacture and distribute marijuana and hemp-based products using the song titles and bearing the likeness of iconic guitarist
Jimi Hendrix
.
9 Jun 2011
A Belgian music festival, which prides itself on its horse-meat sausages announced it was going meat-free on the day that vegetarian singer Morrissey appeard. The 10-day Lokerse Feesten, which boasts online about sales of sausage rolls and snails, will order stalls to sell vegetarian food only on 4 August, the day Morrissey is due to appear. In 2009, the singer left the stage at California's Coachella festival saying he could "smell burning flesh". The booking "meant a welcomed catering challenge for one day", it added.
9 Jun 2007
George Michael
became the first music artist to perform at the new Wembley Stadium in London when he played the first of two shows at the venue during his '25 Live Tour'.
9 Jun 2003
Former Boyzone frontman Ronan Keating raised more than £100,000 ($170,000) for cancer charities during a 23 day walk from the Giant's Causeway in County Antrim to Kinsale in County Cork. He visited 610 towns along the way, walking an average of 32km (20 miles) each day.
9 Jun 1998
Oasis
singer
Liam Gallagher
and Simply Red singer Mick Hucknall were involved in a brawl at The Metropolitan Hotel, London.
9 Jun 1998
The Ronettes appeared in the Supreme Court of New York for their lawsuit against producer Phil Spector. The Ronettes, whose hits included 'Be My Baby' and 'Walking In The Rain', claimed that Spector had breached the group's 34-year-old contract by paying the members no royalties since 1963. Although The Ronettes went on to win the case, the New York State Court of Appeals overturned the decision in October, 2002, saying that the contract the Ronettes signed with Spector in 1963 was still binding.
9 Jun 1994
After an argument TLC singer Left Eye set fire to her boyfriend's Atlanta mansion, worth $2 million (£1.176 million), burning it to the ground. She was charged with arson and fined $10,000 (£5,882) with five years probation.
9 Jun 1990
Englandneworder started a two-week run at No.1 on the UK singles chart with 'World In Motion'. England's song for the World Cup in 1990, following their No.1 in 1970. In the game they were knocked out by Germany on both occasions.
9 Jun 1990
M.C. Hammer's third album, "Please Hammer Don't Hurt 'Em," started a record breaking 21-week stay at the top of the US album charts, making it the longest uninterrupted stay at the top since the album charts started.
9 Jun 1990
Bailiffs repossessed the mansion owned by the group 5 Star after non-payment of the mortgage. The group had achieved 15 top 20 hits over five years.
9 Jun 1990
Wilson Phillips went to No.1 on the US with 'Hold On'. 25 years earlier to the day Wendy and Carnies father Beach Boy
Brian Wilson
had been at No.1 with 'Help Me Rhonda'.
9 Jun 1984
Cyndi Lauper started a two week run at No.1 on the US singles chart with 'Time After Time' a No.3 hit in the UK. Lauper co-wrote 'Time After Time' with Philadelphia based Rob Hyman of The Hooters.
9 Jun 1979
The
Bee Gees
went to No.1 on the US singles chart with 'Love You inside Out', the group's 9th US No.1 and a No.13 hit in the UK.
9 Jun 1978
The
Rolling Stones
released
Some Girls
, their first studio album recorded with
Ronnie Wood
as a full member. The album cover was designed by Peter Corriston and featured The Stones in garish drag alongside select female celebrities and lingerie ads. The cover immediately ran into trouble when Lucille Ball, Farrah Fawcett, Liza Minnelli (representing her mother Judy Garland), Raquel Welch, and the estate of Marilyn Monroe threatened legal action.
9 Jun 1972
9 Jun 1972
Bruce Springsteen
signed with Columbia Records and started to assemble the E Street Band from various Asbury Park ex-band mates.
9 Jun 1967
Pink Floyd
played two gigs in one day, the first at the College of Commerce in Hull, and then the UFO at The Blarney Club, Tottenham Court Road, London, England.
9 Jun 1964
During an evening session,
Bob Dylan
recorded 'Mr. Tambourine Man' at Columbia Recording Studios in New York City. This was the first session for Another Side Of Bob Dylan, which saw Dylan recording 14 original compositions that night. The Byrds later covered 'Mr. Tambourine Man' as their first single, which reached No.1 on both the US & UK Chart. The Byrds' recording of the song was influential in initiating the musical subgenre of folk-rock, leading many contemporary bands to mimic its fusion of jangly guitars and intellectual lyrics in the wake of the single's success.
9 Jun 1963
The Beatles
on the last night of their tour with
Roy Orbison
, performed at King George's Hall, Blackburn, Lancashire. It was during this tour that
The Beatles
' fans started throwing jelly babies at them while they were on stage, after an off-the-cuff remark on television that
George Harrison
enjoyed eating them.
Born on this day in music
9 Jun 1983
Frankee (Nicole Francine Aiello), US R&B singer, (2004 UK & Australian No.1 single 'F.U.R.B.' (Fuck You Right Back). A response to Eamon's single 'Fuck It (I Don't Want You Back').
9 Jun 1980
James Walsh, singer, guitarist, from English post-Britpop band Starsailor who scored the 2001 UK No.2 album Love Is Here.
9 Jun 1978
Matthew Bellamy, guitar, vocals, keyboards, from English rock band Muse who scored the 2003 UK No.1 album Absolution, and the 2003 UK No.8 single, 'Time Is Running Out'. Bellamy won the Sexiest Male Award at the 2007 NME Awards, (and won again in 2009, 2010, 2011, 2013 and 2014). Muse have sold over 20 million albums worldwide.
9 Jun 1972
Wesley Reid Scantlin, singer, songwriter, Puddle Of Man.
9 Jun 1970
Ed Simons, keyboards, from English electronic music duo The Chemical Brothers who had the 1996 UK No.1 single 'Setting Sun', and the 2007 UK No.1 album We Are The Night.
9 Jun 1967
Dean Felber, bassist with American rock band Hootie & the Blowfish who had the 1995 US No.1 album Cracked Rear View which sold over 15m copies.
9 Jun 1962
Eddie Lundon, guitarist with English pop/rock band China Crisis, who had the 1984 UK No.9 single 'Wishful Thinking'.
9 Jun 1954
Peter Byrne, from UK pop duo Climie Fisher who had the 1988 UK No.2 single 'Love Changes Everything'.
9 Jun 1953
Errol Kennedy, vocals, from English three piece band Imagination, who had the 1982 UK No.2 single 'Just An Illusion'.
9 Jun 1951
Terry Uttley, from English rock band Smokie who had the 1975 UK No.3 single 'If You Think You Know How To Love Me'. Their most popular hit single was 'Living Next Door to Alice'.
9 Jun 1951
English drummer Peter Gill, formerly a member of The Glitter Band, (one of the two drummers in The Glitter Band), Saxon and Motörhead.
9 Jun 1950
Trevor Boulder, bass, Spiders From Mars and Uriah Heep. Bolder died from cancer on 21st May 2013 at the age of 62. Bolder appeared on the studio albums Hunky Dory (1971), The Rise and Fall of
Ziggy Stardust
and the Spiders from Mars (1972), Aladdin Sane (1973), and Pin Ups (1973). He joined Uriah Heep in 1976, replacing John Wetton.
9 Jun 1949
George Bunnell, from psychedelic rock band Strawberry Alarm Clock who scored the 1967 US No.1 single 'Incense And Peppermints'.
9 Jun 1949
English rock, classical and film score composer Francis Monkman, who with Curved Air had the 1971 UK No.4 single 'Back Street Luv'.
9 Jun 1947
Mick Box, guitarist from English rock band Uriah Heep who had the 1975 UK No.7 album Return To Fantasy. Uriah Heep have sold over 40 million albums worldwide.
9 Jun 1946
Stuart Edwards from English pop band Edison Lighthouse who scored the 1970 UK No.1 single 'Love Grows Where My Rosemary Goes'.
9 Jun 1941
Billy Hatton, from English Merseybeat band The Fourmost who had the 1964 UK No.6 single 'A Little Loving'.
9 Jun 1941
Jon Lord
, keyboardist with English rock band
Deep Purple
, who had the 1970 UK No.2 single 'Black Night', and the 1973 US No. 4 single 'Smoke On The Water'. He also played with Whitesnake, Paice Ashton Lord, The Artwoods, and The Flower Pot Men. Lord died of cancer on 16th July 2012.
9 Jun 1934
American soul singer Jackie Wilson who scored 24 US Top 40 hits during late 50s & 60s. He had the 1986 UK No.1 single with the re-issued 'Reet Petite'. Van Morrison wrote 'Jackie Wilson Said' which was covered by Dexy's Midnight Runners. He suffered a heart attack on stage at a New Jersey Club in 1975 and was in a coma until he died on January 21st 1984.
9 Jun 1929
American R&B singer Johnny Ace, who was Billboards 'most played artist of 1955'. Ace had eight hits in a row, including 'Cross My Heart', 'Please Forgive Me' and , 'Never Let Me Go'. He died playing Russian roulette backstage at a gig on December 25th 1954.
9 Jun 1915
American guitarist Les Paul, who had a 1953 UK No.7 single with 'Vaya Con Dios' and the US No.7 single 'Hummingbird' with Mary Ford featuring his multi-layered recording techniques. He also pioneered 'close miking' and echo delay recording. He broke his right arm in a car accident and had it set at an angle so he could still play guitar. Paul died in hospital in White Plains, New York at the age of 94 suffering from severe pneumonia on 12 Aug 2009.
9 Jun 1891
Cole Porter, American composer and songwriter who wrote countless classic songs, including 'Night And Day', 'I Get A Kick Out Of You', 'Ev'ry Time We Say Goodbye', 'I've Got You Under My Skin'. His most successful musical, Kiss Me, Kate won the first Tony Award for Best Musical. Porter died on 15th Oct 1964.