March 2nd: The Biggest Music Headlines
Scroll down the page to see all the music headlines, stories, and events for March 2 throughout music history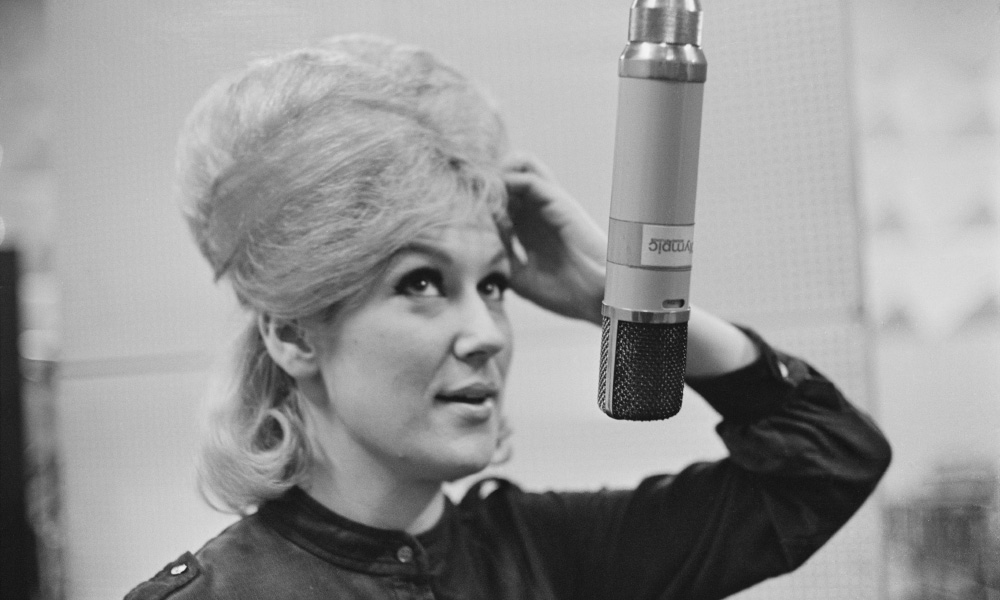 Music Fans Mourns Dusty Springfield
On this day in music, March 2, 1999, 59-year-old singer Dusty Springfield lost her battle with cancer. Born Mary Isobel Catherine Bernadette O'Brien in London, the iconic artist – famed for her blonde beehive hairdo and soulful voice – rose to fame in the folk-pop trio The Springfields before going solo in 1963. Between then and 1995, she racked up 27 UK hits, among them the chart-topping "You Don't Have To Say You Love Me" (a Top 5 hit in the US) and "Son of a Preacher Man," a Top Ten favorite on both sides of the Atlantic. In 1999 she was awarded an OBE and inducted into the Rock and Roll Hall of Fame.
In 2003, American singer-songwriter Norah Jones began a month-long spell at the summit of the UK albums chart with her debut LP, Come Away With Me. Containing the hit single "Don't Know Why," the album topped the charts in thirteen other countries around the world, including the US, where it would eventually go on to sell over five million copies.
In 1963, The Four Seasons became the first group to score three consecutive No.1 hits in the US when "Walk Like A Man" began its three-week stint at the top of the Billboard Hot 100. The song's recording session was interrupted by smoke and water seeping into the studio, resulting from a fire in the room above.
In 1991, French singer-songwriter Serge Gainsbourg died of a heart attack at the age of 62. Although he's best remembered outside of France for "Je T'aime… Moi Non-Plus" – his steamy No.1 UK duet with then-girlfriend, Jane Birkin – he was a prolific songwriter and composer, with more than 550 songs and 40 soundtracks to his name.
In 1991, Madonna became the highest-debuting female artist in US pop history when "Rescue Me," the second single from her first greatest hits album The Immaculate Collection, entered the Billboard Hot 100 at No.15. The record had previously been held by teenage singer Joy Layne, whose 1957 debut single, a cover of The Poni-Tails' "Your Wild Heart," debuted at No.30.
In 2008, a deluxe edition of Amy Winehouse's second album, Back to Black, topped the UK album chart, three months after its original release. It contained a bonus disc of demos, outtakes, cover versions, and a slowed-down live rendition of "Valerie," her Top 10 hit with producer Mark Ronson.
In 1955, rhythm and blues pioneer Bo Diddley began his first recording session for Chicago's Chess Records, where he cut his debut single, "Bo Diddley." The song spent two weeks at the top of the US R&B chart and nine years later became a Top 5 UK hit for Buddy Holly.
Looking for more things that happened on this day in music?
Keep scrolling for all of the headlines for March 2.
BORN ON MARCH 2:
1938: Lawrence Payton (The Four Tops)
1942: Lou Reed
1948: Rory Gallagher
1950: Karen Carpenter (The Carpenters)
1962: Jon Bon Jovi
1977: Chris Martin (Coldplay)
1985: Luke Pritchard (The Kooks)
Looking for more artists born on this day?
Keep scrolling for all of our March 2 birthdays.
---
What to find another day?
---
March 2nd
2 Mar 2023
American jazz saxophonist and composer Wayne Shorter died in Los Angeles, California, at the age of 89. Shorter worked with Miles Davis (Miles Davis's Second Great Quintet), and Weather Report who had the 1976 single 'Birdland' and the 1977 album Heavy Weather. Shorter has won 10 Grammy Awards and in 2017, he was awarded the Polar Music Prize.
2 Mar 2023
English musician and record producer Stephen Mackey died age 56. He was best known as the bass guitarist for Pulp, which he joined in 1989. Their 1995 UK No.2 hit 'Common People' the lead single from their fifth studio album Different Class became a defining track of the Britpop movement as well as Pulp's signature song. As a record producer, he produced songs and albums by M.I.A., Florence + the Machine, The Long Blondes and Arcade Fire.
2 Mar 2021
English jazz musician, Chris Barber died age 90. He sponsored African-American blues musicians to visit Britain, making Barber a significant figure in launching the British rhythm and blues and "beat boom" of the 1960s. This, with the encouragement of local enthusiasts such as Alexis Korner and John Mayall, sparked young musicians such as
Peter Green
,
Eric Clapton
and the
Rolling Stones
.
2 Mar 2016
Bob Dylan
sold his personal archive of notes, draft lyrics, poems, artwork and photographs to the University of Tulsa, where they would be made available to scholars and curated for public exhibitions. The 6,000 item collection also included master recording tapes of Dylan's entire music catalog, along with hundreds of hours of film video.
2 Mar 2013
A pencil doodle by
Paul McCartney
when he was a teenager sold for over $5,000. The sketches were drawn by McCartney during the late 1950s while a student at the Liverpool Institute High School For Boys. The drawings showed multiple faces with different expressions on a single sheet of paper in pencil. The auction house said the drawing sold for £3,764 ($5,692).
2 Mar 2009
DJ and Ivor Novello award winner Norman Cook checked himself into rehab to battle an alcohol addiction. His manager Garry Blackburn said. "Norman is voluntarily seeking help for his alcohol problem but he's in good shape."
2 Mar 2009
Liverpool University launched a Masters degree on
The Beatles
, popular music and society. Liverpool Hope University claimed the course which looked at the studio sound and compositions of The Beatles was the first of its kind in the UK.
2 Mar 2008
Canadian guitarist, singer, Jeff Healey, died of cancer. Healey lost his sight to retinoblastoma, a rare cancer of the eyes when he was 8 months old, resulting in his eyes being surgically removed. After living cancer-free for 38 years, he developed sarcoma in his legs. Despite surgery for this, the sarcoma spread to his lungs and ultimately was the cause of his death. Healey released over 12 albums, presented a long running radio show and worked with many artists incuding;
Stevie Ray Vaughan
, Buddy Guy, B.B. King, ZZ Top &
Eric Clapton
.
2 Mar 2008
Three months after its initial release, the deluxe edition of
Amy Winehouse
's Grammy Award-winning album 'Back to Black' went to No.1 on the UK album chart.
2 Mar 2007
American R&B singer Kelis was arrested in Miami Beach, Florida, after the singer started screaming racial obscenities at two female police officers who were working on an undercover operation on South Beach as prostitutes. Kelis was detained and charged with two misdemeanor charges of disorderly conduct and for resisting arrest.
2 Mar 2007
Jimi Hendrix
was crowned the 'wildest guitar hero' of all-time in a poll of music fans for Classic Rock magazine. Hendrix beat
Keith Richards
into second place, with
Stevie Ray Vaughan
in third.
Led Zeppelin
's
Jimmy Page
made it to number four, followed by Dimebag Darrell, who played for several heavy metal bands including Pantera and Damageplan.
2 Mar 2003
Singer, songwriter Hank Ballard died from throat cancer. Wrote and recorded 'The Twist' but it was only released on the B-side of a record. One year later, Chubby Checker debuted his own version of 'The Twist' on Dick Clark's Philadelphia television show. It topped the charts and launched a dance craze that prompted the creation of other Twist songs, including 'Twist and Shout' by the Isley Brothers and 'Twistin' the Night Away' by
Sam Cooke
.
2 Mar 2003
Christina Aguilera started a two week run at No.1 on the UK singles chart with Linda Perry written and produced song 'Beautiful'. The singers fourth UK No.1 which earned her a Grammy Award for Best Female Pop Vocal Performance.
2 Mar 2003
Norah Jones started a four week run at No.1 on the UK album chart with her debut album 'Come Away With Me'. The album spent over a year on the chart and was also a US No.1.
2 Mar 2002
The NME published the winners from this year's Carling Awards: Band of the year went to The Strokes, Album of the year, The Strokes for 'Is This It', Best live act was
U2
, Single of the year went to Ash for 'Burn Baby Burn' and Best solo artist was won by Ian Brown.
2 Mar 1999
Dusty Springfield died after a long battle against cancer, aged 59. The British singer had her first UK hit single in 1963 with 'I Only Want To Be With You', which reached No.4, the 1966 UK No.1 & US No.4 single with 'You Don't Have To Say You Love Me' plus over 15 other UK Top 40 singles.
2 Mar 1996
Oasis
scored their second UK No.1 single when 'Don't Look Back In Anger' went to No.1. From the bands 'What's The Story Morning Glory' album it was the first Oasis single to feature Noel on lead vocals instead of his brother,
Liam Gallagher
.
2 Mar 1991
21 years after its first release '
All Right Now
', by
Free
made No.2 in the UK singles chart after being re-issued to coincide with its use in a Wrigleys Chewing gum TV ad.
2 Mar 1991
French singer Serge Gainsbourg died of a heart attack. Famous for his 1969 UK No.1 duet with Jane Birkin on 'Je t'aime... Moi non plus.' During his career, he wrote the soundtracks for more than 40 films.
2 Mar 1991
Madonna
's 'Rescue Me', entered the US hot 100 at No.15, making her the highest- debuting female artist in rock history. The record had been held by Joy Llayne whose 1957 single 'Your Wild Heart', entered the chart at No. 30.
2 Mar 1985
The Smiths
were at No.1 on the UK indie charts with 'How Soon Is Now.' Soho had the 1990 No.8 UK hit with 'Hippy Chick.' a song based on a guitar sample from the song.
2 Mar 1985
Wham! started a three week run at No.1 on the US singles chart with 'Make It Big', which eventually went on the sell over 5 million copies in the US.
2 Mar 1977
The Jam
played the first of a five-week Wednesday night run at The Red Cow, Hammersmith, London. The group had just signed a four-year recording contract with Polydor records.
2 Mar 1975
A policeman who stopped a Lincoln Continental for running a red light in Los Angeles was surprised to find
Paul McCartney
at the wheel with his wife Linda. The cop detected a smell of marijuana and on searching the car found eight ounces of the drug. Linda was arrested for the offence.
2 Mar 1974
At this year's Grammys
Stevie Wonder
won four awards: Album of the year for 'Innervisions', Best R&B song and Best vocal for 'Superstition' and Pop vocal performance for 'You Are The Sunshine Of My Life'.
2 Mar 1974
Terry Jacks started a three week run at No.1 on the US singles chart with 'Seasons In The Sun', also No.1 in the UK. The song (written in French by Belgian, Jacques Brel), had English lyrics by poet Rod McKuen.
2 Mar 1967
Engelbert Humperdinck was at No.1 on the UK singles chart with 'Release Me.' The singers first of two number 1's, the song spent six weeks at the top of the chart and a record fifty six weeks on the chart.
2 Mar 1964
The Beatles
began filming what would become their first feature film A Hard Day's Night at Marylebone train station in London.
2 Mar 1963
The Four Seasons became the first group to have 3 consecutive No.1's in the US when 'Walk Like A man', started a three week run at the top, a No.12 in hit the UK.
2 Mar 1961
The Everly Brothers had their third UK No.1 single with 'Walk Right Back' a song written by Sonny Curtis of
The Crickets
.
2 Mar 1960
After completing his national service and flying back to America,
Elvis Presley
stepped on British soil for the first and only time in his life when the plane carrying him stopped for refuelling at Prestwick Airport, Scotland.
2 Mar 1955
Bo Diddley
has his first recording session at Universal Recording Studio in Chicago, where he laid down 'Bo Diddley', which went on the top the US R&B chart by the following June.
2 Mar 1955
Elvis Presley
appeared at Porky's Rooftop Club in Newport, Arkansas. Constantly on the road, performing night after night this was the group's 46th show this year, (Elvis along with Scotty Moore and Bill Black).
Born on this day in music
2 Mar 1988
British singer and songwriter James Arthur who won the ninth series of The
X Factor
in 2012. He scored the 2016 UK No.1 hit 'Say You Won't Let Go'.
2 Mar 1985
Luke Pritchard, lead vocalist and guitarist with British group The Kooks, who had the 2008 UK No.1 album 'Konk'. They took their name from the
David Bowie
song with the same title.
2 Mar 1977
Chris Martin, English singer-songwriter, pianist, guitarist, and the lead vocalist and co-founder of
Coldplay
. The band had the 2000 UK No.4 single 'Yellow', and the 2000 UK No.1 album Parachutes and the 2005 worldwide No.1 album X&Y. In December 2009, Rolling Stone readers voted the group the fourth-best artist of the 2000s.
2 Mar 1965
Martin Gilks from British alternative rock band The Wonder Stuff who had the 1991 UK No.1 single with their version of the Tommy Roe hit 'Dizzy' (with Vic Reeves). Gilks died, aged 41, on 3 April 2006, after losing control of his motorbike in London, England.
2 Mar 1962
American singer-songwriter Jon
Bon Jovi
, who had the 1990 solo UK No.13 single 'Blaze Of Glory', and with Bon Jovi, the 1987 US No.1 & UK No.4 single 'Livin' On A Prayer'. Their 1986 US & UK No.1 album Slippery When Wet spent eight weeks at No. 1 on the US Billboard 200 chart. He has had various movie roles, including: Moonlight and Valentino and U-571 and made several TV appearances including: Sex and the City and Ally McBeal.
2 Mar 1956
Mark Evans, bass,
AC/DC
. He quit in 1977 after becoming tired of touring.
2 Mar 1956
John Cowsill, from American singing group The Cowsills, who had the 1967 US No.2 single 'The Rain, The Park & Other Things', and the 1969 US No.2 single the theme from 'Hair'. TV's Partridge Family was based on The Cowsills family.
2 Mar 1955
Jay Osmond, from American family group The
Osmonds
. They had the 1971 US No.1 single 'One Bad Apple', the 1974 hit 'Crazy Horses' and the 1974 UK No.1 single 'Love Me For A Reason'. They had their own 1972–1973 Saturday morning cartoon series, The
Osmonds
, on ABC-TV. The
Osmonds
have sold over 75 million records world wide.
2 Mar 1950
American singer and drummer
Karen Carpenter
, who with The
Carpenters
had the 1973 UK No.2 single 'Yesterday Once More' plus 3 US No.1's including the 1975 US No.1 single 'Please Mr Postman'. Their 1974 UK & US No.1 album 'The Singles 1969-1973 spent 125 weeks on the UK chart. The Carpenters album and single sales total more than 90 million making them one of the best-selling music artists of all time. She died on 4 February 1983 of anorexia nervosa.
2 Mar 1948
American guitarist Larry Carlton who built his career as a studio musician in the 1970s and '80s for acts such as Steely Dan and
Joni Mitchell
, Linda Ronstadt,
Michael Jackson
, Quincy Jones, Bobby Bland, Herb Alpert, Christopher Cross,
Dolly Parton
, Andy Williams, and the Partridge Family.
2 Mar 1948
Rory Gallagher
, Irish blues guitarist. Gallagher recorded solo albums throughout the 1970s and 1980s, after forming the band Taste during the late 1960s. His albums have sold over 30 million copies worldwide. Gallagher died on June 14th 1995.
2 Mar 1946
Bobby Eli, American musician, arranger, composer and record producer from Philadelphia. He is a founding member and lead guitarist of Philadelphia studio band MFSB. Eli's contributions can be heard on many recordings including,
The Jacksons
,
David Bowie
,
Hall and Oates
,
Elton John
,
The Temptations
, The Stylistics and Curtis Mayfield.
2 Mar 1943
Tony Meehan, English drummer. A founder member of the British group The Drifters which would evolve into The Shadows. They scored the 1963 UK No.1 single 'Foot Tapper' plus 28 other UK Top 40 singles. Meehan quit the music industry in the 1990s for a major career change as a psychologist. He died on 28 November 2005 aged 62 from head injuries sustained in a fall.
2 Mar 1942
American musician, singer and songwriter Lou Reed from the Velvet Underground. After leaving the band in 1970, Reed released twenty solo studio albums. His second, Transformer (1972), was produced by
David Bowie
and arranged by
Mick Ronson
, and brought mainstream recognition. Reed scored the 1973 solo hit 1 'Walk On The Wildside', and the 1997 UK No.1 charity single 'Perfect Day'. Reed died from liver disease on 27th Oct 2013 aged 71.
2 Mar 1938
Lawrence Payton, American singer with The The
Four Tops
, who had the 1965 US No.1 single with 'I Can't Help Myself' and a 1967 UK No.6 single with 'Standing In The Shadows of Love'. Payton died on June 20th 1997. Founded as the Four Aims they helped established the
Motown
Sound heard around the world during the 1960s.