March 21st: The Biggest Music Headlines
Scroll down the page to see all the music headlines, stories, and events for March 21 throughout music history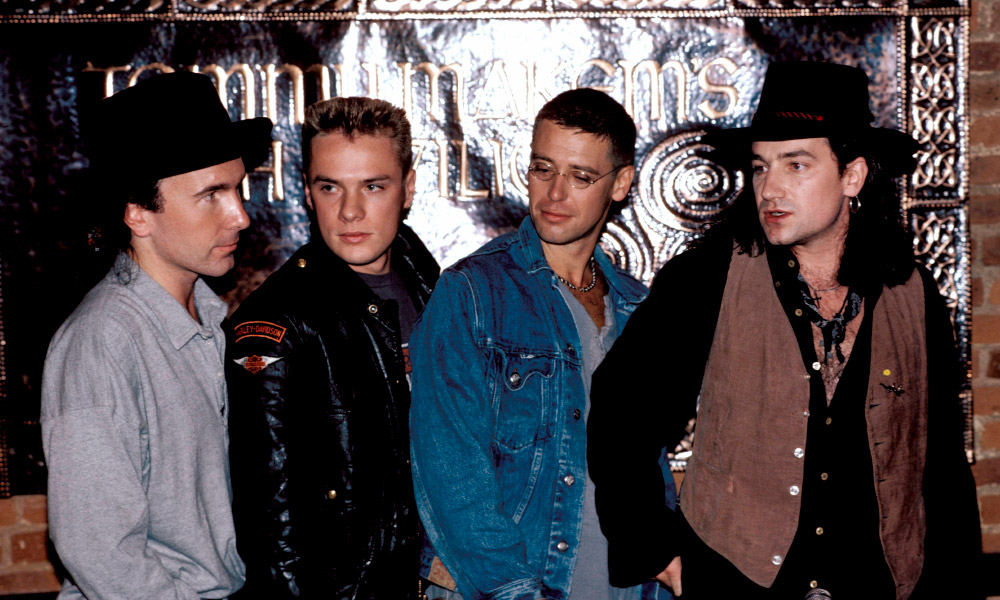 U2 Make History with 'The Joshua Tree'
On this day in music, March 21, 1987, Irish rockers U2 climbed to the top of the UK charts with their fifth album, The Joshua Tree. Containing such enduring hits as "With Or Without You," "I Still Haven't Found What I'm Looking For," and "Where The Streets Have No Name," The Joshua Tree became the UK's fastest-selling album ever at the time and was the first CD to move more than one million units. The album, which remained on the British chart for an astonishing 156 weeks, eventually became one of the world's best-selling records, with over 25 million copies sold. Elsewhere, The Joshua Tree hit No.1 in the US, Canada, and several European countries.
In 1991, Leo Fender, the inventor of the iconic Telecaster (the first mass-produced solid-body electric guitar) and Stratocaster guitars died at 81. In addition to setting the standard for electric guitars, he also crafted the widely-used Fender Precision Bass and Fender Bassman amplifier.
In 1999, Blur proved Britpop's dominance when their sixth LP, 13, topped the UK chart. Produced by William Orbit, it was the London band's fourth consecutive No.1 album and made them, along with Simply Red and R.E.M., only the third act to score four chart-topping LPs in the 90s.
In 1998, Jason Nevins' radical house remix of Run-D.M.C's 1983 debut single, "It's Like That," began a six-week run at the top of the UK pop chart.
In 1961, The Beatles (featuring Pete Best on drums) played their first evening show at Liverpool's The Cavern Club as a support act to The Swinging Bluegenes, later to become The Swinging Blue Jeans. The Fab Four went on to appear there 275 times.
In 1994, Bruce Springsteen won an Academy Award for the song "Streets of Philadelphia," written for the film Philadelphia, a legal drama starring Tom Hanks, which centered around the AIDS virus. The song became a Top 10 US and UK hit and also earned "The Boss" four Grammy Awards.
In 1973, the UK's Top of the Pops banned all teenybopper acts after young fans went wild during David Cassidy's appearance.
Looking for more things that happened on this day in music?
Keep scrolling for all of the headlines for March 21.
BORN ON MARCH 21:
1940: Solomon Burke
1945: Rosemary "Rose" Stone (Sly and The Family Stone)
1949: Eddie Money
1950: Roger Hodgson (Supertramp)
1951: Russell Thompkins Jr (The Stylistics)
1956: Guy Chadwick (House Of Love)
1967: Jonas Berggren (Ace Of Base)
1980: Deryck "Bizzy D" Whibley (Sum 41)
Looking for more artists born on this day?
Keep scrolling for all of our March 21 birthdays.
---
What to find another day?
---
March 21st
21 Mar 2016
A rare Beatles record found in the loft of Les Maguire - the keyboardist in fellow Liverpool act, Gerry and the Pacemakers sold for £77,500 at auction. The 10-inch acetate of 'Till There Was You' and 'Hello Little Girl' from 1962 was described as 'a Holy Grail item'. It was the first Beatles disc to be cut before the band broke into the national charts.
21 Mar 2015
English singer-songwriter, and actress Jackie Trent died in hospital, aged 74, in Minorca, Spain, after a long illness. Her 1966 hit, 'I Couldn't Live Without Your Love' was inspired by the ongoing affair between Trent and record producer Tony Hatch, who she later married. The couple went on to write songs for Scott Walker,
Frank Sinatra
, Nancy Wilson, Des O'Connor, Val Doonican, Shirley Bassey, Vikki Carr, and Dean Martin.
21 Mar 2013
Pink Floyd
's
The Dark Side Of The Moon
was set to seal its place in history at the US Library of Congress as part of its National Recording Registry. The recording that received the highest number of public nominations for this year's registry was Dark Side, Floyd's groundbreaking 1973 album.
21 Mar 2008
A five-year legal row over the use of
The Beach Boys
name was settled by two former members of the group. Mike Love had argued he was the only person allowed to perform under the name of the band and sued Al Jardine, whom he claimed was appearing as an unlicensed Beach Boys act. Mr Jardine's lawyer said "a friendly settlement" had been reached that allowed them to focus on the talent and future of this American iconic band.'
21 Mar 2006
Three South African women whose father, Solomon Linda, wrote 'The Lion Sleeps Tonight' in 1939, won a six-year court battle that gave them 25 per cent of all past and future royalties from the song. Linda who was a cleaner at a Johannesburg record company when he wrote the song, received virtually nothing for his work and died in 1962 with $25 in his bank account. The song had been recorded by Pete Seeger (as 'Wimoweh'), The Kingston Trio, The Tokens, Karl Denver and
R.E.M.
and was featured in the Disney film The Lion King. It was estimated that the song had earned $15 million for its use in The Lion King alone.
21 Mar 2004
Ozzy Osbourne
was named the nation's favourite ambassador to welcome aliens to planet earth. The 55-year-old singer came top of a poll as the face people want to represent them to alien life. The poll of internet users was carried out following the discovery of signs of water on Mars. Ozzy won 26 per cent of the vote. A spokesman for Yahoo! News said: 'As the world waits desperately for signs of alien life, we decided to ask our users who they thought was best suited for this most auspicious of roles. Ozzy is a great choice but I'm not sure what the Martians would make of his individual approach to the English language.'
21 Mar 2001
Eminem
was ordered to pay $476,000 (£280,000) as part of his divorce agreement with his ex-wife Kim. Also as part of the agreement Eminem would keep the US mansion and they would share custody of their five-year-old daughter, Hailie Jade.
21 Mar 2001
Michael Jackson
's interior decorator told The Times newspaper that the singer kept 17 life size dolls, adult and child sizes, all fully dressed in his bedroom for 'company.'
21 Mar 2000
Kurt Cobain
and Happy Monday's singer Shaun Ryder both beat older stars such as
Keith Richards
and
Keith Moon
in a league of rock 'n' roll excess compiled by UK music weekly Melody Maker.
Liam Gallagher
, Robbie Williams, Courtney Love and Marilyn Manson all featured in the Top 10.
21 Mar 1999
Blur went to No.1 on the UK album chart with '13', the bands fourth consecutive No.1 and making them only the third act to have four No.1's in the 90s, Simply Red and REM being the other two.
21 Mar 1998
Run-DMC VS Jason Nevins started a six week run at No.1 on the UK singles chart with 'It's Like That.' The Run-DMC track was from 1983 and was remixed by Jason Nevins, a US DJ and producer.
21 Mar 1997
Snoop Doggy Dog was sentenced to three years probation and fined $1,000 (£588) for a firearms violation after a handgun was found in his car when he was stopped for a traffic violation.
21 Mar 1994
21 Mar 1991
Leo Fender, the inventor of The Telecaster and Stratocaster guitars died from Parkinson's disease. He started mass producing solid body electric guitars in the late 40s and when he sold his guitar company in 1965, sales were in excess of $40 million a year.
21 Mar 1987
U2
scored their third UK No.1 album with The
Joshua Tree
featuring the singles 'Where The Streets Have No Name', & 'I Still Haven't Found What I'm Looking For'. The album became the fastest selling in UK history and the first album to sell over a million CDs, spending a total of 156 weeks on the UK chart. Also a US No.1.
21 Mar 1984
Strawberry Fields, an area in Central Park bought by Yoko Ono in memory of her late husband was opened.
21 Mar 1981
REO Speedwagon went to No.1 on the US singles chart with 'Keep On Loving You', the group's first top 40 hit and first No.1, a No.7 hit in the UK.
21 Mar 1980
Hugh Cornwell of The Stranglers was sent to Pentonville Prison after losing his appeal against a drugs conviction.
21 Mar 1976
After a
David Bowie
concert at the Community War Memorial arena in Rochester, New York, Iggy Pop and David Bowie were involved in a drug bust at their hotel room where the police found 182 grams (a little over 6.4 ounces) of marijuana. The pair spent the rest of the night in the Monroe County Jail and were released at about 7 a.m. on $2,000 bond each.
21 Mar 1973
The BBC banned all teenybopper acts appearing on UK TV show,
Top Of The Pops
after a riot following a David Cassidy performance.
21 Mar 1971
Led Zeppelin
appeared at the Boat Club, Nottingham, England on their 'Back To The Clubs' tour. This was the first tour which saw Zeppelin performing '
Stairway To Heaven
', 'Black Dog' and 'Going To California'. Zeppelin opened the set with 'Immigrant Song' and 'Heartbreaker'. This small club on the banks of the River Trent had also seen performances by
Elton John
,
Black Sabbath
,
Sex Pistols
and
Rod Stewart
.
21 Mar 1964
After 'I Want To Hold Your Hand' had held the No.1 position on the US singles chart for seven weeks,
The Beatles
started a two-week run at No.1 with 'She Loves You'.
21 Mar 1961
The Beatles
played their first ever evening show at The
Cavern Club
in Liverpool, supporting The Swinging Bluegenes, (later to become The Swinging Blue Jeans).
21 Mar 1956
Elvis Presley
appeared at the 4,000 seated YMCA Gymnasium in Lexington, North Carolina. Also on the bill, Mother Maybelle and the Carter Sisters, featuring June Carter, Rod Brasfield, Hal and Ginger. Tickets cost $1 for general admission and $1.50 for reserved seats.
Born on this day in music
21 Mar 1989
Rochelle Humes, best known for being a member of girl group The Saturdays who scored the 2013 UK No.1 hit single 'What About Us' featuring Sean Paul.
21 Mar 1980
Canadian musician Deryck 'Bizzy D' Whibley, guitar, vocals with Sum 41. Their 2001 album All Killer No Filler achieved mainstream success with their first single from the album, 'Fat Lip', reaching No.1 on the Billboard Modern Rock Tracks chart. Whibley dated Hilton Hotels heiress Paris Hilton in 2003 and married singer Avril Lavigne in 2006.
21 Mar 1977
Irish musician Mark Hamilton from Northern Irish alternative rock band Ash who scored the 1995 UK No.11 single 'Girl From Mars' and the 1996 UK No.1 album 1977.
21 Mar 1967
Jonas Berggren, guitar, keyboards with Swedish pop group Ace Of Base who had the 1993 UK No.1 single 'All That She Wants' and the 1994 US No.1 single 'The Sign'. The group sold more than 30 million albums worldwide, making it the third-most successful Swedish band of all time, after
ABBA
and Roxette.
21 Mar 1967
Sean Dickson, from The Soup Dragons, who had the 1990 UK No.5 single 'I'm Free'. The Scottish alternative rock band of the late 1980s and early 1990s were named after a character in the 1970s children's television show Clangers.
21 Mar 1958
Jonathan Norton, drummer/percussionist/vocalist worked with Eels, Lisa Germano, Tracy Chapman, Rufus Wainwright, Fiona Apple, Michael Penn, Aimee Mann and Lucinda Williams.
21 Mar 1956
English singer, songwriter and guitarist Guy Chadwick from House Of Love, who rose to prominence in 1987 with their first single 'Shine On' released on the independent label Creation.
21 Mar 1953
Robert Johnson, singer with American disco and funk group KC and the Sunshine Band who had the 1975 US No.1 single 'That's The Way, I Like It', and the 1983 UK No.1 single 'Give It Up'.
21 Mar 1951
American musician Conrad Lozano, bass player for Los Lobos (Spanish for "the Wolves"), who had the 1987 UK & US No.1 single their their cover version of 'La Bamba', which was a 1958 hit for Ritchie Valens and one of early rock and roll's best-known songs.
21 Mar 1951
Russell Thompkins Jr, singer with the Philadelphia soul group The Stylistics who had the 1974 US No.2 single 'You Make Me Feel Brand New', and the 1975 UK No.1 single 'Can't Give You Anything But My Love' and twelve consecutive US R&B top ten hits.
21 Mar 1950
English musician, singer and songwriter Roger Hodgson, known as the former co-frontman with Supertramp. He composed and sang the majority of their hits such as 'Dreamer', 'Give a Little Bit', 'Breakfast in America', 'Take the Long Way Home', 'The Logical Song' and 'It's Raining Again'.
21 Mar 1949
American singer, songwriter and multi-instrumentalist Eddie Money, who is well known for the 1970s and 1980s songs like 'Baby Hold On', 'Two Tickets To Paradise', 'Maybe I'm A Fool'. Money died of cancer on 13 September 2019 age 70.
21 Mar 1946
English guitarist, singer, songwriter, Ray Dorset, founder of Mungo Jerry, who had the 1970 UK No.1 & US No.3 single 'In The Summertime' as well as the hits 'Baby Jump' and 'Lady Rose'.
21 Mar 1945
Rosemary Stone, vocals, piano, Sly and The Family Stone, who had the 1968 US No.1 singles 'Everyday People', the 1971 US No.1 'Family Affair' and the 1971 US No.1 album There's a Riot Goin' On.
21 Mar 1944
American musician David Lindley who founded the rock band El Rayo-X and worked with many other performers including Jackson Browne, Linda Ronstadt, Ry Cooder, Bonnie Raitt, Warren Zevon, Curtis Mayfield and
Dolly Parton
. He mastered such a wide variety of instruments that Acoustic Guitar magazine referred to him as a "maxi-instrumentalist." On stage, Lindley was known for wearing garishly colored polyester shirts with clashing pants, gaining the nickname the Prince of Polyester. He died on 3 March 2023, age of 78.
21 Mar 1943
English singer-songwriter, musician, author, poet and wit, Vivian Stanshall a founding member of Bonzo Dog Doo Dah Band who had the 1968 UK No.5 single 'I'm The Urban Spaceman'. He was Master of Ceremonies on Mike Oldfield's album Tubular Bells. Stanshall died on March 5th 1995 after an electrical fire had broken out as he slept in his top floor flat in Muswell Hill, North London.
21 Mar 1941
John Boylan, American producer and songwriter. Worked with Rick Nelson, the Association, the Dillards. He also managed Linda Ronstadt and introduced her to a then unknown group of musicians who went on to become her backing band in 1971, and later became the
Eagles
.
21 Mar 1940
American preacher and singer Solomon Burke, known as the king of rock & soul. He had the 1961 US No.24 single 'Just Out Of Reach Of My Open Arms', and the 1963 US No.1 R&B hit, 'Got To Get You Off My Mind'. Burke died on October 10, 2010 at Amsterdam Schiphol Airport while on a plane from Washington Dulles Airport that had just landed.
21 Mar 1940
Chip Taylor, American songwriter, noted for writing 'Angel of the Morning' and 'Wild Thing' a major hit for The
Troggs
in 1966. His songs have been covered by a wide range of artists, from
Janis Joplin
, Anne Murray, Ace Frehley,
Jimi Hendrix
, Chrissie Hynde, Linda Rondstat and Emmylou Harris.