March 28th: The Biggest Music Headlines
Scroll down the page to see all the music headlines, stories, and events for March 28 throughout music history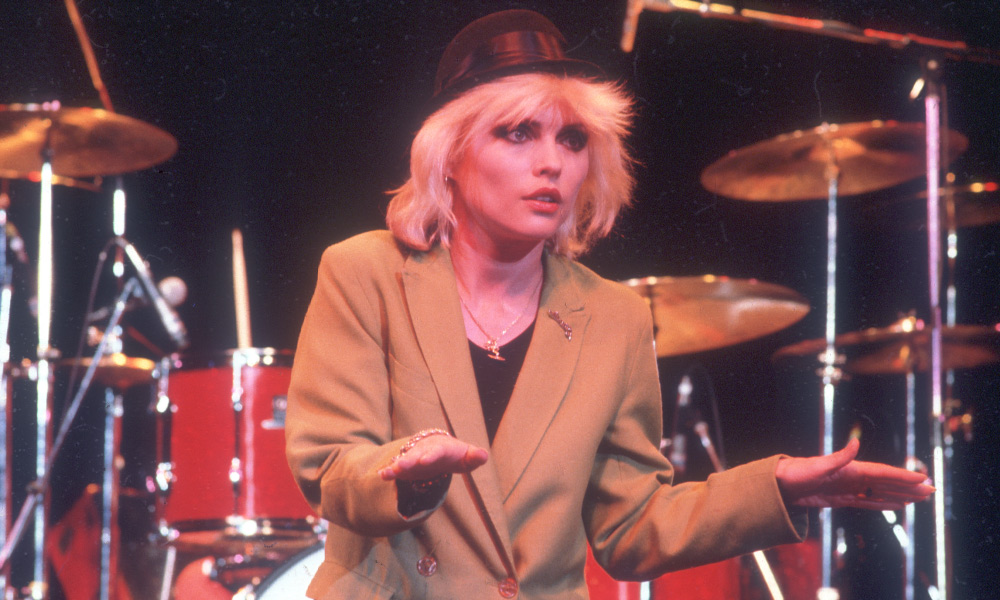 Blondie Break New Ground on US Charts with "Rapture"
On this day in music, March 28, 1981, Blondie scored their fourth No.1 hit on the Billboard Hot 100 with "Rapture." Their 20th single, which appeared on album Autoamerican, spent two weeks at the top spot and broke ground as the first No.1 hit in the US to feature a rap section. Combining new wave and disco elements, plus rapping by frontwoman Debbie Harry, the song also gave a shout-out to hip-hop trailblazers like Fab Five Freddy (who made a cameo in the music video) and Grandmaster Flash. In addition to Freddy, the video for "Rapture" featured appearances by NYC graffiti artist Lee Quiñones and downtown art sensation Jean-Michel Basquiat.
In 2014, tickets for Kate Bush's Before The Dawn series of concerts sold out in less than 15 minutes. Scheduled to take place in August and September of that year, the dates marked the London singer-songwriter's first live shows since her Tour Of Life performances in 1979. Such was the demand, that Bush's website, along with those of some ticket agencies, crashed. The singer, who said she was "completely overwhelmed by the response," added seven extra dates to her itinerary.
In 2018, George Ezra's second studio album, Staying at Tamara's, topped the UK charts. It was that year's biggest-selling album in the UK and was nominated for British Album of the Year at the 2019 BRIT Awards.
In 1974, 69-year-old blues singer and guitarist, Arthur "Big Boy" Crudup, died of a stroke. Crudup scored six Top 10 R&B hits in the 1940s, including "Rock Me Mama," but was best known for 1947's "That's All Right," which Elvis Presley popularized in 1954 by releasing it as his debut single for Sun Records.
In 1970, folk duo Simon & Garfunkel scored their sole UK No.1 with "Bridge Over Troubled Water."
In 2021, British record producer and electronics boffin Malcolm Cecil died at the age of 84. Although he began his music career as a jazz bassist, Cecil was best remembered for his pioneering synthesizer programming work alongside fellow producer Robert Margouleff. Together, they worked on albums by Stevie Wonder, including 1973's Inner Visions. During the same decade, Cecil contributed his sonic magic to records by the Isley Brothers, Gil Scott-Heron, and Steve Hillage.
In 2001, the hip-hop artist, producer, and record executive born Sean Combs, who went under the stage names Puffy and Puff Daddy, told MTV that in the future, he wanted to be known as P. Diddy. Four years later, he simplified his name to "Diddy."
In 1964, London's waxworks museum Madame Tussauds honored pop stars for the first time by unveiling lifelike sculptures of The Beatles.
Looking for more things that happened on this day in music?
Keep scrolling for all of the headlines for March 28.
BORN ON MARCH 28:
1941: Charlie McCoy (Harmonica player)
1945: Chuck Portz (The Turtles)
1948: Milan Williams (The Commodores)
1954: Reba McEntire
1965: Steve Turner (Mudhoney)
1969: Cheryl "Salt" James (Salt-N-Pepa)
1976: Dave Keuning (The Killers)
1986: Lady Gaga
Looking for more artists born on this day?
Keep scrolling for all of our March 28 birthdays.
---
What to find another day?
---
March 28th
28 Mar 2021
British jazz bassist, record producer Malcolm Cecil died age 84. He was a founding member of a leading UK jazz quintet of the late 1950s, the Jazz Couriers and later joined Cyril Davies and Alexis Korner to form the original line-up of Blues Incorporated. Cecil subsequently collaborated with Robert Margouleff to form the duo Tonto's Expanding Head Band, which led to them collaborating on and co-producing several of
Stevie Wonder
's Grammy-winning albums of the early 1970s.
28 Mar 2018
George Ezra was at No.1 on the UK album chart with his second studio album Staying at Tamara's. It became the UK's best selling artist album of the year in 2018 and was nominated for British Album of the Year at the 2019 Brit Awards.
28 Mar 2014
Tickets for
Kate Bush
first live shows in 35 years sold out in less than 15 minutes. The Before the Dawn concerts, which were booked to take place this August and September, marked the singer's first return to the stage since The Tour Of Life in 1979. Demand was so high that the singer's own website, as well as some ticket-selling sites, crashed as people tried to log on.
28 Mar 2013
Justin Bieber ran into some trouble at Munich airport when customs officials detained and quarantined his monkey.Bieber had recently been given the capuchin monkey as a pet by record producer Mally Mall. Bieber apparently brought the monkey along to join him on the Austrian and German leg of his European tour, but he didn't have the documentation required to bring his new friend into Germany. Bieber went on to perform in Munich while the monkey was kept in the custody of authorities.
28 Mar 2013
American rock guitarist and session musician Hugh McCracken died of leukemia in New York City at the age of 70. He appeared on many recordings by Steely Dan, Donald Fagen,
Billy Joel
, Roland Kirk, Roberta Flack, B. B. King,
John Lennon
,
Paul McCartney
, The
Monkees
,
Paul Simon
,
Art Garfunkel
, James Taylor, Phoebe Snow,
Bob Dylan
, Carly Simon, Graham Parker, Eric Carmen, Loudon Wainwright III,
Aretha Franklin
, Van Morrison, The Four Seasons,
Hall and Oates
, Gary Wright and Andy Gibb. Because of such high demand for his work, McCracken declined
Paul McCartney
's invitation to help form his new band, Wings after appearing on his 1971 album Ram.
28 Mar 2006
Tina Brown the sister-in-law of
Whitney Houston
sold pictures taken in her bathroom to the National Enquirer claiming
Whitney Houston
had been taking crack cocaine. The pictures showed drug paraphernalia including a crack-smoking pipe, rolling papers, cocaine-caked spoons and cigarette ends strewn across the surface tops of the bathroom.
28 Mar 2005
After playing a warm-up date the night before at the Los Angeles Sports Arena,
U2
kicked off their Vertigo tour at the iPay One Center in San Diego, California. The 131 date world tour would see the band playing in North America, Europe, South America and Japan. By the time it finished, the Vertigo Tour had sold 4,619,021 tickets, grossing $389 million; the second-highest figure ever for a world tour.
28 Mar 2001
The artist formerly known as both Puffy and Puff Daddy said in an interview on
MTV
he now wanted to be known as P. Diddy. In August 2005, he changed his stage name to simply 'Diddy.'
28 Mar 2000
Jimmy Page
accepted substantial undisclosed libel damages from a magazine which claimed he had caused or contributed to the death of his
Led Zeppelin
bandmate
John Bonham
. Page's solicitor, Norman Chapman, told High Court Judge Mr Justice Morland that the feature in Ministry magazine printed in 1999 claimed Page was more concerned with keeping vomit off his bed than saving his friend's life, and that he stood over him wearing Satanist robes and performing a useless spell.
28 Mar 1995
Singer Jimmy McShane died of complications from AIDS. He had the 1985 UK No.3 single and European hit "Tarzan Boy" with Italian dance outfit Baltimora.
28 Mar 1992
Over a $100,000 (£58,800) worth of damage was caused at The Irvine Meadows Amphitheatre, California, when
Ozzy Osbourne
invited the first two rows of the audience on stage. Several others took up the offer and the band was forced to exit the stage.
28 Mar 1982
David Crosby was arrested after crashing his car on the San Diego Highway. Police also found cocaine and a pistol in the
Crosby Stills & Nash
stars car. When the police asked Crosby why he carried the gun, his reply was, '
John Lennon
'.
28 Mar 1981
Blondie
started a two week run at No.1 on the US singles chart with 'Rapture', the group's fourth US No.1 and the first No. 1 song in the US to feature rap and its lyrics, notable for name-checking hip-hop pioneers Fab Five Freddy and Grandmaster Flash.
28 Mar 1976
Genesis
began their first North American tour since Peter Gabriel left the band, appearing in Buffalo, New York, with
Phil Collins
taking over as lead singer.
28 Mar 1974
Delta blues singer and guitarist Arthur 'Big Boy' Crudup died of a stroke at the age of 69. He wrote 'That's All Right (Mama)' covered by
Elvis Presley
and 'My Baby Left Me'.
28 Mar 1973
Led Zeppelin
released their fifth studio album,
Houses Of The Holy
in the UK. The album title was a dedication by the band to their fans who appeared at venues they dubbed 'Houses of the Holy'. The cover is a collage of several photographs which were taken at the Giant's Causeway, Northern Ireland, by Aubrey Powell of Hipgnosis. The two children who modelled for the cover were siblings Stefan and Samantha Gates.
28 Mar 1970
Simon and Garfunkel were at No.1 on the UK singles chart with '
Bridge Over Troubled Water
', the duo's only UK No.1. Only Art Garfunkel sang on the track.
28 Mar 1968
Pink Floyd
recorded a performance for the BBC 2 TV Omnibus - The Sound of Change show from Barnes Common, London, England. The special, which was produced by Tony Palmer, also featured performances by
The Who
,
Cream
and The
Jimi Hendrix Experience
. The show was later broadcast in September of this year.
28 Mar 1967
Working on sessions for the new Beatles album
Sgt. Pepper
at Abbey Road studios in London,
John Lennon
recorded his lead vocal for 'Good Morning Good Morning', and
Paul McCartney
added a lead guitar solo to the track. Lennon had decided he wanted to end the song with animal sound effects, and asked that they be sequenced in such a way that each successive animal was capable of scaring or eating the preceding one.
28 Mar 1964
Madame Tussauds, London unveiled the wax works images of
The Beatles
, the first pop stars to be honoured.
28 Mar 1958
Buddy Holly
kicked off the first night of a 43 date tour at Brooklyn Paramount Theatre in Brooklyn, New York. The Alan Freed's Big Beat Show also featured Jerry Lee Lewis,
Chuck Berry
, Frankie Lymon, The Diamonds, Billy Ford, Danny & The Juniors, The Chantels, Larry Williams, Screaming Jay Hawkins, The Pastels, Jo-Ann Campbell and Ed Townsend. On most days the acts played two shows.
Born on this day in music
28 Mar 1986
Lady Gaga, (Stefani Joanne Angelina Germanotta) American singer, songwriter. 2008 single US & UK No.1 single 'Just Dance', 2008 single 'Poker Face', reached No.1 in twenty countries. In 2012, Gaga was ranked at No.4 on Billboard's list of top moneymakers of 2011, grossing more than 25 million dollars.
28 Mar 1976
American guitarist Dave Keuning from The Killers, who scored the 2005 UK No.1 with their debut album Hot Fuss. Their 2017 album Wonderful Wonderful peaked at No.1 on the US & UK chart.
28 Mar 1969
Cheryl James (Salt) from American hip-hop/rap trio from New York City Salt-N-Pepa who had the 1991 hit single 'Let's Talk About Sex'.
28 Mar 1969
James Atkin, guitar and vocals with British dance music/rock band EMF who had the 1990 UK No.3 & US No.1 single 'Unbelievable'. Their debut album, Schubert Dip, went to No.3 on the UK albums chart.
28 Mar 1965
Steve Turner, guitarist with American alternative rock band Mudhoney. Their early releases on the Sub Pop label were massively influential on the Seattle music scene.
28 Mar 1962
Ged Grimes, bassist from Scottish pop group Danny Wilson who had the 1988 UK No.3 single 'Mary's Prayer'. Grimes also works with
Simple Minds
.
28 Mar 1954
Reba McEntire country music artist and actress who has scored 35 No.1 singles and released over 25 albums. Sometimes referred to as 'The
Queen
of Country', she has sold more than 70 million albums worldwide as well as starring in her television sitcom, Reba for which she was nominated for the Golden Globe Award for Best Performance in a Television Series–Musical or Comedy.
28 Mar 1949
Sally Carr, singer from Scottish pop group Middle Of The Road, who had the 1971 UK No.1 single 'Chirpy Chirpy Cheep Cheep', which is one of only a few singles to have sold in excess of 10 million physical copies.
28 Mar 1948
John Evan, British musician and composer. He is best known for having played keyboards for Jethro Tull from April 1970 to June 1980.
28 Mar 1948
Milan Williams, keyboards, brass, guitar from American funk/soul band, The Commodores, who had the 1978 UK & US No.1 single 'Three Times A Lady' as well as the hits 'Easy' and 'Nightshift'.
28 Mar 1945
Chuck Portz, from the American rock The Turtles who had the US 1967 No.1 single 'Happy Together' and the 1967 hit 'She'd Rather Be with Me'.
28 Mar 1941
Charlie McCoy, Grammy-winning American session musician noted mainly for his harmonica performance, but also for his skill on a wide variety of instruments. He was a member of Area Code 615 and played the harmonica on the 1970 theme for UK BBC TV Music show 'The Old Grey Whistle Test', 'Stone Fox Chase.' McCoy has performed with musicians including
Elvis Presley
,
Bob Dylan
,
Johnny Cash
, Chet Atkins, Waylon Jennings and Loretta Lynn.