March 29th: The Biggest Music Headlines
Scroll down the page to see all the music headlines, stories, and events for March 29 throughout music history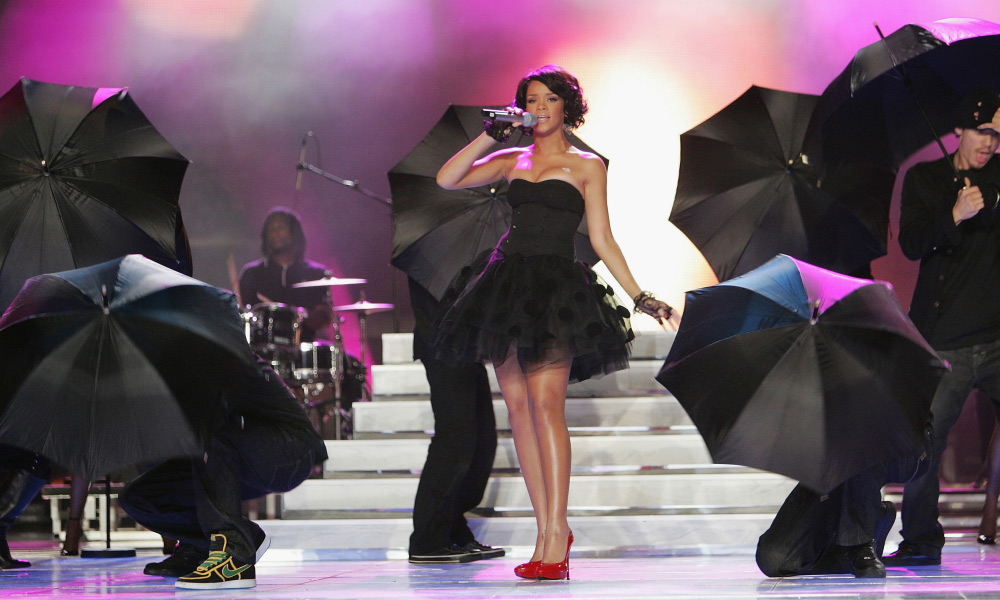 Rihanna and Jay-Z Storm the Charts with 'Umbrella'
On this day in music, March 29, 2007, Rihanna's "Umbrella" ft. Jay-Z was released, and with it, a global superstar was born. One of the most-played singles of the decade, the song was an instant hit, landing at the top of the charts in the US, Australia, across Europe, and in the UK, where it enjoyed the longest stay at No.1 (10 weeks) since Wet Wet Wet's "Love Is All Around" in 1994. "Umbrella" earned the Barbadian singer and legendary rapper multiple awards, including two Grammys and two MTV VMAs, while Rolling Stone included the irresistible hit on its "500 Greatest Songs of All Time" list.
In 1980, Pink Floyd's iconic 1973 LP, The Dark Side Of The Moon notched up a record-setting 303 continuous weeks on the US album chart, eclipsing the previous record held by Carole King's 1971 chart-topper, Tapestry. Though it only stayed at the summit of The Billboard 200 for a week, it remained in the chart for an unparalleled 736 nonconsecutive weeks, from March 17, 1973, to July 16, 1988.
In 2022, Tom Parker, singer with the British-Irish boy band The Wanted, died from brain cancer. The 33-year-old musician began his career in a Take That tribute band before successfully auditioning for The Wanted in 2009.
In 1975, the all-female soul music trio Labelle chalked up their only US No.1 with "Lady Marmalade." The enduring song was also a chart-topping hit in the UK for All Saints in 1998 and in 2001, a version from the Moulin Rouge soundtrack featuring Christina Aguilera, Lil' Kim, Mýa, and Pink topped both the US and UK singles charts.
In 2020, Grammy-winning country music star Joe Diffie died at the age of 61. The Oklahoma native had five chart-toppers on Billboard's country chart, including 1995's "Bigger Than The Beatles."
In 1986, Austrian singer/musician Falco became the first German-speaking artist to top the US singles chart with "Rock Me Amadeus."
In 1980, the Anglo-Italian conductor Mantovani, a master of mellow mood music, died aged 74. Born Annunzio Paolo Mantovan in Venice, Mantovani dominated the UK charts in the pre-Beatles era and was the first artist to sell over one million stereo albums in Britain.
Looking for more things that happened on this day in music?
Keep scrolling for all of the headlines for March 29.
BORN ON MARCH 29:
1940: Astrud Gilberto
1943: Vangelis
1943: Chad Allan (The Guess Who)
1947: Bobby Kimball (Toto)
1949: Michael Brecker (Saxophonist)
1949: Dave Greenfield (The Stranglers)
1956: Patty Donahue (The Waitresses)
1959: Perry Farrell (Jane's Addiction)
1981: PJ Morton (Maroon 5)
Looking for more artists born on this day?
Keep scrolling for all of our March 29 birthdays.
---
What to find another day?
---
March 29th
29 Mar 2022
Tom Parker, singer with the Wanted, died aged 33 from brain cancer. Parker was one of five endearingly high-energy members of the Wanted, who became one of the most popular British boybands in a generation. Their debut 2010 single, the anthemic 'All Time Low', reached No 1, as did 'Glad You Came' in 2012.
29 Mar 2022
A televised concert fundraising money for the humanitarian appeal in Ukraine raised more than £15 million. Held at the Resorts World Arena in Birmingham the show featured Ukrainian Eurovision winner Jamala, Manic Street Preachers, Ed Sheeran, Cabello and Nile Rodgers and Chic.
29 Mar 2020
Grammy-winning country music star Joe Diffie died age 61 from complications of COVID-19. Diffie charted 35 singles on the Billboard Hot Country Songs chart, five of which peaked at No.1. He also co-wrote singles for Holly Dunn, Tim McGraw, and Jo Dee Messina, and recorded with Mary Chapin Carpenter, George Jones, and Marty Stuart.
29 Mar 2020
American vocalist, guitarist, songwriter Alan Merrill died age 69 after contracting coronavirus. He was the co-writer of, and lead singer on, the first released version of the song 'I Love Rock 'n' Roll', which was recorded by the Arrows in 1975. The song became a breakthrough hit for Joan Jett in 1982 and has since been covered by artists ranging from Britney Spears to Weird Al Yankovic.
29 Mar 2017
George Michael
's funeral took place, three months after his sudden death at the age of 53. His family said a 'small, private ceremony' was attended by family and close friends. The coroner's verdict on Michael's death only came three weeks before his funeral. Tests were ordered because an initial post-mortem examination was inconclusive.
29 Mar 2016
Andy Newman from Thunderclap Newman died aged 73. Thunderclap Newman, whose 1969 No.1 hit 'Something in the Air' became one of the indestructible staples of British 1960s pop. Primarily a keyboard player his schoolfriends nicknamed him Thunderclap in honour of his playing technique. The band that would become Thunderclap Newman was formed in late 1968 at the instigation of the Who's Pete Townshend.
29 Mar 2015
72-year-old Norman Greenbaum, who wrote and sang the 1969 hit 'Spirit in the Sky', was critically injured when the car he was riding in turned left, crossing into the path of an on-coming motorcycle. The 20-year-old motorcyclist was killed and his passenger was severely injured. After a lengthy recovery, Greenbaum returned to the stage in Santa Rosa, California on November 15, 2015.
29 Mar 2011
A website that illegally sold Beatles songs online for 25 cents each agreed to pay record companies almost $1m (£625,000) to settle a legal case. BlueBeat.com, based in the US, streamed and sold music by
The Beatles
,
Coldplay
and others until it was sued in 2009. In the few days before it was forced to shut down, it had distributed more than 67,000 Beatles tracks.
29 Mar 2007
'Umbrella', by
Rihanna
featuring Jay-Z was released in the US. The track went on to reach No.1 in various countries, including the US. A No.1 in the UK for 10 consecutive weeks making it the longest running No.1 single since Wet Wet Wet's 'Love Is All Around' in 1994, and the longest running No.1 by a female artist since
Whitney Houston
's 'I Will Always Love You.'
29 Mar 2007
U2
singer Bono accepted an honorary knighthood at a ceremony in Dublin. Fellow band members The Edge and Adam Clayton joined the frontman's wife and four children at the British ambassador David Reddaway's official residence. The rock star and campaigner, 46, was not entitled to be called "Sir" because he is not a British citizen. The
U2
singer's new title is Knight Commander of the Most Excellent Order of the British Empire (KBE).
29 Mar 2005
Neil Young
was treated for a brain aneurysm at a hospital in New York. Doctors expected the 59 year old to make a full recovery. The aneurysm was discovered when Young's vision became blurred after the induction ceremony for the Rock and Roll Hall of Fame last month.
29 Mar 2004
A court in Lithuania sentenced French rock star Bertrand Cantat, lead singer with Noir Desir to eight years in prison for killing his actress girlfriend during a fight. Cantat was convicted of fatally beating Marie Trintignant in a Vilnius hotel room in 2003. Cantat had admitted killing Ms Trintignant but said it was an accident.
29 Mar 2001
Brian Wilson
was honored in a three hour tribute at New York's Radio City Music Hall. Guest performances included
Billy Joel
,
Paul Simon
, The Go-Gos and the trio of Carly Simon, David Crosby and Jimmy Webb. Also singing Beach Boy songs were Ann and Nancy Wilson,
Elton John
and Aimee Mann.
Brian Wilson
himself joined the fun when he took the stage for the final three songs, 'Barbara Ann', 'Surfin' U.S.A.' and 'Fun, Fun, Fun'.
29 Mar 2000
Phil Collins
took out a high court action against two former members of Earth, Wind & Fire. Collins claimed his company had overpaid the musicians by £50,000 ($85,000) in royalties on tracks including 'Sussudio' and 'Easy Lover'.
29 Mar 1999
The
David Bowie
Internet Radio Network broadcast its first show for Rolling Stone Radio. The show was Bowie's favourite songs with Bowie introducing each track.
29 Mar 1996
Two former members of the 1950s group, The Teddy Bears filed suit in Los Angeles, California, against producer Phil Spector and several labels. Carol Connors and Marshall Lieb alleged they had not received royalties from re-issues of their 1958 No.1 hit 'To Know Him Is To Love Him'.
29 Mar 1986
Austrian singer Falco started a three-week run at No.1 on the US singles chart with 'Rock Me Amadeus', also a No.1 in the UK. Falco became the first German speaking artist to achieve a No.1 on the US charts.
29 Mar 1985
Jeanine Deckers, The Singing Nun, died aged 52 following a suicide pact with her longtime partner, Annie Pécher. Her 1963 US No.1 & UK No.7 single 'Dominique' sold over 1.5 million copies, winning a Grammy Award for the year's best Gospel song. Deckers wrote about her financial difficulties in a suicide note, and in a great irony, the very day of her suicide and unknown to her, the Belgian association that collects royalties for songwriters awarded her $300,000 (571,658 Belgian francs).
29 Mar 1981
Shakin' Stevens was at No.1 on the UK singles chart with his version of the Rosemary Clooney hit 'This Ole House', the Welsh singers first of four UK No.1's.
29 Mar 1980
Pink Floyd
's
The Dark Side Of The Moon
album spent its 303rd week on the US album chart, beating the record set by
Carole King
's 1971 No.1 album Tapestry. The album remained in the US Billboard charts for 741 discontinuous weeks from 1973 to 1988, longer than any other album in chart history. After moving to the Billboard Top Pop Catalog Chart, the album notched up a further 759 weeks, and had reached a total of over 1,500 weeks on the combined charts by May 2006.
29 Mar 1980
Mantovani, (Annunzio Paolo Mantovan), Orchestra leader died aged 74. Born in Italy his family moved to England in 1912, where he studied at Trinity College of Music in London. He recorded over 50 albums for Decca records, including Song from Moulin Rouge and Cara Mia, both reached No. 1 in the UK. In the United States, between 1955 and 1972, he released over 40 albums with 27 reaching the Top 40 and 11 the Top Ten. His biggest success was with the album Film Encores, which made it to No. 1 in 1957.
29 Mar 1979
After attending a
Dire Straits
show during their residency at the Roxy in Los Angeles,
Bob Dylan
asked Mark Knopfler and drummer Pick Withers to play on the sessions for his next album. Slow Train Coming was the album, recorded in Muscle Shoals in May of 1979, with Jerry Wexler producing. Dylan had first heard
Dire Straits
' Mark Knopfler when his assistant Arthur Rosato played him the single 'Sultans of Swing'.
29 Mar 1978
David Bowie
kicked off his Low / Heroes 77-date World Tour at San Diego Sports Arena in San Diego, California.
29 Mar 1975
Labelle went to No.1 on the US singles chart with 'Lady Marmalade', the group's only No.1. British act All Saints had an UK No.1 with the song in 1998.
29 Mar 1975
Led Zeppelin
saw all six of their albums in the US Top 100 chart in the same week, alongside their latest album
Physical Graffiti
at No.1.
Physical Graffiti
has now been certified 16 times Platinum by the Recording Industry Association of America (RIAA) for US sales in excess of 16 million copies.
29 Mar 1973
Dr Hook And The Medicine Show got their picture on the cover of Rolling Stone magazine after their hit, 'The Cover of Rolling Stone' reached No. 6 on the US singles chart. According to members of the group, they really did buy five copies for their mothers, just like the song said.
29 Mar 1969
John Lennon
and Yoko Ono,
Black Sabbath
, The Crazy World Of Arthur Brown, Curved Air, J.J. Jackson's Dilemma, Shy Limbs, Spontaneous Music Ensemble, Sunflower Brass Band and Toe Fat all appeared at the London Free Easter Festival in Bethnal Green, London, England.
29 Mar 1967
Working at Abbey Road studios
The Beatles
finished recording 'Good Morning Good Morning'. They then started work on a new song 'With a Little Help From My Friends', (originally titled 'Bad Finger Boogie'), recording 10 takes of the rhythm track, then Ringo overdub a double-tracked lead vocal.
29 Mar 1966
Rolling Stone
Mick Jagger
was injured during a gig in Marseilles, Southern France after a fan threw a chair at the stage. Jagger required eight stitches in the cut.
Born on this day in music
29 Mar 1981
PJ Morton, American R&B singer, musician, producer and one of the keyboardists in Maroon 5.
29 Mar 1959
American singer-songwriter and musician Perry Farrell from Jane's Addiction. Farrell created the touring festival Lollapalooza as a farewell tour for Jane's Addiction in 1991; it has since evolved into an annual destination festival. Farrell has also led the alternative rock groups Porno for Pyros and Satellite Party.
29 Mar 1956
Patty Donahue, singer from experimental post-punk band from Akron, Ohio, The Waitresses best known for the 1982 hit 'Christmas Wrapping'. Donahue Died of lung cancer 6 December 1996.
29 Mar 1949
Dave Greenfield, keyboards with the English rock band the Stranglers who had the 1986 UK No.2 single 'Golden Brown' and over 20 over other UK Top 40 singles. He died on 3 May 2020 at the age of 71 after testing positive for coronavirus.
29 Mar 1949
Michael Brecker, Brecker Brothers. Notable jazz and rock collaborations included work with Steely Dan, James Taylor,
Paul Simon
, Lou Reed, Donald Fagen,
Dire Straits
,
Joni Mitchell
,
Eric Clapton
,
Billy Joel
,
John Lennon
,
Aerosmith
, Dan Fogelberg,
Frank Sinatra
,
Frank Zappa
,
Bruce Springsteen
, Roger Daltrey, and Parliament-Funkadelic. He died on January 13, 2007.
29 Mar 1947
Bobby Kimball singer with American rock band Toto who had the 1980s Top 5 hits 'Hold the Line', 'Rosanna', and 'Africa'. The band has released 17 studio albums, and has sold over 40 million records worldwide.
29 Mar 1946
Canadian singer, songwriter Terry Jacks who had the 1974 UK & US No.1 single 'Seasons In The Sun'.
29 Mar 1945
Songwriter, vocalist, drummer and keyboard player Speedy Keen, from Thunderclap Newman who had the 1969 UK No.1 & US No.37 single 'Something In The Air' which was produced by Pete Townshend. Keen died of heart failure on 21 March 2002 aged 56.
29 Mar 1943
Chad Allan who was the founding member and original lead singer of the Canadian rock band Guess Who who had the 1970 US No.1 & UK No.19 single 'American Woman'.
29 Mar 1943
Greek composer of electronic, progressive, ambient, jazz, and orchestral music Evangelos Papathanassiou, (Vangelis). He first tasted fame as the keyboardist in the band Aphrodite's Child with singer Demis Roussos in the late 1960s and is best known for his 1981 Academy Award–winning score for the film Chariots Of Fire. He died on 17 May 2022 age 79.
29 Mar 1940
English pop singer and former teen idol Eden Kane who had the 1961 UK No.1 'Well I Ask You'. He is the brother musicians Peter Sarstedt and Clive Sarstedt.
29 Mar 1940
American musician Ray Davis the original bass singer and one of the founding members of The Parliaments, and subsequently the bands Parliament, and Funkadelic. Davis died in New Brunswick, New Jersey on July 5, 2005, at the age of 65, of respiratory problems.
29 Mar 1940
Brazilian samba and bossa nova singer Astrud Gilberto Her version of 'The Girl from Ipanema' won a Grammy for Record of the Year in 1965.
29 Mar 1935
Northern Irish singer and actress Ruby Murray who was one of the most popular singers in the UK in the 1950s. In 1955 she secured seven Top 10 UK hit singles inclusing the 1955 UK No.1 'Softly, Softly' and made pop chart history in March 1955 by having five hits in the Top Twenty in a single week. She died age 61 on 17 December 1996.